Easy homemade Eggnog Latte recipe. Make this classic coffee house drink at home, with no special equipment needed!
Love hot drinks? Be sure to give our mocha latte and our brown sugar lattes a try. Of course our homemade hot cocoa is always a hit with readers too.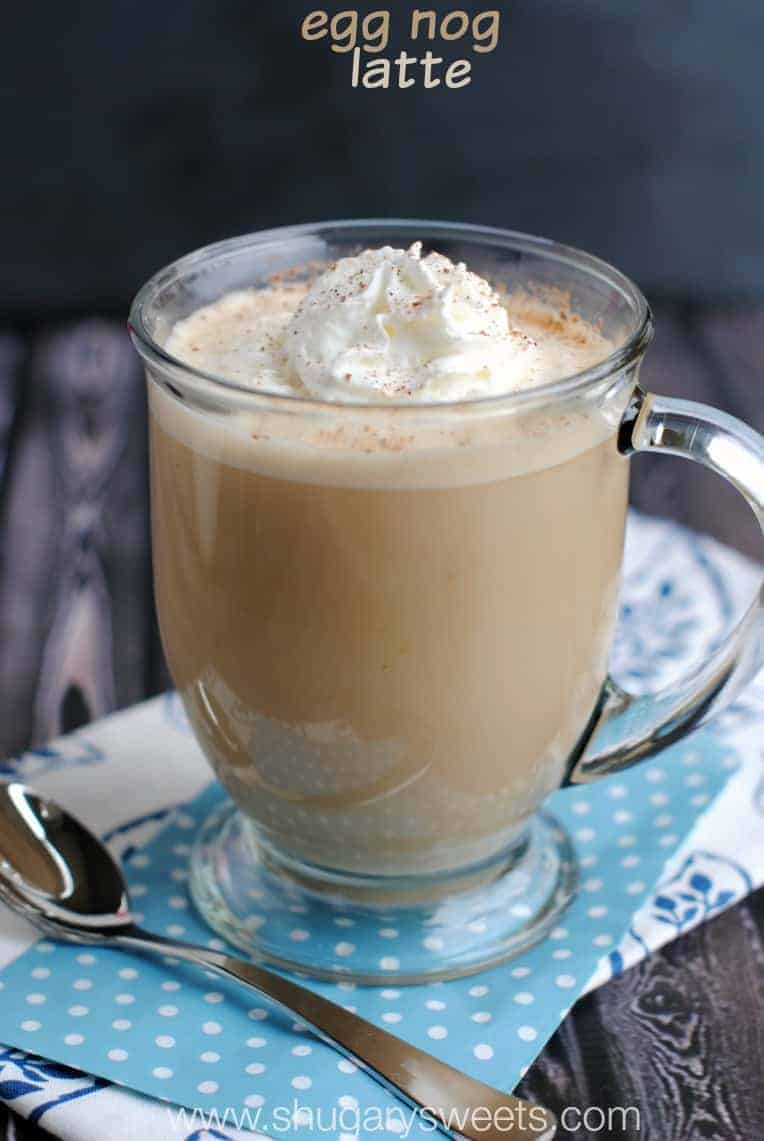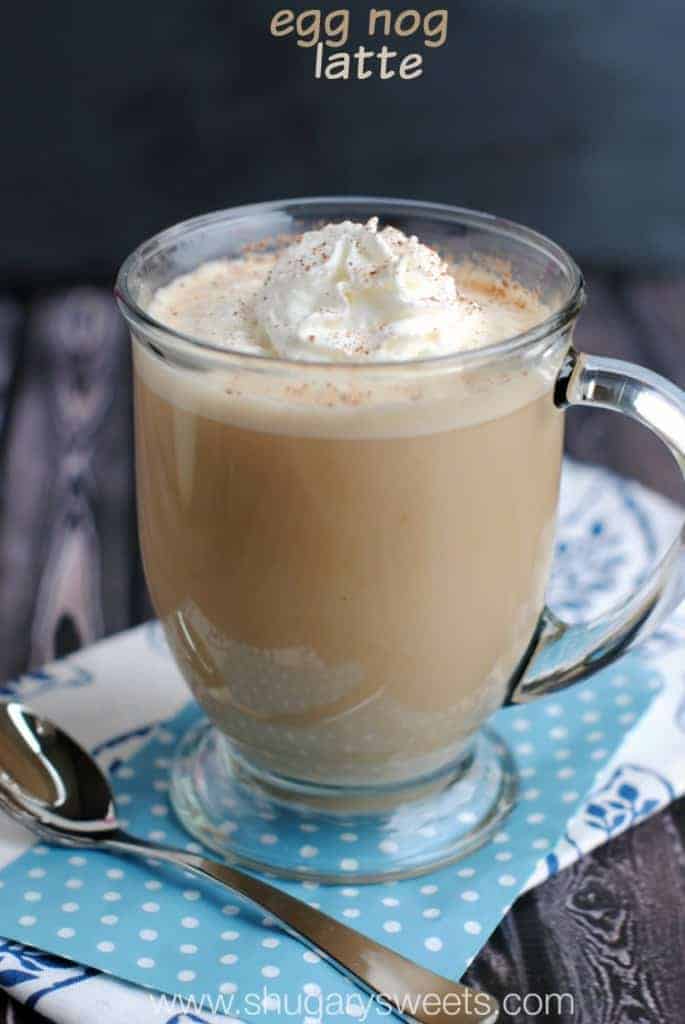 Copy Cat Starbucks Eggnog Latte
Egg Nog Lattes are one of my favorite holiday drinks from Starbucks.
When I'm out Christmas shopping I absolutely must get an eggnog latte. Maybe it's the delicious drink. Maybe it's the red cup. Either way, I order it every holiday season.
That is, until now. My Starbucks isn't carrying my favorite drink this season! If you're like most of North America, you're probably facing this same dilemma.
Instead of letting devastation ensue (#firstworldproblems), I went to my kitchen to whip up my own Egg Nog Latte.
And the best part? You don't need a special espresso maker to make this recipe! You're welcome.
I know you're probably wondering, "How do you get the frothy, steamy milk?"
Well. The microwave. And my friend, the mason jar. Just shake it up and you're good to go.
I use this mason jar method for just about all of my beloved copycat Starbucks creations!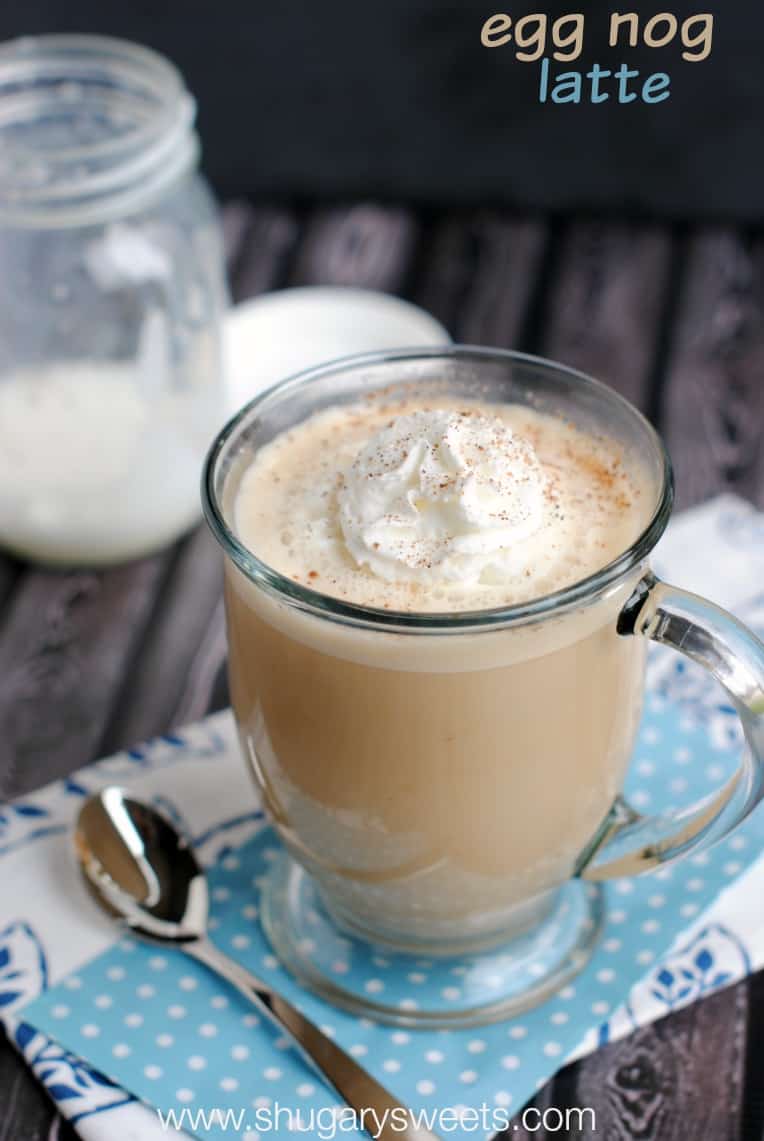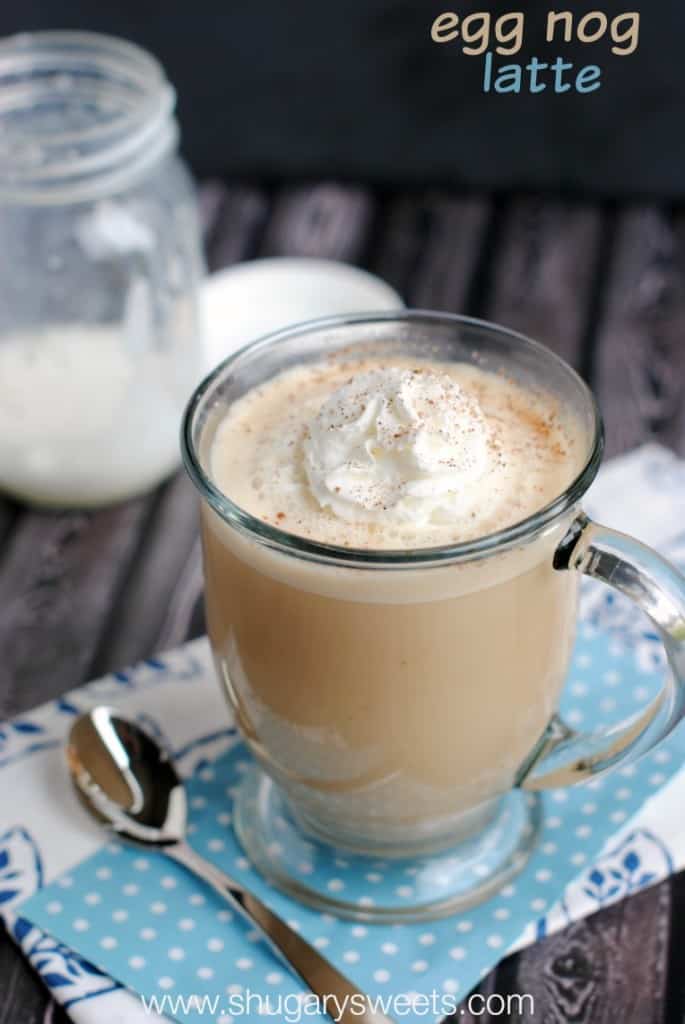 Ingredient Notes
Brewed Coffee- I'm talking STRONG coffee here! Add a few tablespoons more to your pot than you would for a typical cup of Joe. The stronger the coffee, the more closely the taste will resemble the signature rich Starbucks espresso.
Eggnog – Store bought egg nog works great with this recipe or you can make your own eggnog! For a dairy free version, substitute your favorite nondairy eggnog like soy, almond or coconut.
Milk – Again, use whichever milk you prefer in your Starbucks drink. Whole milk makes an extremely rich latte so I typically prefer skim. Nondairy milk works well too!
Easy Instructions
It takes less time and effort to make this holiday beverage than it does to drive to your local Starbucks. (Not to mention the money you'll save!)
Put milk and eggnog together in a mason jar, secure the lid and shake well. Heat the mixture in the microwave for 30 seconds, remove and shake again. Repeat this step two more times.
Divide your freshly brewed hot coffee between two mugs and top with the foamy eggnog mixture.
Don't forget the Whipped Cream on top!
Recipe FAQs
Can this be made without coffee?
Yes, you can make a copy cat Starbucks "steamer" (flavored latte without coffee) by just omitting the coffee. Or try substituting strong brewed black tea for the coffee!
Can this be made iced?
Sure! If you prefer an iced latte, skip the shaking and eating step. Pour cooled coffee over a glass of ice cubes (or frozen coffee cubes) and add the eggnog and milk. Stir and enjoy.
Can this recipe be doubled?
Absolutely, but you'll either need to shake and heat the milk in separate batches or use a larger mason jar. Whether or not you have a big mason jar, this recipe makes it super easy to make a batch of eggnog lattes for a group!
More Starbucks Recipes
This homemade Eggnog Latte has become my favorite way to drink eggnog! Skip the Starbucks line and make these at home to toast the holiday season instead.