These Easy Traditional Kolachky Cookies Recipe for Christmas have a melt in your mouth cookie base and are topped with sweet preserves. Don't forget the extra powdered sugar!
For more easy holiday treats, be sure to try this soft and chewy Cake Mix Cookie recipe! Or make a batch of Chocolate Dipped Oreos with festive sprinkles!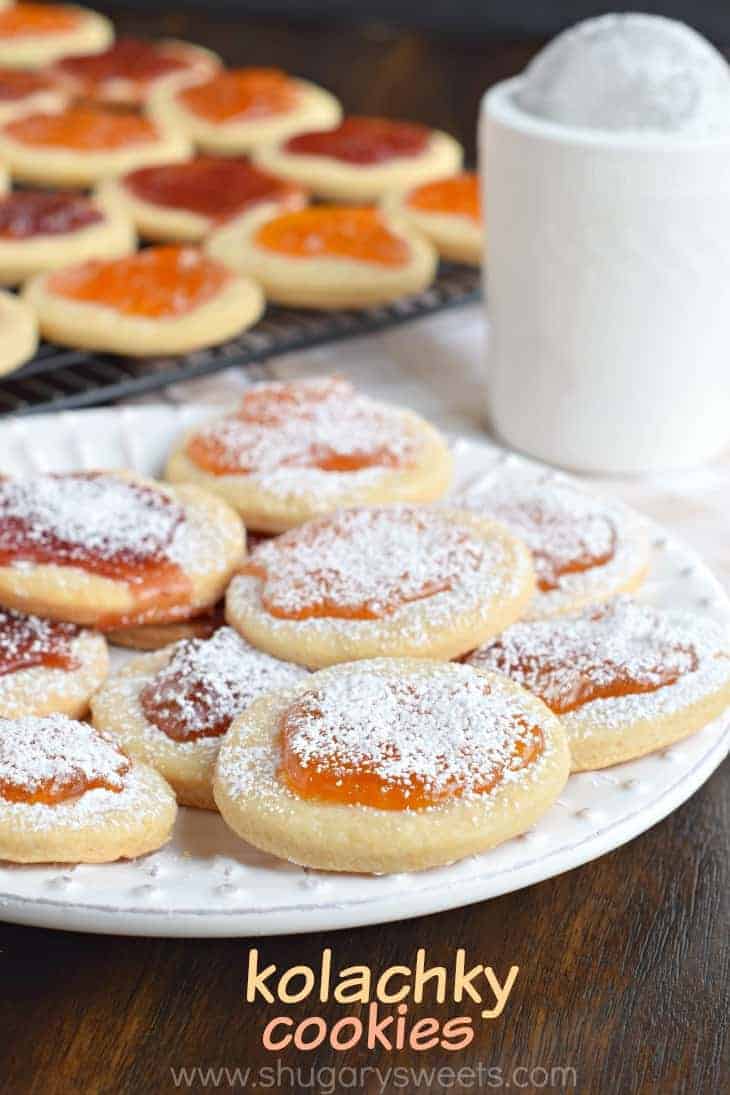 Why this recipe is Best
I know. You don't need to tell me that these aren't authentic because your polish nana makes these cookies and pinches them into the center over the jelly.
I get it.
My mom usually does that too.
But know what happens when I try to fold them over and pinch the centers? After baking, I open the oven and they all look deformed and have opened up.
So now I started making them this way and I couldn't be happier.
I'm sure some of you are better bakers than me, and have tricks up your sleeve for pinching these closed. Feel free to leave a comment below so others can learn!
For now, I will make mine open. I use a 2 1/2 inch cookie cutter so they are rather big. But if you prefer them smaller, feel free! This goes back to my love for jelly, the bigger the cookie, the more jelly I can stack on it!
You can even try my Jam Thumbprint cookies for a similar melt in your mouth cookie topped with almond glaze.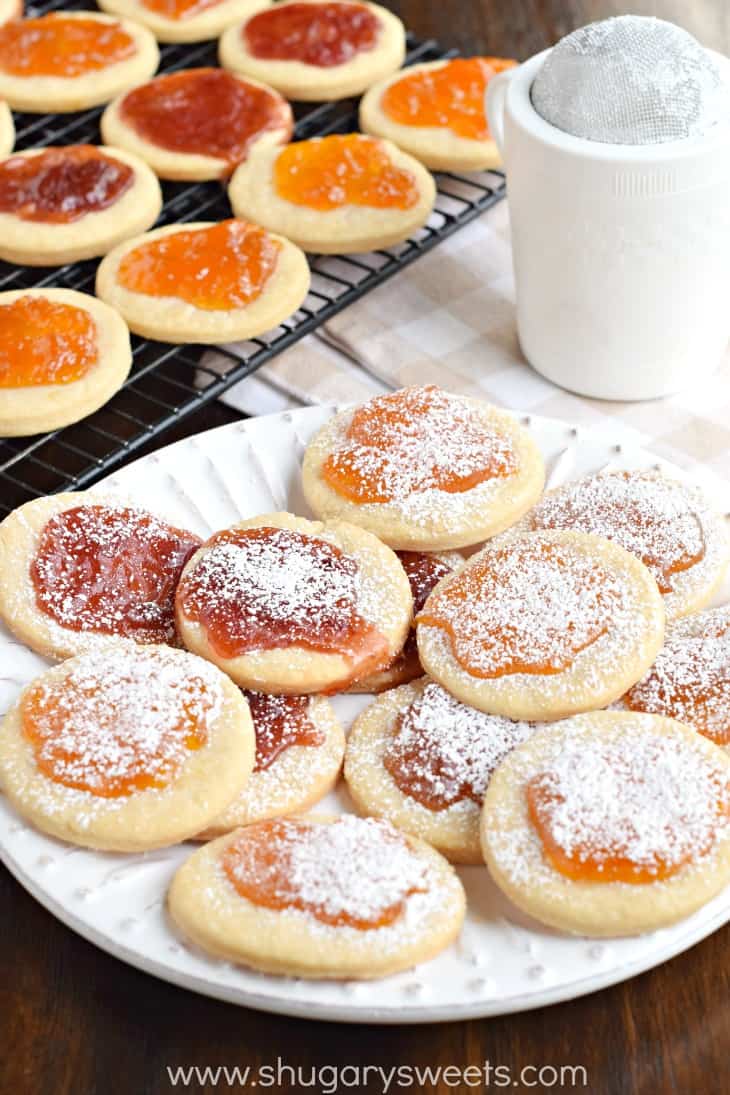 I'll also refer to these cookies as Kolachky Cookies. I know there are other names, such as Kolacky, Kolach, and Kolache cookies. I also know that some people use melted ice cream, which I've tried and is delicious. My only concern is that there are so many varieties of ice cream, when writing a recipe, the different fats in ice cream create different results.
How to make Kolachky Cookies
Line a baking sheet with parchment paper. Preheat your oven to 350 degrees F.
In a large bowl, mix the softened butter, cream cheese, and granulated sugar. Using an electric mixer, beat until creamy, about 3 minutes.
Add flour and baking powder and beat until a soft dough forms.
Place dough on a lightly floured surface and use a rolling pin to roll the dough to about a 1/2 cm thickness. Cut with a 2 1/2 inch circle cookie cutter (or biscuit cutter) and place on baking sheet.
Spread about 1 Tbsp of your favorite flavor of preserves (apricot filling is my favorite) into the center of the cookie. At this point you can pinch the sides together, or leave open like I do.
Bake for 15 to 17 minutes, until set. Do not let them brown. Cool completely before sprinkling generously with powdered sugar. Store in an airtight container in refrigerator for up to one week. You may need to dust with confectioners sugar again before serving.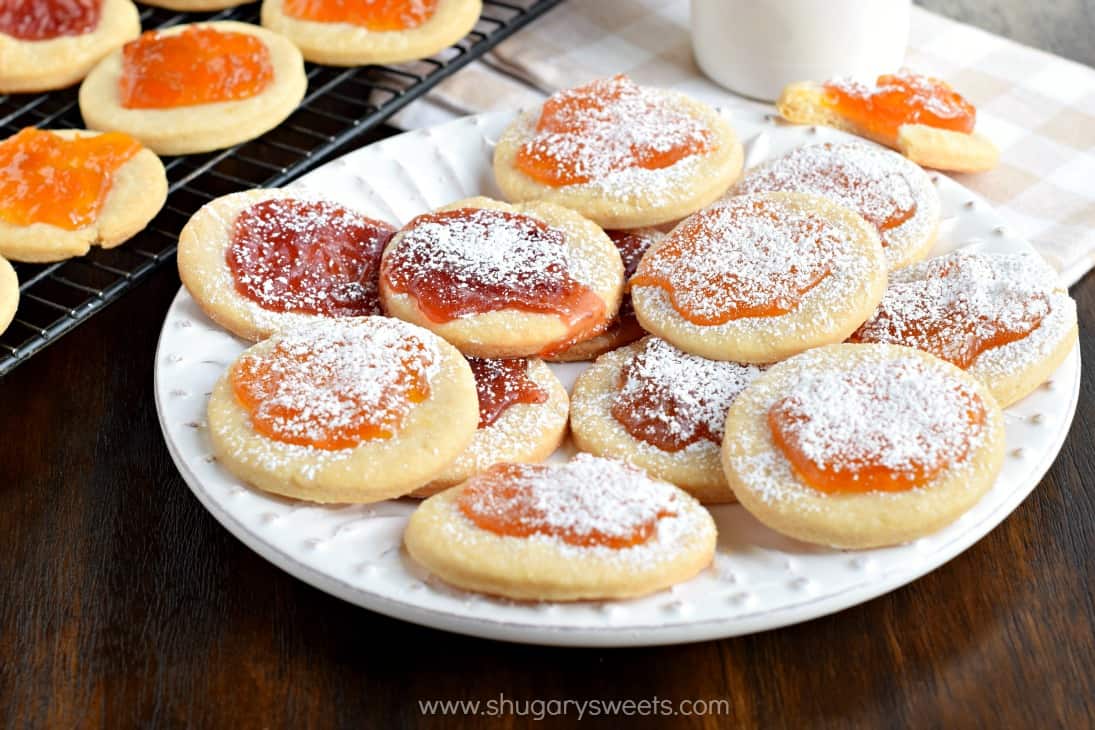 Traditional Fillings for Kolachky Cookies
Apricot Preserves. The Apricot Kolache cookie is one of my favorite flavors!
Strawberry Preserves. I make this flavor Kolach cookie for the kids, as it seems to be THEIR favorite, even though it's not traditional.
Poppyseed filling. You can buy cans of poppy seed filling (near pie filling). This is so good and Poppy Seed Kolache cookies are a family favorite!
Looking for the BEST sugar cookie cut out recipe? These Cream Cheese Sugar Cookies are so flavorful and they always hold their shape. Don't forget to add the delicious Vanilla Bean Frosting too!
Don't want to make cut out sugar cookies? These are the best, chewy Sugar Cookies with a no-chill dough. Topped with a creamy sugar cookie icing, you'll love this Copycat Swig Sugar Cookie recipe!
If you're looking for the best Lemon Bars with Shortbread Crust, this one is it. Easy cookie crust with a sweet and tangy lemon filling and lemon glaze, topped with powdered sugar!
These Twix cookies have a buttery shortbread cookie base with creamy caramel and chocolate on top! I'm not even kidding when I say they are addictive!
Gingerdoodle Cookies are chewy, soft cookies that taste like a cross between a gingersnap and a snickerdoodle. Add this to your baking list ASAP! You'll love the texture of the cookies, but more importantly the molasses flavor with the cinnamon, ginger, and cloves is irresistible!
Peanut Butter and Jelly Cookies: these are amazing!!!
PB&J Thumbprint Cookies: my grandma's recipe from childhood!