Macadamia Nut Fudge is a rich, decadent, and silky smooth chocolate treat. Add a little crunch from macadamia nuts and you have a homemade fudge worth raving about!
Love macadamia nuts? Be sure to try these rich and fudgy Chocolate Macadamia Nut Cookies! Or give this easy Banana Nut Cake recipe a try tonight.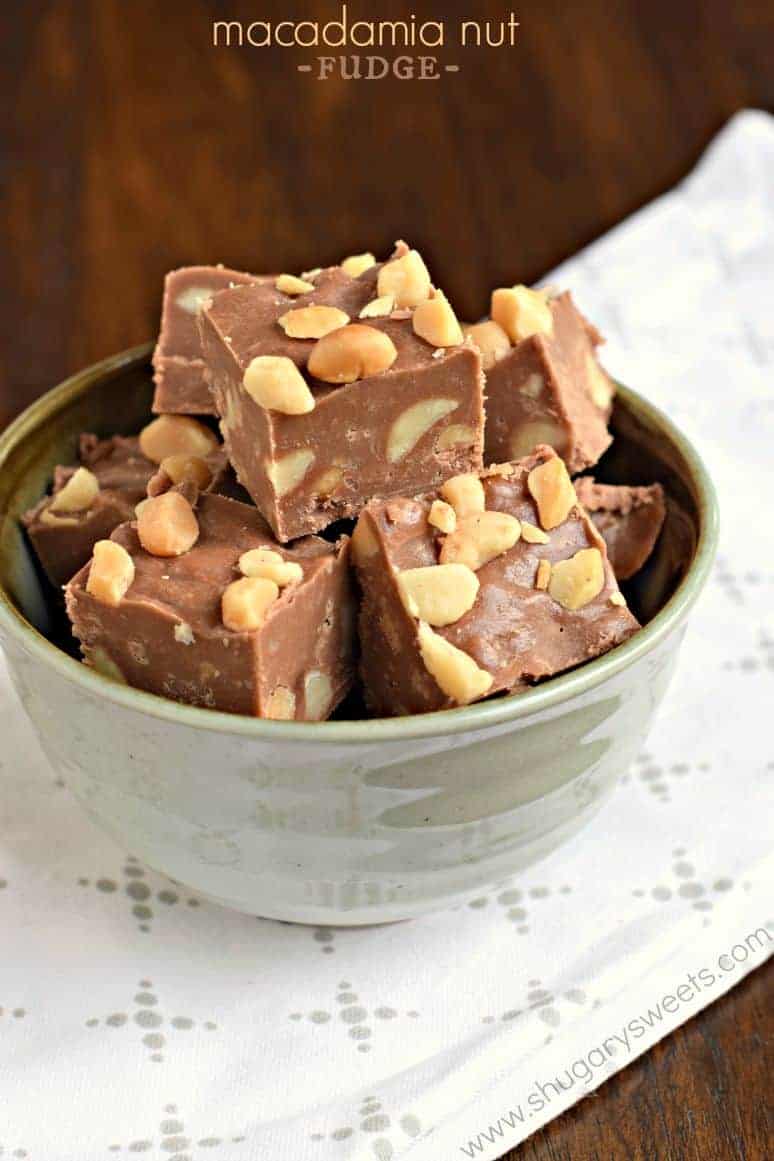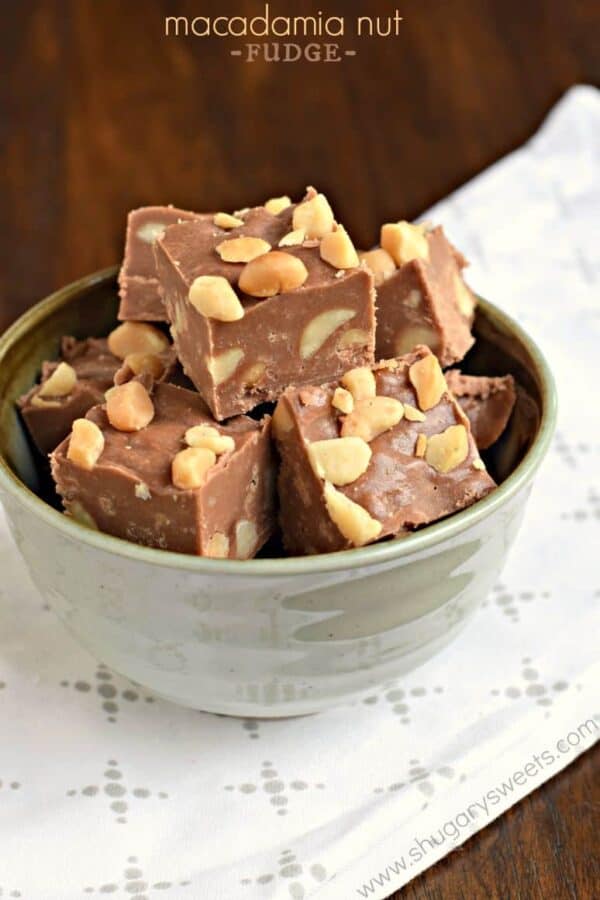 Why this Recipe Works
I've heard too many home bakers say they "can't make fudge." Why? Because the term "homemade fudge" conjures images of a fussy recipe with candy thermometers and complicated steps.
This recipe eliminates the need for a candy thermometer!
The hardest part about this recipe is waiting for the fudge to be ready to cut (about 4 hours in the refrigerator). When it's ready, you have perfect smooth creamy fudge.
This Macadamia Nut Fudge is even better than candy shop fudge. Especially because you'll know you made it by yourself!
With my method, learning how to make chocolate fudge is as easy as can be. The crunchy macadamia nuts just make it more delicious!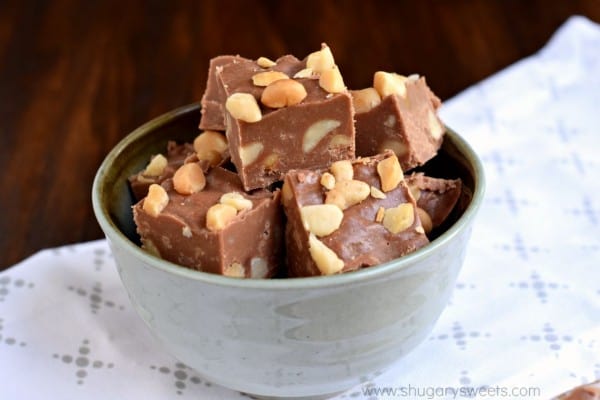 Ingredient Notes
Chocolate chips. I use milk chocolate for ultimate sweetness.
Marshmallow cream. Also called "fluff", this ingredient is the key to soft velvety fudge without needing a candy thermometer.
Easy Instructions
You won't believe how easy it is to make Macadamia Nut Fudge.
Combine. Mix milk, sugar, butter and vanilla together in a sauce pan.
Boil. Bring the mixture to a boil and stir constantly for 4 minutes.
Pour and beat. Pour the boiled mixture over a bowl filled with marshmallow fluff and chocolate chips. Use an electric mixer to beat until the chocolate is melted and combined. Fold in half a cup of macadamia nut pieces.
Chill. Pour fudge mixture into a parchment lined dish. Press the rest of the macadamia nuts into the fudge. Cover and place in the refrigerator for at least 3 hours.
Cut. Slice the set fudge into squares and enjoy!
Tips and Tricks
Storing fudge. Transfer set fudge to an airtight container. It keeps well for about a week.
Freshest tasting fudge. To keep fudge fresh, store it BEFORE slicing. Then, slice off pieces as you eat them.
Use electric beaters. While you CAN make this fudge by hand mixing, it comes together easiest when you use a stand mixer or electric beaters.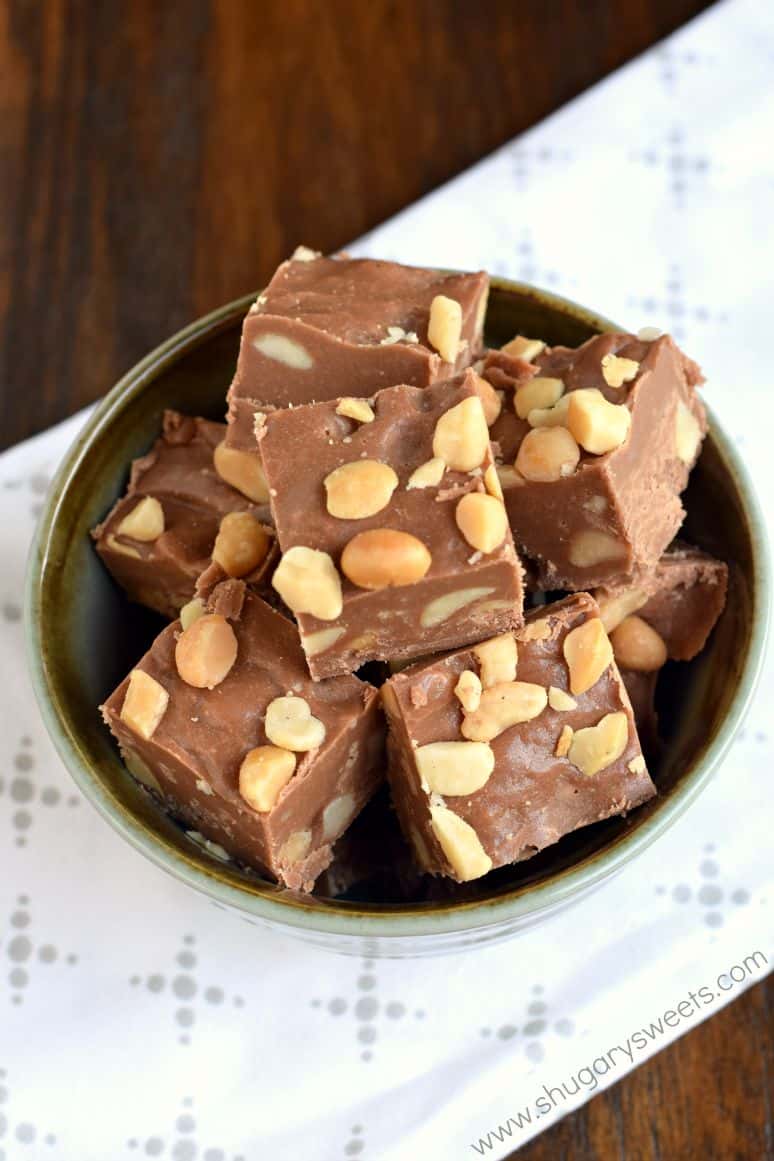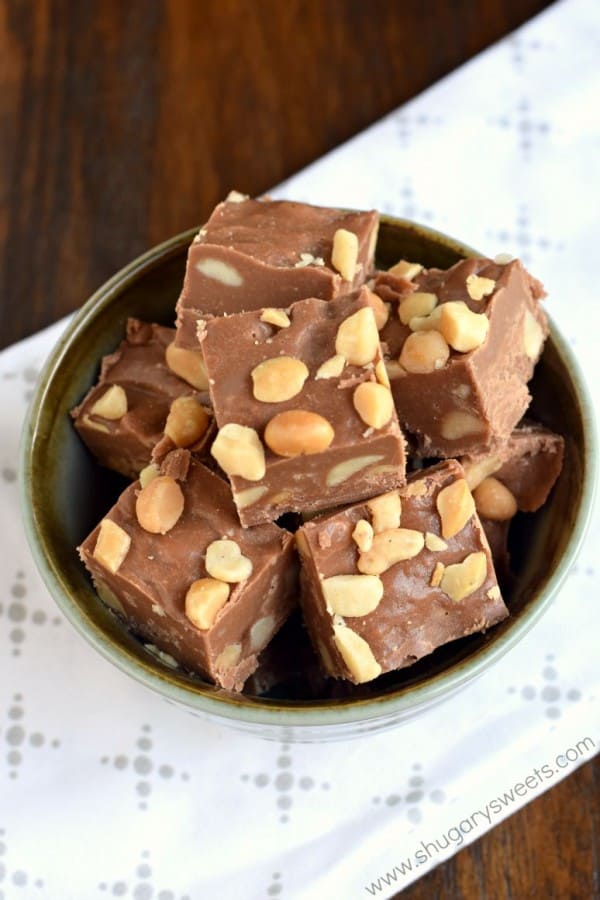 Recipe FAQs
What can I use instead of marshmallow cream?
If you can't find marshmallow cream, you can make this fudge with whole marshmallows. Use about 25. You'll need to beat the fudge mixture longer to fully melt and incorporate the marshmallows.
Can I make this with other kinds of nuts?
Yes, feel free to swap the macadamia nuts for walnuts, peanuts or pecans. Check out my Maple Walnut Fudge and this Butter Pecan Fudge for more delicious nutty fudge idease!
What size pan do I need to make fudge?
I use an 8 x 8 square baking dish for all my homemade fudge recipes.
Can I freeze this fudge?
Yes, macadamia nut fudge can be frozen before cutting. Wrap the whole block in plastic wrap or foil, then place it in a gallon sized freezer bag. Let thaw on the counter, then cut into squares and enjoy!
A decadent combination of chocolate and macadamia nuts makes this fudge so good! No candy thermometer or special equipment. Just perfect Chocolate Macadamia Fudge to impress your friends and family!