Mint Chocolate Chip Cupcakes that don't skimp on the chocolate! Impossibly rich chocolate cupcakes are topped with a cool mint chip buttercream. Fold a handful of chocolate chips into the frosting and more on top.
Do you love mint and chocolate too? These Mint Chocolate Chip Cookie Sandwiches are an all time favorite–and so easy to make! We also love this delicious mint chocolate chip cake recipe!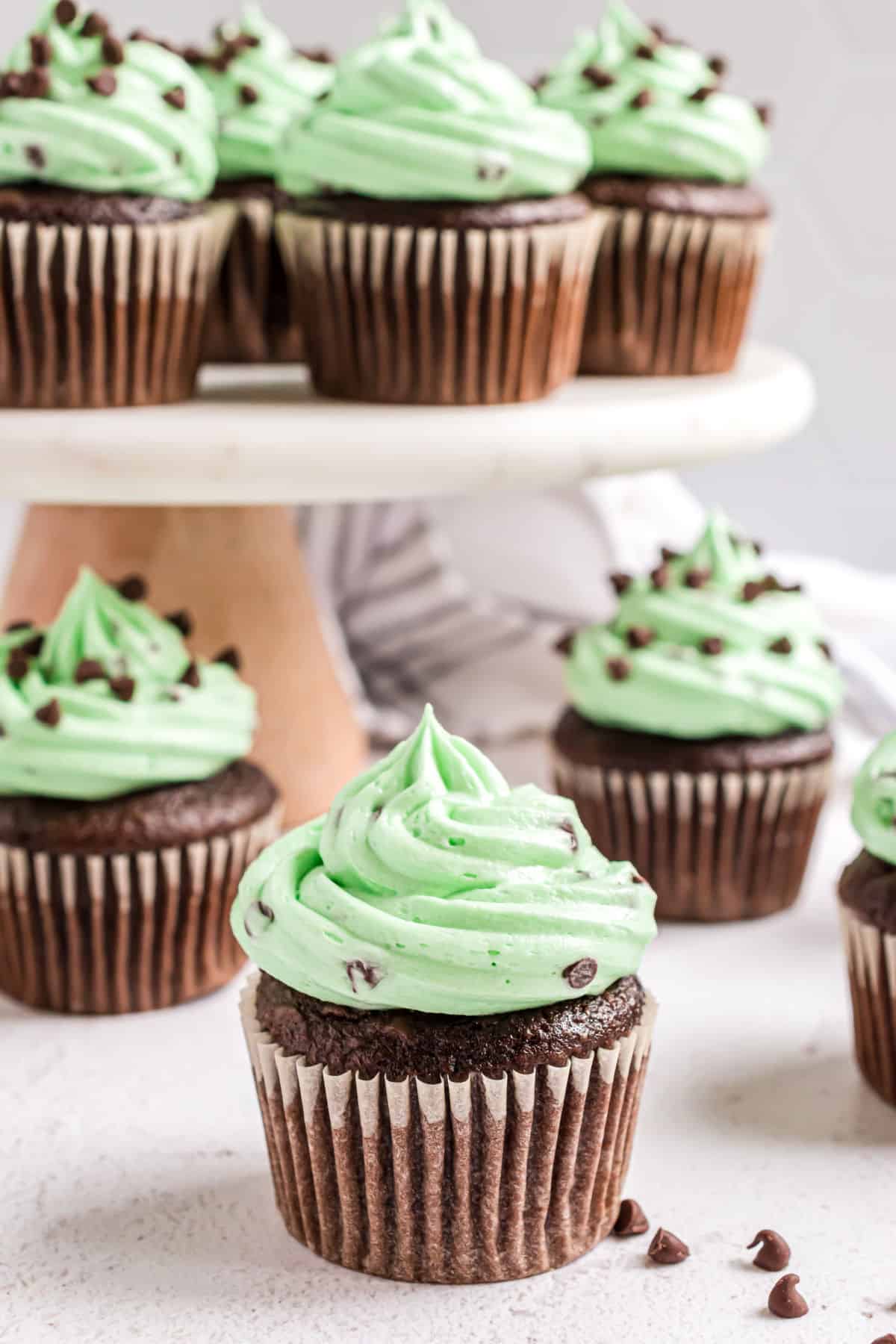 Why this Recipe Works
I've been making my fail-proof Chocolate Cupcake Recipe for years. The deep cocoa flavor and light crumb make the cupcakes delicious every which way you can frost them.
From M&M's Frosting to a simple Vanilla Buttercream, I've loved every variation we've tried.
Today's Mint Chocolate Chip Cupcake twist is the latest cupcake to steal my heart.
Using mint extract and mini chocolate chips, these cupcakes are at once cool and sweet, rich and light–and easy to make!
Ingredient Notes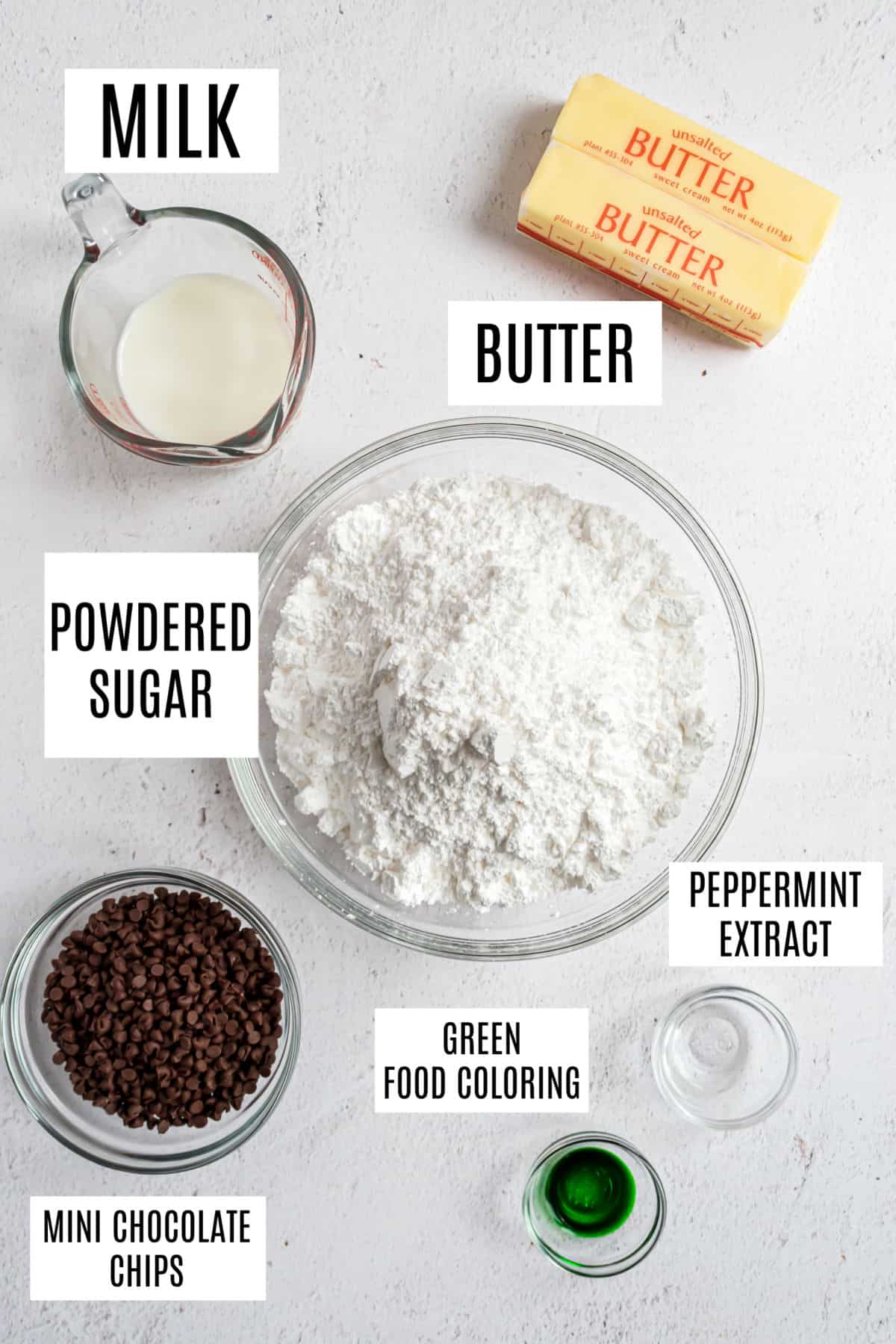 Two kinds of chocolate. Bittersweet baking squares chopped up into small pieces work best. Anything over 60% cocoa is a great choice. Here's the brand of unsweetened cocoa powder I like most.
Hot brewed coffee. Bring out more flavor in the chocolate by using freshly brewed coffee or reheating a cup leftover from the morning. Use hot water if you prefer (just know that the coffee flavor does not come out in the cupcake, it just enhances the chocolate).
Buttermilk. You can use store bought or make my Homemade Buttermilk Substitute for this cupcake recipe.
Peppermint Extract. Use real peppermint not imitation flavoring to get the best minty taste.
Green food gel. Food coloring gives the frosting its familiar mint green color.
Easy Instructions
Bloom the chocolate.
Place the chopped chocolate squares and cocoa in a large bowl. Pour hot coffee on top and stir to melt the chocolate.
The hot liquid "blooms" the chocolate flavor, along with melting the cocoa solids.
Make the cupcake batter. Add the dry ingredients to a large mixing bowl or stand mixer. Then add the wet ingredients and beat to form a thin batter.
Bake. Divide the batter into a muffin tin lined with cupcake liners. Bake for 18 – 20 minutes and let cool completely.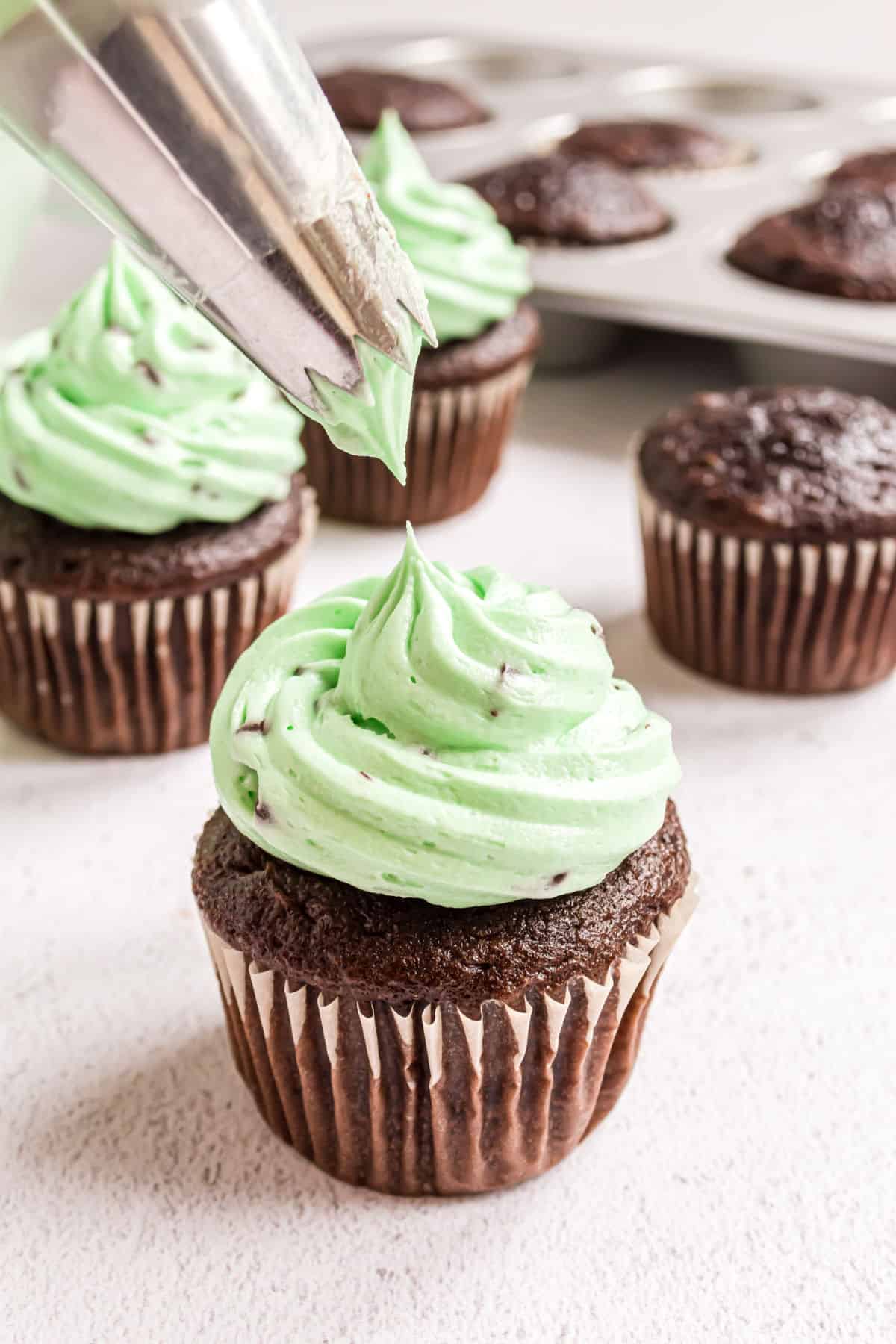 Mint Chocolate Chip Frosting.
Beat the butter on its own until pale in color. Add the remaining ingredients and beat until smooth and fluffy. Fold in mini chocolate chips.
Pipe mint frosting onto the cooled chocolate cupcakes. Enjoy!
Tips & Tricks
This cupcake batter is very thin. Do not add more dry ingredients to thicken the batter.
Coffee must be hot! If using leftover brewed coffee, reheat it in the microwave for 1 minute.
Store frosted cupcakes at room temperature for up to 4 days.
Mint Chocolate Chip Cupcakes can be stored at room temperature for up to 4 days or frozen for up to 3 months.
Love chocolate and mint? Be sure to try our Mint Brownies for another fudgy treat.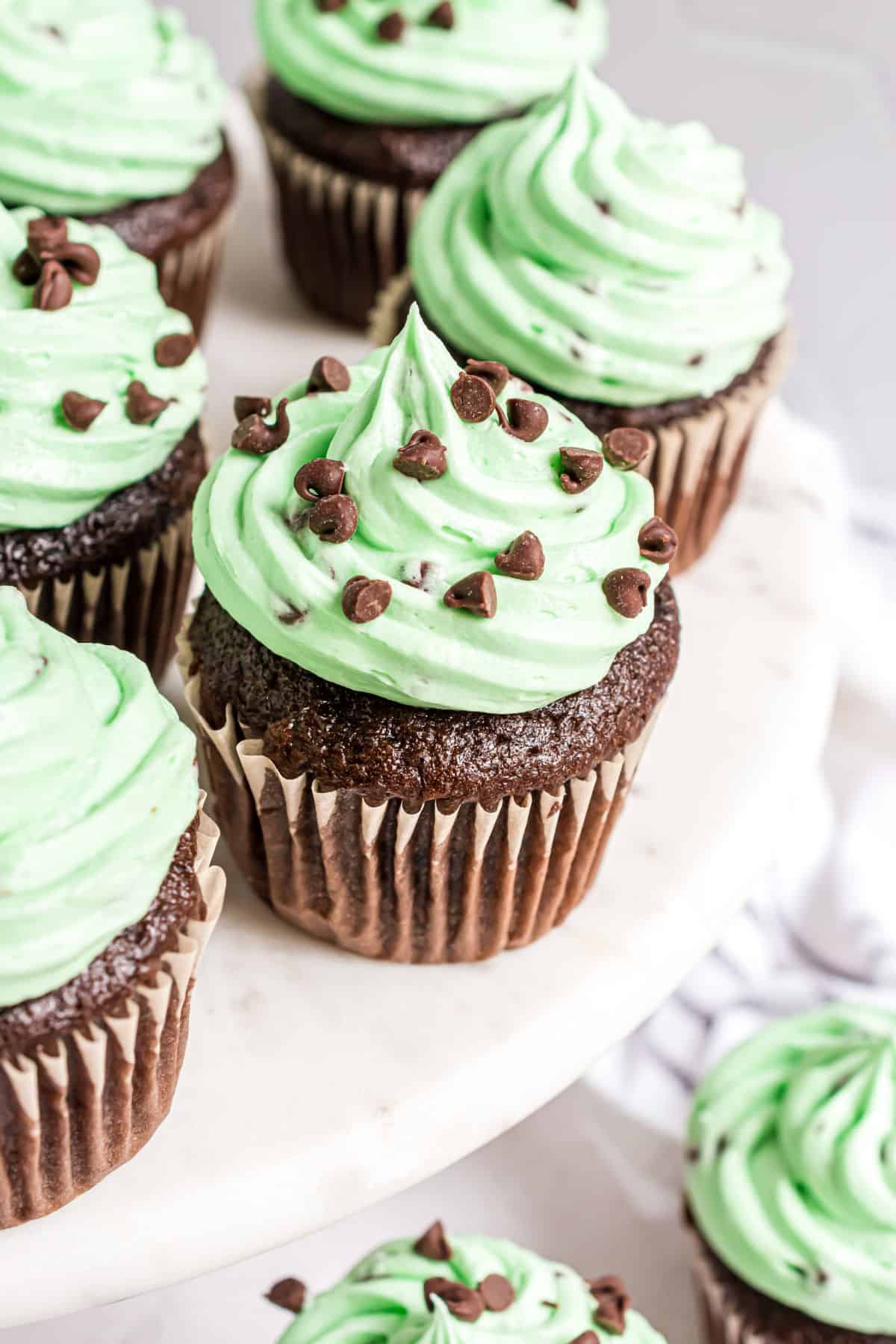 Recipe FAQs
How do I know when my cupcakes are done?
Press your finger gently into the top of the cupcake. If the top springs back when you remove your finger, the cupcakes are done. If your finger leaves a soft indentation, the cupcakes need a bit more time.
I don't have food coloring. Can I still make Mint Chocolate Chip Cupcakes?
Food gel coloring is the only way I've found to get the frosting light green. If you don't have food coloring, the frosting won't be green but it'll still be minty and delicious!
Do you use sweetened or unsweetened baking chocolate?
In this recipe, we use unsweetened cocoa powder and bittersweet chocolate squares. Bittersweet has some added sugar but still a very high cocoa content making it an ideal choice for cupcakes.
Peppermint meets cocoa in these Mint Chocolate Chip Cupcakes. No one can resist the pretty green frosting with cooling mint and chocolate!