Thick and chewy Mint Chocolate Chip Rice Krispie Treats decorated for Halloween. Fun and festive Frankenstein Krispie Treats!
Love Halloween? Try my Frankenstein Butterfinger Cupcakes and Snickerdoodle Blondies (that look like mummies)!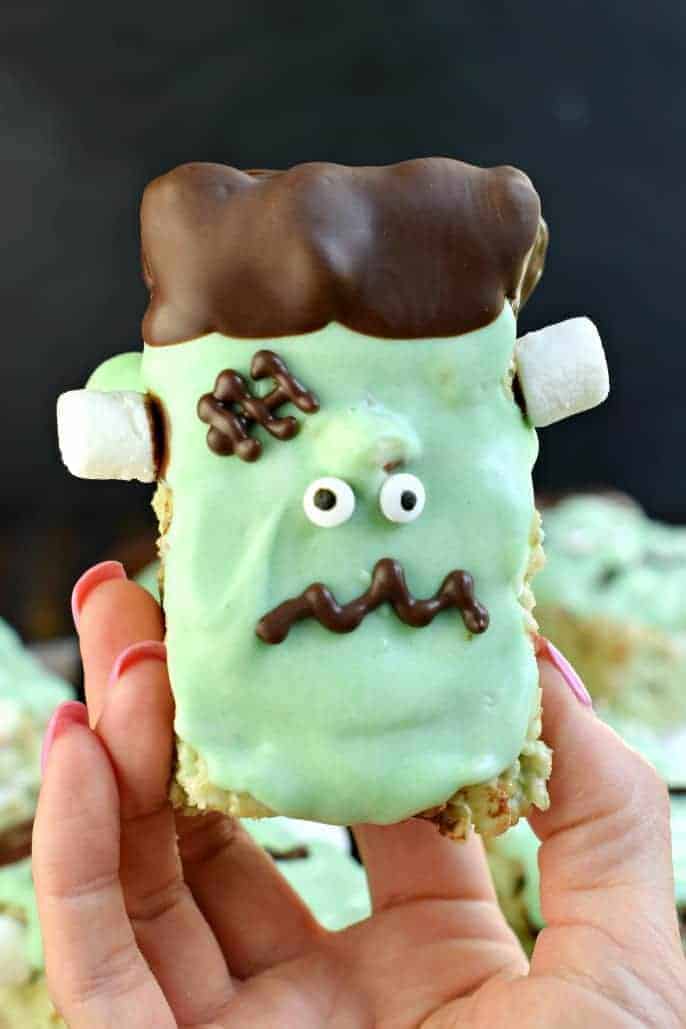 Halloween Desserts
If you don't know what makes a "Perfect Rice Krispie Treat" than let me tell you.
THICK– no thinly spread out treats for me!
Soft and Chewy– I can't stand biting into one of those hard, dry treats.
Packed with flavor!
Using my favorite rice crispy treat recipe and tips for how to make rice krispie treats, I went to work to make a delicious Mint Chocolate Chip flavor!
I mean, in order to live up to "halloween fun" it had to start off green!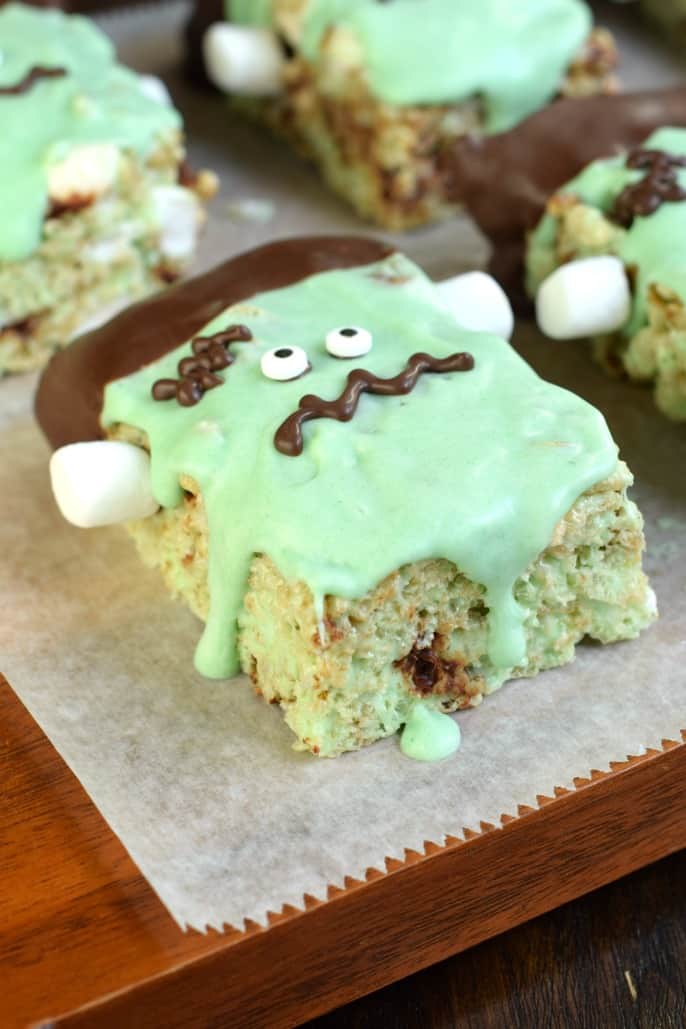 Step by Step Instructions
Start by melting butter and marshmallow in a large pot over low heat.
After you have melted your butter and marshmallow together, add in a drop of green food coloring (I love using these Americolor gels in leaf green). Also stir in 3/4 tsp peppermint extract.
PRO TIP: Make sure to NOT use mint extract, unless you like the taste of toothpaste.
Next, stir in your cereal until completely combined. Fold in your extra marshmallows (these help give the krispy treats extra chewiness and keep them soft).
Finally, sprinkle in some mini chocolate chips and give ONE quick stir. These will melt slightly, but that's okay.
Press into a parchment paper lined square baking pan (I use a 9-inch pan for these). Don't skip out on the parchment paper, as you'll want an easy removal to make the Frankensteins!
Do not press too firmly…that's how they end up being hard. Just a gentle press into the pan.
Allow rice krispie treats to firm up for at least an hour. Remove parchment paper from pan and place on cutting board. Cut your treats in half, then in fourths. You'll end up with 8 rectangles.
How to Make Frankenstein
To decorate, melt white chocolate morsels (I actually prefer using this Ghirardelli White Chocolate Wafers) and add a drop of green food coloring. Spread over the tops of your Mint Chocolate Chip Rice Krispie Treats. Allow to set (about 5-10 minutes).
Melt your Dark Chocolate wafers and dip each frankenstein head into the chocolate. Reserve the extra melted chocolate to pipe on the scars!
Use your remaining melted chocolate to attach mini marshmallow "bolts" to the side of his head/neck. Also attach the eyes at this point.
For the mouth and scars, put the remaining melted chocolate in a small ziploc bag with the end snipped off. Pipe on the scar and mouth to each Frankenstein Rice Krispie Treat. Voila.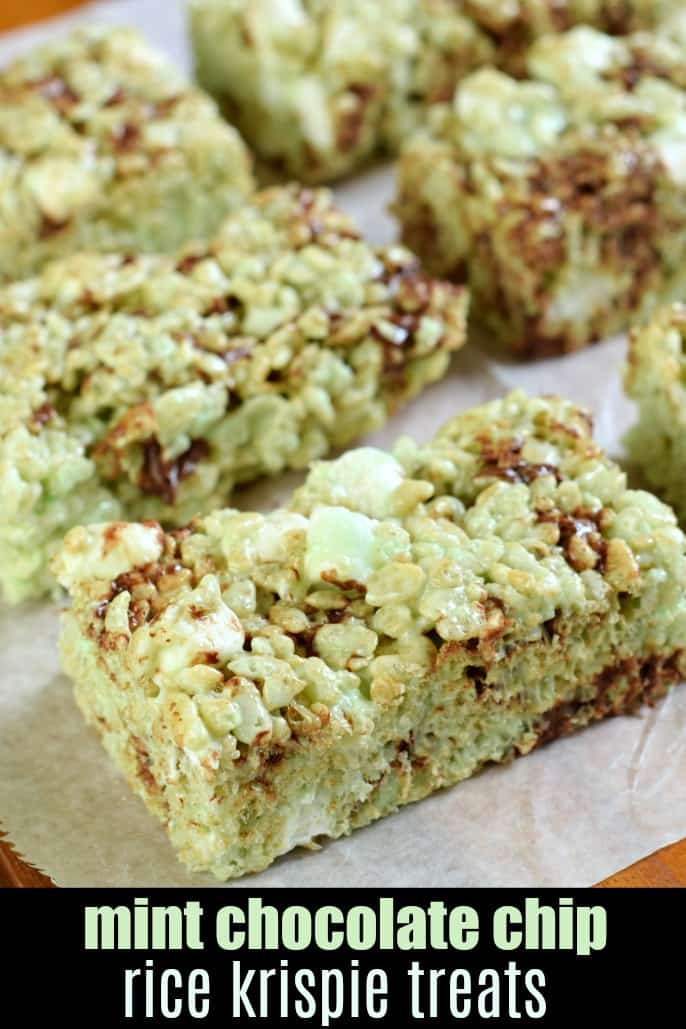 More Halloween Recipes
Well, in addition to the new recipes coming this week, you can also check out my Halloween recipes on the blog already.
For dinner, how about some Rats and Bones? Okay that sounds gross…but I promise the meatloaf is delicious, as our the garlic bread bones!
Everyone LOVES cake balls, so why not whip up a batch of these Spooky Eyeball Red Velvet Cake Balls!
These Halloween Peanut Butter Cookie Cups start with a 3 ingredient, flourless cookie! Add your favorite candy and make a spooky treat this holiday!
Spooky Halloween Spider Rice Krispie Treats are the perfect party idea. This recipe is so easy, even the kids can make them! Swap out the dark chocolate for white chocolate and you instantly have a cute Mummy Rice Krispie Treat!
Finally, I've got the best PUMPKIN CARVING idea. My family thinks it's hilarious, and I've even included the guacamole and pico de gallo recipe!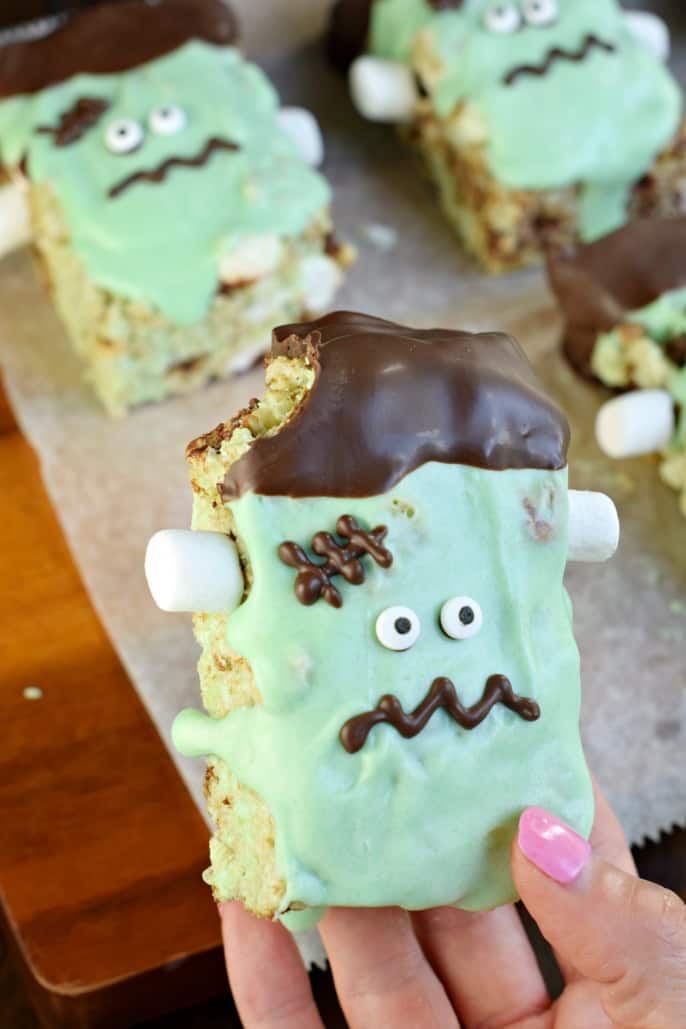 Recipe FAQs
Do I refrigerate rice krispie treats?
No. For best texture, store covered at room temperature.
Can I freeze rice krispie treats?
I advise against this because it changes the texture of the treat.
Can I make these Frankensteins in advance?
You can make these treats 24 hours ahead of time. Store covered at room temperature until ready to serve.
More Rice Krispie Treats