This Monster Cookie Cheese Ball recipe is a crowd pleaser! Stuffed with candy, chocolate and peanut butter, you're going to want to try this soon!
Halloween treats are easy to make when all you have to do is add some candy eyes! Try it out with these Spooky Brookies and these delicious Peanut Butter Cookie Cups!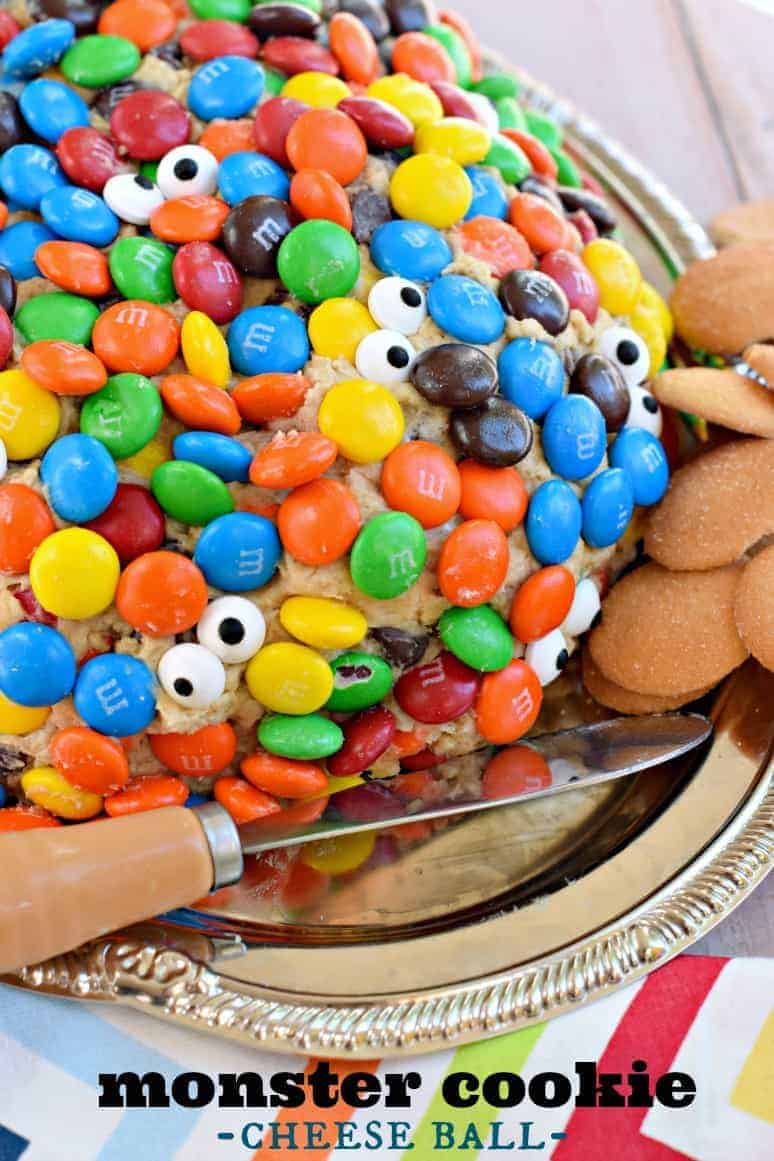 Sweet Cheese Ball Recipe
I'm a big fan of googly eyes. Especially the edible kind that you find around Halloween. They can turn any basic treat into a "Spooky Treat" just by adding eyeballs.
Some of my most popular recipes on the blog are cheese balls.
Sweet or savory, they always seem to be a hit. Know why?
Because in real life, people love to dig into a cheese ball. Spread them on crackers, cookies or even fruit and they are always a crowd pleaser.
I've been wanting to make another Sweet Cheese Ball recipe for quite a while. . . specifically a Monster Cookie Cheese Ball!
Do you love monster cookies? Filled with oatmeal, peanut butter, chocolate chips, M&M'S and raisins, they are the "everything" of cookies.
Ingredient Notes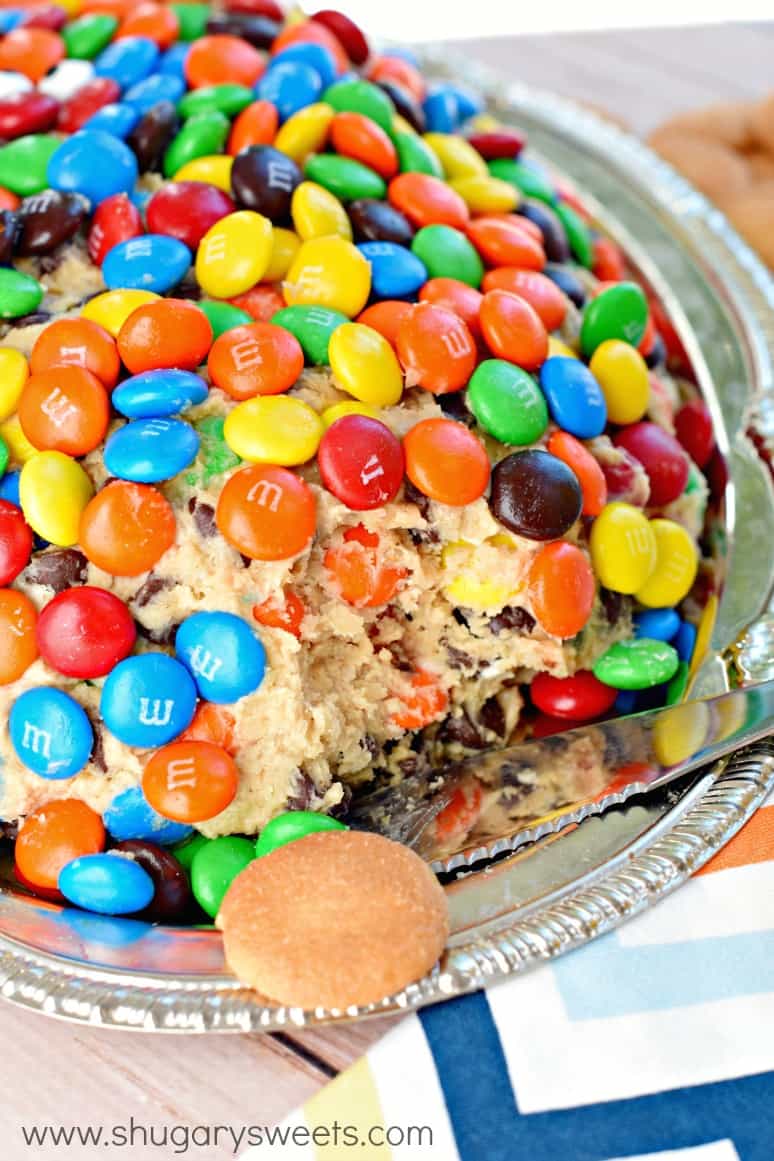 This cheese ball has all the key components of a classic monster cookie:
M&Ms – Use regular milk chocolate M&Ms for a traditional look or you could use one of the special bags of Halloween colored M&Ms.
Peanut Butter- I prefer smooth peanut butter in the cheese ball
Quick oats – NOT whole rolled or instant oatmeal
Chocolate chips
Notice anything missing? Yes, I used candy eyeballs instead of raisins.
I debated whether to keep the raisins in for today's cheese ball recipe, and opted out of them in the end. While I know I would love the chewy addition, I feared that my kids would flip out (in a bad way).
If you've got a tailgating party or Halloween bash, this Monster Cookie Cheese Ball is the perfect snack to bring along!
Step by Step Instructions
Never made a cheese ball? You'll be happy to hear it's very simple.
Make the cheeseball. Beat peanut butter with cream cheese, butter and sugars, then add the oats, half the M&Ms, and chocolate chips.
Shape and chill. Line a 4 cup bowl with plastic wrap and drop cheese ball mixture into the bowl. Cover with plastic wrap and place in the refrigerator for about 2 hours.
Add outside layer. Remove the cheese ball from refrigerator and unroll from the plastic wrap. Place it on a serving plate. Using your hands, press in the remaining M&M'S to cover the cheese ball completely. Then press in sets of candy eye balls all over the cheese ball.
Serve immediately or chill until dessert time!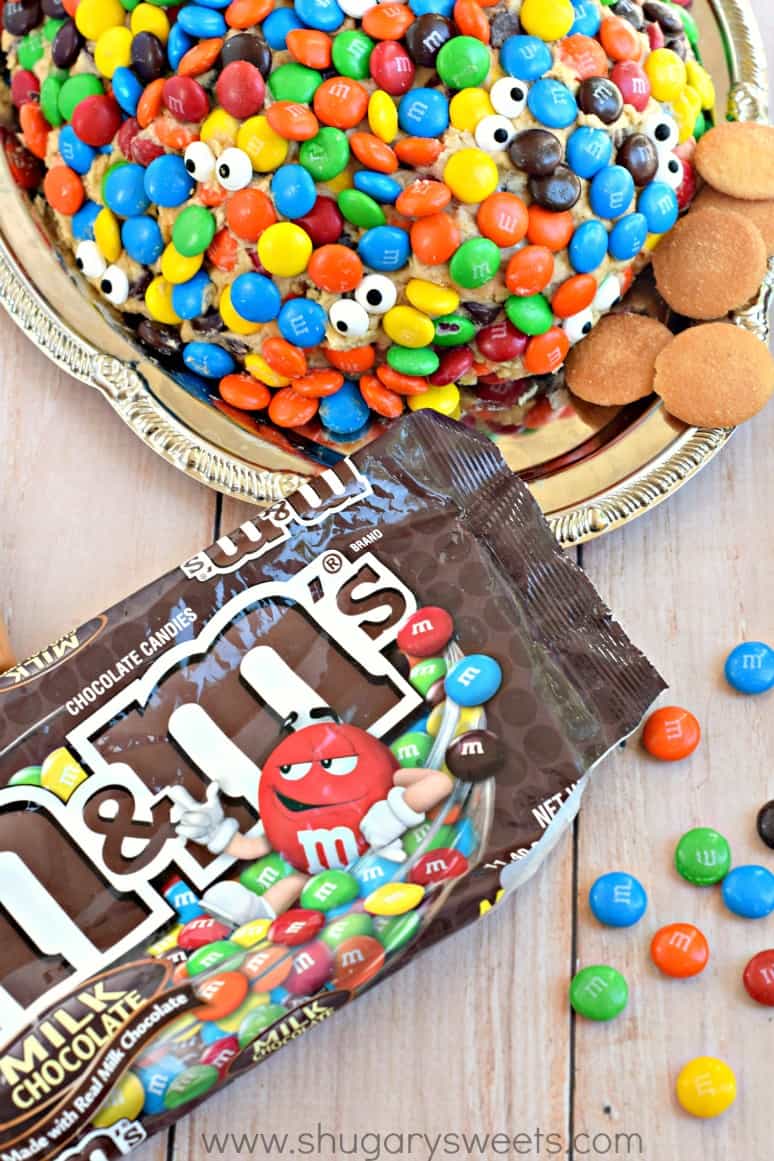 Tips and Tricks
This can be made a day or so in advance. Just wait to press the top layer of M&Ms and eyeballs into the cheese ball until you're ready to serve it.
Store your cheese ball in the fridge covered in plastic wrap. If you end up with leftover cheese ball (unlikely with how tasty it is), you can reform it into a smaller ball and wrap it in plastic wrap. It won't be as pretty, but it'll still taste good!
Recipe FAQs
What can you serve with sweet cheese balls?
Dessert cheese balls are perfect paired with all kinds of cookies, pretzels and butter crackers! If you like the combo of peanut butter, banana and chocolate, you'll enjoy this spread on banana slices too.
Are cheese balls a dessert or an appetizer?
Why not both! I think of cheese ball as a classic party food when everyone's walking around switching from savory to sweet and back again.
Why are monster cookies called Monster Cookies?
Monster cookies contain peanut butter, oatmeal, chocolate chips, M&M's and raisins. They are a "monster" sized treat.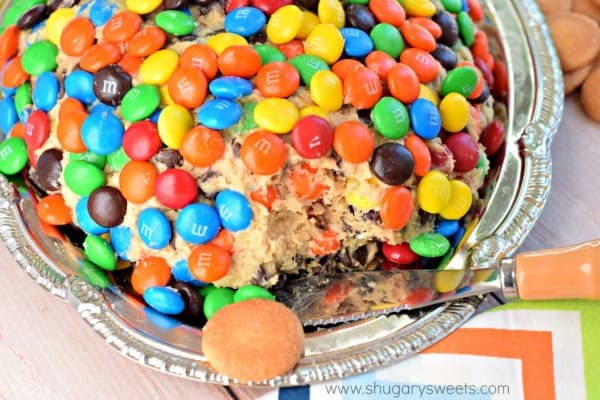 This would also make a fun dessert to share with the family after dinner. Kids LOVE anything with candy googly eyes and M&Ms.
The zany addition of candy eyeballs makes this recipe a hit with everyone! You're going to have so much fun sharing this Monster Cookie Cheeseball!
More Halloween Recipes