This Monster Cookie Cheese Ball recipe is a crowd pleaser! Stuffed with candy, chocolate and peanut butter, you're going to want to try this soon!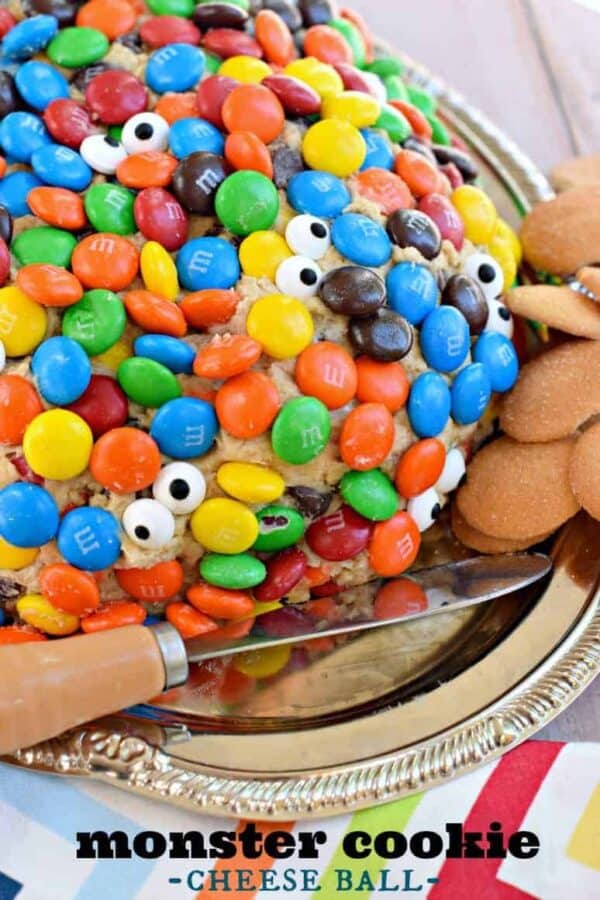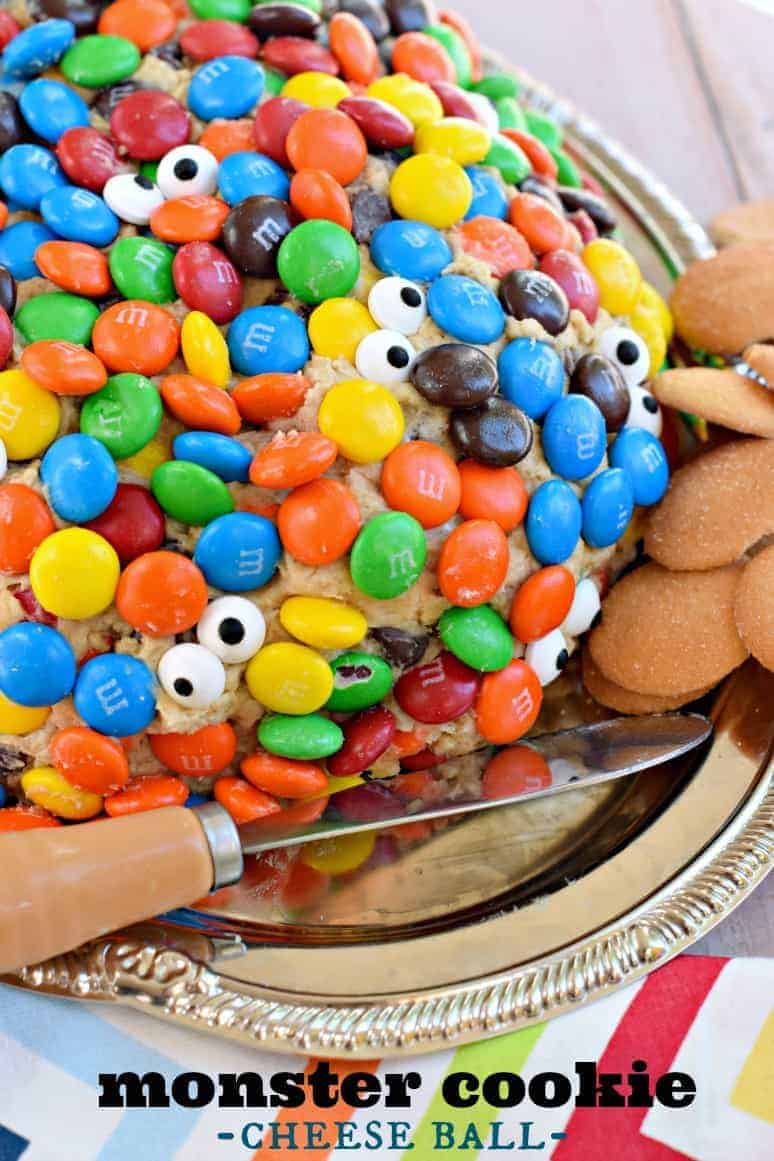 I'm a big fan of googly eyes. Especially the edible kind that you find around Halloween. They can turn any basic treat into a "Spooky Treat" just by adding eyeballs.
Some of my most popular recipes on the blog are cheese balls. Sweet or savory, they always seem to be a hit. Know why?
Because in real life, people love to dig into a cheese ball. Spread them on crackers or cookies, they are always a crowd pleaser.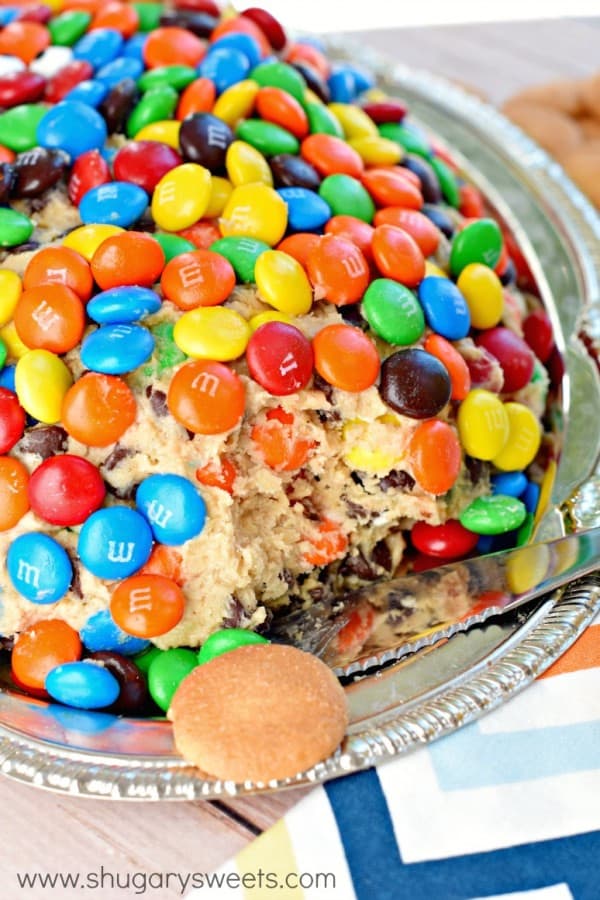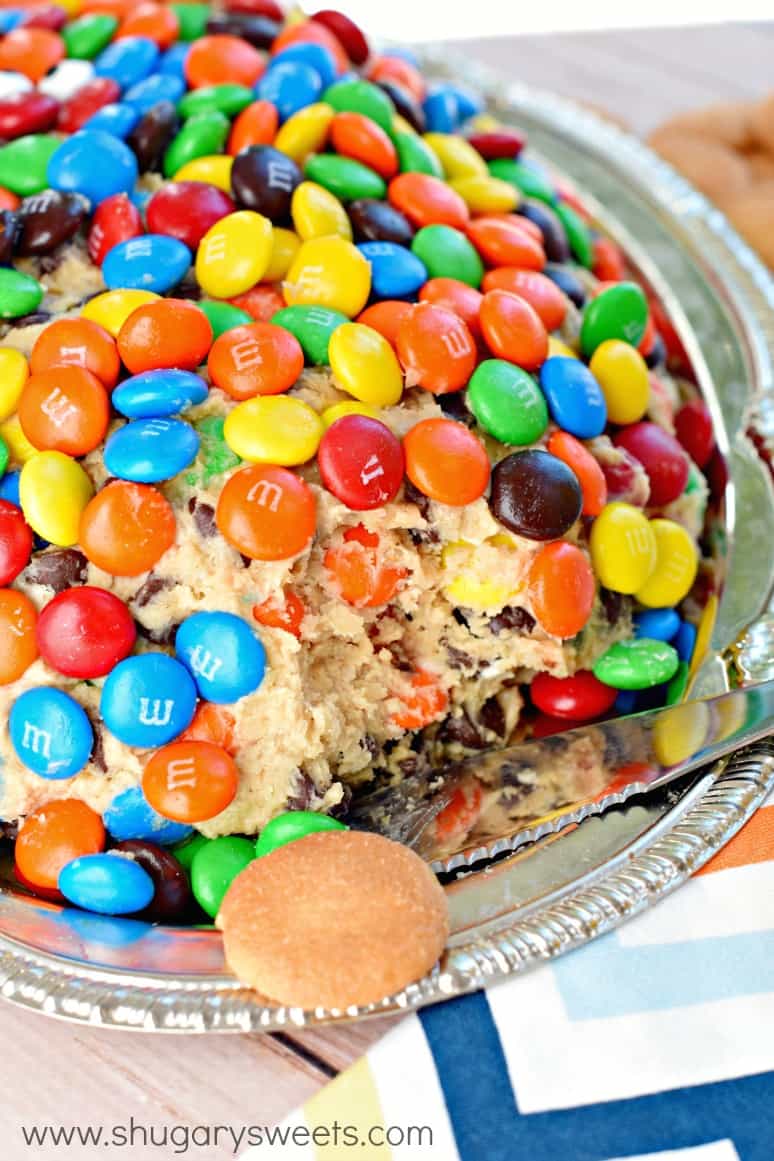 I've been wanting to make a Monster Cookie Cheese Ball for quite awhile. Do you love monster cookies? Filled with oatmeal, peanut butter, chocolate chips, M&M'S and raisins, they are the "everything" of cookies. I debated whether to keep the raisins in for today's cheese ball recipe, and opted out of them. While I know I would love the chewy addition, I feared that my kids would flip out (in a bad way).
The dilemma then became….is it still a Monster Cookie without raisins?? I solved that question by adding eyeballs to my cheese ball. So if anyone questions the ingredients list, I can just say…the "monster" comes from the eyes!
I guarantee there won't be any questions though. Your party guests will be too busy enjoying bites of this fun treat! If you've got a tailgating party or Halloween bash, this Monster Cookie Cheese Ball is the perfect snack to bring along!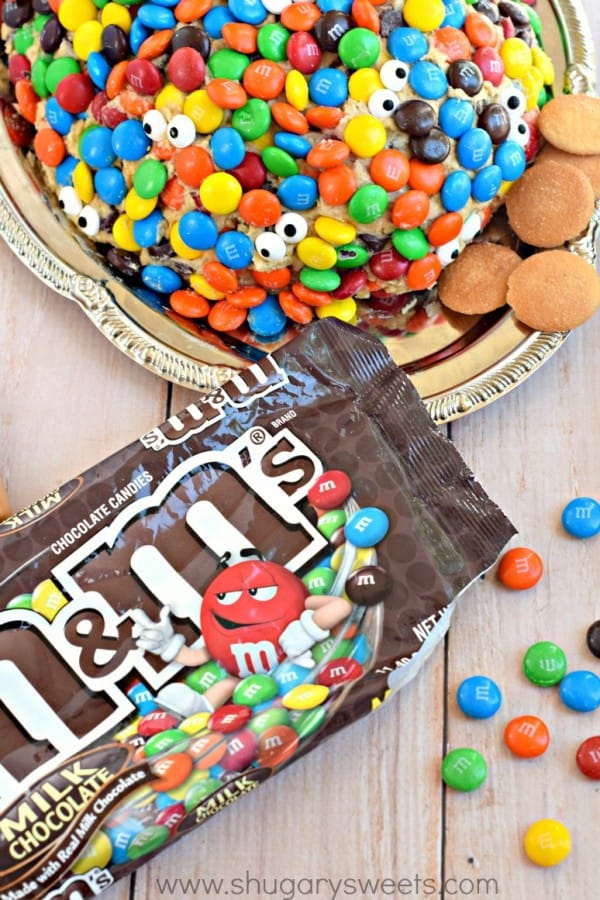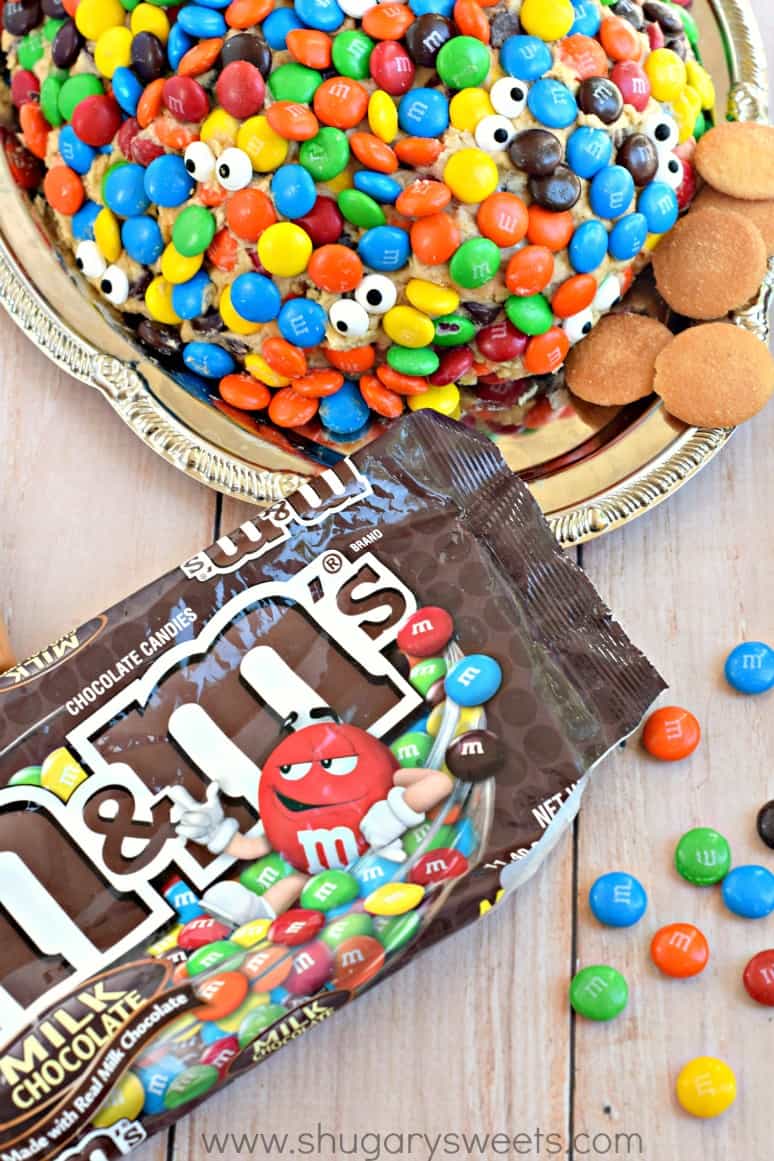 I've partnered up with M&M'S® to help create delicious content for their new Pinterest page! If you're looking for something to impress, be sure to check out their page! Monster Cookies, whether in Cheese Ball form or cookie bars, are one of my favorite treats. You'll find plenty of fun recipes over on Pinterest!
Making this recipe is super easy too!
Blend all your ingredients according to the directions.
Line a 4 cup bowl with plastic wrap and drop cheese ball mixture into the bowl. Cover with plastic wrap and refrigerate.
After about 2 hours, remove from refrigerator and unroll cheese ball from plastic wrap. Place on serving plate.
Using your hands, press in M&M'S to cover the cheese ball completely. If desired, press in sets of candy eyes.
Serve with cookies, graham crackers, pretzels, etc!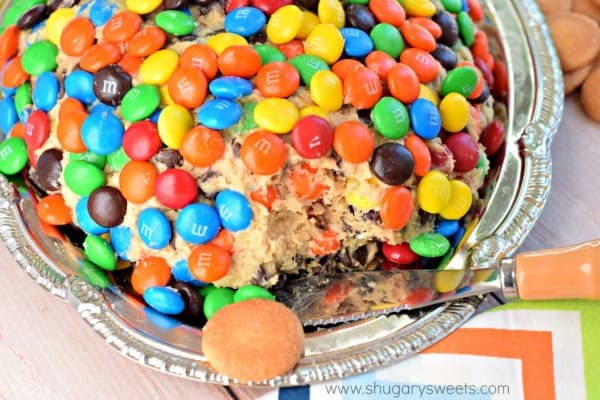 Yield: 12 servings
Monster Cookie Cheese Ball
Total Time
2 hours
10 minutes
This Monster Cookie Cheese Ball recipe is a crowd pleaser! Stuffed with candy, chocolate and peanut butter, you're going to want to try this soon!
Ingredients
1/2 cup unsalted butter, softened
1 package (8 oz) cream cheese, softened
1 cup creamy peanut butter
1/4 cup light brown sugar, packed
1 cup powdered sugar
1 1/2 cup quick cook oatmeal
1 cup semi-sweet chocolate chips
4 cup M&M'S® Milk Chocolate candies, divided
candy googly eyes, optional
Instructions
In a large mixing bowl, beat butter with cream cheese, peanut butter, and sugars. Scrape down sides of bowl as needed, and beat for about 3 minutes.
Beat in dry oatmeal until well blended.
Fold in chocolate chips and 2 cups M&M'S® Milk Chocolate candies.
Line a large bowl (about 4 cup size) with plastic wrap. Drop cheese ball mixture into bowl and cover with more plastic wrap. Refrigerate for about 2 hours.
When ready to serve, place chilled cheese ball on serving plate. Press in remaining 2 cup M&M'S® Milk Chocolate candies over the top and sides until completely covered. Add candy eyes if desired.
Serve with graham crackers, cookies and pretzels. ENJOY!

Disclaimer: This post is in partnership with M&M'S. All thoughts and opinions are 100% my own. Thank you for supporting the brands that make Shugary Sweets possible.