Monster Cookie Dough Truffles have it all! A soft cream cheese center is packed with peanut butter, M&Ms, oats and mini-chocolate chips in these easy truffles. Dipped in dark chocolate and covered in sprinkles, they're as fun to make as they are to eat!
Can't get enough Monster Cookies? You'll love this Monster Cookie Cheese Ball and this Monster Cookie Dough Fudge too.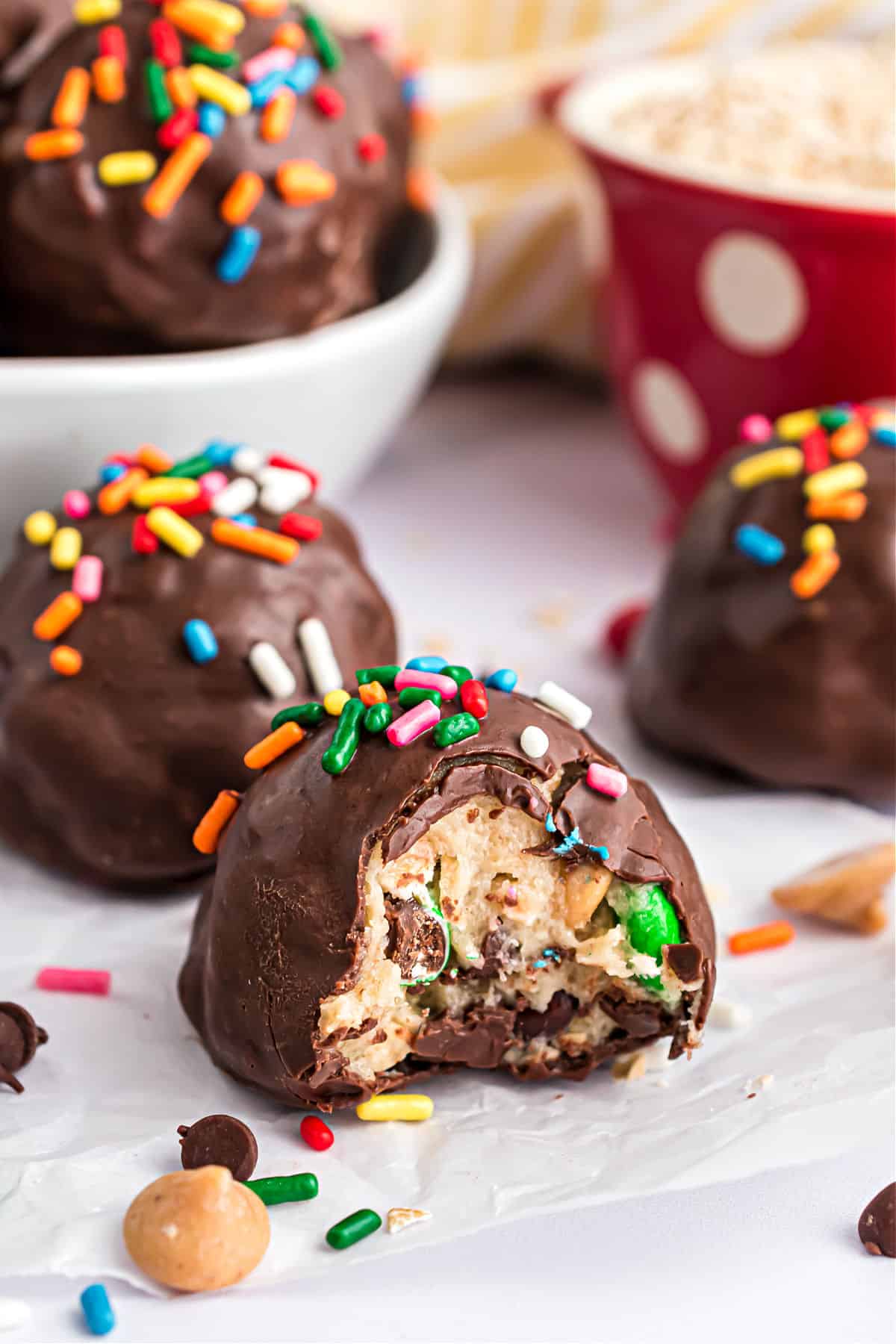 Why This Recipe Works
If you've never had the cookie that inspired these truffles before, I'm happy to introduce you! Monster Cookies are peanut butter cookies made with oatmeal, M&Ms and chocolate chips.
This recipe takes all the essential elements of the classic cookie and rolls them into bite-sized no bake truffles!
Amazing cookie dough taste–that's safe to eat!
Peanut butter, chocolate and M&Ms in every bite.
No candy thermometer needed.
Colorful sprinkles for more fun!
Love truffles? We've got lots of flavors. From classic chocolate chip cookie dough truffles to snickerdoodle truffles. So many great candy recipes!
Ingredient Notes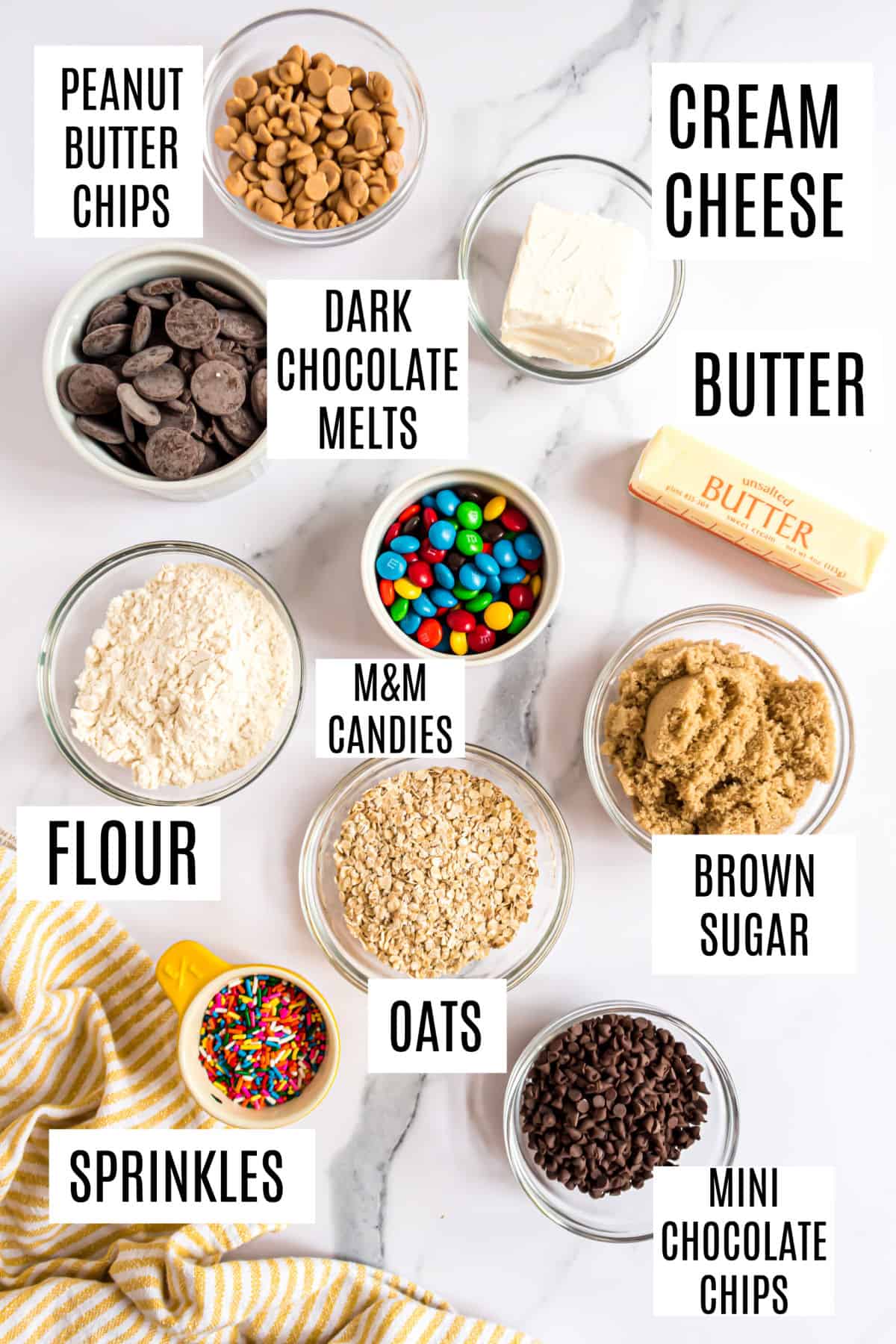 Cream cheese provides the base for the cookie dough center. Be sure to use the kind that comes in a block, not a tub!
Heat treated flour makes the cookie dough safe to eat raw. Find my instructions here for How to Heat Treat Flour!
Quick cook oats give the soft truffles a little more texture and a familiar Monster cookie flavor. You can use old fashioned oats too, just know they will be a little chewy.
Peanut butter morsels get folded into the cookie dough mixture before the truffles are rolled.
Mini M&Ms add a little candy crunch!
Dark chocolate melting wafers are formulated to melt easily and set smoothly as the outer layer of these truffles. We love using Ghirardelli wafers for best flavor!
Raisins (optional): If you like raisins in your monster cookies, go ahead and fold a handful into the cookie dough. My family prefers no raisins so I left them out.
Easy Instructions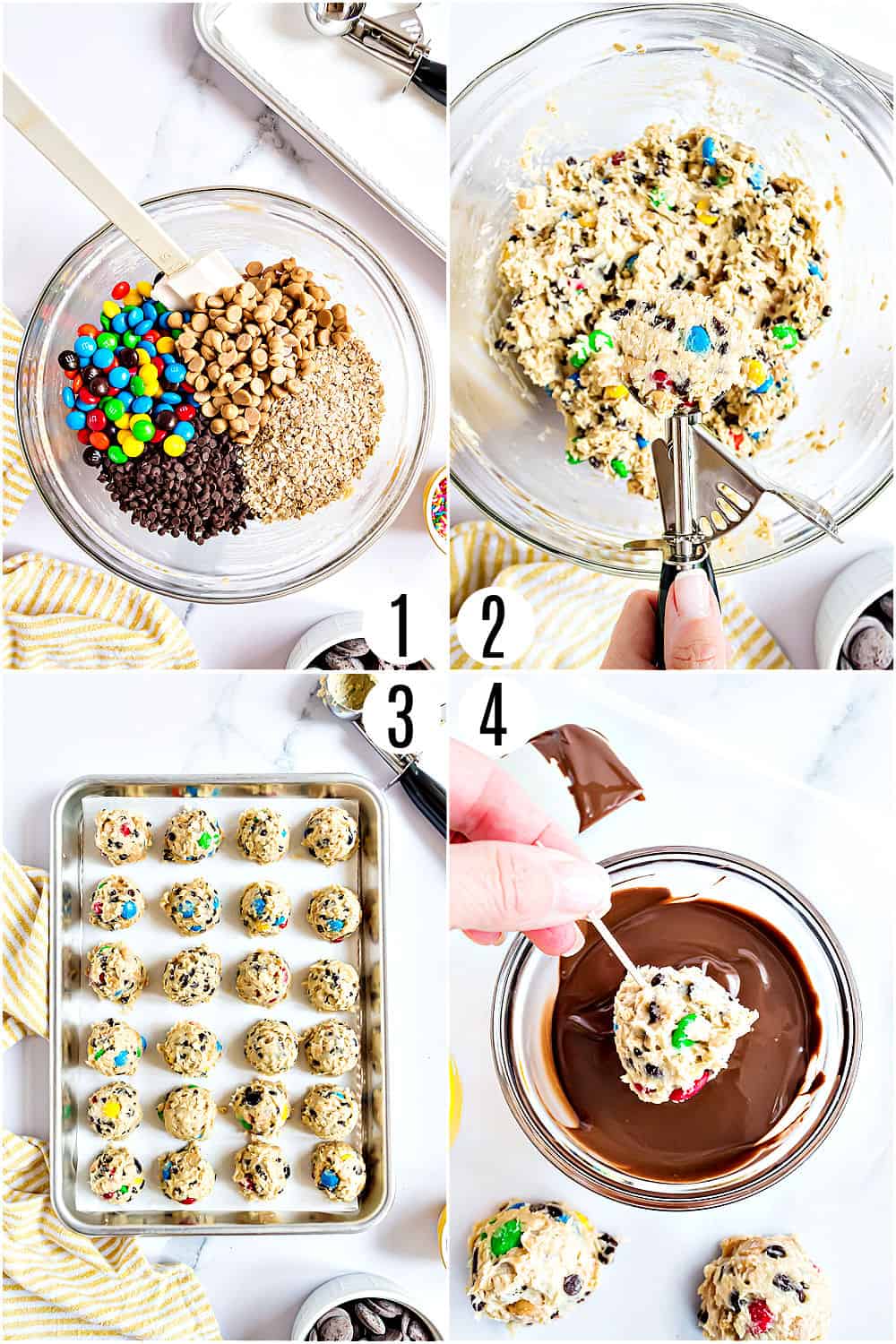 For the cookie dough center: Beat cream cheese with butter. Then mix in flour and brown sugar. Fold in peanut butter morsels, oats, chocolate chips and M&Ms.
Freeze: Drop the cookie dough mixture onto a large baking sheet lined with parchment paper, by the tablespoon. Freeze the balls of dough for 1 -2 hours or until solid.
Roll: Dip each cookie dough ball into melted chocolate to coat. Garnish with colorful sprinkles immediately.
Let the chocolate coating set for a few minutes. Enjoy!
PRO TIP: If after the first 1-2 hours of freezing cookie dough you decide you aren't going to make the truffles immediately, place the truffles in a freezer safe ziploc container for up to 3 months. Dip in chocolate before serving.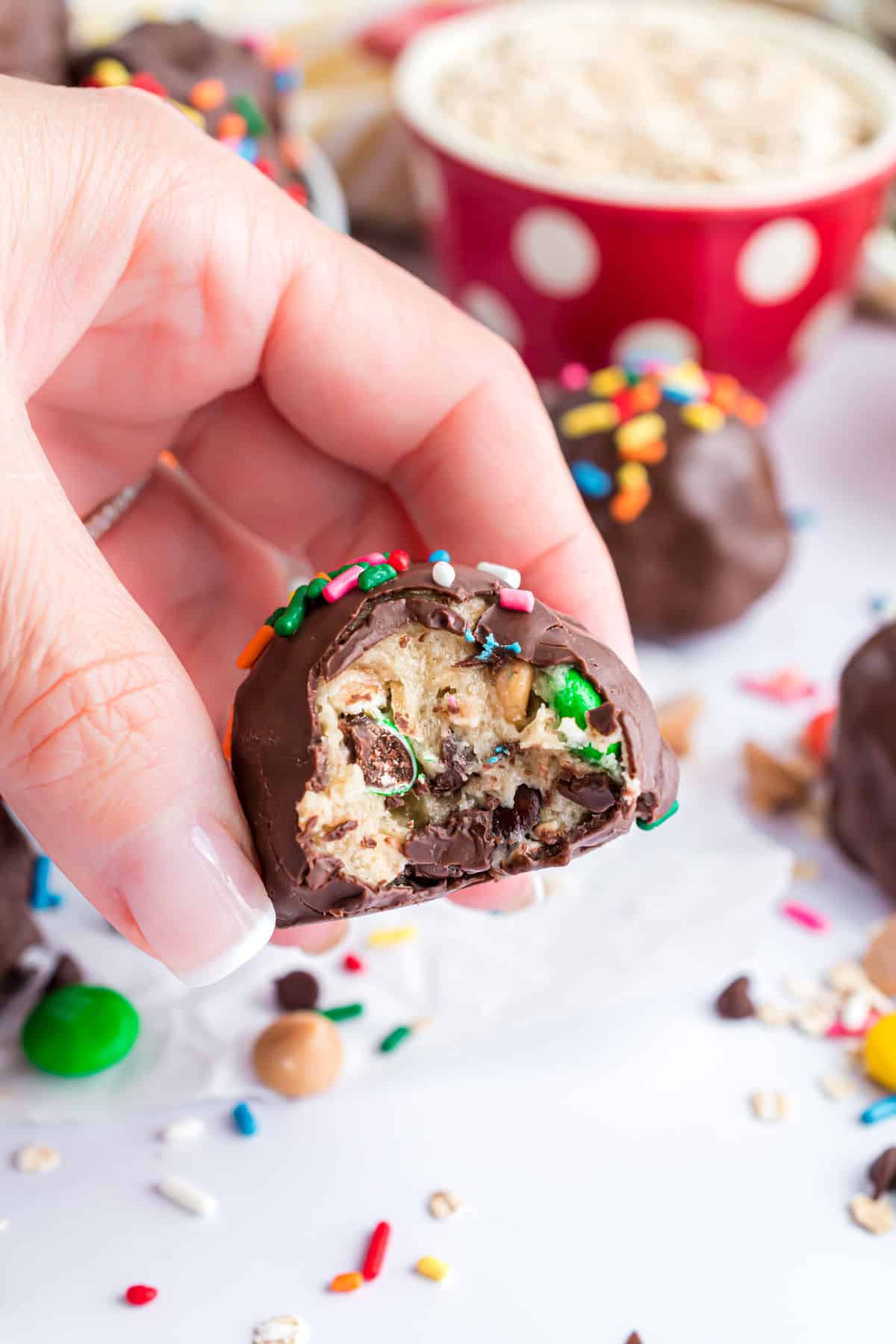 Tips and Tricks
Use a toothpick to dip the truffles in the melted chocolate. Then tap the truffles on the side of the bowl to remove any excess chocolate.
Not in the mood for dark chocolate? Dip these Monster cookie truffles in melted milk chocolate or white chocolate instead!
Change up the look of the truffles with different colored sprinkles. Try heart-shaped sprinkles for Valentine's Day or confetti sprinkles for a birthday treat.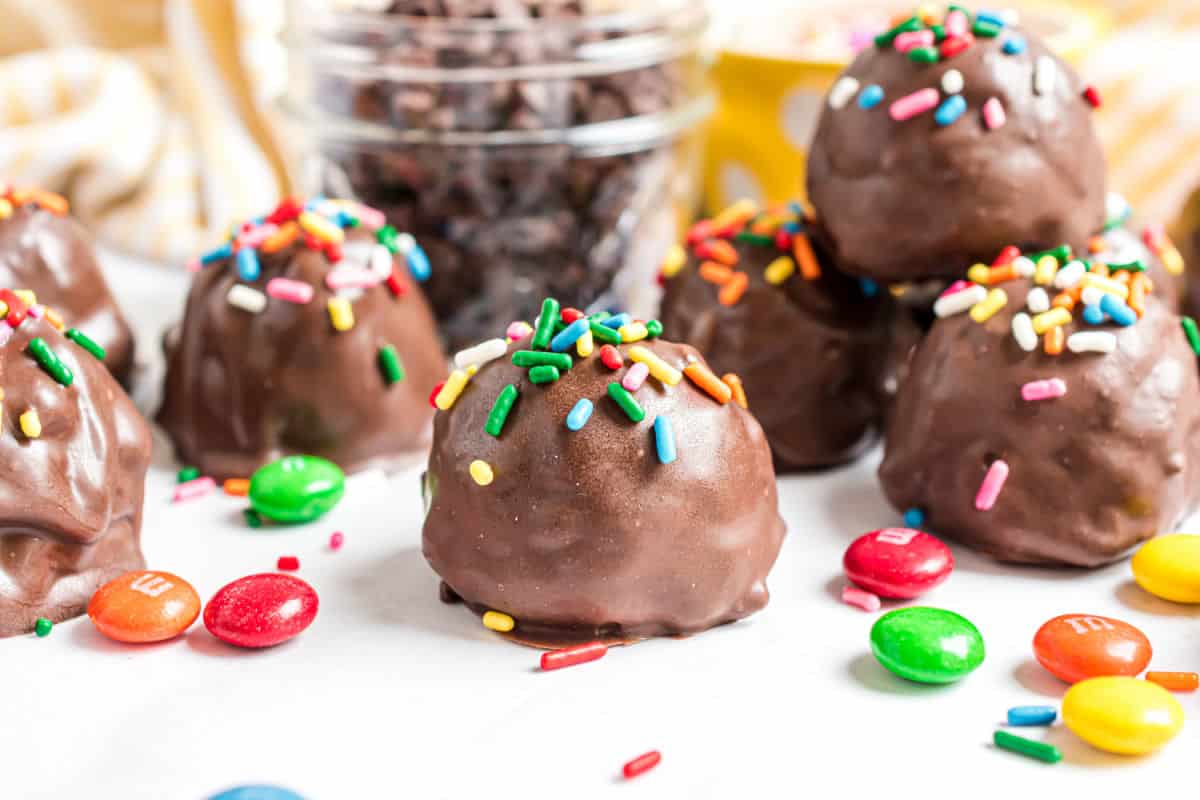 Recipe FAQs
I don't have melting wafers. Can I use melted chocolate chips?
You can, but the truffles won't look or taste quite the same. Chocolate chips have added ingredients that prevent the chocolate from setting up in a smooth, velvety layer.
How should I store homemade truffles?
Truffles with cream cheese should be stored in an airtight container in the fridge for up to several days. I love the way they taste cold! These Monster Cookie Dough Truffles are a great choice for freezing too! Take them out of the freezer a few minutes before serving to let them soften a little bit before eating.
Can I make this recipe with gluten free flour?
I have never tried this recipe with gluten free flour, but I don't see why it wouldn't work. Make sure to heat treat (bake) it just like you would with all purpose flour.
Why heat treat flour?
Baking the flour at a high temperature kills any bacteria or harmful pathogens that may be lingering in raw ingredients. Since these truffles aren't baked or cooked in any way, heat treating is necessary to ensure they're safe to eat.
Monster Cookie Dough Truffles are everything you love about Monster cookies, rolled into an easy bite-sized candy.