The layers on these Pecan Pie Cheesecake Bars are incredible! One tasty bite and you'll fall in love! From the graham cracker crust, to the sweet cheesecake filling and the pecan pie topping, this holiday dessert receives rave reviews from everyone!
We're big fans of pecan pie in these parts. From pecan pie truffles to a sweet pecan pie bundt cake, there's something for everyone to love!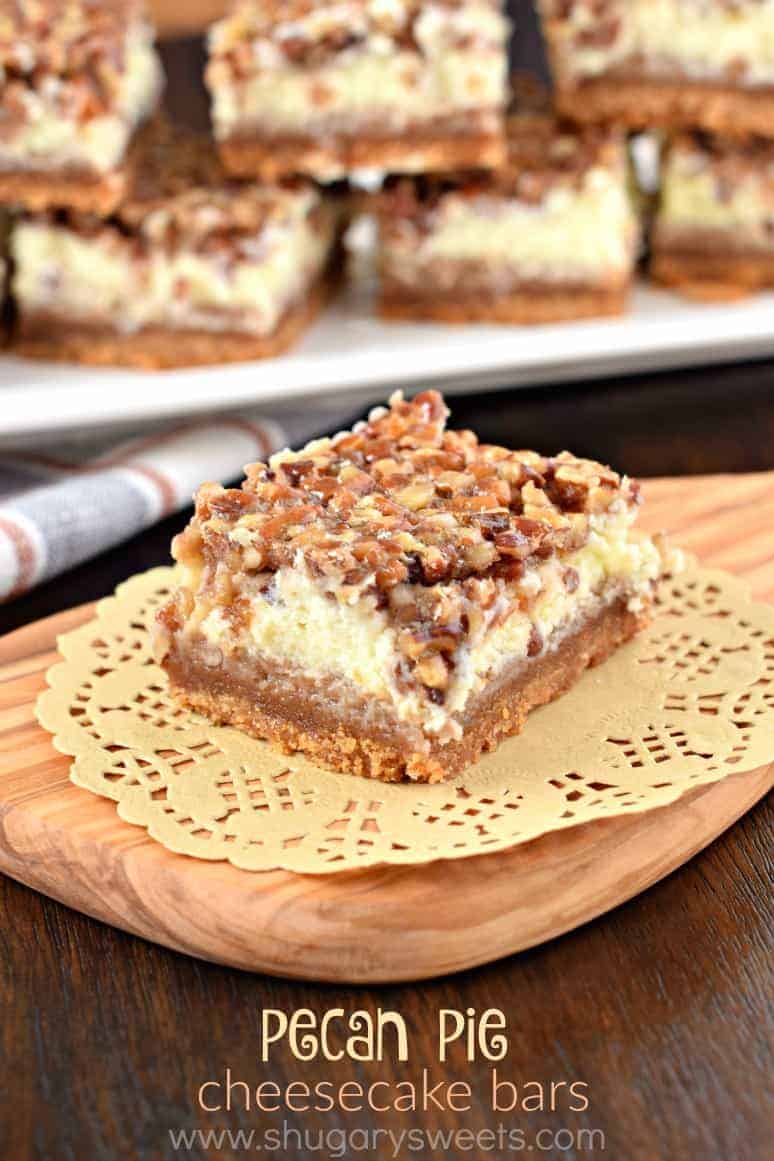 The Perfect Thanksgiving Dessert
Combining the sticky sweetness of Pecan Pie with soft and creamy Cheesecake Bars was guaranteed to be delicious but even so, I was blown away by how perfect these bars turned out.
If you have a lot of guests at your Thanksgiving dinner, you'll especially love the convenience of serving cheesecake bars over a traditionally shaped pecan pie.
You can slice them in advance so everyone can easily grab one off the dessert buffet. No need to spend time cutting and distributing pie slices to everyone one at a time.
I love that they deliver all the familiar goodness of a slice of pecan pie with the unexpected twist of a rich cheesecake base.
This is the best Thanksgiving dessert to make if you want to put a little twist on tradition this year!
If you love a delicious dessert mashup, you'll have to try our pecan pie brownies next!
Ingredient Notes
Graham crackers – Original honey or cinnamon flavor
Corn Syrup – Make sure to use LIGHT corn syrup.
Cream cheese – Let it soften at room temperature for a few minutes before using it in the recipe.
Pecans – I used pecan halves that I chopped into small pieces before making the topping. Toast the pecans to bring out more nutty flavor.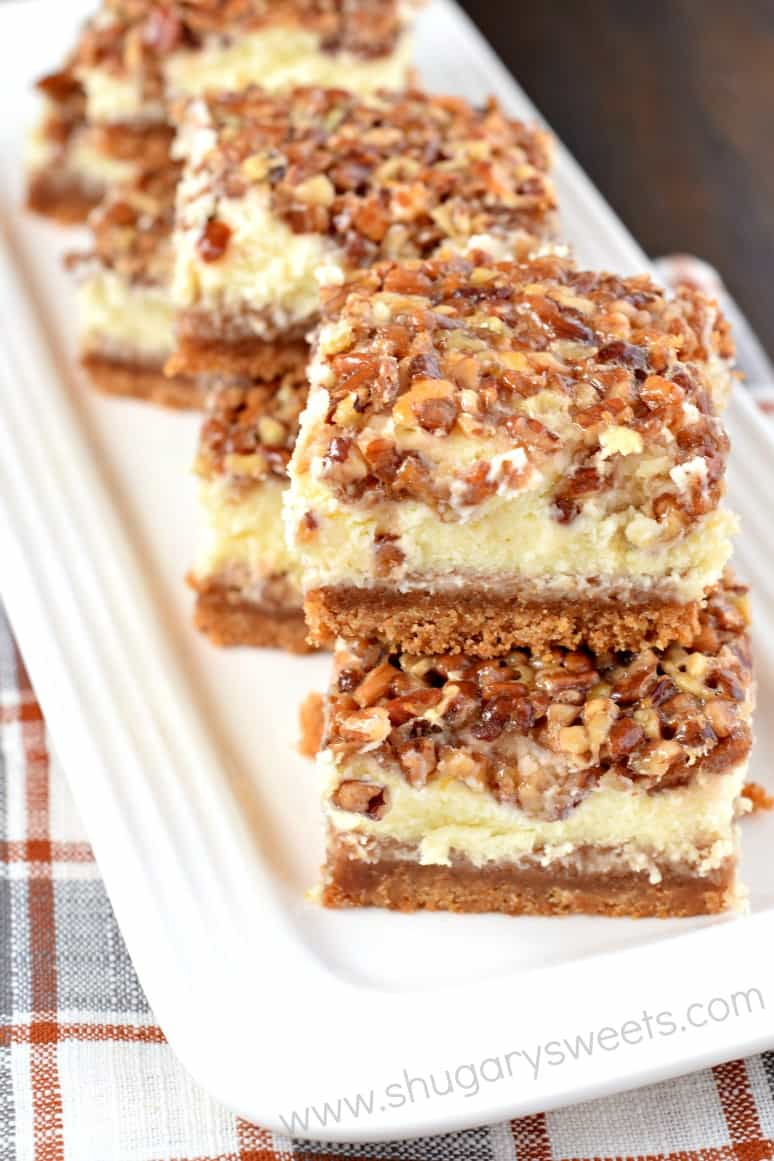 Step by Step Instructions
STEP 1. Graham cracker crust
Pulverize the graham crackers with sugar in a food processor to form crumbs, then pulse in melted butter. Press the crust mixture into a prepared greased baking dish.
STEP 2. Cheesecake filling
Beat the cream cheese with eggs, vanilla and sugar until fluffy, then pour it over the graham cracker crust.
STEP 3. Pecan layer
Bring the corn syrup, butter, heavy cream and salt to a boil. Let the mixture boil for one minute, then remove it from heat before adding the vanilla extract and pecan pieces.
Use a spoon to pour the pecan layer over the cheesecake.
STEP 4. Bake
Bake the bars for 35 minutes, remove and let them cool completely in the pan. Then, cover the pan with plastic wrap or foil and chill the bars for at least 4 hours (or up to overnight).
Slice, serve and enjoy!
Tips and Tricks
Use an electric stand mixer fitted with a whisk attachment to beat the cheesecake ingredients. The mixer helps get the filling fluffy, smooth and creamy in just a few minutes.
When adding the pecan layer to the cheesecake, pour slowly using a spoon to prevent the nut mixture from sinking to the bottom!
Store these bars in an airtight container in the fridge. They taste great cold!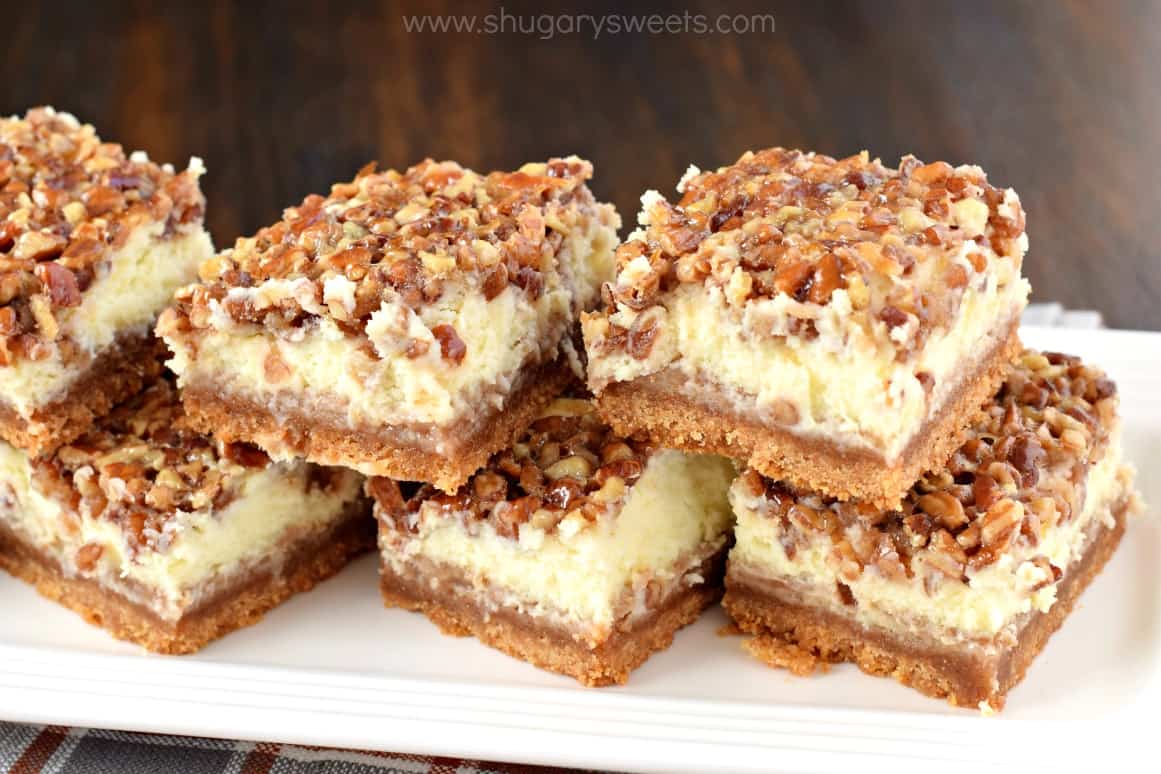 Recipe FAQs
Can I make the graham cracker crust without a food processor?
Yes, you can either buy the graham cracker crumbs ready made OR make your own by placing the graham crackers in a ziploc bag and crushing them with a rolling pin.
Why are my bars sticking to the pan?
Make sure to line your baking dish with parchment paper before putting the graham cracker crust in the pan. You can also spray the parchment paper with baking spray to help prevent the crust from sticking.
Can you freeze these?
Sure can. They'll hold up beautifully in the freezer stored in freezer bags. Defrost at room temperature or in the fridge overnight.
The best cheesecake bar for pecan lovers! Why choose between Pecan Pie and Cheesecake when you can have BOTH this Thanksgiving?