For the perfect Holiday appetizer, consider making this Cranberry Pecan Brie wrapped in Puff Pastry Sheets! Baked Brie is the elegant and easy party food you can make for all occasions.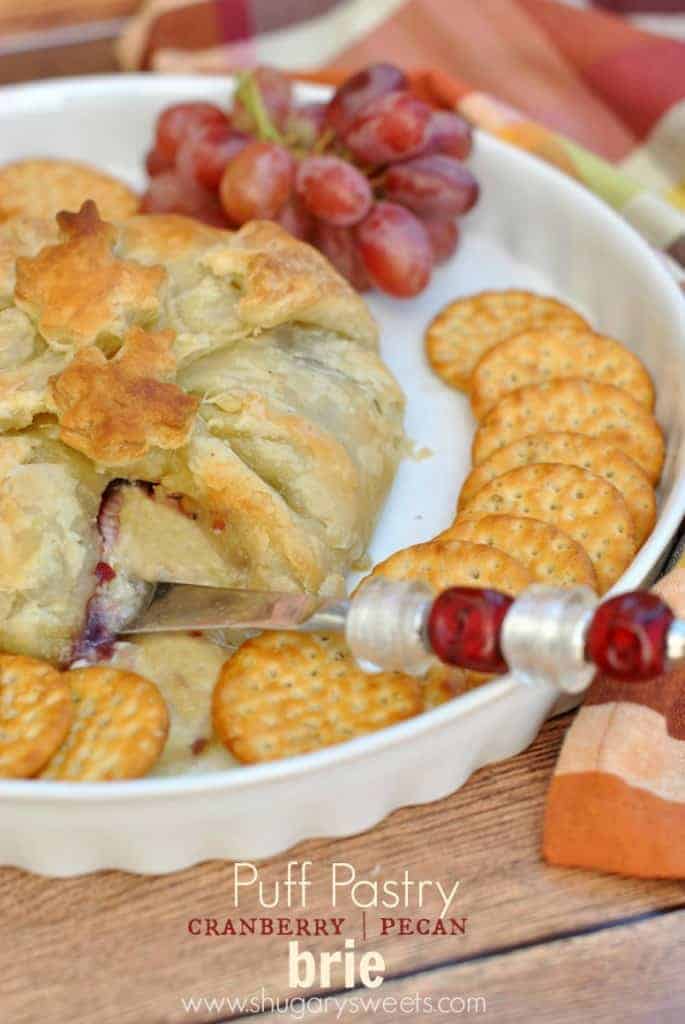 Why this Recipe is Best
When it comes to the holidays, it's all about the dinner, right?
I mean you slave over your thangksgiving turkey or ham, the lump free gravy, the homemade cranberry sauce, the stuffing, even the desserts!
We spend the month of December creating the perfect cookie trays, boxes of homemade eggnog fudge for teacher gifts, and all kinds of variations on Holiday Cookies.
But if you're like me, you might always find you've forgotten about the appetizers.
Whether I'm having guests over for a full sit-down dinner or a casual buffet, I like to have something for everyone to nibble on before the main meal.
And even when we don't have guests at the table, my family is always hankering for something to nosh while we're waiting for the actual dinner to be ready.
So having holiday appetizers that are easy to make at a moments notice is essential!
Holiday Appetizer Idea
One thing I always keep on hand in my freezer are Pepperidge Farm® Puff Pastry Sheets. I use them to make quick breadsticks, breakfast struedels, and easy turnovers!
They are perfect for time saving meals, but also delicious too!
This year, I have found myself obsessed with Brie Cheese. I can't seem to eat enough of it. No need for anything but a cracker, and I'm a happy girl.
When it comes to serving guests (or even my own immediate family), I wanted to get more creative than a chunk of cheese and sleeve of crackers on a platter. I wanted to dress up my Brie Cheese and give it some holiday pizz-azz!
That's where this Baked Brie recipe comes in! Puff Pastry Wrapped Brie with cranberries is the best holiday appetizer or party snack I've served this year.
It has just four ingredients and comes together in very little time, once the pastry is thawed. Everyone who tried it raved about it so I just knew I had to share it with all of you!
Cranberry Brie
I know many of you LOVE homemade cranberry sauce. You shout from the roof tops that your recipe is the best! You add orange zest or ginger or cardamom, and claim it's the best. And I trust you.
So for this recipe, use your favorite cranberry sauce. The trust one you've been making for years and never lets you down.
Me? I'm not ashemed to admit I just used the canned stuff. (Remember that "easy" is the name of the game here!) Lest you think I'm slacking, I also added a generous handful of pecans for a little more flavor and crunch.
So what started off as a hunk of cheese became this Baked Brie with cranberries and pecans all wrapped in a flaky puff pastry.
Sounds pretty great, right?
I'm happy to report that this holiday appetizer tastes every bit as delicious as it sounds! The warm, creamy cheese is delicious scooped with crackers or even eaten straight up with a spoon.
Baked Brie
With just four ingredients you can make the perfect holiday appetizers.
Here's what you need to make this Puff Pastry Wrapped Brie recipe:
Brie cheese
Refrigerated puff pastry (thawed)
Cranberry sauce
Pecans (chopped)
Assembling the appetizer took very little time. But, plan ahead. You need to thaw your puff pastry for about 40 minutes on your counter top!
While the puff pastry is thawing, use that time to get your dinner entrees and side dishes started (or maybe wrap a few Christmas presents.) From there, it's a matter of just wrapping the cheese wheel and baking until golden and flaky.
How to Make Puff Pastry Wrapped Brie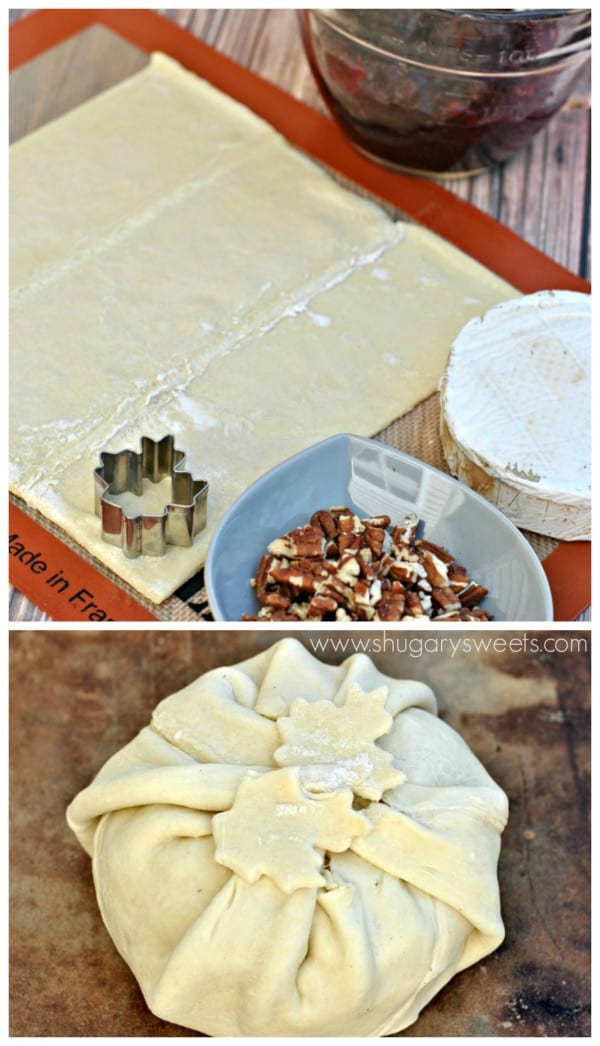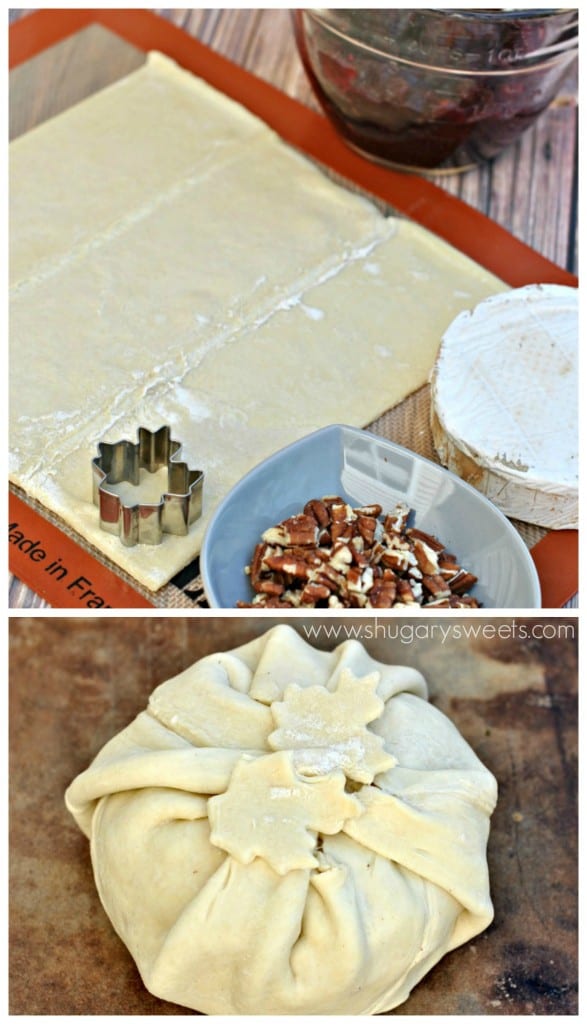 STEP 1. Once thawed, unfold the pastry and place your wheel of Brie cheese in the center.
STEP 2. Top it with your cranberry sauce and chopped pecans.
STEP 3. Take the 4 corner and pinch them up at the top. Now you will have 4 open loops on the sides. Grab each of those and pinch them on top too so there are no openings in your pastry.
STEP 4. Bake your pastry and enjoy while the cheese is soft and gooey!
Serve on a pretty holiday platter surrounded by all your favorite cheese tray garnishes. Share this with friends or guests and the compliments will come pouring in so fast you won't know what to do with all of them.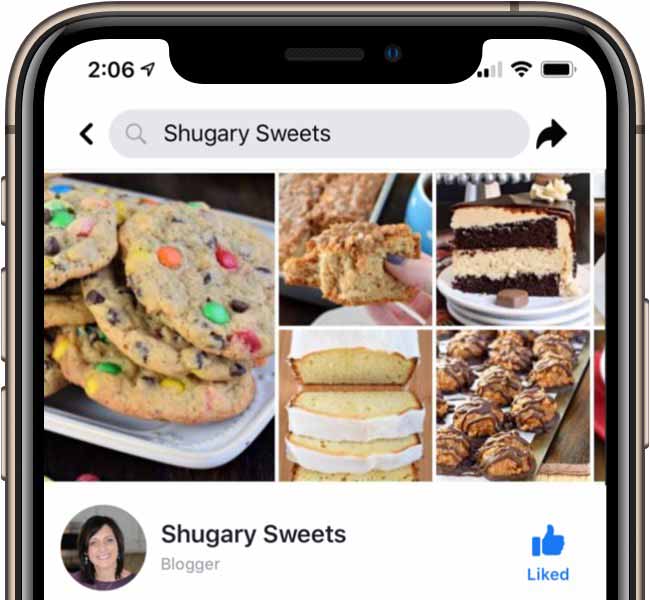 Tips & Tricks for Baked Brie
Before wrapping the cheese, I used a small "leaf" shaped cookie cutter to cut TWO leaves for garnish. I cut them out of a corner of the Pepperidge Farm® Puff Pastry Sheets. This is totally optional. You can cut a pumpkin, or turkey, or nothing.To help the top look pretty, I placed the two leaves on top of the seams for a little extra holiday fun!
Serve the baked brie with your favorite crackers. Any sturdy crackers you'd usually serve with a wheel of soft cheese will do.
This Baked Brie wheel looks great surrounded by other cheese board staples like grapes, slices fruit, nuts and toasted bread points, too.
You don't have to reserve this cheese appetizer just for the holidays, either! It's a great addition to any party or potluck, no matter the occasion. I can even see this becoming a snack for our family movie or game nights!
Don't have pecans? Feel free to leave them out. You could also substitute walnuts, hazelnuts or almonds here. Use our guide on how to toast pecans for best flavor.
The tangy cranberries coupled with the creaminess of the brie make this an irresistible appetizer. It's just different enough from your everyday cheese and crackers trays to be exciting without needing a ton of extra time and effort.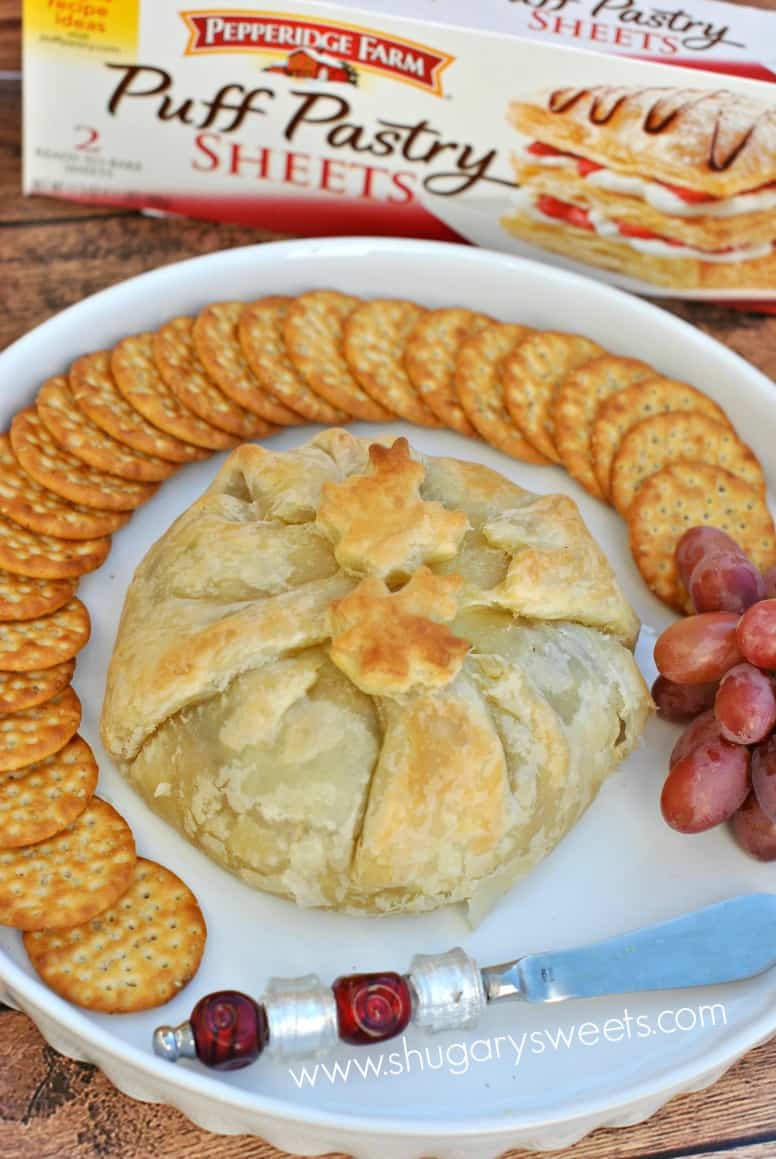 More Easy Appetizers
Puff Pastry Wrapped Brie with cranberry sauce and pecans is the ultimate in holiday appetizers! Everyone raves about this creamy cheese wheel wrapped in flaky pastry. Try this recipe–you won't be able to make it just once!