These Tequila Chicken Tacos are made in the slow cooker for an easy, flavorful dinner. Chicken breast is simmered with Mexican spices and tequila, then served in tortillas with jalapeno cream and pico de gallo.
If you love Mexican food, you'll love these Easy Slow Cooker Chicken Fajitas too. Or shake things up with these Slow Cooker French Dip Sammies!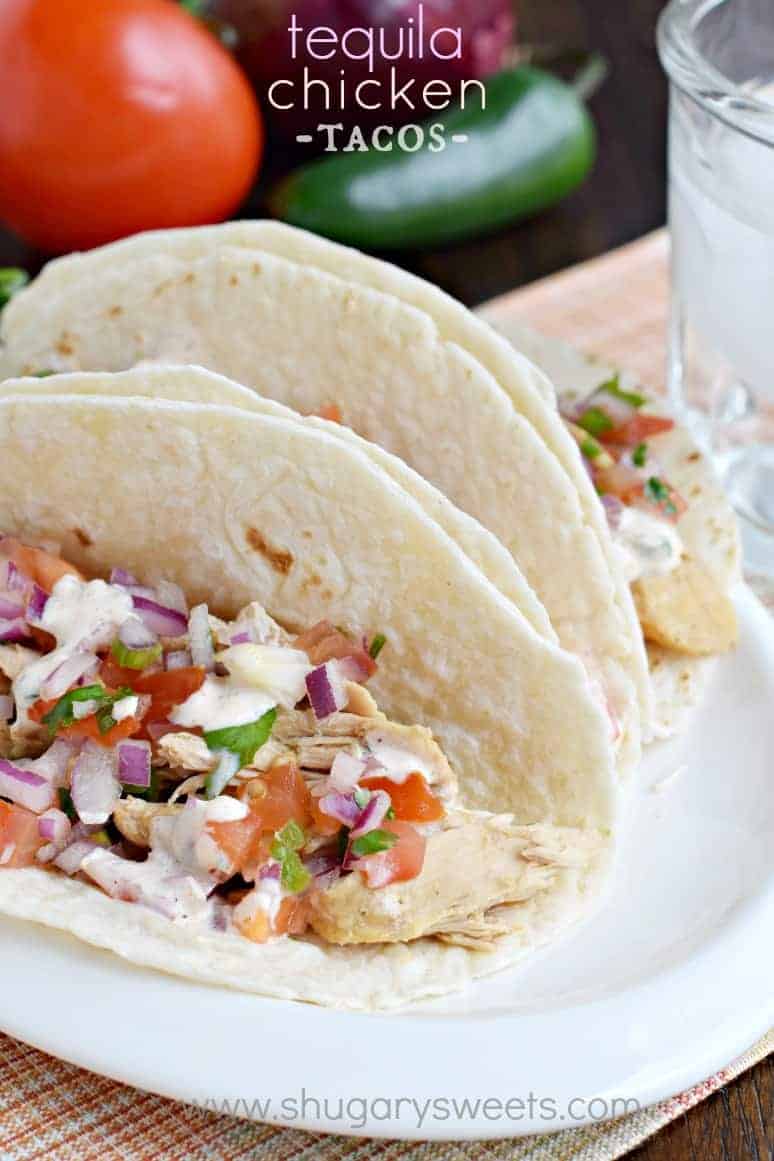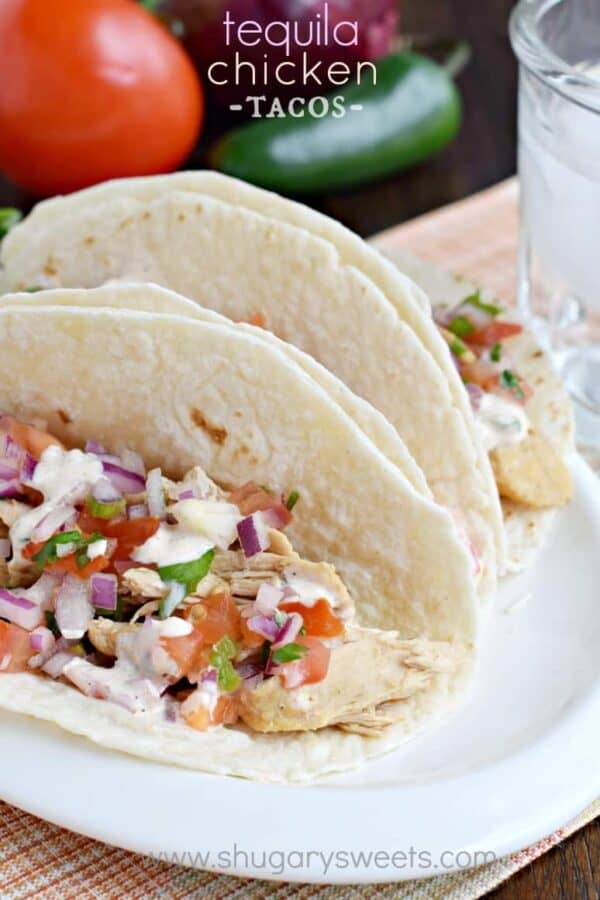 Why this Recipe is Best
Going out to dinner with me, you can always count on me to order tacos. Usually my choice would be Fish Tacos. Mainly because I love the sauce and fixins they put on it!
Instead of fish tacos today, I've got a Tequila Chicken Taco recipe that my whole family loved.
This chicken cooks for hours in the slow cooker while you don't lift a finger.
It's extra juicy with a mouthwatering tangy, spicy and sweet flavor.
I topped these with m pico de gallo for a hint of freshness.
Homemade jalapeno cream sauce gives this dish that "bite" you want!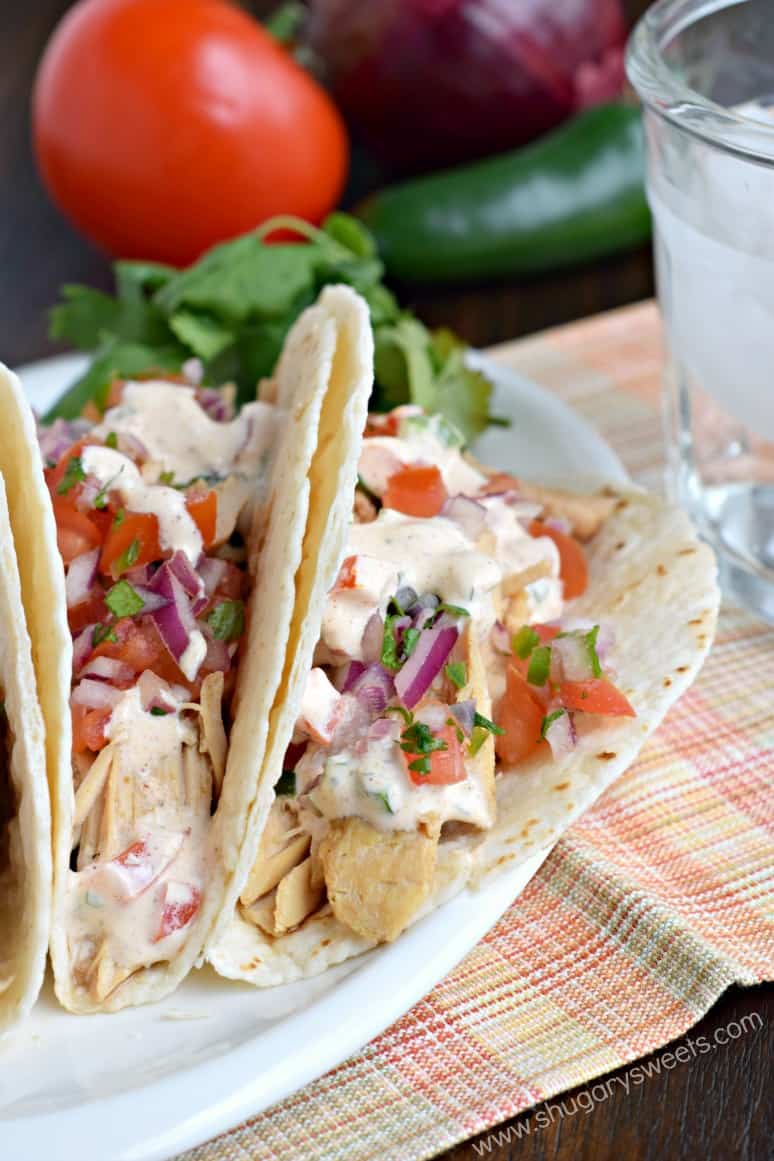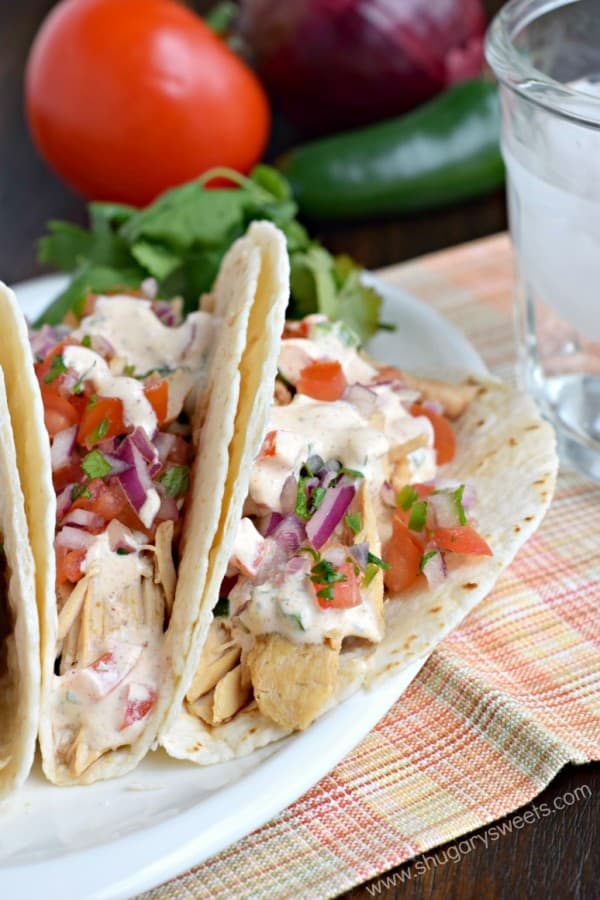 Ingredient Notes
Chicken – I opted for chicken breast in this recipe. Boneless chicken thighs could be used as well.
Tequila – The alcohol cooks off while the sauce simmers leaving behind a complex, tangy flavor you'll love.
Spices – A blend of cumin, ginger and garlic salt is used to season the chicken.
Pico de gallo – I made a batch of this homemade pico de gallo. Or you can use store fresh salsa if that's easier!
Jalapeno sauce – This is made from a blend of sour cream, mayo, lime juice and spices for a delicious blend of cooling, creamy and spicy flavors.
Easy Instructions
The most labor intensive part of making these Tequila Chicken Tacos is preparing the jalapeno cream sauce. Even that takes only a few minutes to blend everything together.
For the chicken:
Add the chicken to the bottom of your slow cooker. Stir together the other ingredients and pour them over the chicken. Cook on low for 6 hours, until the chicken is easy to shred with a fork.
For the toppings:
While the chicken cooks, combine the ingredients for the jalapeno cream sauce. Whisk together until smooth and combined. Cover the sauce and chill it for at least 4 hours.
Prepare the pico de gallo before the chicken finishes cooking, if you haven't done so already.
To serve:
Use two forks to shred the chicken. Ladle it onto tortillas then top with pico de gallo and jalapeno cream sauce. Serve right away!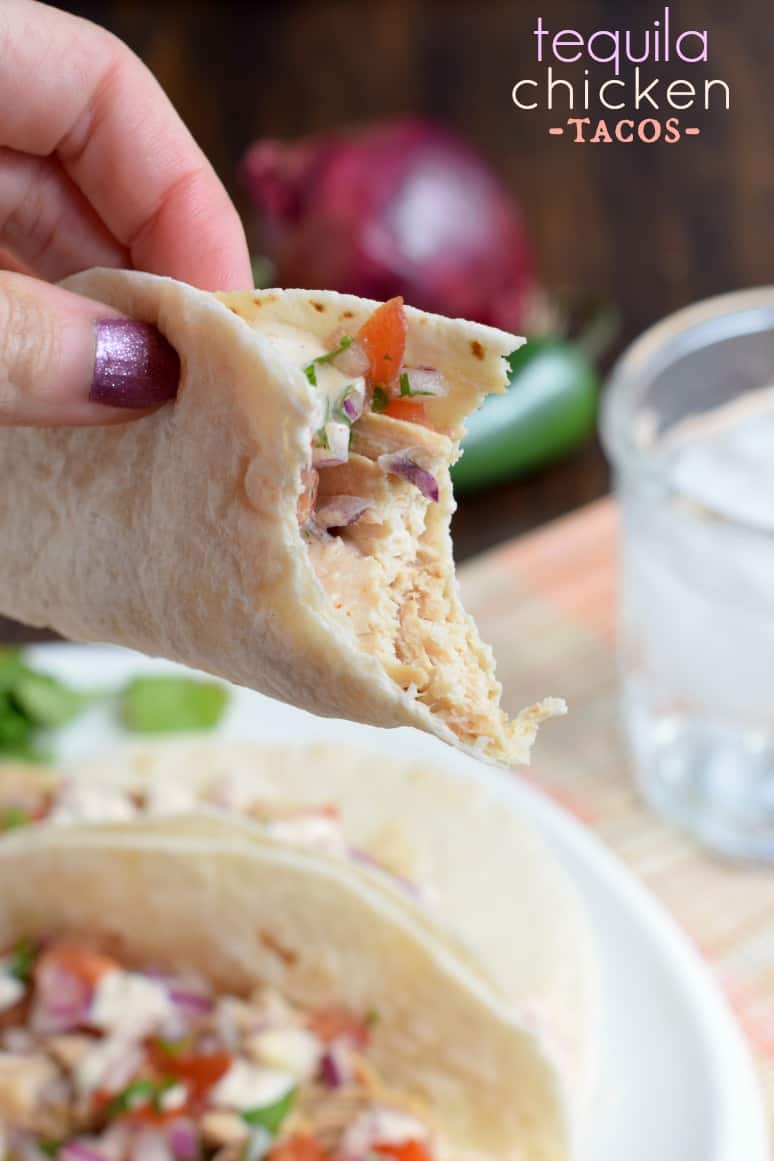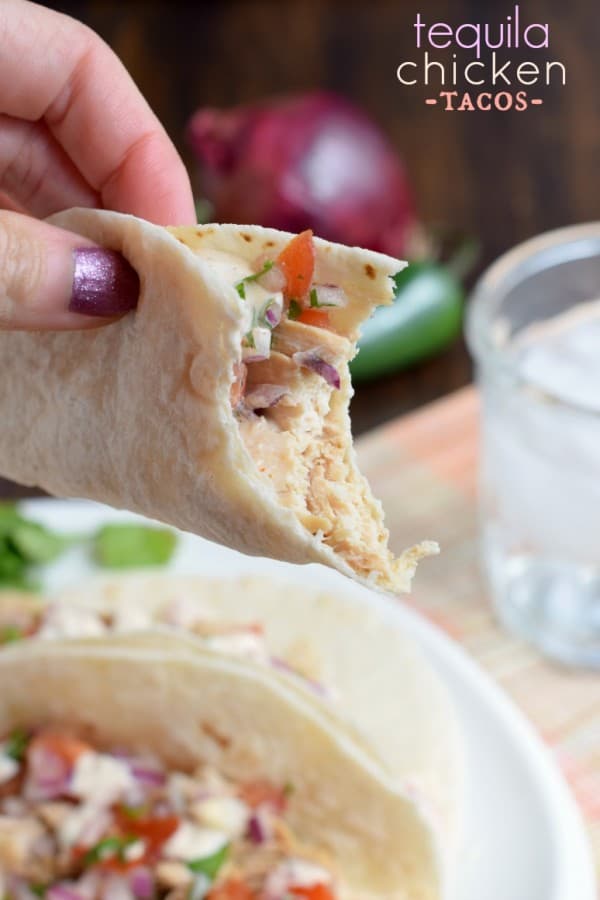 Tips and Tricks
Make the cream sauce in advance. The creamy jalapeno topping tastes even better when it's had more time to chill. I like to prep the sauce the night before I make the tequila chicken tacos.
Heat your tortillas. For best tasting tacos, warm the tortillas in a dry skillet on medium heat for a few seconds per side. It makes a difference!
Storing leftovers. Store the chicken in an airtight container in the fridge separately from the toppings and tortillas. Enjoy leftovers within 2- 3 days.
More serving suggestions. This chicken is delicious on more than just tacos! Try it on salads, in burritos, or in a bowl over rice.
Recipe FAQs
What can I use instead of tequila?
If you prefer not to cook with tequila, you can use chicken broth or vegetable broth instead. Even water would work, although it won't impart the chicken with as much flavor.
I'm in a hurry. Is it okay to skip chilling the sauce?
Taking the time to chill the sauce gives all those separate flavors a chance to mingle and combine. I highly recommend planning ahead to allow time for chilling.
Since you're slow cooking the chicken, you can whisk together the sauce ingredients right after you put the chicken in the slow cooker. By the time the chicken is done, your sauce will be chilled and ready to go!
Can I freeze the chicken? What about the sauce?
Yes, you can freeze the chicken after slow cooking. I recommend making the sauce fresh!
More Easy Weeknight Dinners
Slow cooker Tequila Chicken Tacos are an easy meal that's perfect for a busy weekday. You'll love the combination of spicy, cool and creamy flavors in these chicken tacos!