This Turkey Hand Pies recipe is a tasty and creative idea for using leftover turkey! Grab some puff pastry and make these savory hand pies to enjoy over the holiday weekend.
The best part of cooking a big Thanksgiving turkey is enjoying the leftovers for days! We look forward to Turkey Noodle Soup and Turkey Cheddar Sliders almost as much as the Thanksgiving meal itself.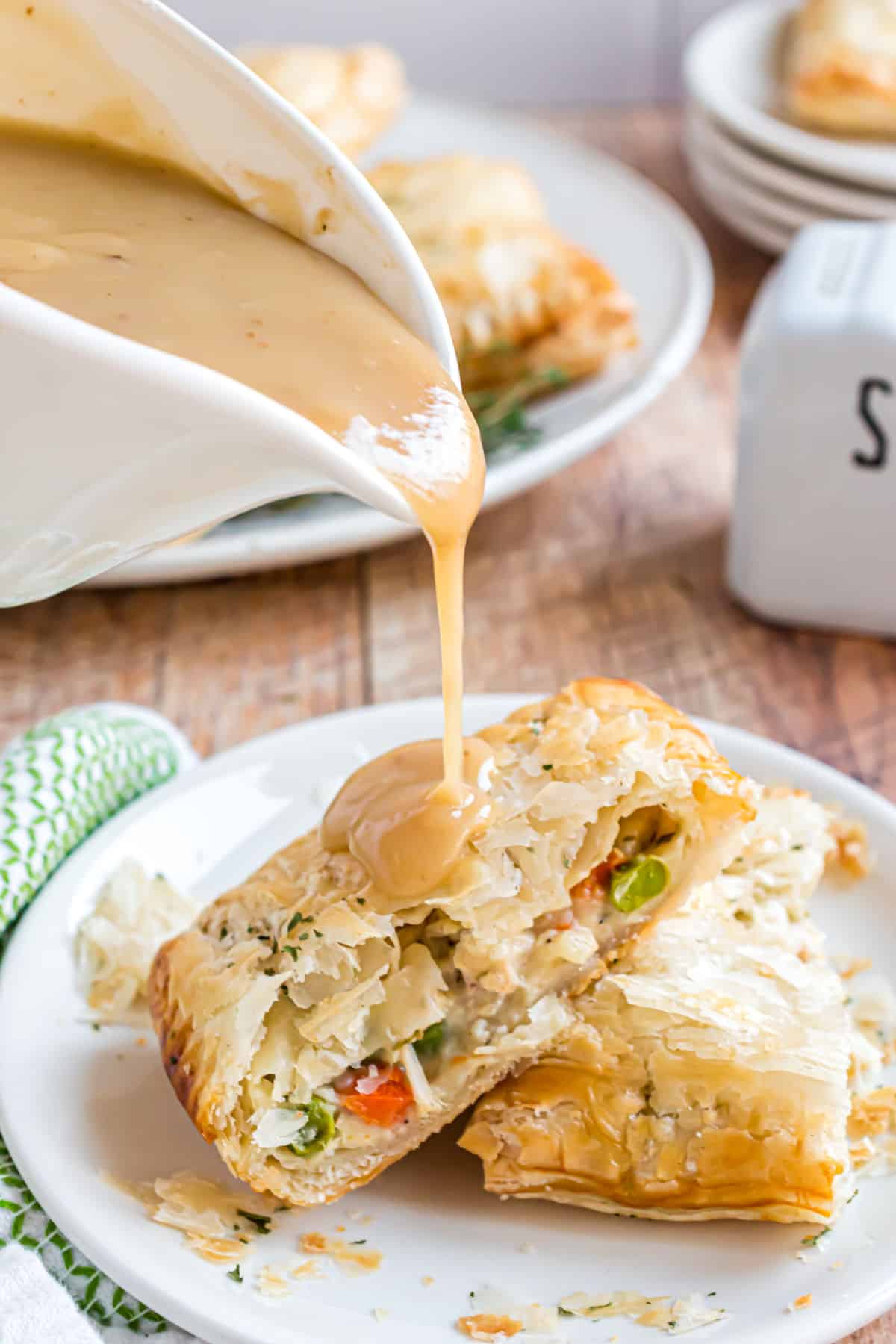 Why this Recipe Works
When you're like me, and make way more turkey than your family can eat in one meal, you find yourself getting creating with your Thanksgiving leftover recipes.
Today's hand pies use up not only your leftover turkey, but also pour some of that extra turkey gravy on top too!
Stock up on the essentials before the holiday, so you're ready (veggies, puff pastry, etc)
Quick and easy meal to assemble for lunch or dinner!
Flaky crust pairs beautifully with savory filling.
Bake and freeze for later. Warm up in toaster oven!
Ingredient Notes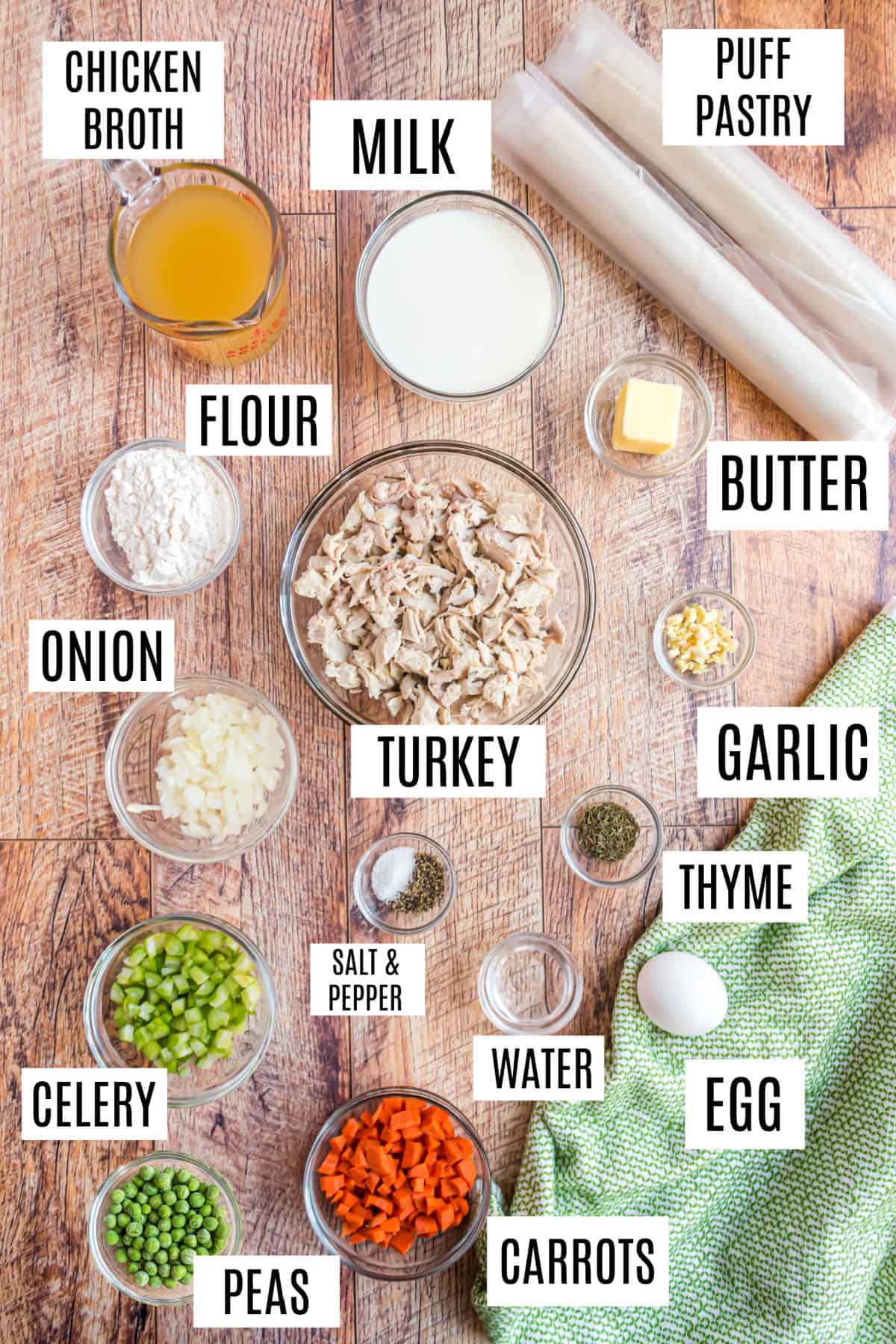 Turkey – Use your leftover turkey meat (white or dark is fine) and dice into small pieces. Can also be made with rotisserie chicken or shredded chicken that was cooked.
Puff pastry. We use frozen puff pastry for easy homemade hand pies. Let it thaw on the counter before using. You could also use refrigerated or homemade pie crust too.
Egg. Beaten egg brushed over the tops of the turkey hand pies before baking gives them an irresistible golden brown color.
Easy Instructions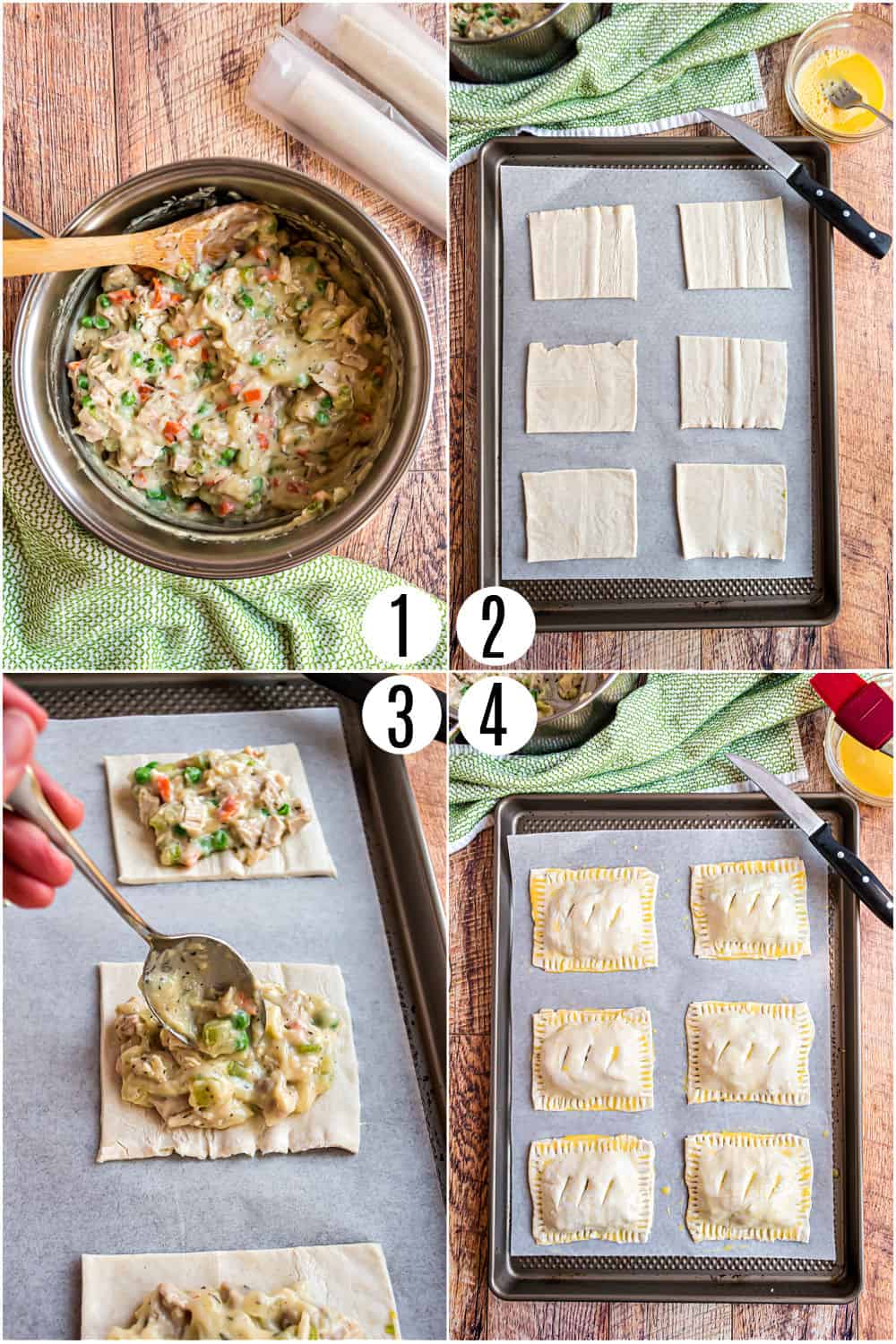 Make the flavor base:
Saute diced onions, carrots and celery in melted butter until softened. Add the garlic and cook until fragrant (1 minute or so).
This creates the base of savory flavor that makes turkey hand pies so delicious.
Add flour, broth and turkey:
Stir in chicken broth and flour, along with a few herbs and spices. Cook at a boil, stirring, until it gets nice and thick.
Now, stir in diced turkey and frozen peas.
Assemble the hand pies:
Whisk together the egg and water in a bowl to form the egg wash.
Cut each sheet of puff pastry dough into 6 rectangles.
Fill 6 rectangles with the turkey mixture. Brush the outer edges of the dough with egg wash.
Cover the filling with another rectangle of pastry dough. Press the edges together then cut slits in the top for venting. Brush the tops of each hand pie with egg wash.
Bake for 30 to 35 minutes. Serve warm.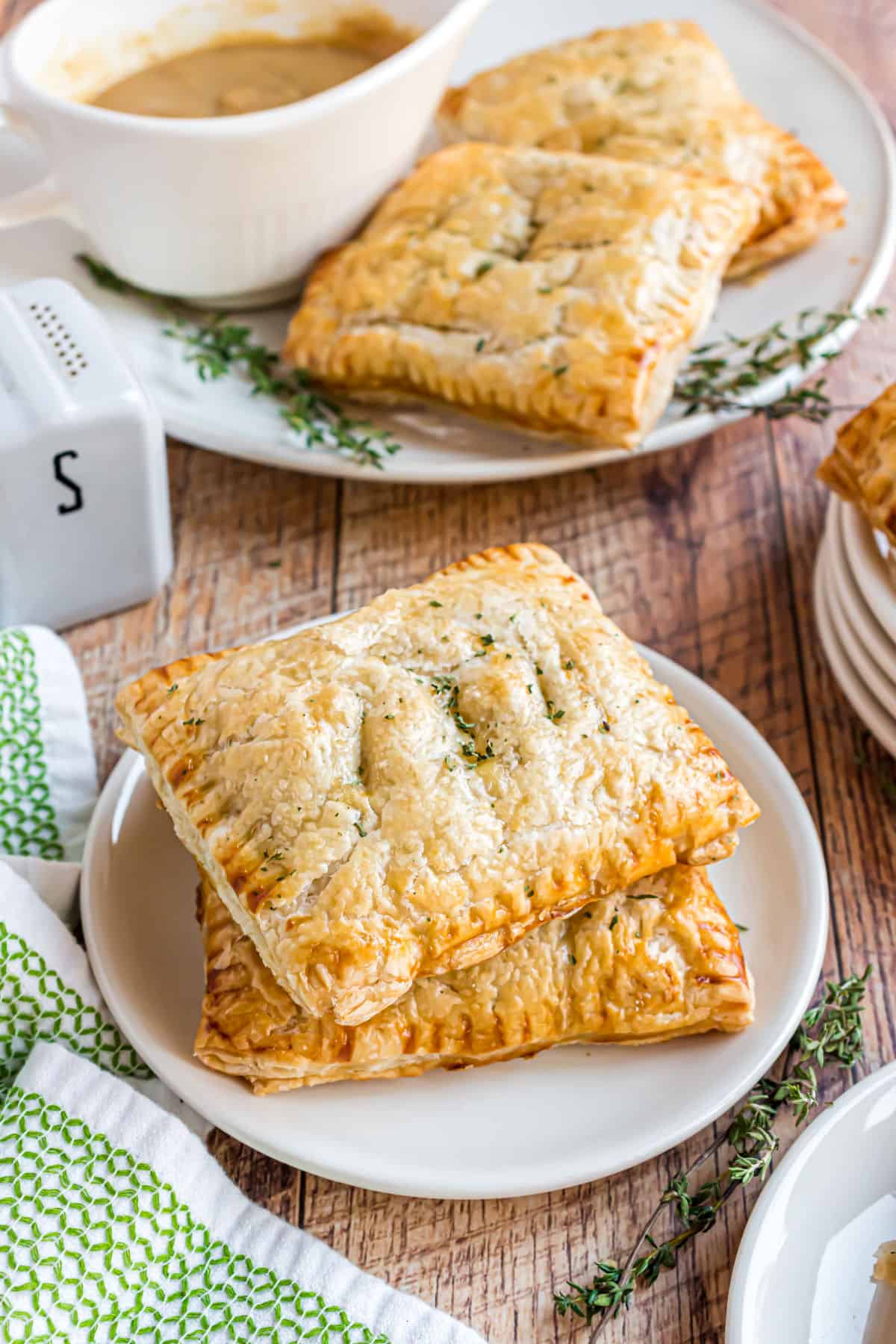 Tips and Tricks
Turkey Hand Pies are even more delicious served with Turkey Gravy and leftover cranberry sauce!
Garnish the baked hand pies with parsley or fresh thyme for a beautiful presentation.
Turkey hand pies are best eaten the day they are made. If you have leftovers, store them in the fridge for up to 3 days.
Make it a meal and serve with leftover mashed potatoes.
Make some sweet hand pies for dessert. Apple Hand Pies and Peach Hand pies are our favorites!
Recipe FAQs
How do you keep puff pastry from drying out?
To keep the puff pastry from drying out, keep it in the box until you're ready to assemble. When I make this recipe, I roll out just one sheet at a time. Cut the first sheet and place the filling in the rectangles before unrolling the second sheet.
What's the best way to reheat homemade hand pies?
Reheat the turkey hand pies in the oven for best results. Place on a baking tray and bake at 325℉ for 12 – 15 minutes until heated through. If you notice the crust beginning to brown, cover the hand pies with foil for the rest of the heating time.
Can I make this with chicken instead of turkey?
Sure, if you don't have leftover turkey you could use leftover chicken or even a grocery store rotisserie chicken for this hand pie recipe!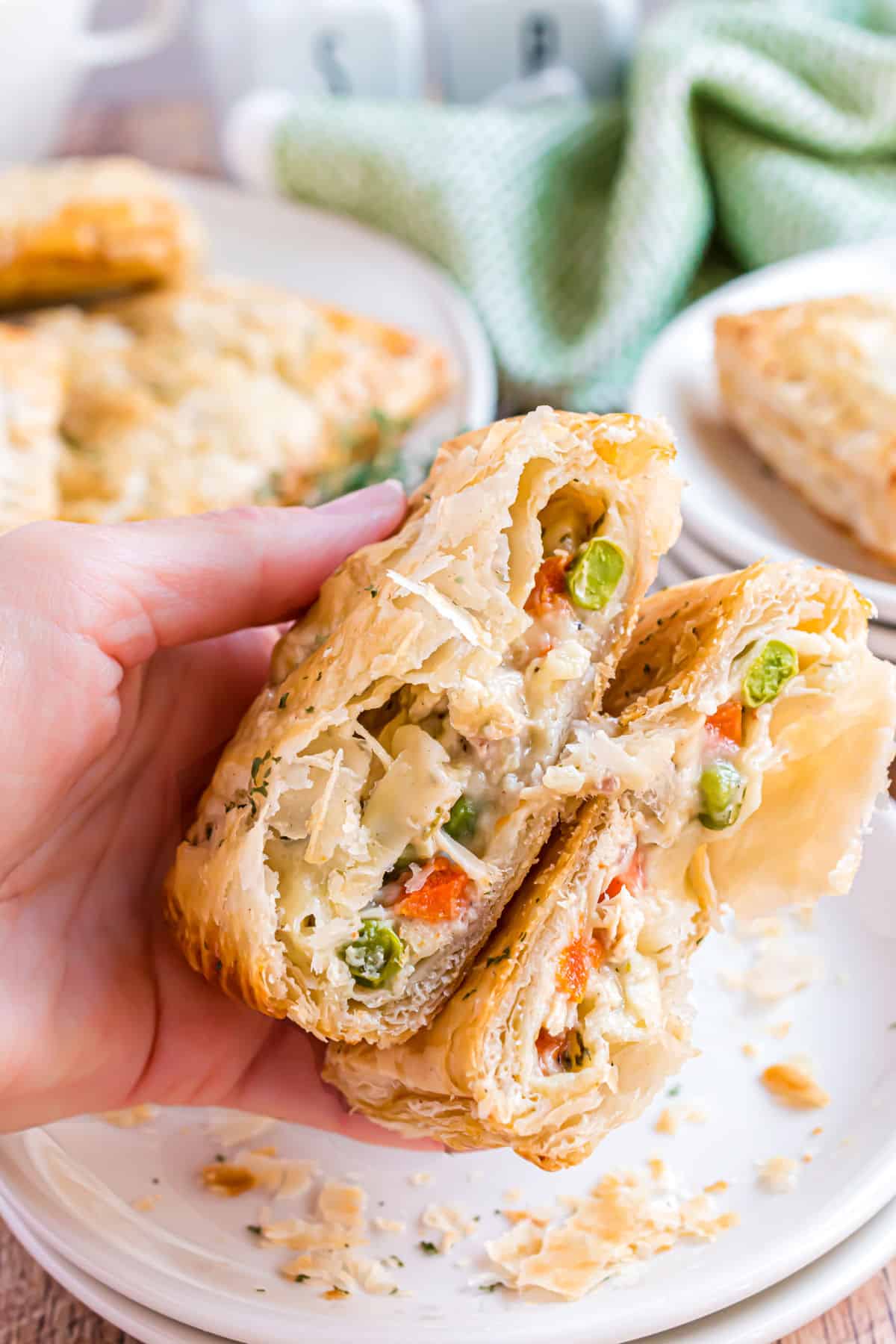 More Easy Dinner Recipes
Don't let your leftover Thanksgiving turkey go to waste! These Leftover Turkey Hand Pies are full of savory flavor, wrapped in flaky puff pastry. Easy to make and even easier to devour!