This Watergate Sheet Cake is nutty and moist thanks to pistachio pudding and pecans. Topped with a sweet, light whipped cream topping and coconut, this cake has it ALL, and it's easy to make too!
We love making cakes in 13×9 baking pans. Our easy chocolate cake is always a winner. But don't forget to whip up this delicious cream puff cake next!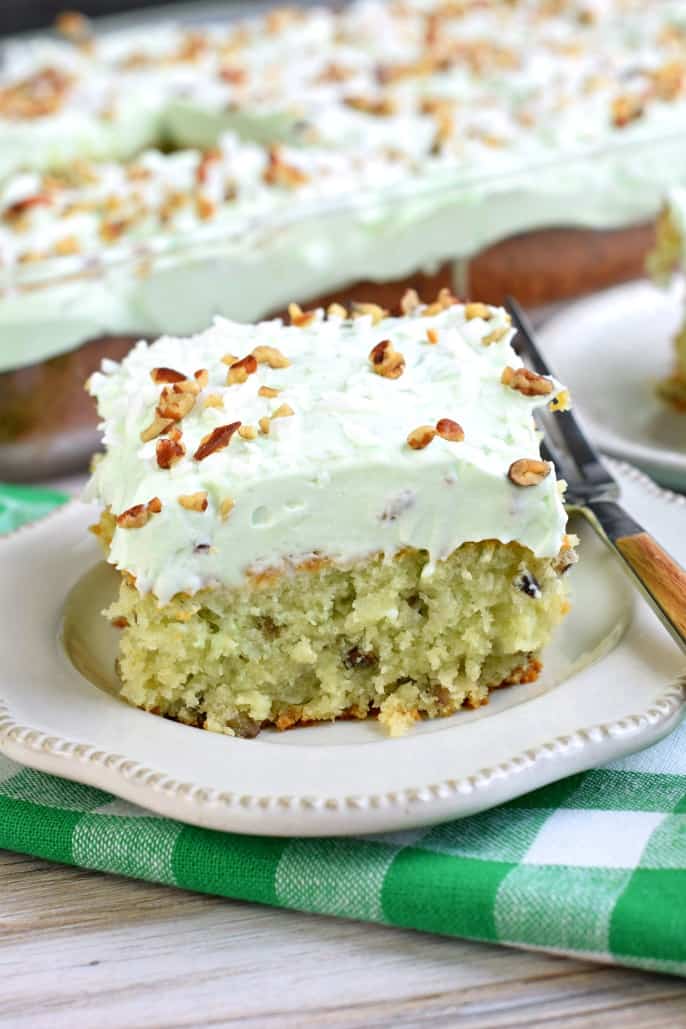 Why this Recipe Works
Hanging around my blog for any amount of time will not only result in weight gain, but you'll see inside my soul.
You'll see that I love homemade Rice Krispie Treats and thick and fudgy brownies!
And it's also why I have weight gain, haha!
But seriously, have you tried Watergate Cake yet? I've made every version you can think of…and today I'm sharing a sheet cake (or 13×9 cake).
Easy. Delicious. And portable.
Perfect for holidays, parties, or just a Tuesday dessert! But first….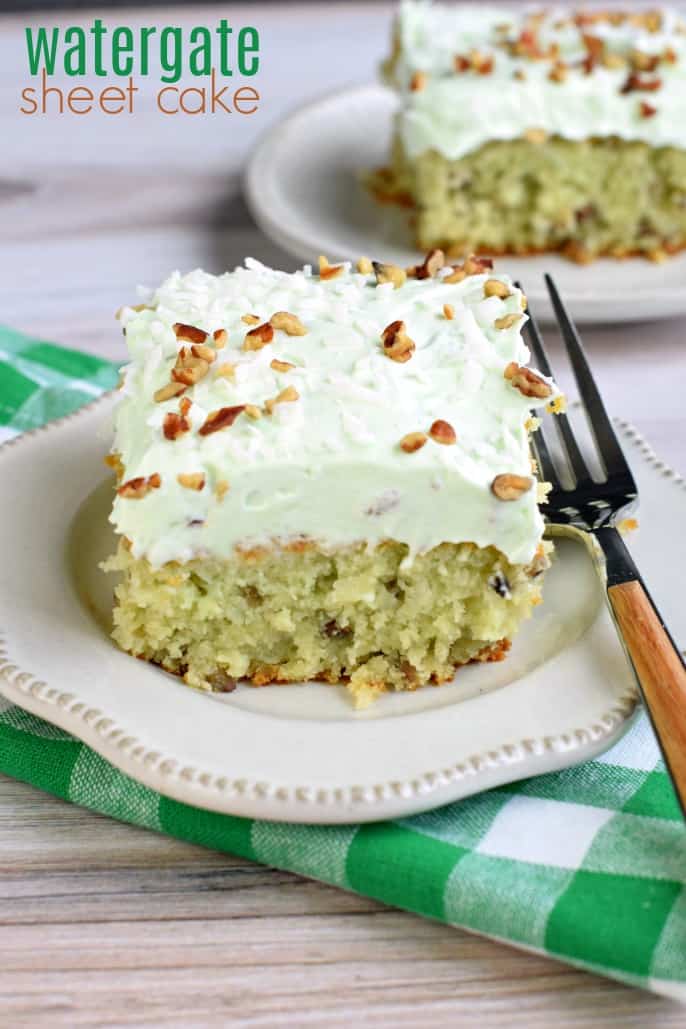 What is Watergate Cake
Open up any church cookbook and you'll probably find a recipe for this classic treat.
Watergate Cake is a delicious recipe packed with pistachio pudding, pecans, coconut, 7-up, and sometimes people even add pineapple.
How it got it's name?
Well, the story is that JELL-O released it's pistachio pudding mix around the same time as the Watergate Scandal in Washington. And the slogan was "pistachio pudding, full of nuts and cover up (frosting), just like Washington."
Not sure if that's true…but that's what I was always told, so I'm sticking with it!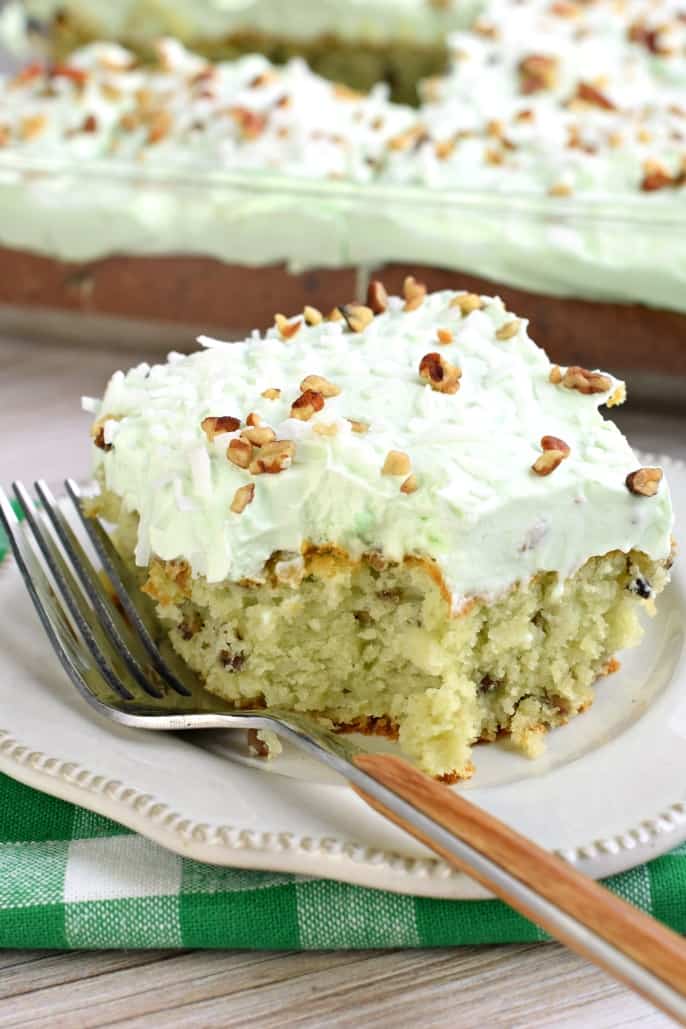 How to Make a Watergate Sheet Cake
For today's recipe, I used my favorite Watergate Bundt Cake recipe and tweaked it for a 13×9 baking dish.
So many of you have asked through the years if it can be made in a sheet cake, and the answer is yes!
Start by preheating oven to 350 degrees F. Spray a 13×9 baking dish with baking spray. Set aside.
In a large mixing bowl, combine cake mix, oil, pistachio pudding mix, 7 UP, and eggs. Beat for several minutes until combined.
Fold in coconut and chopped pecans. Pour cake batter into baking dish.
Bake for 32-35 minutes. Cool completely before adding frosting.
Make the frosting while the cake is baking so it can set up for a little bit.
In a mixing bowl, combine pistachio pudding mix with milk. Whisk until combined.
Fold in Cool Whip. Cover and refrigerate at least 30 minutes.
When cake is cooled, spread frosting over cake and top with extra coconut and pecans. Slice and enjoy.
Store in refrigerator for up to 5 days.
Ingredient Notes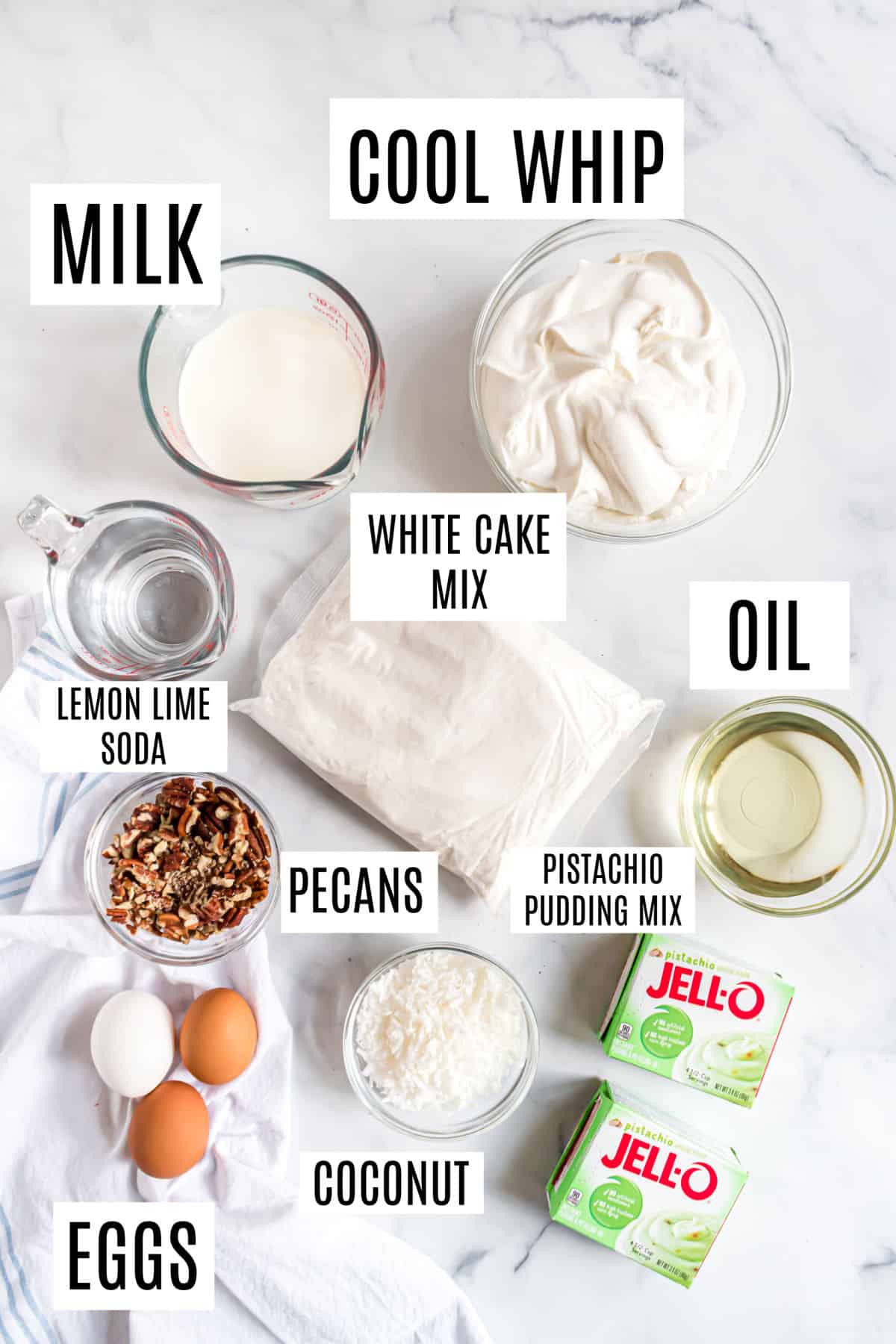 Pudding Mix. Be sure to use INSTANT pudding mix for this recipe. And try NOT to choose the "sugar free" option.
Some of you will ask if you can substitute anything for the 7 UP in the recipe. You can use other lemon lime soda, or even Fresca. You can also choose carbonated water (like La Croix). The carbonation helps create air bubbles in the batter, creating a light and fluffy texture! This is why I LOVE my 7UP Pound Cake recipe!
If you choose to not use Cool Whip, you can substitute Dream Whip (2 envelopes mixed with the milk. Then add pistachio pudding mix and beat). Or you can make a homemade whipped cream and add pistachio pudding. Our stabilized whipped cream is a copycat cool whip recipe and perfect for today.
The topping on this cake is meant to be light and fluffy!
You can also make Watergate Cupcakes if you prefer! So tasty!
This cake is best served chilled.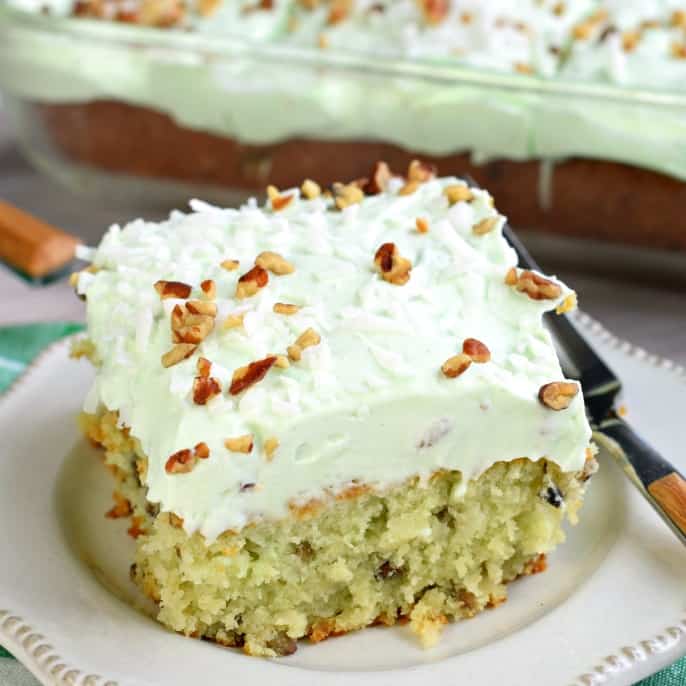 More Pistachio Treats
I'm a sucker for pistachio flavored desserts and snacks. Here are a few of my favorites!
Easy, 4 ingredient Pistachio Fluff Salad, also known simply as Pistachio Salad or Watergate Salad! Best served with friends and family, this recipe makes a great potluck dish!
Delicious, no bake Pistachio Eclair Cake is the perfect dessert at the end of the day!
Delicious, No Bake Pistachio Cherry Cheesecake. You'll love the layers of cookie crust, creamy pistachio cheesecake, cherry pie filling and whipped cream!
Crunchy Biscotti with Cranberry, Pistachio and White Chocolate. I love keeping some Cranberry Pistachio biscotti on hand all year long!
More Cake Recipes