This Apple Cider Sangria is perfect for sipping in the fall or for sharing during the holidays. A pitcher of this bubbly sangria made with cider, wine, brandy and Prosecco brings instant cheer to the table!
Love this festive holiday drink? Be sure to give our Grinch Punch a try next. Or step up your drink game with these easy tropical champagne cocktails!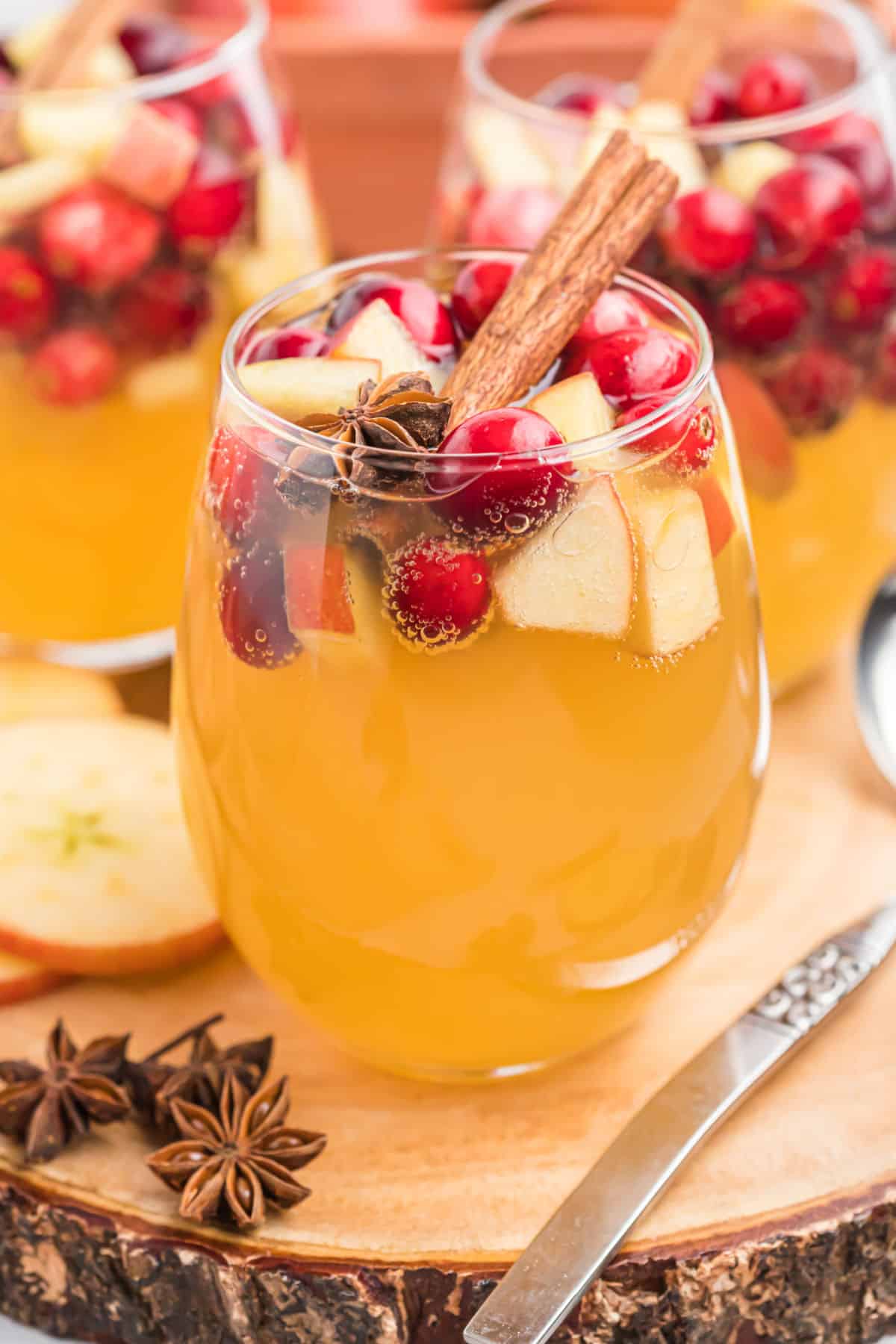 Why this Sangria Works
I had a gallon of fresh Apple Cider in my refrigerator that needed to be used, and I knew I wanted to give this Apple Cider Sangria a try.
I already made a batch of my delicious Apple Cider Donuts!
You guys, it turned out so delicious! An amazing balance of fruity flavors with a kick from brandy and crisp white wine. Everyone at my party loved this boozy apple cider!
This Sangria is NOT messing around. Made with two kinds of wine AND brandy, a full glass of this can be a little, well . . . strong. Like, "you better have brought a designated driver" strong.
The great thing about the recipe though is you can add as much soda as you like to dilute the drink to your preferred strength. Everyone can pour a little lemon lime pop into their class with their sangria to get the taste strength they want!
It's a pitcher cocktail that makes everyone happy.
Ingredient Notes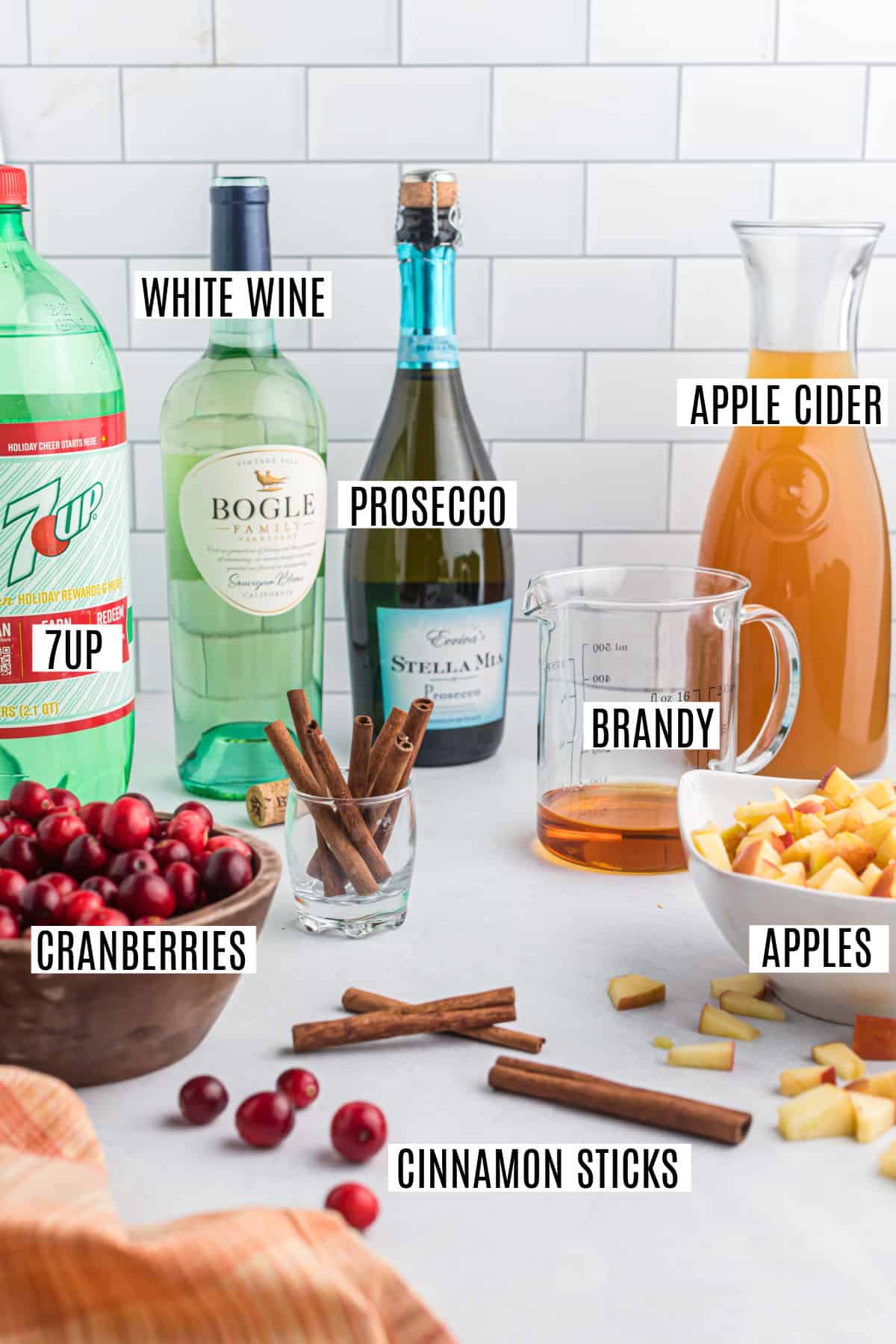 Apple cider – Use fresh, cold cider (NOT apple juice) for best results. If you want to make your own from scratch, try my Instant Pot Apple Cider recipe.
White wine – Any dry wine works. I used Sauvignon Blanc.
Prosecco – Or sub any sparkling white wine or champagne.
Apples – Diced; no need to peel them first!
Cranberries – Or you can sub pomegranate seeds
Brandy – It doesn't need to be the best of the best. A mid-shelf brandy will be perfect.
Cinnamon sticks – Don't skip these! They add the perfect hint of spice.
Soda – You can use lemon lime pop like 7-UP and Sprite.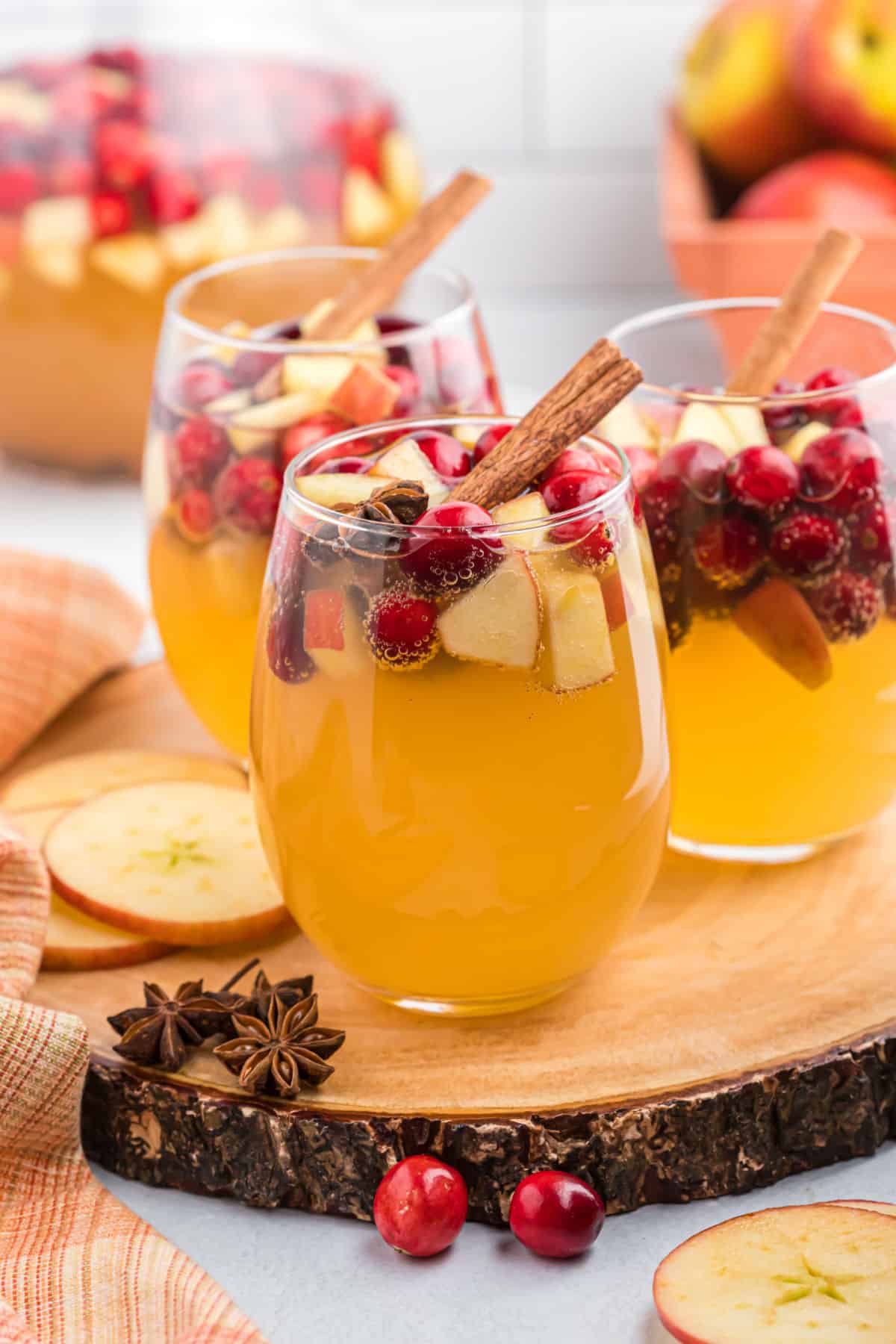 Easy Instructions
Combine. Start by combining white wine, apple cider, brandy, diced apples, fresh cranberries and cinnamon sticks in a large pitcher.
Chill. Refrigerate at least 4-6 hours, or overnight. I like to let mine sit for a full 24 hours to let the sangria absorb the cinnamon flavors.
Prosecco. When ready to serve, pour Prosecco into pitcher.
Serve. To serve the Apple Cider Sangria, add a ladle of fruit to each glass. Add some pop to the glass, then pour a cup full of Sangria on top. You can add more pop to taste if needed!
The sangria is pretty strong, so we used about 1/4-1/2 cup pop for every 8 ounce or so of sangria. By not adding the whole 2 liters of lemon lime pop to the pitcher, it gave us a little flexibility in the strength of the drink.
Enjoy right away!
I just loved the fresh look of the cranberries! The apple pieces tasted amazing, soaked in cinnamon cider and booze–it makes for a nice treat once you've finished all the sangria.
And believe me, you WILL want to finish all the Sangria!
A word to the wise, though: don't eat the cranberries. They are raw and will be very sour! If you want a pop of color you can eat, too, swap them out for pomegranate seeds. Whip up some sugared cranberries for garnish.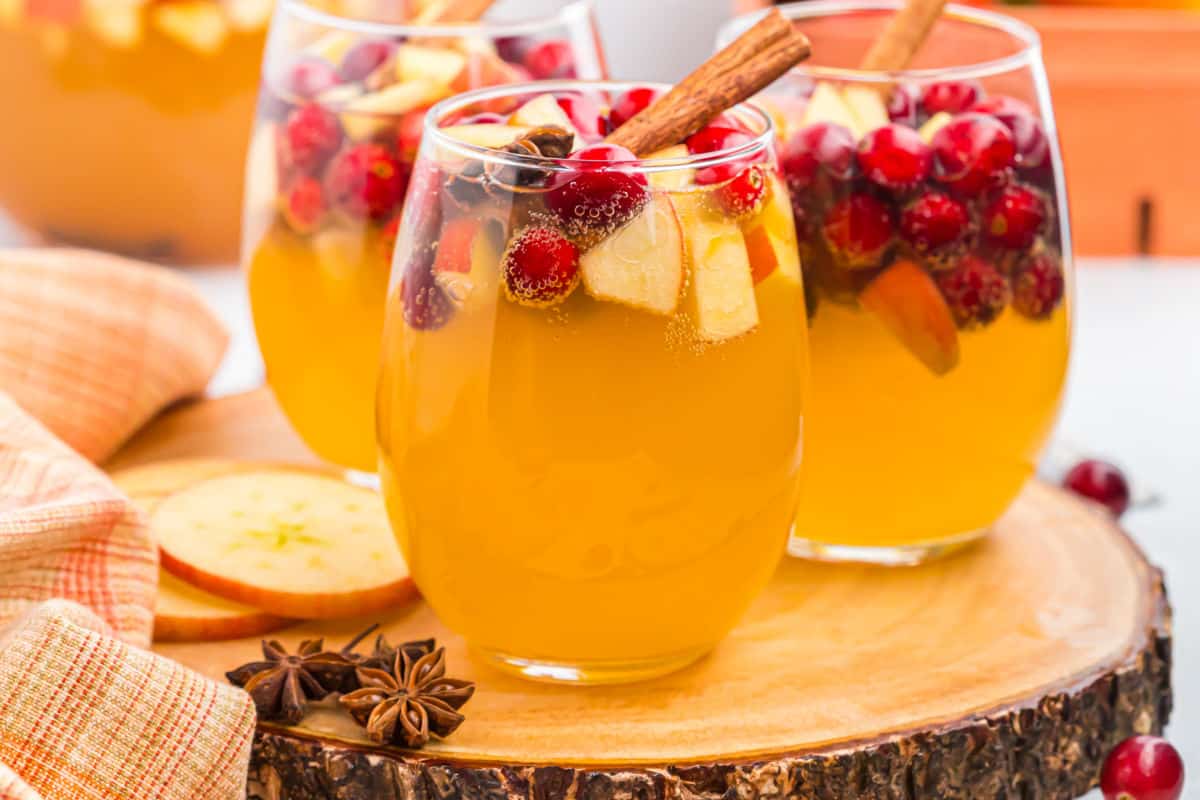 Recipe FAQs
Can apple cider sangria be made without alcohol?
You could definitely make a tasty fruity cider drink by using more apple cider in place of the brandy and wine, and more club soda or lemon lime soda in place of the prosecco, but it won't taste nearly the same.
Can apple cider sangria be made in advance?
Yes! You can prepare the Apple Cider Sangria up to 24 hours in advance if you wait to add the Prosecco and pop until just before serving. Once you add the bubbly, serve the drinks right away!
What type of apples are best for sangria?
Use what you love! I love honeycrisp for their extra sweetness, but a combination of granny smith and gala apples are perfect in Apple Cider Sangria.
More Cocktail Recipes
Make this for Thanksgiving, Christmas, New Year's or an autumn adult gathering! Spiced with cinnamon and full of festive bubbles, this Apple Cider Sangria gets everyone in the holiday spirit.