Bananas and cinnamon together make for a heavenly combination. Make this Banana Cake layered with cinnamon buttercream frosting and everyone will want to fight over who gets the last piece!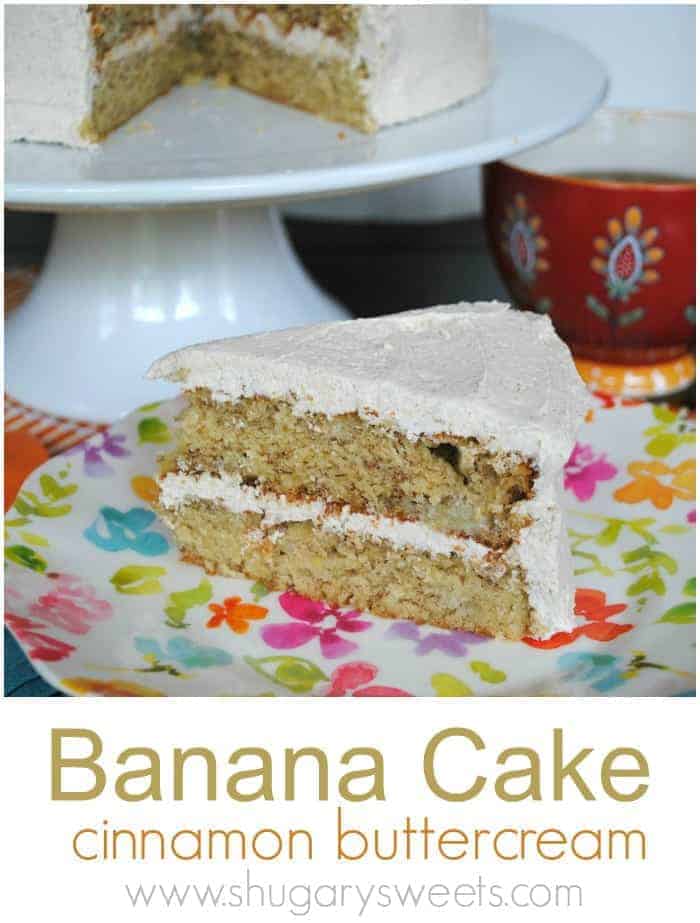 Can we talk about bananas for a sec? I love bananas every which way you can eat them.
Plain, in yogurt, dipped in chocolate, smothered in peanut butter, blended into a smoothie. . . . You get the point.
I also love cake. And, most of all, I love frosting. So, banana cake covered with fluffy cinnamon buttercream is right up my alley!
Banana Cake
As much as I love banana everything, I have a gripe with some banana cakes. Too many are just banana bread recipes baked up in a cake pan and renamed.
Don't get me wrong! I adore a good banana bread in all its variations from Classic Banana Bread to Nutella Swirled Banana Bread. A loaf never lasts long in my house!
That said, when I want cake I want CAKE. I want it to be moist, sweet, rich and (usually) covered in frosting. A good banana cake has to be worthy of its status as "dessert."
Let me tell you, folks. This Banana Cake recipe, well, takes the cake!
Made with plenty of ripe bananas and butter, you get rich banana flavor in every bite.
Then, there's the frosting–fluffy buttercream whipped with a pinch of cinnamon to add the best possible finishing touch to banana cake. It's a great option to bake ahead of time, too!
How to Make Banana Layer Cake
I made this banana cake in layer pans. You could certainly make it in a square cake pan instead but I like to layer for one very important reason: more frosting per square inch!
To make the cake, beat butter, sugar, eggs and vanilla together, then just toss your ripe bananas into the bowl. You can mash them first if you prefer but I usually don't bother. (Why get an extra bowl dirty if you don't need to, am I right?)
From there, add flour, baking powder and baking soda and the cake batter is ready to go in the oven! Divide it evenly between your two greased and floured layer pans and bake.
While the cakes are cooling, I make the frosting from scratch.
Cinnamon Buttercream Frosting
Based on my go-to vanilla buttercream, this frosting is lightly kissed with cinnamon!
Just beat butter, powdered sugar, vanilla and milk in your mixer with a pinch of ground cinnamon. I use my whisk attachment or electric beaters to get the frosting light, smooth and fluffy.
Try to resist just eating all the frosting straight from the bowl. I promise, the final cake is worth it!
How to frost Banana Cake:
After letting the cakes cool in the pan for about 10 minutes, turn them out onto a wire rack. Don't add the frosting until the cakes are completely cooled.
Place one layer of the banana cake on a cake plate. Spoon frosting over the top and use a flat spatula to smooth it over the whole top of the cake. Top with the second layer and repeat, spreading frosting over the sides of the cake.
Garnish with banana slices on top if desired, cut into pieces and serve!
Can you freeze banana cake?
YES! Banana cake is a great make ahead option because it freezes beautifully.
I prefer to freeze the cakes in individual layers before frosting. Wrap each layer in plastic wrap and then foil or a ziploc freezer bag. The cake keeps well frozen for about 3 months.
When ready to serve, let the cake thaw while you make the cinnamon butter cream, frost and layer as directed.
Got leftovers? Wrap individual slices in plastic wrap and slide in a freezer safe ziploc or container. Thaw each slice overnight.
More Tips & Tricks
How to make cake layers even: I use Wilton Bake Even Cake Strips to get perfectly even layers with no hassle. If you don't have any, you can also slice off the puffed tops of your cake layers so they fit together evenly.
Use ripe bananas: To make this cake moist and sweet, I recommend using very ripe (even over ripe) bananas. They have higher sugar content and they mash up much more easily!
Mashing bananas: If you're making the cake batter in a stand mixer, there's no need to pre-mash the bananas first. Just add them to the bowl and your mixer will do the work for you! If you're making this without a mixer, I recommend mashing the bananas in a separate bowl with a fork or potato masher to make sure no big chunks are left.
How to store: This cake stays moist and delicious for several days after baking! Store it covered in the fridge and enjoy cold or at room temperature.
When you need an easy banana flavored dessert recipe that everyone will love, look no further than Banana Cake topped with Cinnamon Buttercream Frosting. I'd eat it every day if I could!
Topped with cinnamon frosting and full of great banana flavor, this Banana Cake recipe is simply divine!