Every potluck needs a good Broccoli Salad–and this one is the BEST. With cheddar cheese, red onion, bacon and a sweet tangy dressing, this is the perfect easy summertime side dish.
This broccoli salad pairs beautifully with other potluck favorites like Chick-fil-A Cole Slaw and Slow Cooker BBQ Brisket.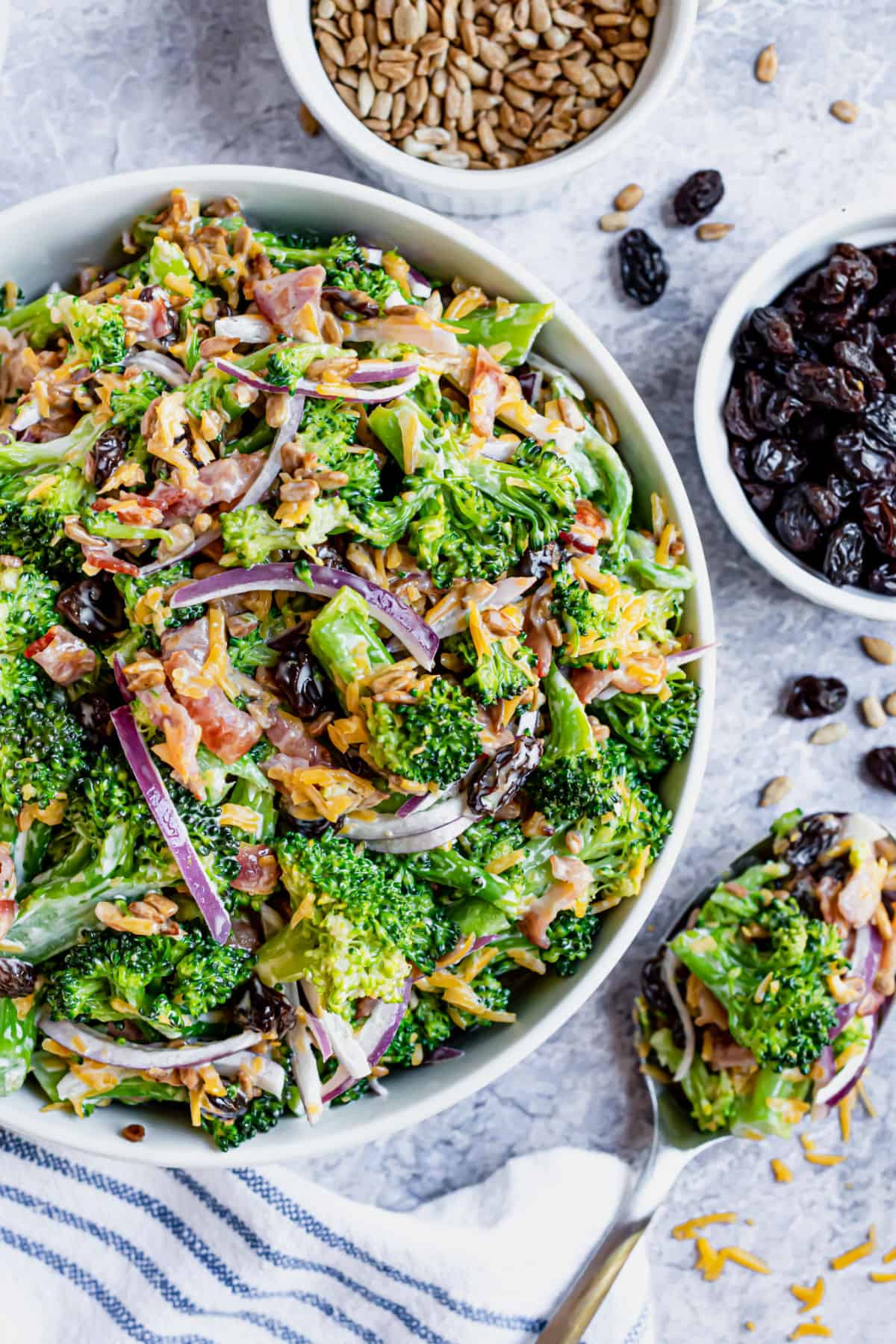 Why this Recipe is Best
There are a million and one broccoli salad recipes out there. But none quite so perfect as this one!
This broccoli salad recipe has crispy bacon and sunflower seeds! You'll love the added salty savory flavor they add to the vegetables.
It's easy to make with fresh, simply ingredients.
Broccoli is par boiled then quickly cooled so it's tender but not mushy.
The dressing is the perfect blend of creamy, tangy and sweet!
This salad can be made in advance and refrigerated for easy party prep!
Ingredient Notes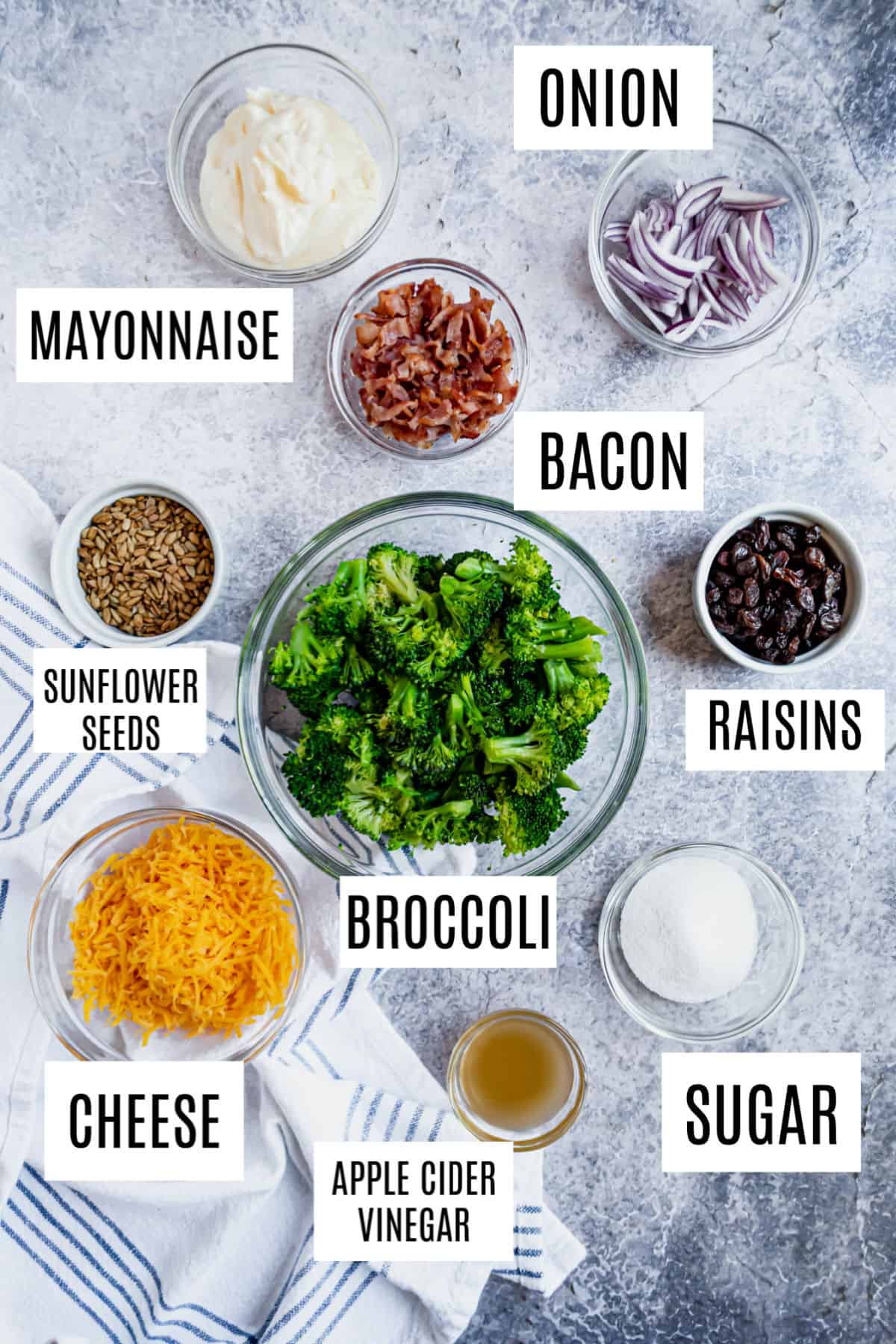 Sunflower seeds. Make sure to remove the shells, or buy them already with the shells removed.
Raisins. Dried cranberries would make a delicious substitute if you prefer.
Cheddar cheese. Mild, sharp and extra sharp cheddar are all tasty in broccoli salad. You choose!
Bacon. Cook it extra crispy! Make the bacon in the oven for easy clean up.
Broccoli. I prefer using fresh broccoli and blanching it for broccoli salad. To do this, just place in a pot of boiling water for one minute. Remove and rinse with cold water (to prevent it from cooking further). I should add that many people have made this without cooking the broccoli and love it that way too!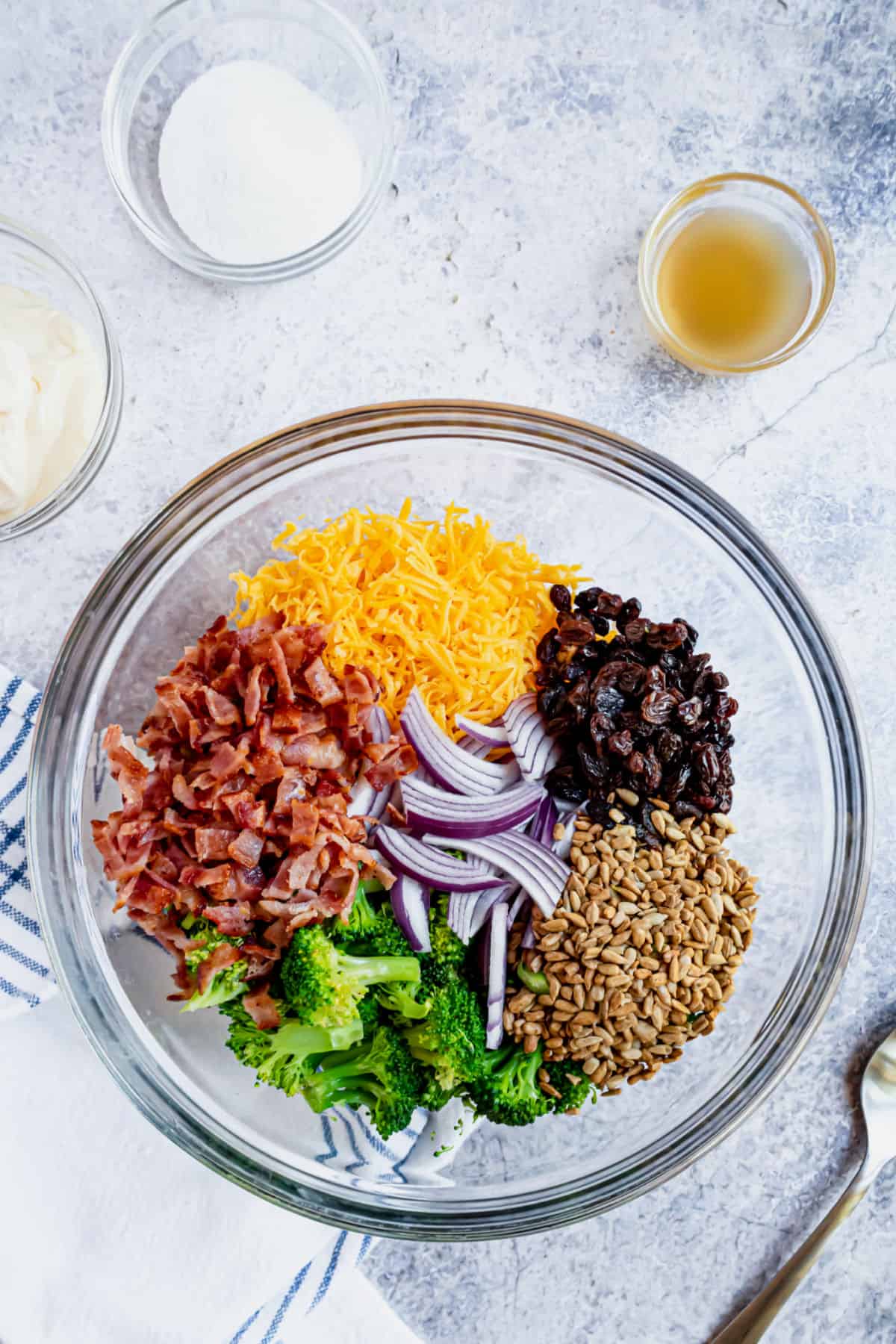 Broccoli Salad Dressing
What really ties together all the ingredients in this Broccoli Salad recipe is the sweet and tangy dressing.
Broccoli Salad dressing is made with just three ingredients:
Mayonnaise
Apple cider vinegar
Sugar
Tips and Tricks
There are two ways you can dress this salad: right before serving or a few hours in advance.
If you add the dressing ahead of time, it "softens" the veggies and gets a bit absorbed into the crevices of the broccoli florets. I love it this way!
For a crunchier broccoli salad, toss the salad with the dressing right before you're ready to eat. It's delicious no matter what.
Chill. For best results I love keeping this chilled for at least an hour before serving.
Lighten it up. Use half the amount of sugar, or substitute it with stevia. You can also use a low fat mayo or an olive oil mayo! Skipping the bacon is also an option, although I never do that, haha!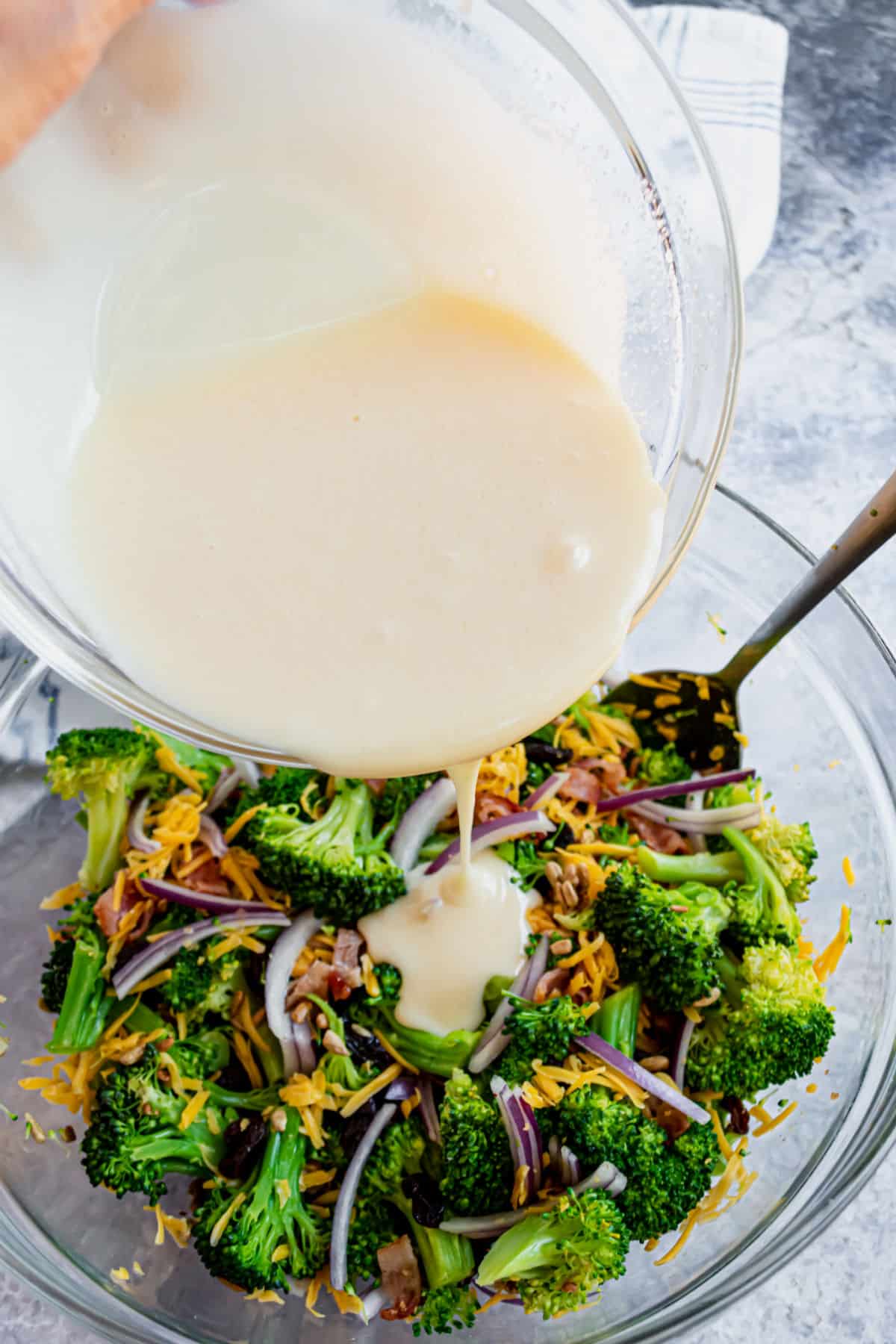 Recipe FAQs
Can I use miracle whip instead of mayonnaise in the dressing?
You can substitute miracle whip or another low fat mayo if preferred, but I prefer the creamier taste of real mayonnaise here.
How do you store broccoli salad?
This salad should be stored in an airtight container in the refrigerator. Enjoy within 3 days.
How long can broccoli salad be left out at room temperature?
This side dish can safely be out at room temperature for about 2 hours. After 2 hours, you should transfer it to the refrigerator to keep the mayonnaise and cheese from spoiling.
If you're serving this outdoors in the summer, it may spoil more quickly. When in doubt, wait to place it on the table until right before meal time!
More Potluck Recipes
Fresh, colorful and delicious Broccoli Salad is an ideal side dish for any meal! With just a few minutes of prep time and easy to find ingredients, this is a recipe you'll want to make over and over again.
The BEST Broccol Salad recipe is packed with broccoli, cheese, onions, and more! Perfect potluck recipe.