Love Cinnamon Rolls? Love Caramel Apples? Try combining them in one dish! Caramel Apple Cinnamon Roll Coffee Cake makes the perfect sweet centerpiece for your next brunch extravaganza!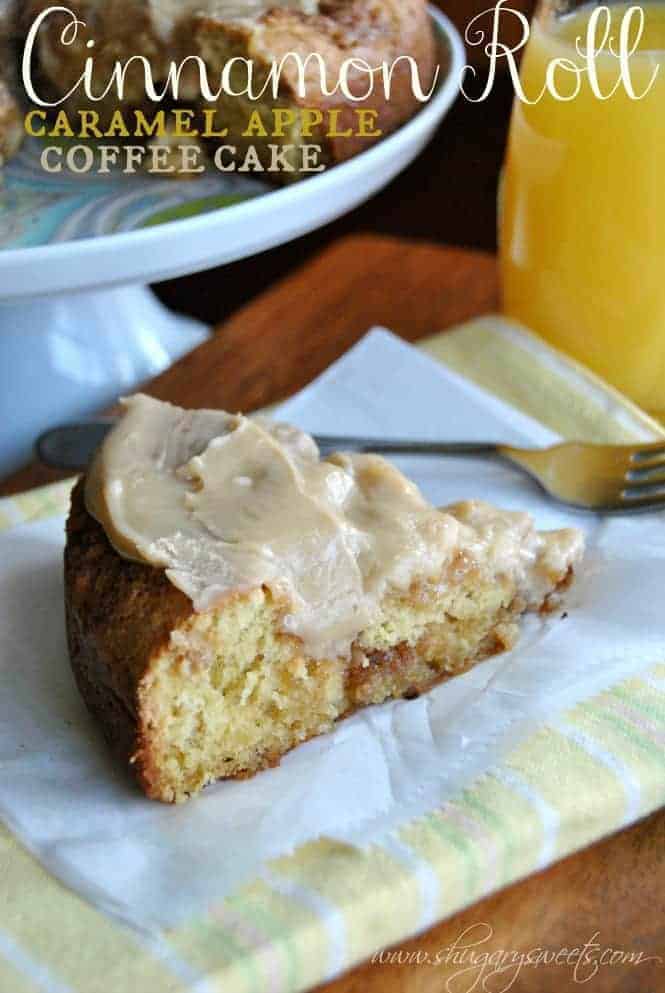 Why This Recipe Works
Like a lot of the recipes on this blog, Caramel Apple Cinnamon Roll coffee cake evolved from an earlier recipe. I based this off of my love of this Cinnamon Cinnabon Coffee Cake. Except I channeled inspiration from an autumn favorite, Caramel Apples.
Throw in some chopped apple pieces and top it off with a generous pour of caramel apple sauce and you have an even more indulgent coffee cake!
Baked in round pans with pantry friendly ingredients, this Caramel Apple Coffee Cake is begging to be included on your next brunch menu! If you're like me, you'll want a slice of this for breakfast every day of the week.
Like the name suggests, it's pretty darn amazing with a cup of coffee on the side. Try it. You can thank me later.
Ingredient Notes
Apples – Granny smith or another tart variety like pink ladies are best in this recipe. Peel and dice the apples before beginning the coffee cake recipe.
Allspice – This addition gives a unique flavor note to the cinnamon roll filling. If desired, feel free to swap it for more cinnamon instead.
Vanilla extract – I used my homemade vanilla extract to give the cake an even deeper vanilla taste.
Tips & Tricks
Assemble the ingredients first. There are three components to this cake: the coffee cake itself, the apple filling and the caramel glaze. It's not complicated to make but getting your apples chopped and all your ingredients out on the counter first makes life easier for any multi-step recipe.
Grease and line your pans. I used two 9 inch round cake pans. Line the bottom with parchment paper AND baking spray so the coffee cake slides out easily once its done baking.
The cake tastes great warm and at room temperature. Why not try it both ways? After letting the cake cool for a few minutes, sink your teeth into a warm slice fresh from the oven. Then, let it keep cooling overnight for a ready-made breakfast the next morning.
There's no wrong way to enjoy Cinnamon Roll Caramel Apple Coffee Cake.
Easy Instructions
STEP 1. Prepare the coffee cake batter
Blend the ingredients together in a stand mixer then divide evenly between two round cake pans.
STEP 2. Make the cinnamon roll apple filling
Beat butter and brown sugar together, then add the spices and apples. Drop the filling in scoops onto the batter in both cake pans. Swirl to lightly combine the cake batter and filling.
Bake for 30 minutes and let cool while you make the caramel topping.
STEP 3. Make the glaze
Melt the butter on the stove top and whisk in the brown sugar. Boil for one minute, then add milk and remove from the heat.
Drizzle the caramel topping over the cooled cake right away! The cake can be enjoyed immediately or stored covered until ready to eat.
Recipe FAQs
What kind of apples should I use in caramel apple coffee cake?
I recommend that you use a tart apple like a granny smith, fuji or pink lady. However, any apple variety will taste good!
How do you store Coffee Cake?
Store this cake covered at room temperature. A round tupperware container or cake cover works is my preference so it doesn't get sticky with caramel glaze.
Can you freeze this cake?
You can freeze this cake before adding the glaze. Then thaw and make the glaze fresh to pour over the defrosted cakes while they're still warm.
The cake will keep well in the freezer for about a month.
Even better than a regular coffee cake is a Caramel Apple Cinnamon Roll Coffee Cake! With all the flavors and aromas you love of both cinnamon rolls and caramel apples, this is the perfect autumn or winter breakfast, brunch or dessert.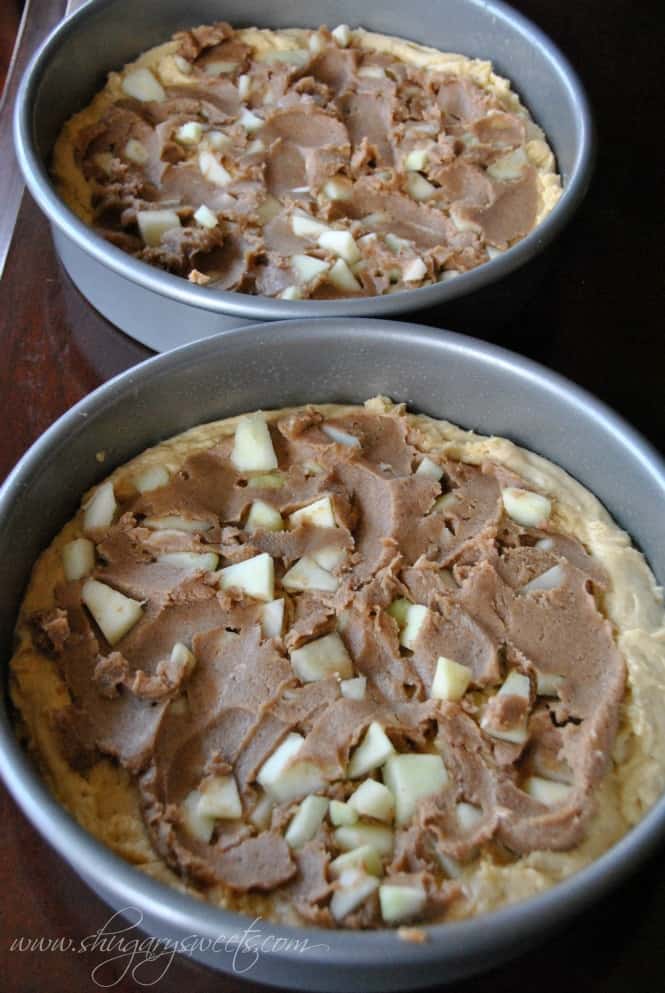 More Breakfast Recipes
Pumpkin Coffee Cake with Cinnamon Streusel: it doesn't have to be Fall to enjoy this pumpkin breakfast cake. You will want this all year long!
Swedish Almond Cake: this one will get you begging for more! It's not overly sweet, but the almond and lemon together bring such flavor to the cake you will wish for a second slice. This recipe comes together in just minutes too!
PS. If you try this recipe, please leave a STAR rating in the recipe card below. I love your feedback! Connect with me on social media by following me on Instagram, Facebook, or Pinterest.