Love Carrot Cake? These delicious Carrot Cake Cupcakes have a delicious Cream Cheese Frosting! Perfect for a weekday dessert or weekend potluck!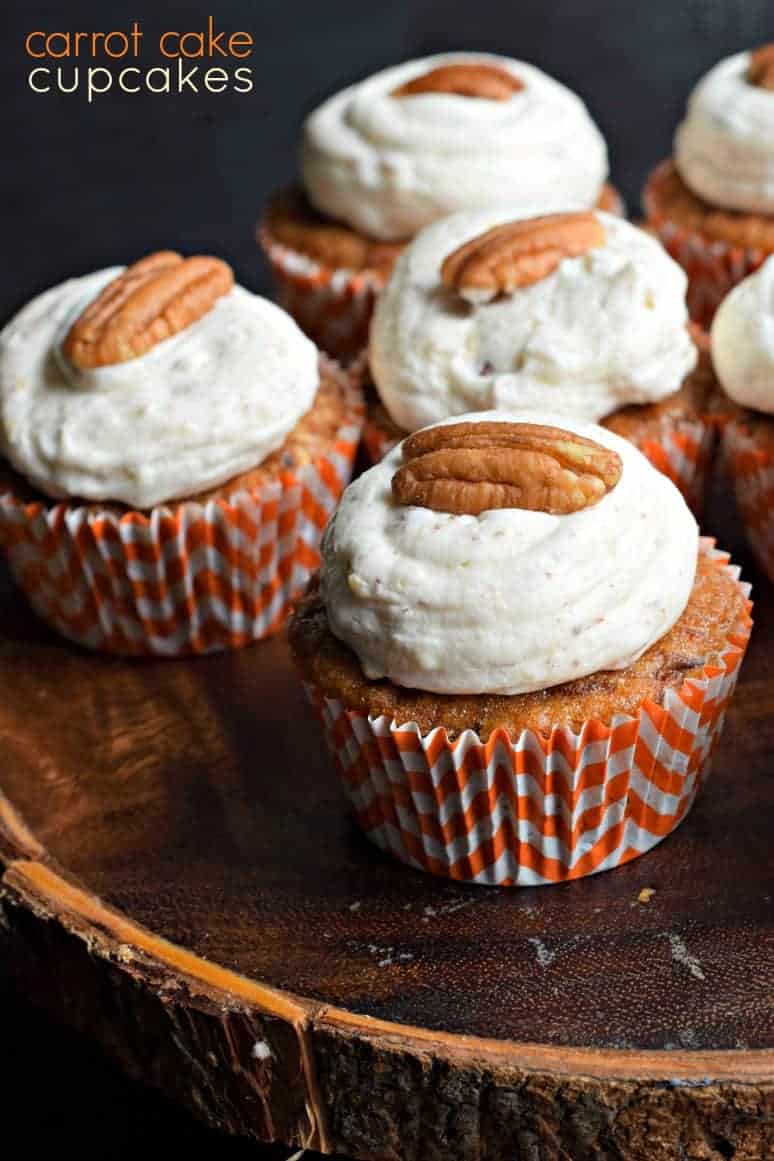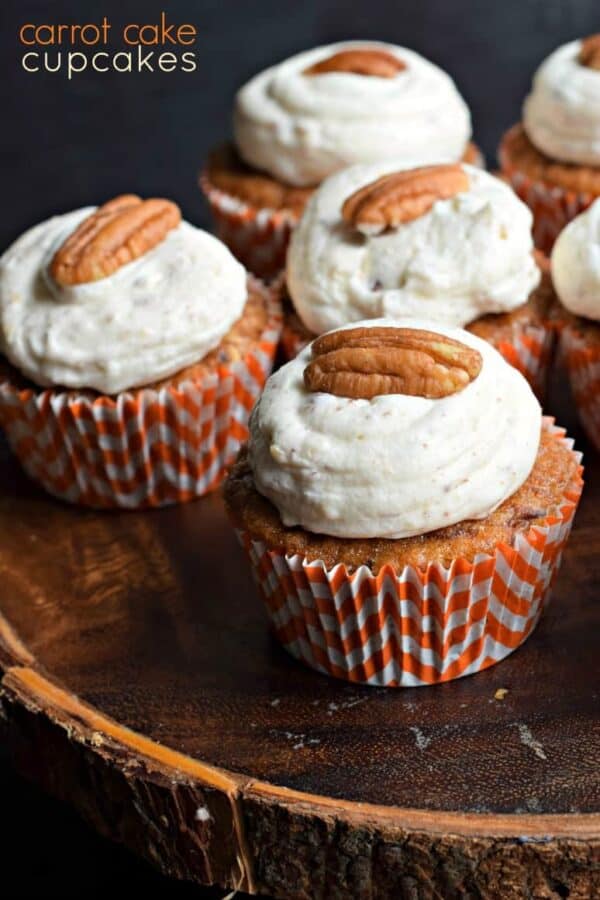 Click HERE to save recipe to pinterest
I don't know how people work at Starbucks.
Not the actual employees…although that would take so much self control for me to not drink #allthecoffee and eat #allthedessert.
But I'm talking about actually sitting at a table and trying to get some work done.
I've only had to do this a few times , when my internet has been down, or when I have work and I'm waiting to pick up a child from swim practice, etc. But I must say, I am so less productive. I find myself listening to the barista call out orders. Then I like to "see" who ordered what, so I spend a lot of time watching people.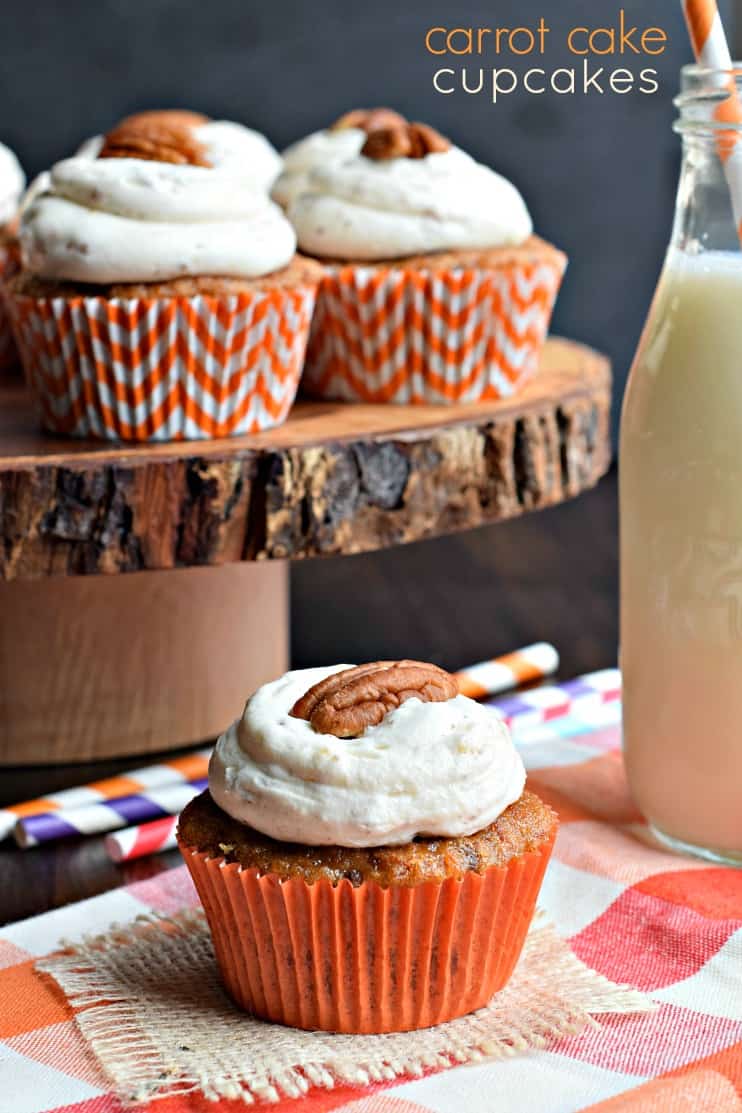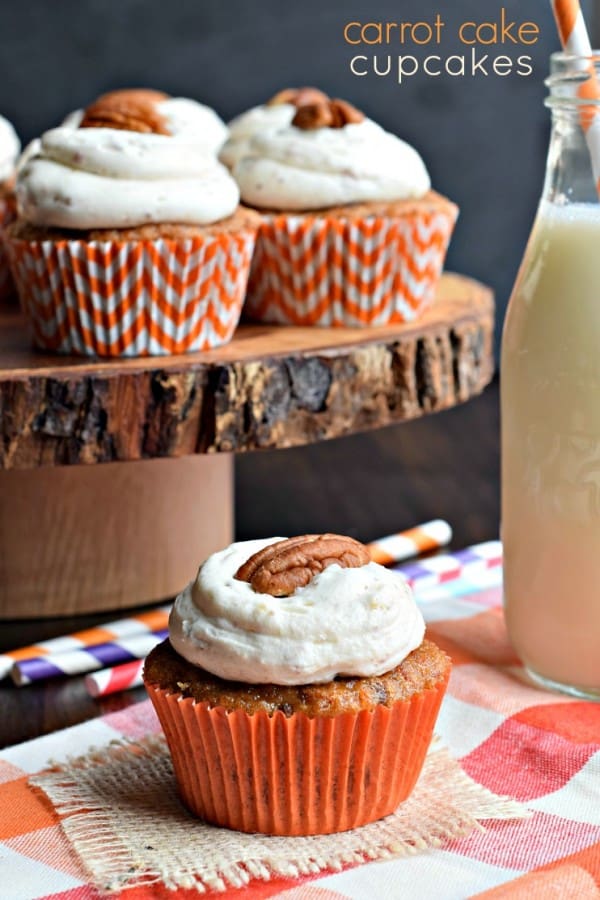 Earlier this week I went to Starbucks to meet a friend, and I arrived WAY early so I thought I would get some work done. But the baristas there were so entertaining, I didn't accomplish anything. Except drink 3 coffee drinks and eat a slice of lemon bread.
My plan had been to write about these Carrot Cake Cupcakes…but I kept drawing a blank. Or I found myself writing about coconut, lemon bread, venti, grande…as I listened to the employees I kept writing the words they were saying. Clearly I was distracted.
Which is odd, because I work from home. TONS of distractions at home. I think I thrive off distractions at home. I'm a pretty productive person and can totally multitask my home chores with my blog work. I have a system at home. I can even have music or the TV on and it doesn't distract me.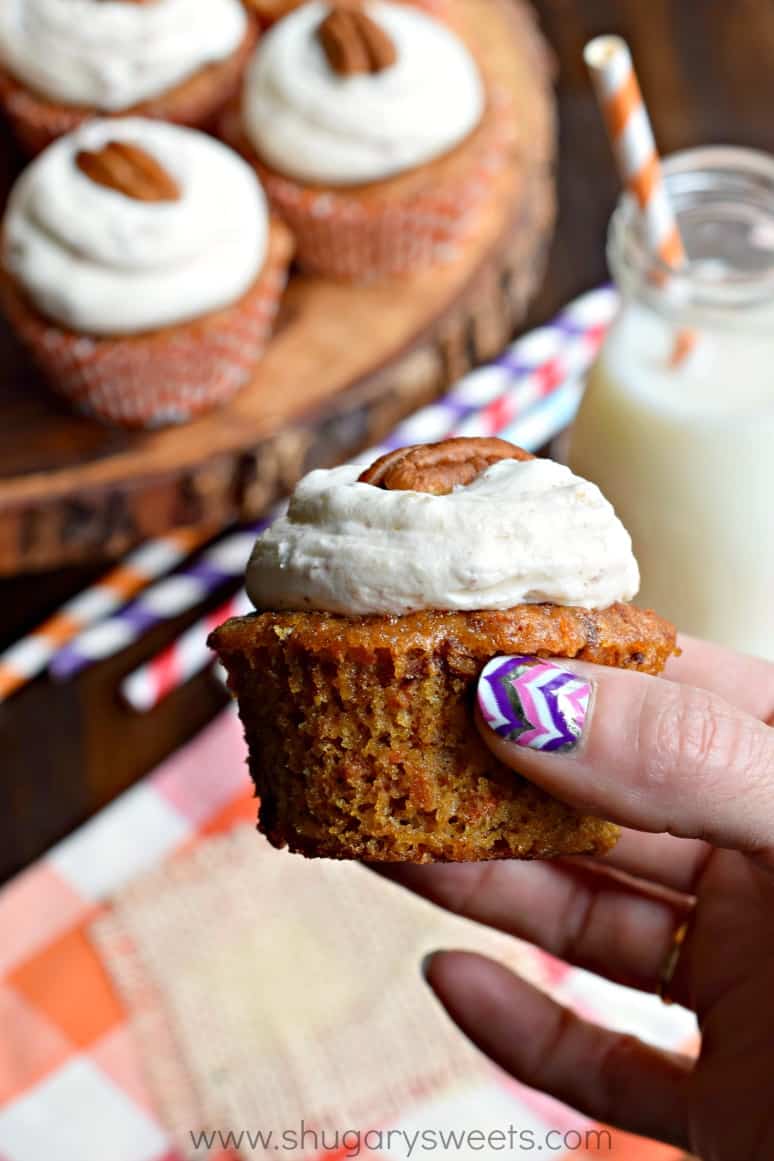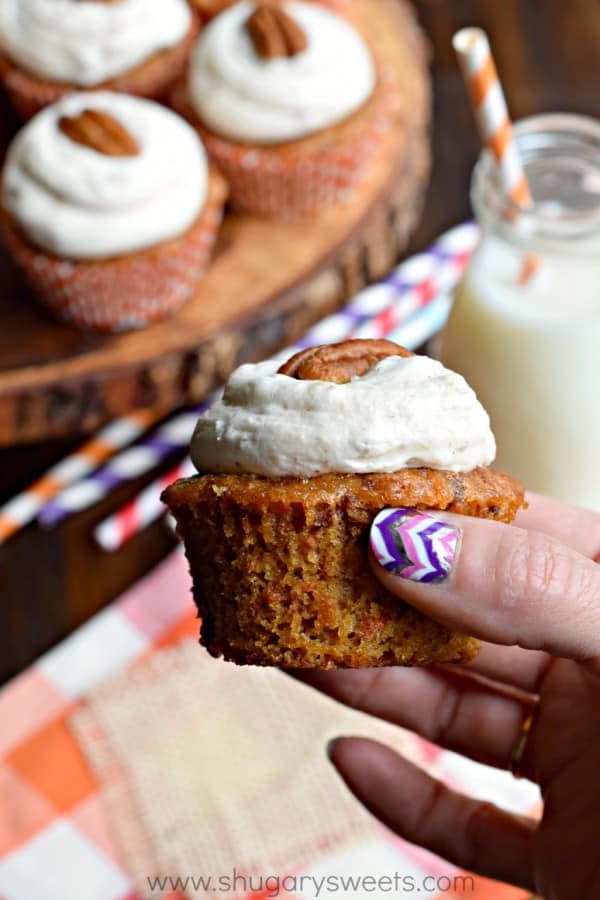 It must have been the coffee. Ha!
Anyway. Carrot Cake Cupcakes. Sweet, moist cupcakes, from scratch.
Topped with a delicious cream cheese frosting full of chopped pecans. This is what I want for Mother's Day dessert. I can't get enough of the Carrot Cake this season! You may remember this Carrot Bundt Cake from a few weeks back. I don't know what it is, but I just LOVE the moisture carrots add to cupcake batter. Similar to zucchini, really!! ENJOY!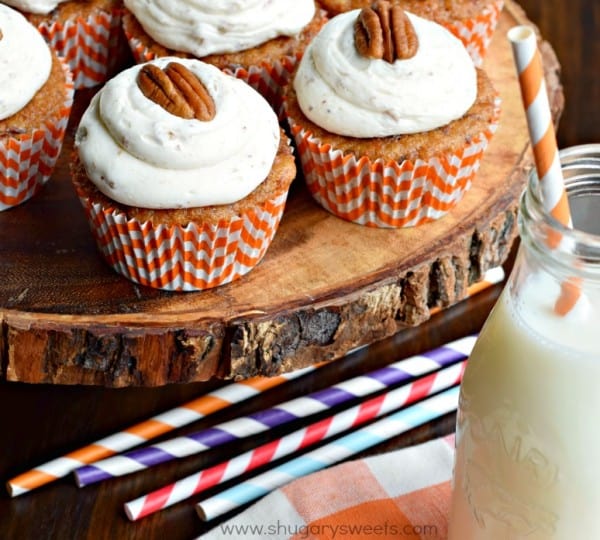 Love cupcakes? Cool. Me too!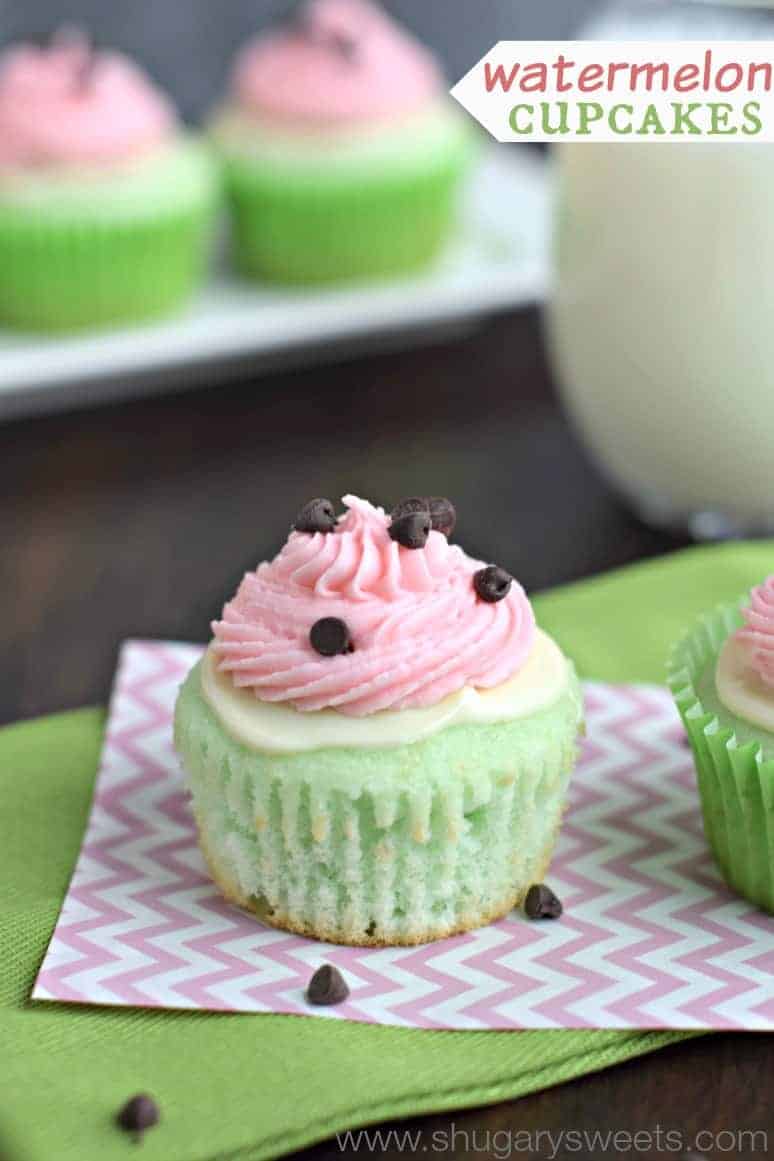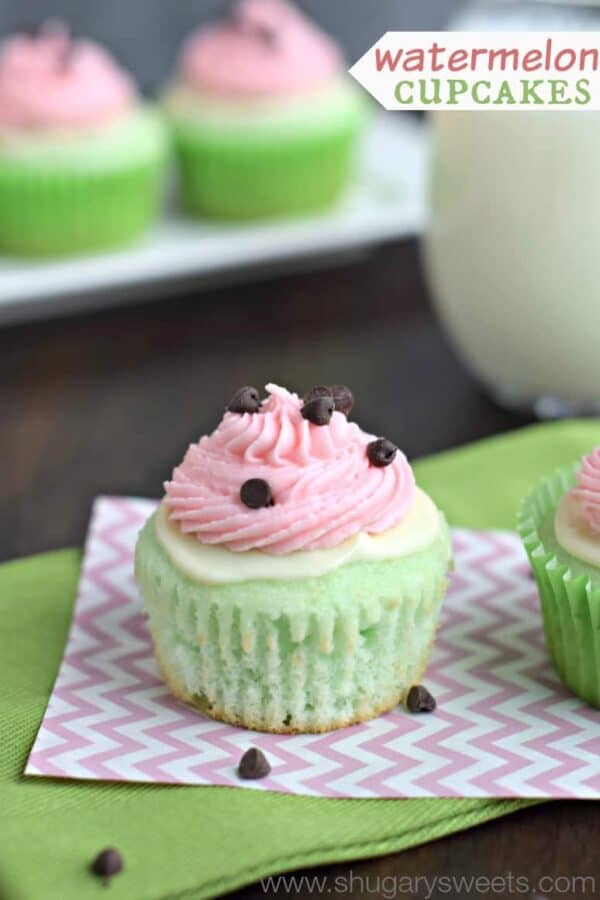 Watermelon Cupcakes: not only are they delicious, but they're cute too! Perfect for summer or a bake sale!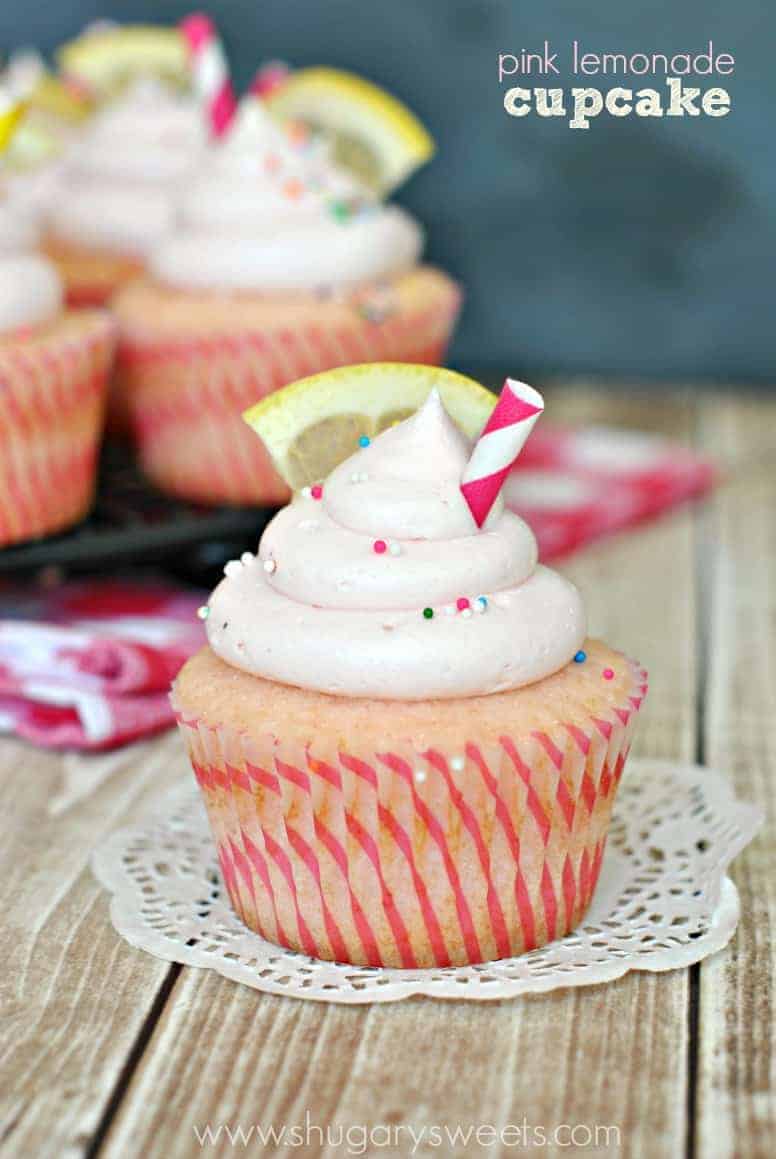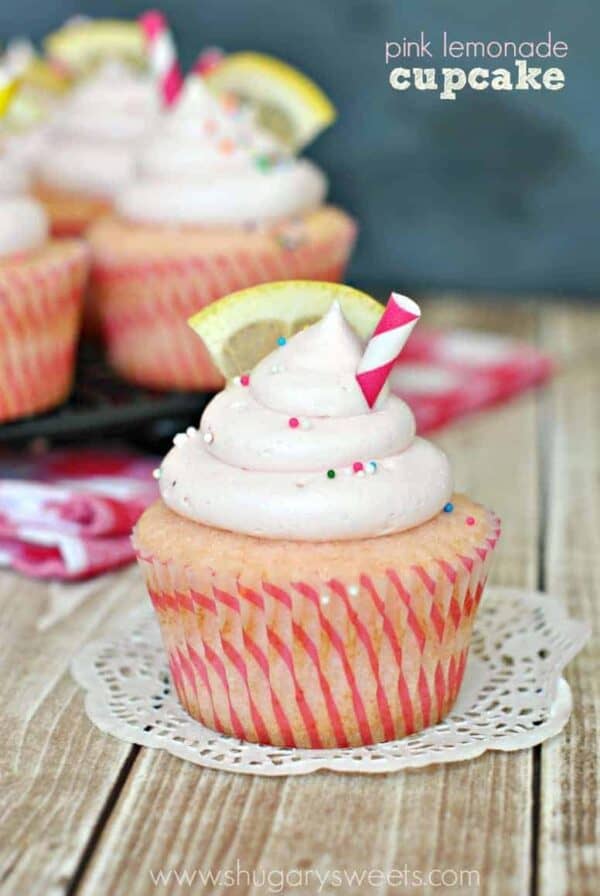 Pink Lemonade Cupcakes: if you're going to make cupcakes, you must make them cute!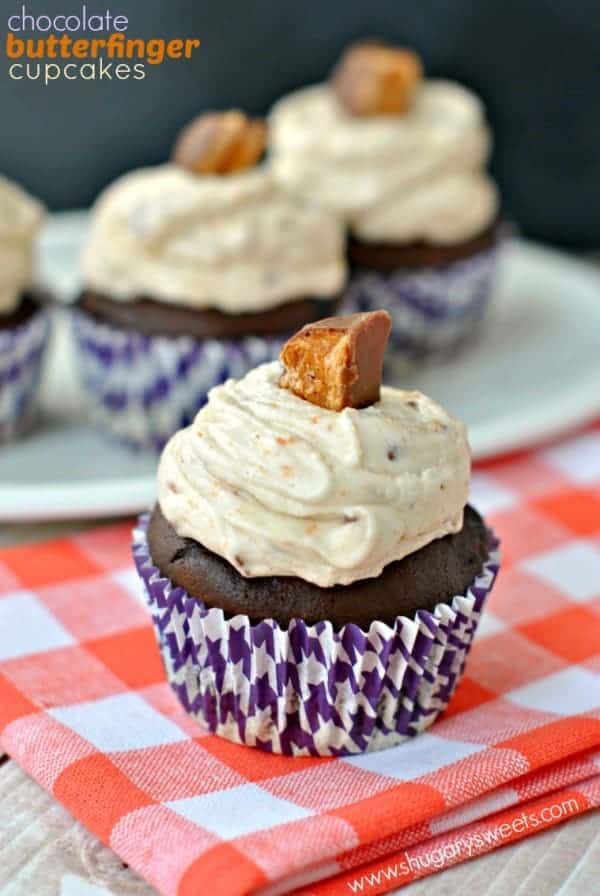 Chocolate Butterfinger Cupcakes: chocolate cupcakes with a creamy Butterfinger frosting. Doesn't get much better than this!
Love these Carrot Cake cupcakes? Here are some delish cupcakes from my friends:
I created a fun little group on facebook and I'd love for you to join in! It's a place where you can share YOUR favorite recipes, ask questions, and see what's new with Shugary Sweets (so that you never miss a new recipe)! If you'd like to check it out, you can request to join HERE.
Connect with Shugary Sweets! Be sure to follow me on my social media, so you never miss a post!
Facebook | Twitter | Pinterest | instagram
Carrot Cake Cupcakes recipe:

Recipe originally published April 17, 2015