Mojitos with a cherry twist! This classic minty cocktail gets a sweet boost from real cherries and cherry flavored rum.
Lemonade Beer and Fresh Strawberry Moscow Mules are always in my rotation but this summer I've been ALL about the cherry drinks! First, Cherry Beer Margaritas and now I'm hooked on Cherry Mojitos.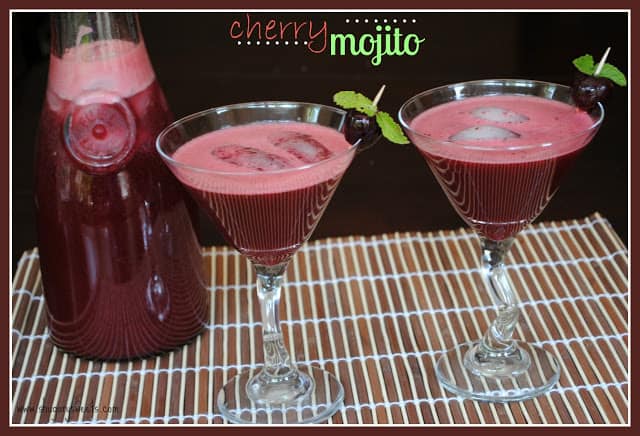 What is a mojito?
In case you're new to the world of mojitos, here are the basics:
Mint leaves and lime juice get muddled with sugar before being mixed with white rum and club soda over ice.
Its vibrant citrus flavors and cool mint touch make it ideal for summer sipping.
The cherry infused version I'm sharing today is NOT a traditional mojito recipe but it starts just like the classic version, with rum, mint and lime juice.
Cherry Mojito Recipe
This Cherry Mojito diverges from a classic mojito in a few ways.
Instead of the white rum in a traditional mojito, this recipe uses both dark rum AND cherry flavored white rum. I love how the addition of dark rum brings out the sweetness of the cherries.
Also, rather than muddling lime and mint in a glass, you make a lime-infused simple syrup to sweeten this mojito. It goes right in the blender along with frozen cherries, rum, mint leaves and lime juice. No club soda involved!
I love mine on the rocks with an extra cherry and mint leaf for a garnish. If you like fruity cocktails that aren't too sweet, you're going to love every sip of your Cherry Mojito.
Lime simple syrup
I'm a big fan of a lot of lime flavor in my mojitos. By simmering the zest from fresh limes with the sugar and water, you get another dimension of citrus taste that lime juice alone won't achieve.
The lime simple syrup from this recipe would be delicious in all kinds of other cocktails, too! Make a double batch if you like and set aside the extra the next time you want to add a fun twist to your moscow mule, vodka soda or other favorite drink.
What cherries to use
I prefer to use frozen cherries in this mojito recipe. They help the drink stay cold without needing lots of ice! You could pit and freeze your own fresh cherries or do what I did and grab a bag from the grocery store.
Only have fresh cherries? Those work beautifully here as well. Make sure the stems and pits are removed, then measure out 2 cups.
How to serve
I poured my Cherry Mojitos over ice in martini glasses. If you use frozen cherries and chilled ingredients, ice may not even be needed, depending on your preference.
The dark pink color of this cocktail looks pretty in high ball glasses, too! Serve this at a cocktail party or other festivity–it's fancy enough to be perfect for a formal event but easy enough to make for even your stay-at-home happy hour.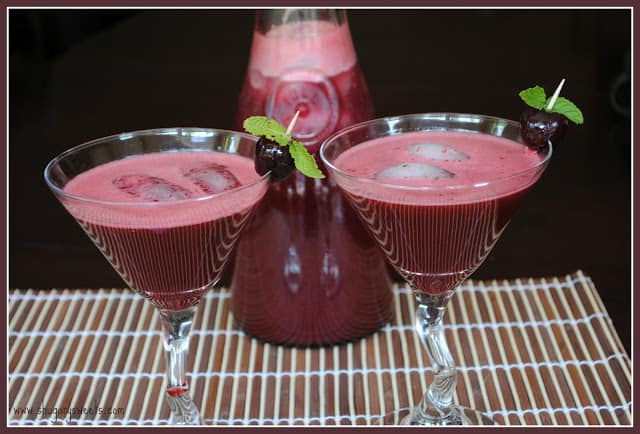 Tips and Tricks
Can't find cherry flavored rum or prefer not to use it? Regular white Bacardi will work just fine in its place.
Make sure the cherries are blended into a puree before adding the rum and other ingredients. This makes the drink smooth and sippable!
This recipe makes enough to serve between 6 – 8 depending on how large your pours are. To make enough for a bigger crowd, double the recipe and pour both blenders full of mojito into a large pitcher to pour from. Keep chiled until ready to serve.
Cool mint meets sweet cherries and rum in this new twist on an old favorite. This Cherry Mojito may just become the shining star of your summer beverage line up. Cheers!