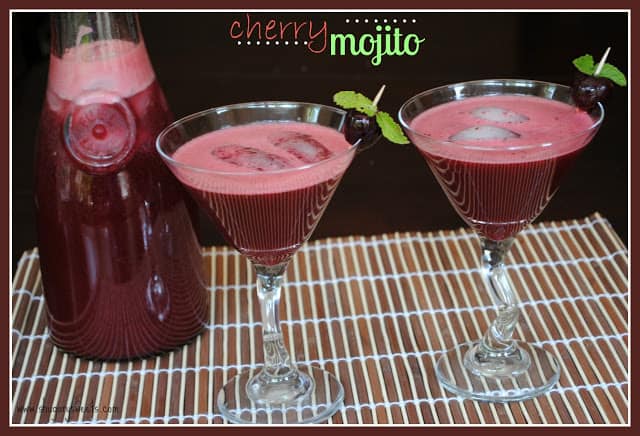 Thank you to my friends Greg and Kari for introducing me to this drink. With a few minor adjustments, I am completely satisfied to share this with all of you!
It seems every summer there is one drink that I get hooked on, and I make it repeatedly. This summer I not only had the cherry beer margaritas, but now I'm hooked on cherry mojitos. I guess cherries are in this year!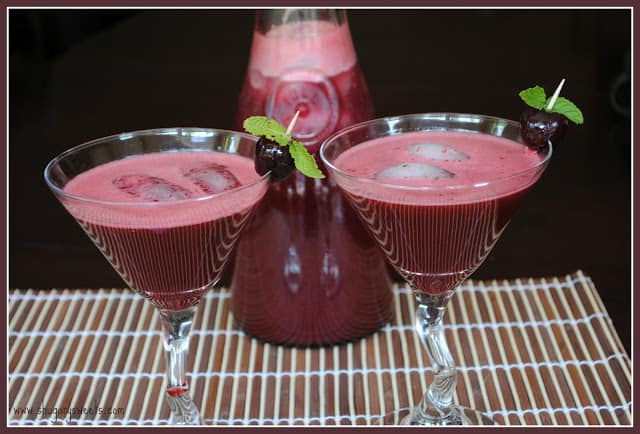 And this is a great drink to put together for, oh say, the 4th of July! ENJOY!
Want more drink recipes? Check these out…
Cherry Mojitos
Ingredients
2 cup sugar
1 cup water
4 limes, juiced and zested separately
16oz bag frozen pitted cherries (or two cups fresh, pitted cherries)
1/2 cup fresh mint leaves
1/2 cup cherry flavored rum (or regular Bacardi Rum would work too)
1/2 cup dark rum
Instructions
First make a simple syrup by combining the sugar, water and zest from 4 limes in a small saucepan. Heat on medium heat and stir until sugar is dissolved. Remove from heat and set aside.
In food processor, process the frozen cherries until finely blended. Add in the fresh mint leaves and the juice of your 4 limes.
In a blender, mix cherry mixture with lime syrup and rums. Pour over ice and enjoy immediately!