This is not your average chocolate cake recipe! A layer of frosting reminiscent of mint chocolate chip ice cream covers a moist cocoa filled cake.
Love chocolate mint desserts? This Mint Chocolate chip rice krispie treat recipe is thick and chewy! Or try a batch of these delicious mint chocolate chip brownies for a fudgy, decadent dessert.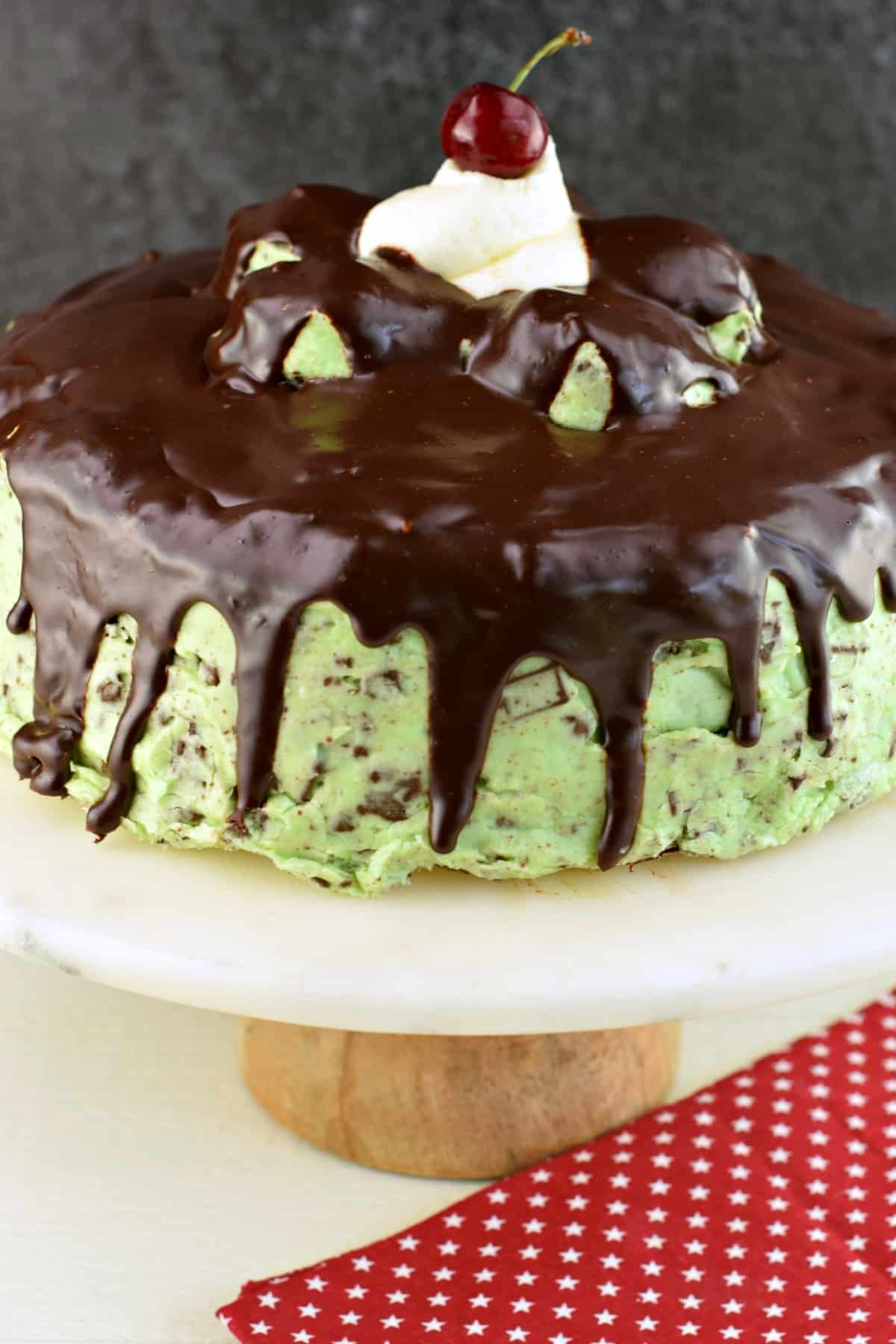 Why this Recipe Works
I know my way around a chocolate cake recipe by now. But I'd never made a chocolate cake quite like this before.
The frosting on this cake tastes like melted mint chocolate chip ice cream.
The moist and rich chocolate cake with the mint chip buttercream frosting already had me in the palm of its hand. Then, the decadent layer of chocolate ganache sent me straight to chocolate lover's paradise.
You're welcome to join me. We have chocolate.
I stuck with the ice cream theme and arranged this cake to resemble a mint chocolate chip sundae, cherry and all. If you love mint and chocolate together, you HAVE to try this chocolate cake recipe!
Ingredients Needed
To achieve mint chocolate nirvana, you start by making a layer of chocolate cake.
Here's what you need to make the chocolate cake:
All purpose flour
Eggs
Butter – softened first; unsalted is my preference but salted butter will work too.
Sugar
Cocoa powder – Dutch processed if possible and always unsweetened
Brewed coffee – Cooled to room temperature
Milk
Baking soda
Baking powder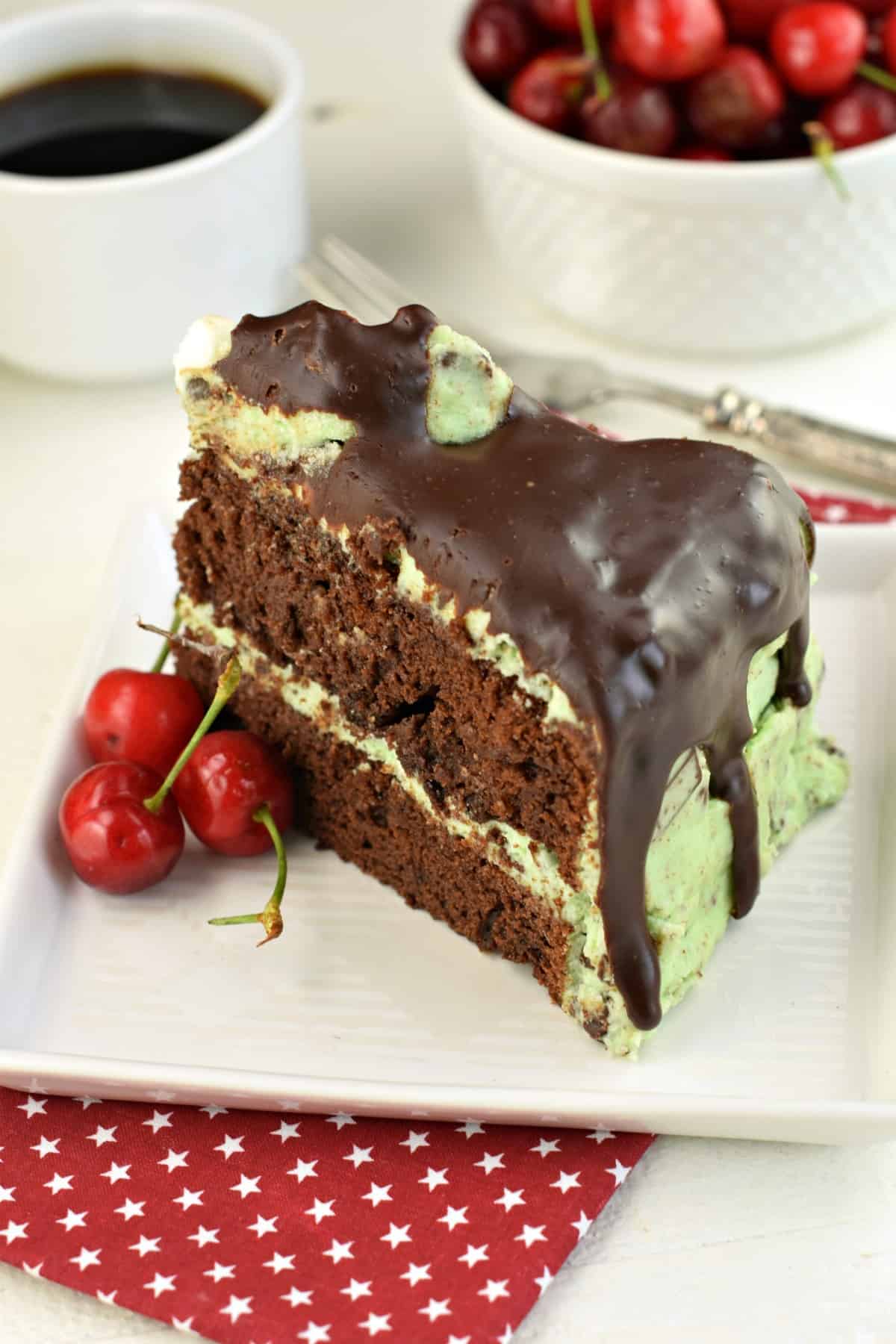 Step by Step Instructions
STEP 1. Line two 9 inch cake pans with parchment paper then lightly grease and flour both (or use my homemade cake release). In a medium bowl, sift cocoa with flour, salt, baking soda and baking powder. Set aside.
STEP 2. In measuring cup, mix coffee and milk together. Set aside.
STEP 3. In mixer, beat butter and sugar for about 5 minutes until smooth. Beat in eggs one at a time. Slowly add in dry ingredients alternating with the coffee/milk blend (I do about 3 additions of each).
STEP 4. Pour cake batter into the two prepared pans. Bake in a 350 degree oven for about 25 minute or until a toothpick inserted in the center of each comes out clean. Remove and allow to cool about 10 minutes before removing from pans.
While the cakes are cooling, prepare the frosting and ganache.
How to Make Mint Chocolate Chip Frosting
For that cool and creamy mint frosting you need:
Butter – Don't forget to let it soften first so it's easier to beat.
Powdered sugar
Peppermint extract
Milk
Dark chocolate chunks – I used the 62% cocoa chunks. It gives the frosting a depth of chocolate flavor that pairs beautifully with the mint!
Green food coloring
Maraschino cherry (or fresh cherry) – Optional but adds a satisfying finishing touch and pop of red color!
To make the frosting:
STEP 1. Pulse the dark chocolate chunks in a food processor until they turn into small bits (not powder)! Set aside.
STEP 2. In a mixer, beat butter, powdered sugar and milk for 3-5 minutes, until smooth and creamy. Remove one or two scoops of frosting, and set aside. You'll use these to look like the whipped cream on the cake.
Add in extract and food coloring gel to remaining frosting. Mix until fully blended. Add more milk if necessary to desired consistency. Fold in chopped dark chocolate.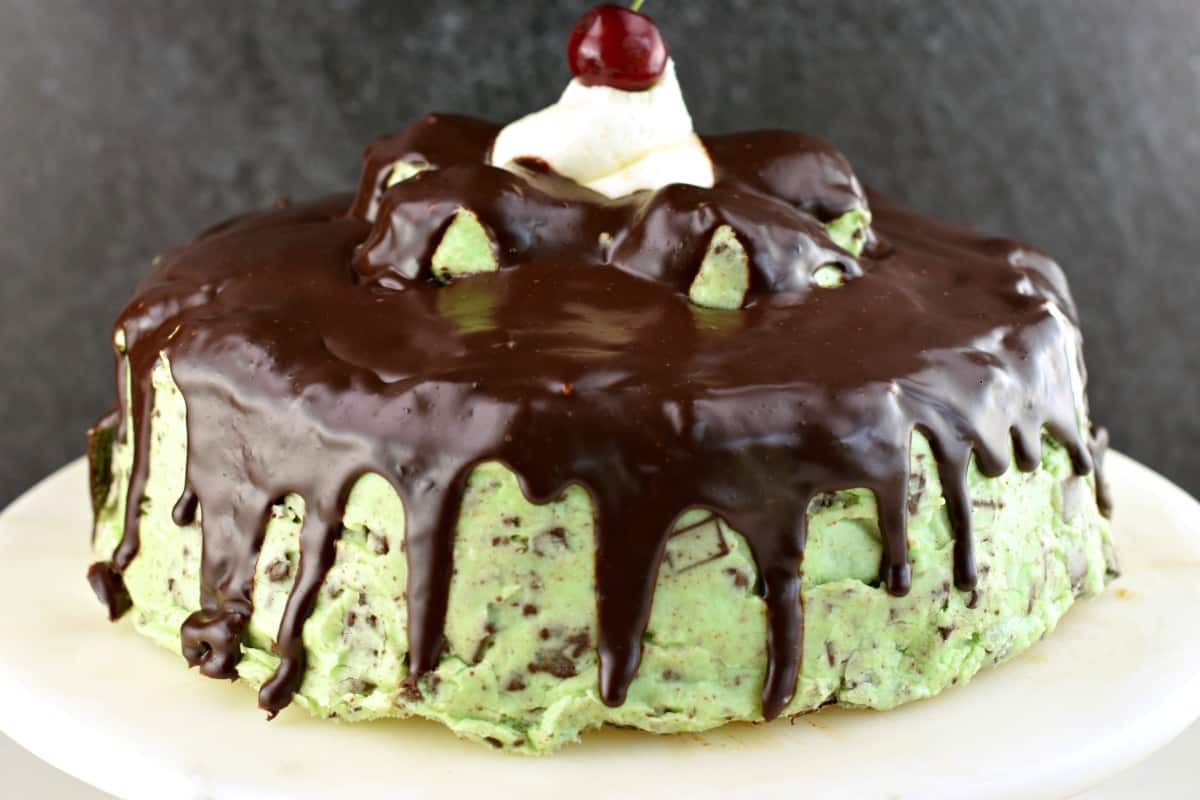 Assembling the cake
Frost the first layer of the chocolate cake using a rubber spatula or your favorite frosting utensil. Place the second layer on top of the first.
Completely frost sides and top of cake. With remaining green frosting, scoop several scoops on top of cake to look like ice cream! Cute, right?
With the reserved white frosting, place in a pastry bag or ziploc bag with a corner cut out. Set this aside until the final step.
There's one last step: Chocolate ganache
Ganache Recipe
Ingredients for the chocolate ganache:
Heavy cream
Semi sweet chocolate chips
Peppermint extract
To make the ganache, heat the cream in a sauce pan over medium heat. Bring to a boil and immediately remove from heat.
Now, pour chocolate chips into a food processor and slowly add in the hot cream and extract. Process chocolate and cream for about 2-3 minutes until completely combined.
Finally, pour all that chocolate over your frosted cake. Add your reserved white frosting to look like whipped cream. Place a cherry on top and enjoy!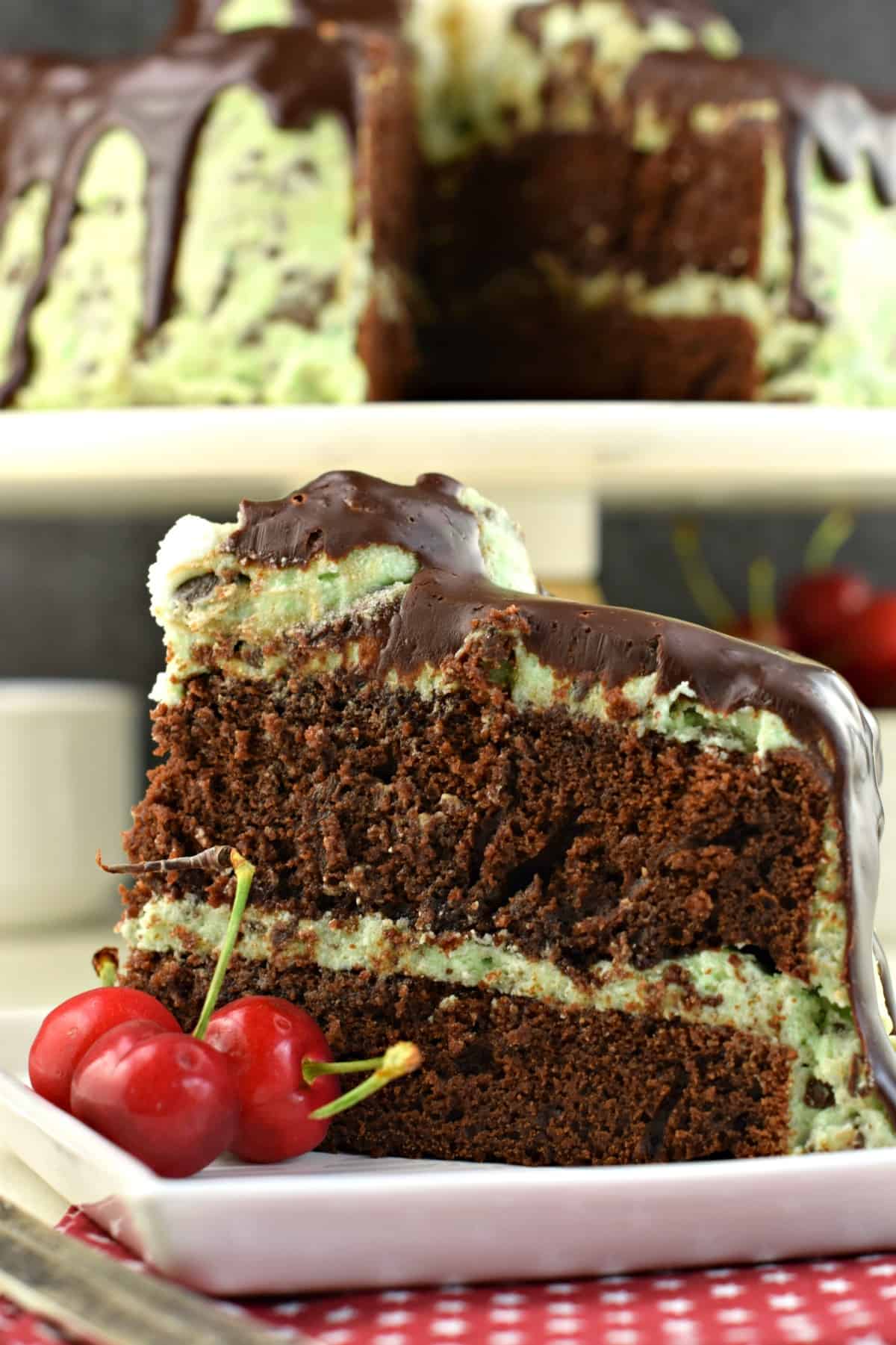 Tips and Tricks
Don't stress about the assembly. I love the look of decorating this like a mint chocolate chip sundae but if you like, you can also just frost it like a regular cake and drizzle the ganache over it. It will still look and taste amazing!
The gel food dye works best for this cake. The liquid dyes or natural substitutes won't be quite the same.
Be sure to use Peppermint Extract, not mint. Mint will taste like spearmint toothpaste.
Craving Cupcakes? Try our Mint Chocolate Chip Cupcake recipe instead!
It's impossible to look at this Chocolate Cake with Mint Chip Frosting and not "ooh" and "ahh" over it. The taste is even better!