Cute puffs of holiday delight! Peppermint Puff Cookies combine the best parts of a classic cookie with the best parts of a smooth buttery peppermint candy. Add a chocolate chip for sweetness and you have my Grandma's favorite Christmas treat.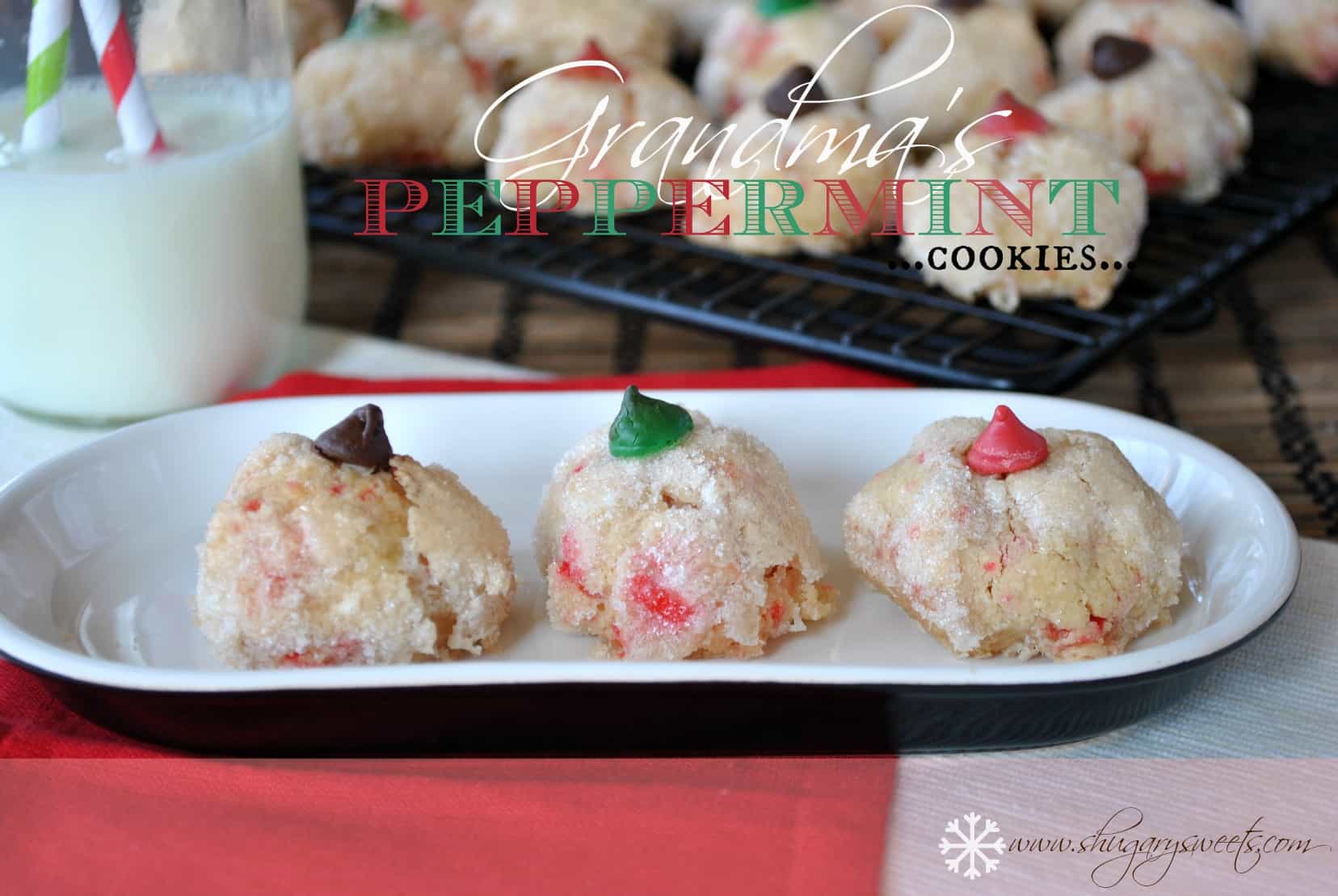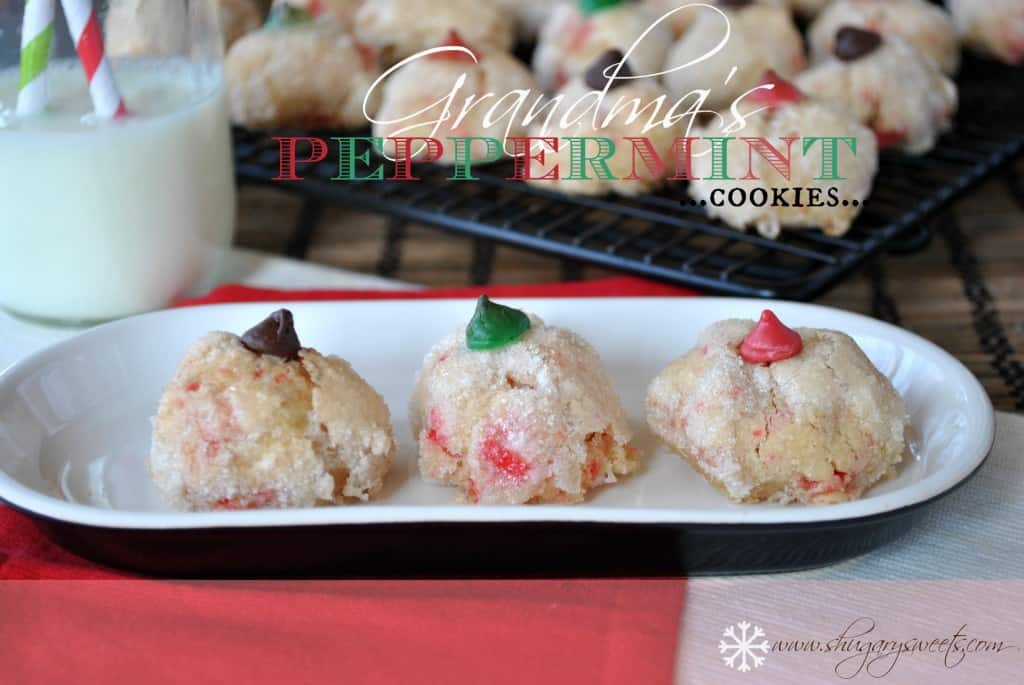 Grandma's Favorite Peppermint Cookies
Every family has their "must make" cookies; the ones that make their way into the holiday cookie platter every year without fail. Thanks to my maternal grandma, these Peppermint Puff Cookies are one of ours.
I don't think I can remember a Christmas where these didn't show up at the family Christmas party or end up on the cookie plate we gave to friends and neighbors. My grandma loved making them and we all loved eating them!
They might not look like much, but these peppermint cookies are deceptively delicious.
The crunchy sugar coating–and extra crunch from whipped egg whites– makes you *think* you will be biting into a crunchy cookie. Then you get to the center—the soft, buttery peppermint center! Oh my word.
The single chocolate chip gives just the right amount of sweetness to these cookies, without overtaking the peppermint flavor!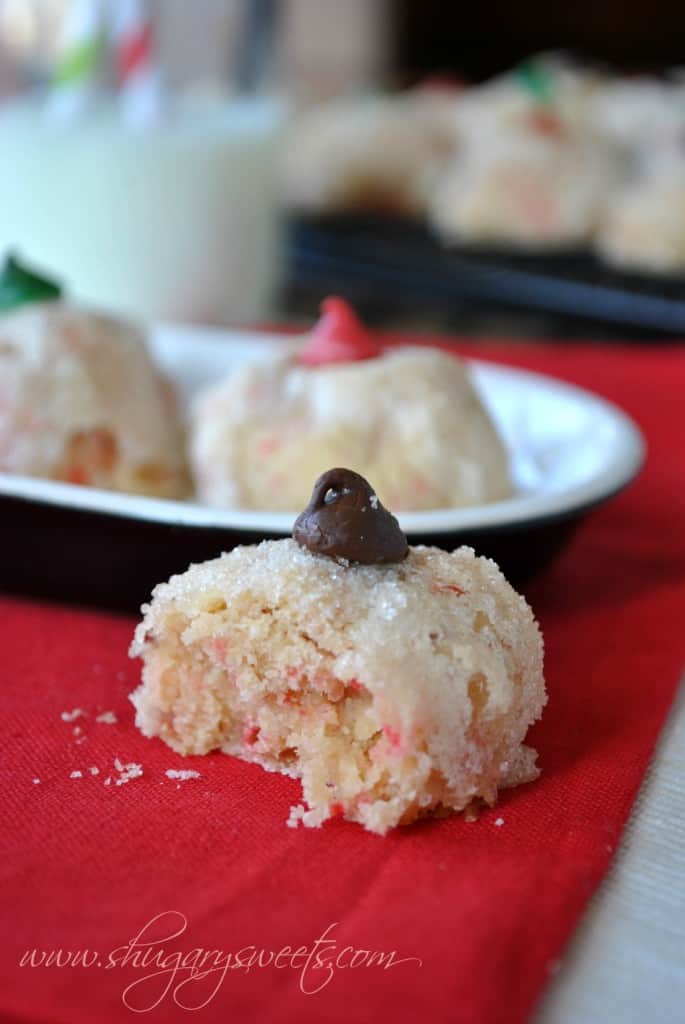 Ingredient Notes
Egg – You'll use both the egg yolk and the egg whites at different stages in the recipe, so be sure to separate them before you start baking.
Peppermint Candies – I place the candy canes in a ziploc bag then crush them with a heavy rolling pin. The round peppermints would work too but they're harder to crush!
Chocolate chips – My Grandma uses traditional semi-sweet chocolate chip morsels but this year, I shook things up by tracking down red and green chocolate chips.
l love the pop of color you get from the red and green chocolate chips and so I sure hope grandma will approve of my deviant nature. I'm pretty sure when she sees these cookies on this year's holiday cookie platter, she will be delighted, especially since she didn't have to make them!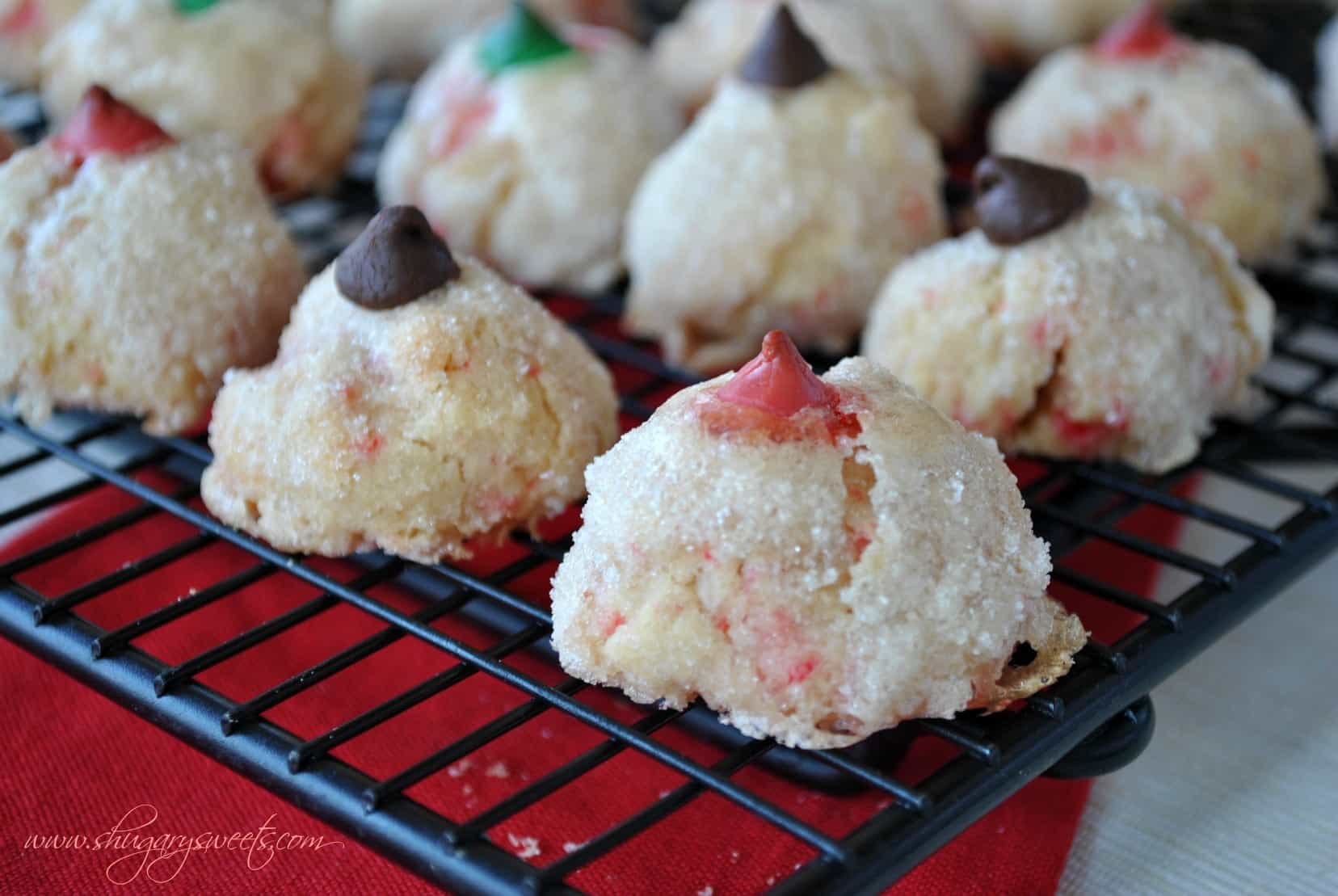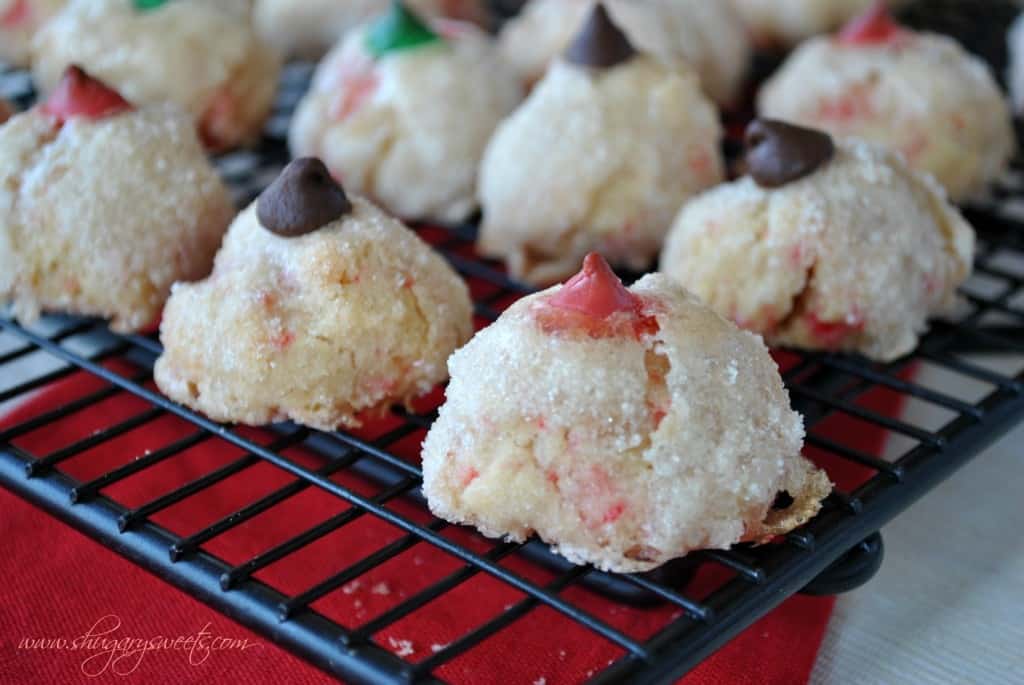 Step by Step Instructions
STEP 1. Make the dough
Cream together butter, sugar, vanilla extract, milk, and the egg yolk. Gradually add in the flour and crushed candy canes to form a crumbly dough.
Shape the crumbly dough into balls using your hands.
STEP 2. Sugar coating
Whip the egg whites for about 30 seconds to make them foamy. Dip each cookie ball into the egg whites, then roll in a plate of granulated sugar. Place them evenly apart on a baking sheet .
STEP 3. Bake
Press a chocolate chip onto the top of each cookie ball. Bake for 15 minutes and let the cookies cool on the pan for about 10 minutes before transferring them to a wire rack to finish cooling.
Pour a glass of milk (or eggnog) and enjoy!
Recipe FAQs
How do you store these cookies?
Keep them in a sealed container at room temperature for up to 1 week.
How many cookies does this recipe make?
I got about 3 dozen cookies from this dough measuring 2 tablespoons of dough per cookie.
Can you freeze these?
I don't recommend freezing Peppermint Puff Cookies. Freezing and thawing will change the consistency of the cookie–and the texture is one of the things that makes them so good!
Every holiday cookie platter needs at least one peppermint dessert! You can't do better than my grandma's Peppermint Puff Cookie recipe. I'm so glad she passed the tradition down to me me all those years ago and, now, it's my turn to share it with all of you!