This Grasshopper Poke Cake is super easy and over-the-top delicious. Just boxed cake mix and a few ingredients to make an incredible fudge mint cake for dessert!
Love poke cake recipes? Me too. Make sure to add this Coconut Cream Poke Cake and my favorite Lemon Poke Cake to your "to bake list" next!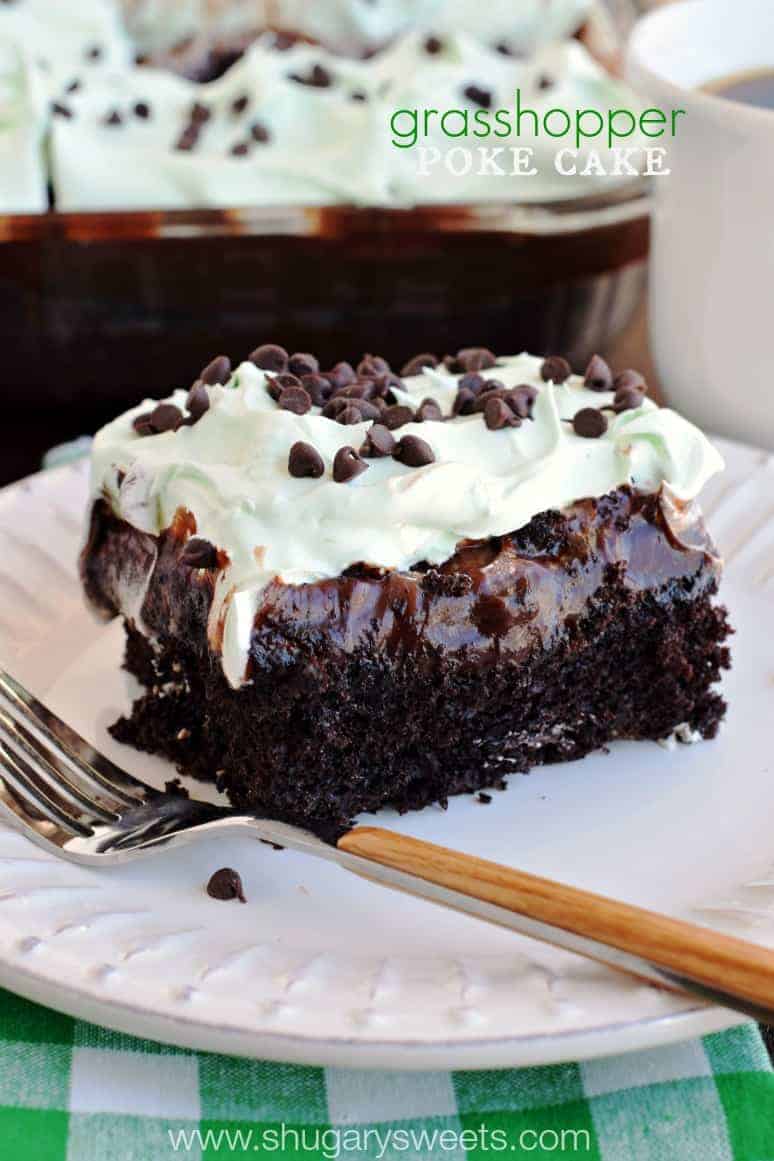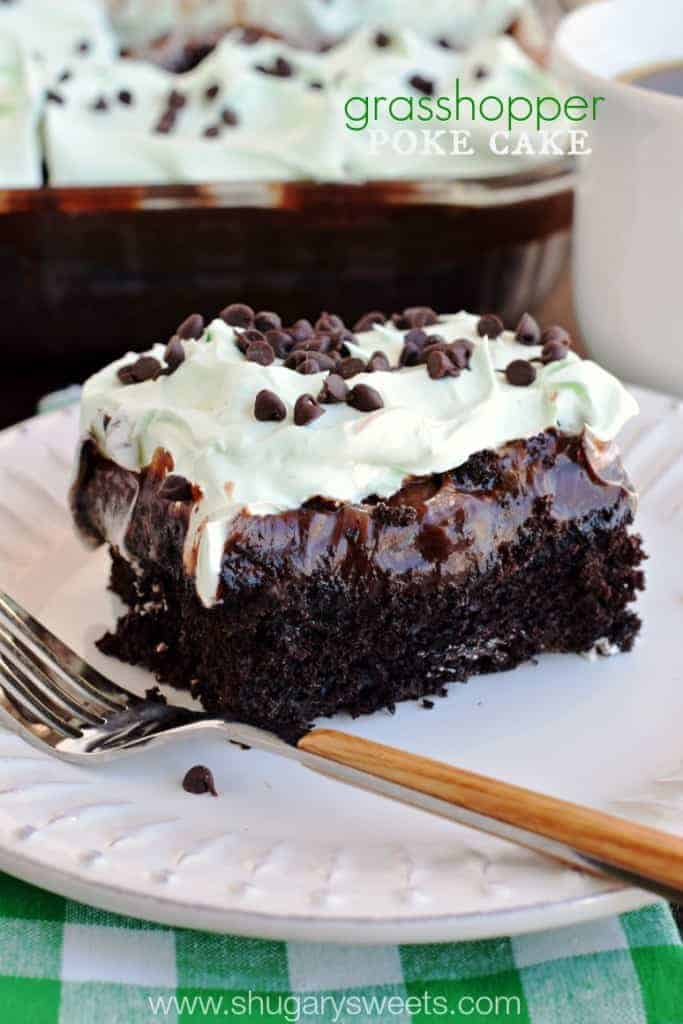 Why This Cake is Best
Grasshopper Poke Cake is what happens when you look at a chocolate cake and think, "Okay, but what if there was more chocolate?"
After baking, the cake gets poked with holes and topped with creamy chocolate pudding.
The fudgiest cake ever.
Perfect creme de menthe flavor.
Minty whipped topping.
Easy to make with a boxed mix!
If you think that sounds decadent: just wait.
From there, I topped with a layer of hot fudge sauce and and mint Cool Whip, plus chocolate chips. Because, why not?
Did I mention there's actual Andes mint chocolate in every bite? Yeah. We're talking pure chocolate mint paradise!
Ingredient Notes
Chocolate cake mix. Bake it according to package directions OR use our homemade chocolate cake recipe.
Andes mint baking chips. Fold these morsels into the cake batter before baking.
Chocolate pudding. A package of instant pudding mixed with milk is perfect.
Hot fudge sauce. Any jarred fudge sauce is perfect. No need to heat it first!
Cool whip. Adds lightness to the rich, fudgy cake. Use our homemade cool whip or whipped cream if you prefer.
Mint extract. It's added to the Cool Whip for mint flavor.
Green food gel. Optional but adding a single drop gives the cake its pale "grasshopper" color.
Easy Instructions
Start by baking the Andes mint chocolate cake. While it's baking, prepare the pudding and the Cool Whip topping.
Take the cake out of the oven and poke holes all over the top. Pour the pudding over the warm cake.
Immediately spread hot fudge sauce over the top of the cake. Add the Cool Whip topping, then sprinkle with mini chocolate morsels.
Chill the cake for 4 hours in the refrigerator. Slice and enjoy COLD!
Tips and Tricks
How to poke holes: I use the handle of a wooden spoon or a meat thermometer. A wooden skewer or chop stick would be perfect too!
The more holes the better. It doesn't matter how big they are, but the entire top should be dotted with holes as much as possible. This allows the hot fudge and pudding to soak into every bite of the rich cake.
Use a 13 x 9 pan. Boxed mixes will often have instructions for baking the cake in different shapes and sizes. Follow the guide for this size pan for best results.
Make the night before. Prepare the cake in advance, then chill it overnight for a delicious easy dessert the next day.
Recipe FAQ
Why is it called grasshopper cake?
Grasshopper desserts are named after a popular after-dinner drink that uses creme de menthe as its primary flavor.
The pale green color and refreshing minty taste inspired grasshopper pie and grasshopper cakes like this one.
What can I substitute for Cool Whip?
If you don't want to use Cool Whip, or don't have access to it where you live, you can make your own with this Stabilized Whipped Cream recipe. It works perfectly as a 1:1 substitute for topping poke cakes of all kinds.
Does the pudding have to set before adding the fudge?
No, it does not. You can add the fudge sauce right away after pouring on the pudidng.
How do I store leftover poke cake?
Leftover cake is a rarity in my family! If you do end up with some remaining slices, you can store them tightly covered in the fridge for about 5 days.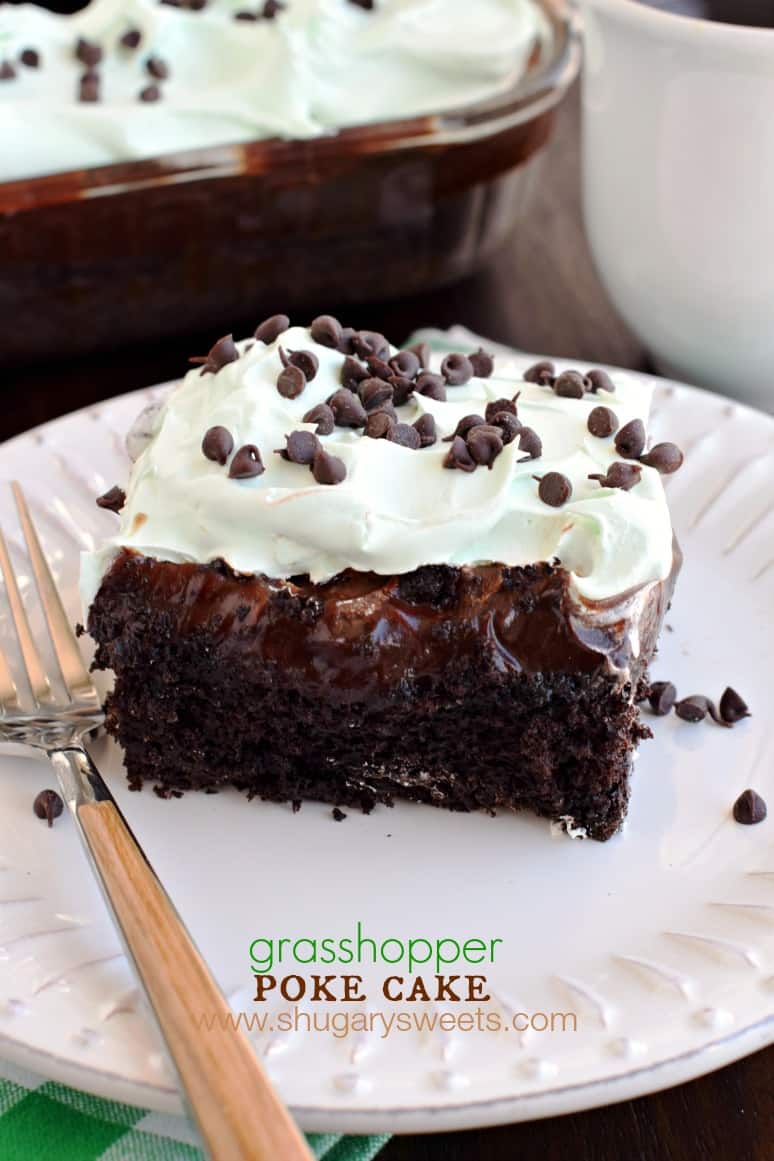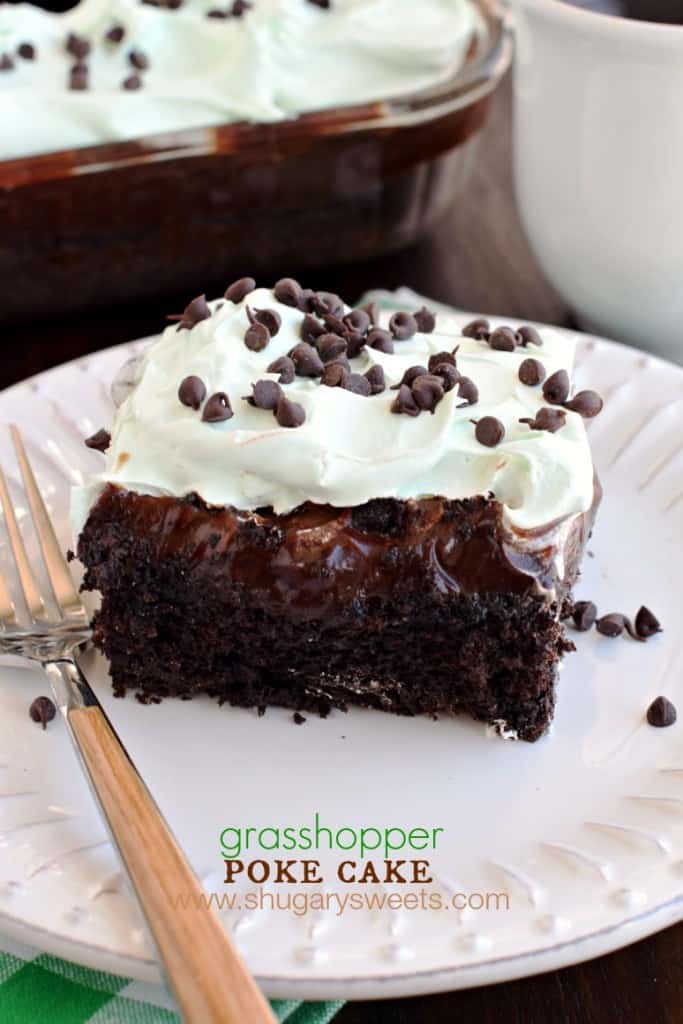 Creme de menthe, chocolate cake and fudge come together in this easy Grasshopper Poke Cake recipe. Make it tonight and you'll be set for dessert tomorrow!