Easy, delicious Microwave Peanut Brittle recipe ready in 10 minutes! Old fashioned candy made with simple ingredients in the microwave or on the stove top.
We love old fashioned candy recipes. Try our salted nut roll or almond bars for a delicious treat. Or learn how to make fudge with our tips and tricks!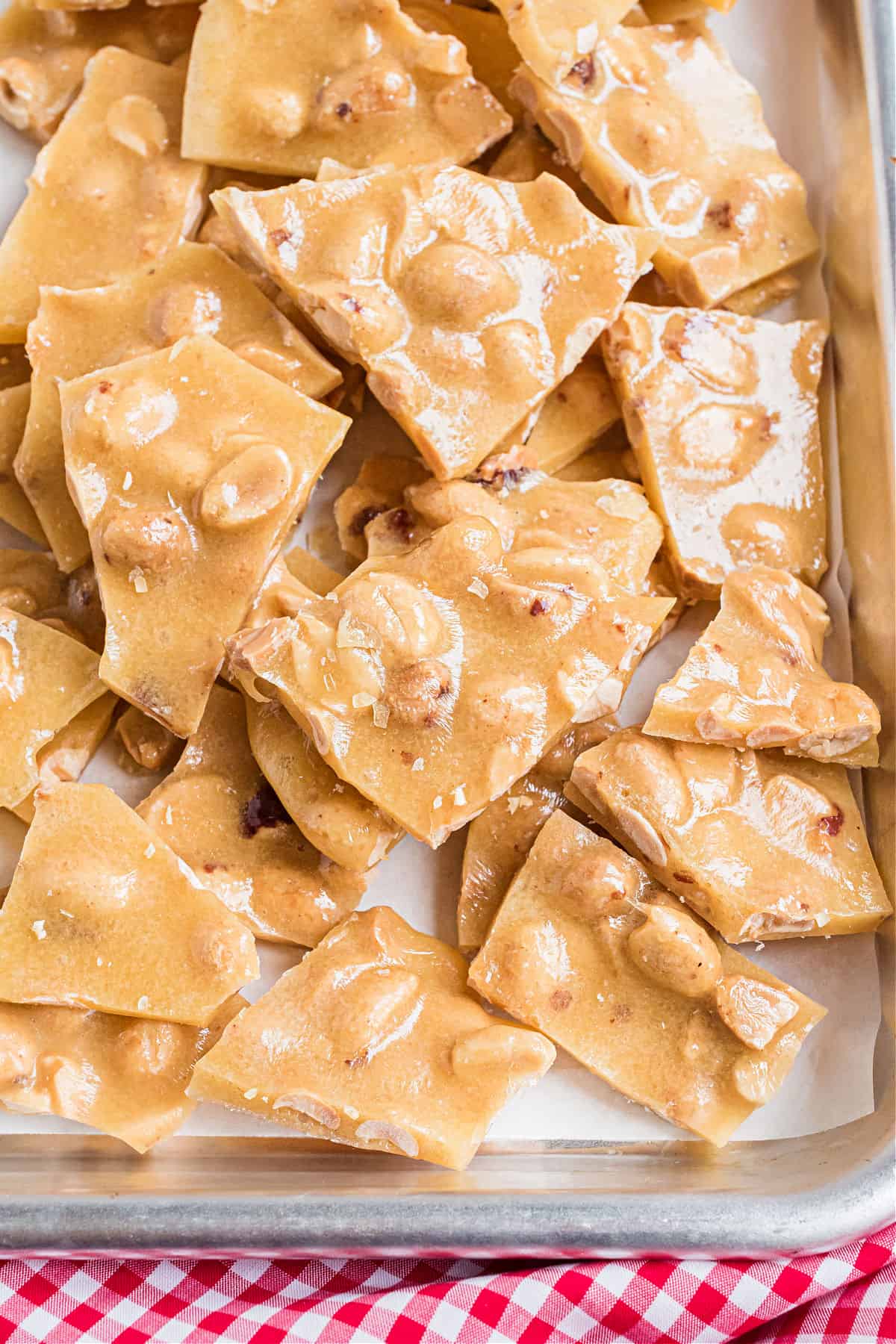 Why this Candy is Best
Making homemade candy doesn't have to be hard.
Peanut brittle is a similar to toffee with peanuts. Whether you're looking for a simple Christmas candy to share, or a dessert for your family you've got to try our peanut brittle.
Made with simple ingredients.
Stays crunchy for weeks.
Perfect to give as gifts for the holidays.
Can be made in the microwave in minutes, or on the stove top!
Broken pieces of peanut brittle are delicious on our homemade vanilla ice cream too!
Try our homemade kit kat recipe next!
Ingredient Notes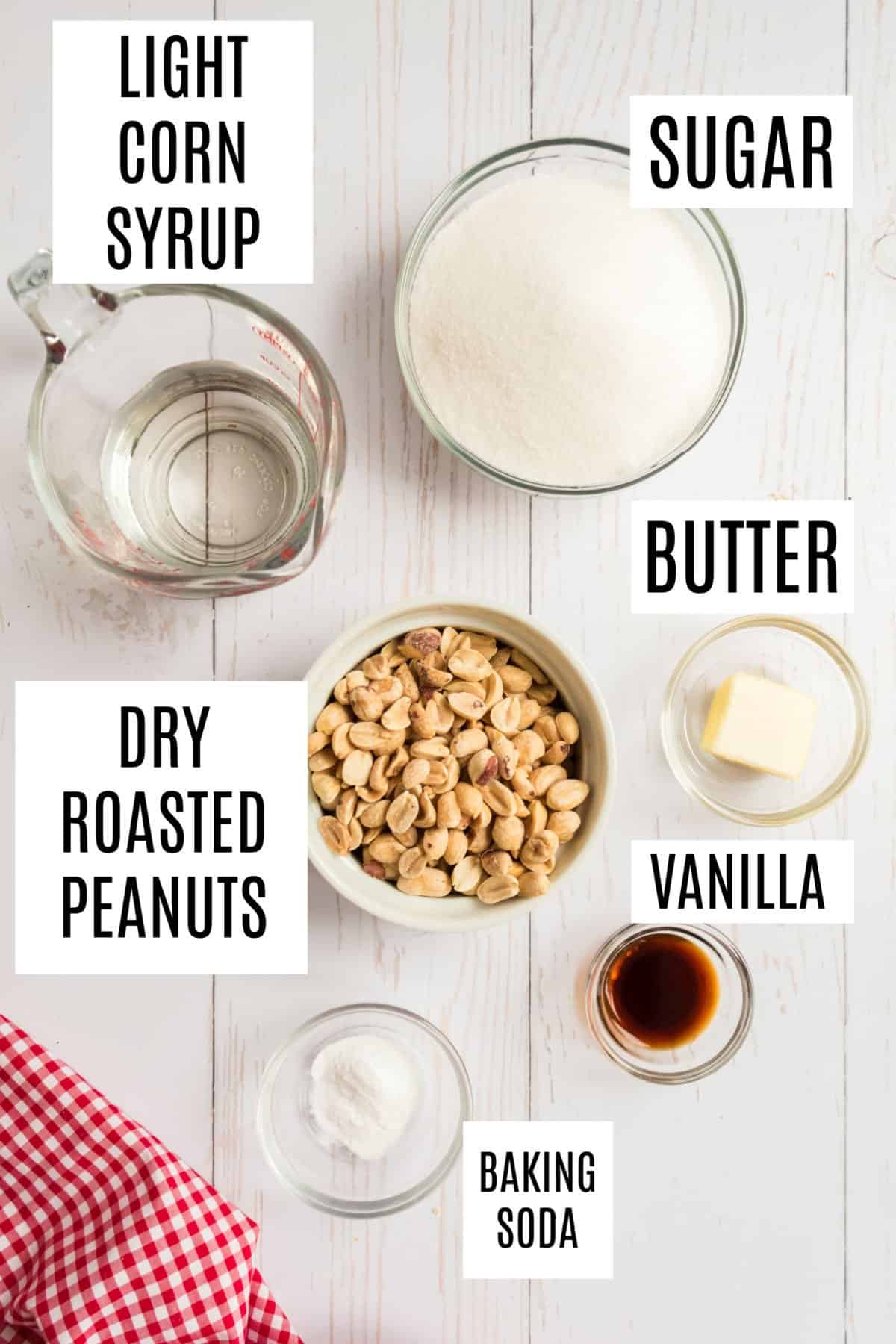 Dry roasted peanuts– we prefer the lightly salted variety. But you can swap them out for cashews and make cashew brittle too!
Corn Syrup– adds sweetness and ensures that the texture of the candy does not turn grainy.
Baking soda– adds air bubbles to the brittle, creating the perfect texture!
PRO TIP- We love making our own homemade vanilla extract, but if using store bought, be sure it's pure extract, not imitation (for best flavor).
Tips and Tricks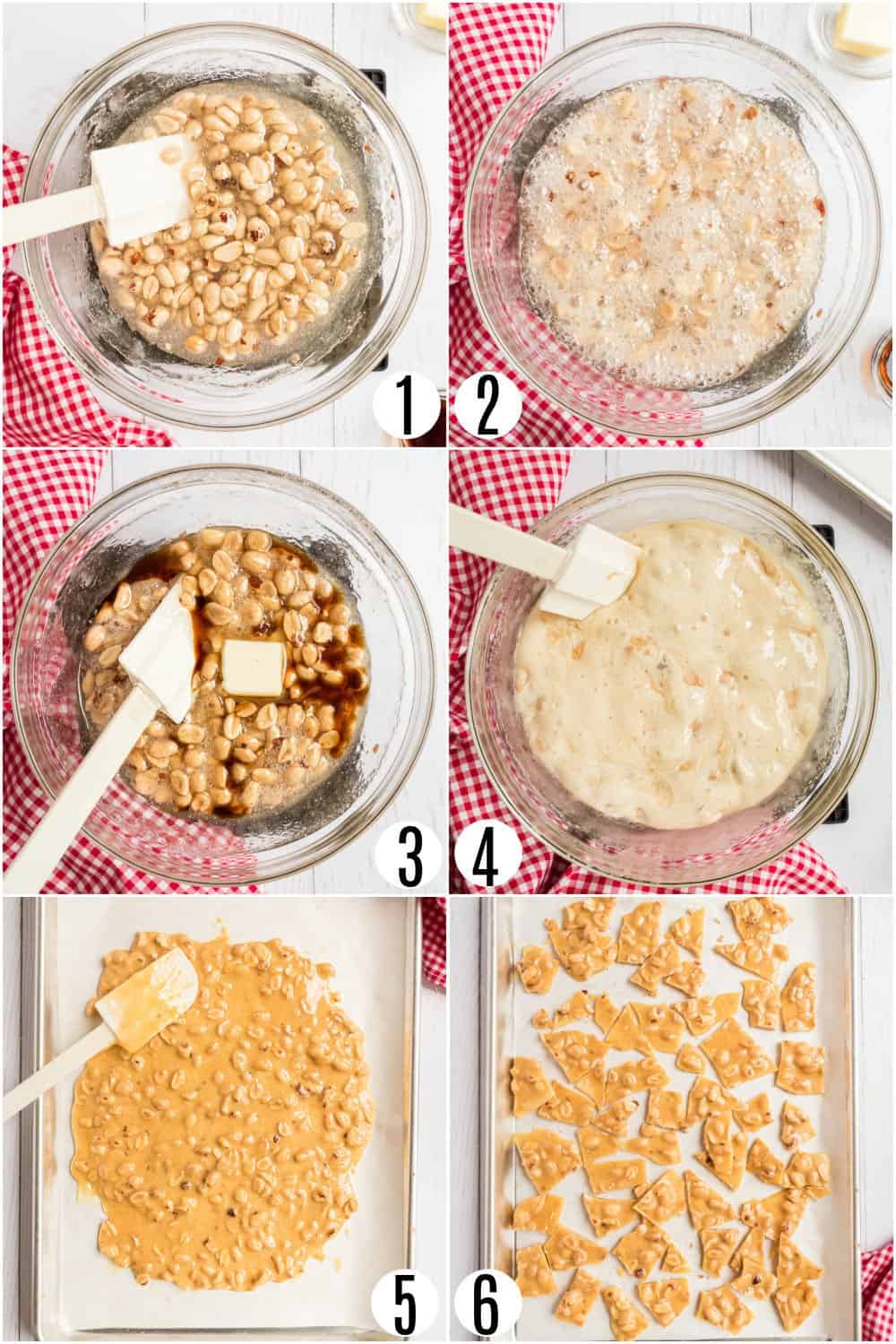 The bowl gets very hot. You'll see I recommend using hot pads. Learn from my mistake and always use them.
Finally, clean up. The brittle hardens in the glass bowl very quickly. Fill with HOT water and allow to soak until you can scrub it off.
Store peanut brittle in an airtight container (or ziploc bag) at room temperature for up to three weeks. We prefer not to freeze brittle as it changes the texture and makes it chewy not crunchy.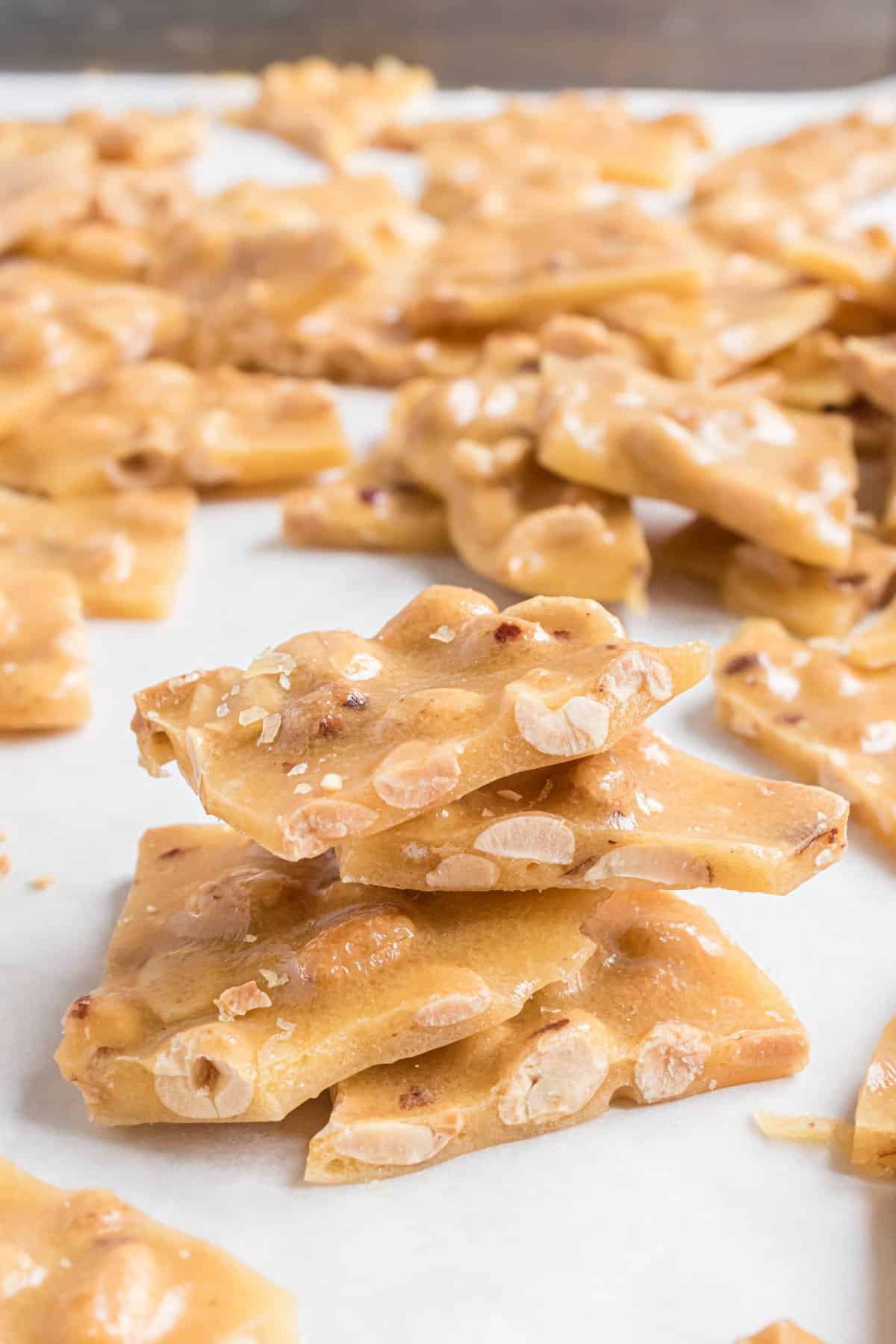 Make Peanut Brittle on the Stove Top
Yes, you can also make this on the stove top if you prefer.
Line your baking sheet with parchment paper like above.
Using a heavy 2 quart saucepan over high heat, bring to a boil the sugar, corn syrup, and add 1/4 cup water.
Stir until sugar is dissolved and mixture is boiling. Reduce heat to medium.
Stir in peanuts. Set a candy thermometer in place, and continue cooking until temperature reaches 300 degrees F (or until a small amount of mixture dropped into very cold water separates into hard and brittle threads.
Remove from heat and immediately stir in butter, vanilla, and baking soda. Pour onto baking sheet and spread to desired thickness. Break into pieces when completely cooled.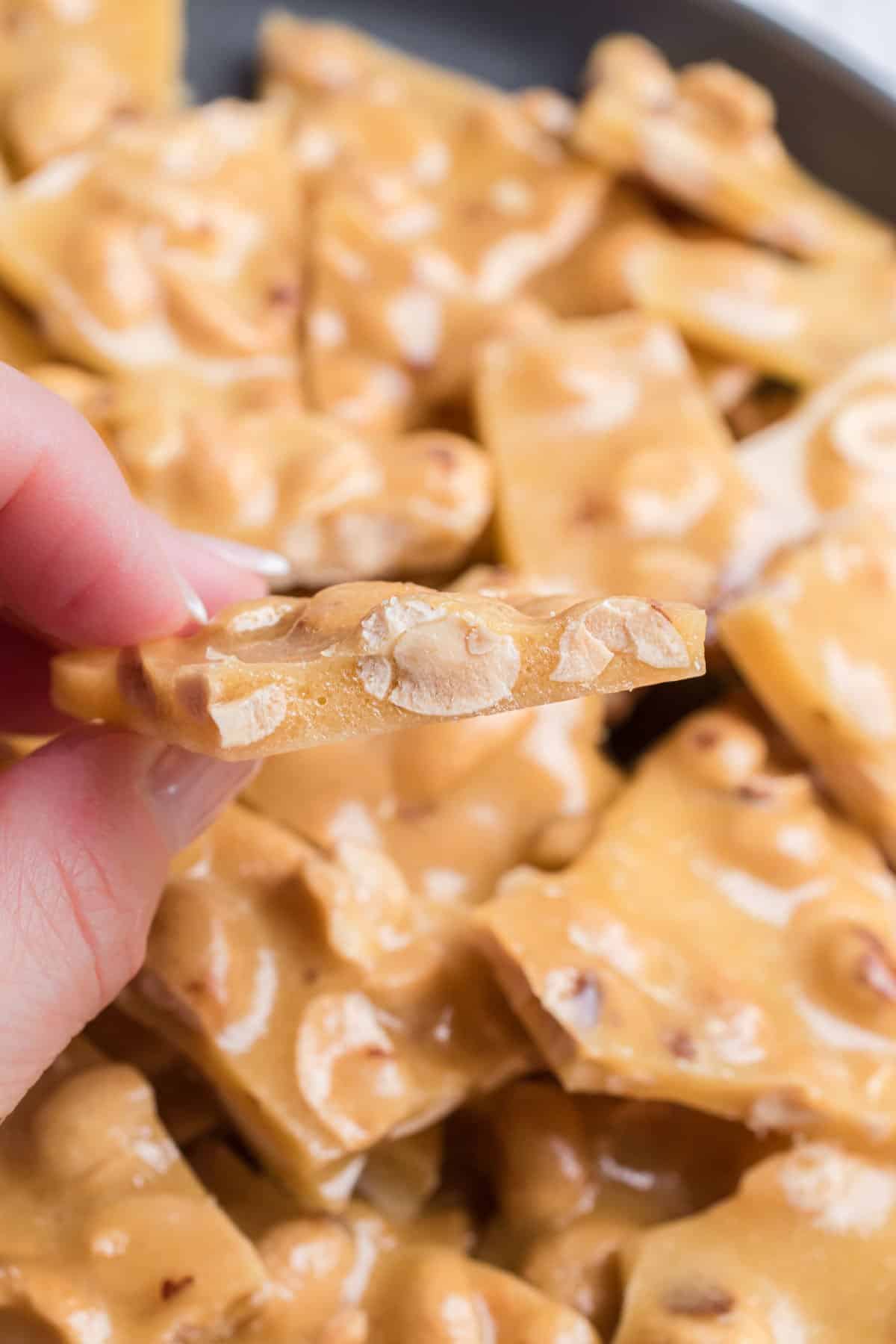 Recipe FAQs
Why is my peanut brittle not crunchy?
Peanut brittle may not get to the crunchy state if it's not cooked long enough or the baking soda was not added. Also be sure when storing there is no moisture in the container.
How do I clean the peanut brittle bowl?
If your brittle gets stuck in the bowl, add water to the bowl and microwave for 1-2 minutes. This will help soften the brittle so you can scrub it off.
What does baking powder do to brittle?
Adding baking powder to the peanut brittle is key to releasing tiny air bubbles into the candy. This helps create the perfect texture.
More Easy Candy Recipes