The layers on these Pecan Pie Cheesecake Bars are incredible! One tasty bite and you'll fall in love!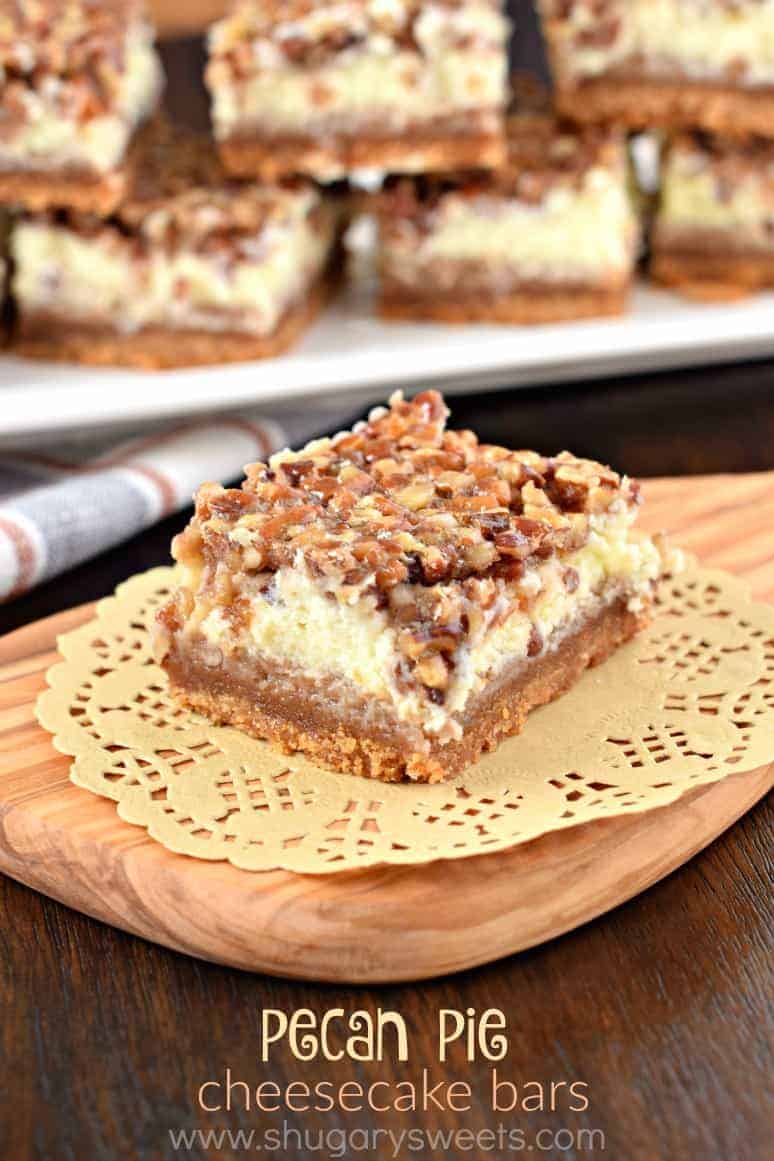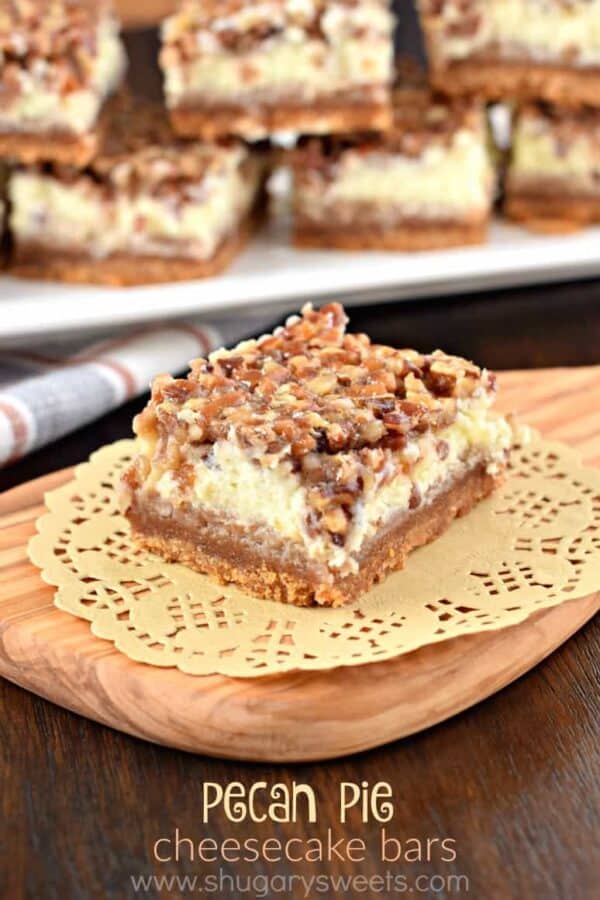 ***This post is sponsored by Fisher Nuts. I am excited to be a partner in creating delicious recipes, all opinions are 100% my own***
It's seriously hard to believe Thanksgiving is this week, and suddenly Christmas is only a month away!
I love this time of year. I just wish it would slow down a little bit! If it were my decision, I would put my Christmas decorations out on November 1st, because I want to enjoy the season as long as possible! And let's face it, once Christmas is over, it just becomes a chore to put everything away.
However, my husband is all about ONE HOLIDAY at a time. No decorations before Thanksgiving.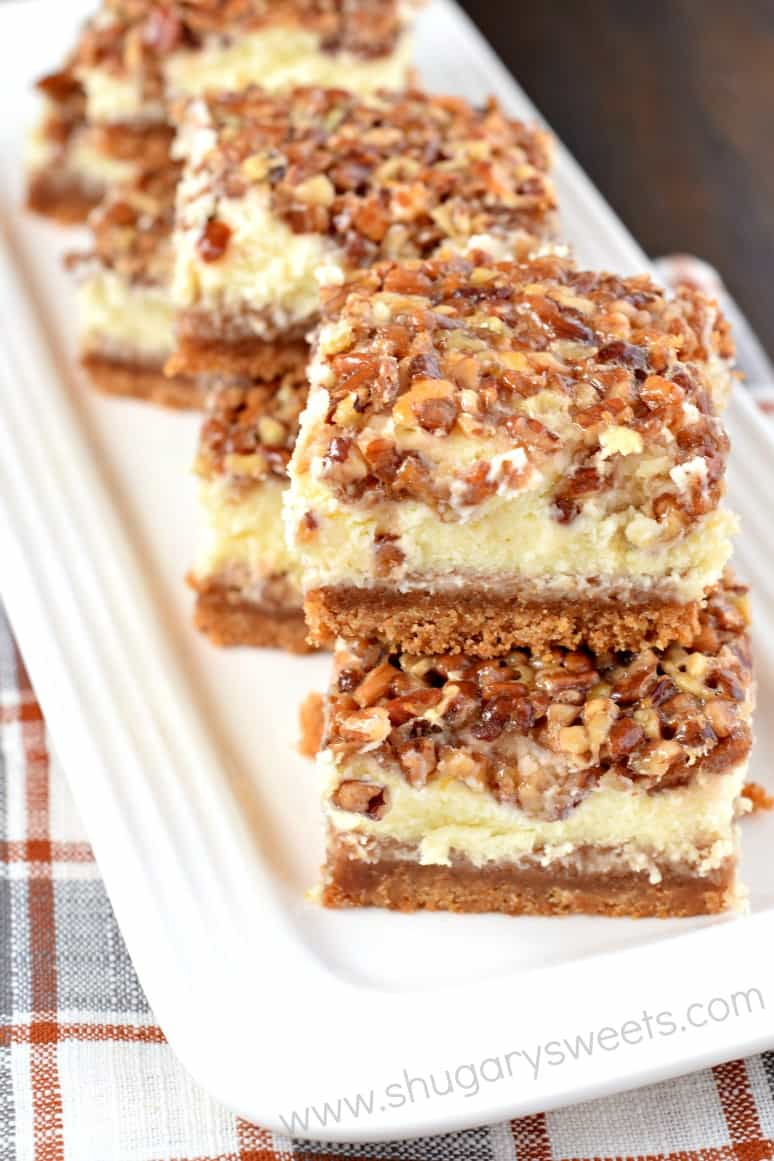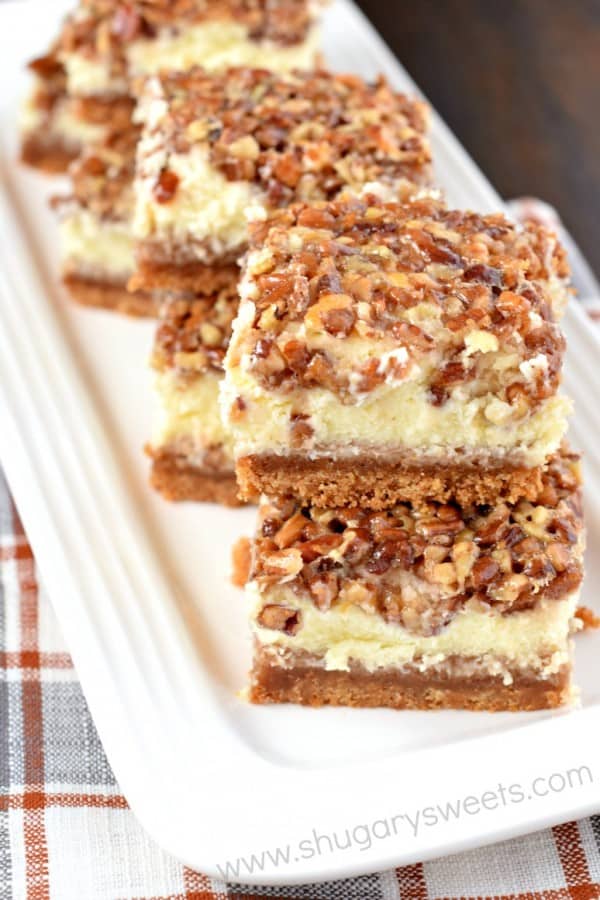 Fortunately, I've got all my kids on my team, and we secretly sneak items onto coffee tables, end tables and our mantel.
This year though, BONUS, my husband traveled for work last week. Our motto was, "when Scrooge is away the family will play." We pulled out ALL but the Christmas tree. haha, surprise!!
I'm married to a wonderful man, he took it quite well. Actually, I think maybe he liked that he didn't have to help.
But, we are hosting Thanksgiving in our house, so I do have to hammer down and focus on that holiday (even though my house is decorated for Christmas). I blame it all on blogging. We start recipe testing peppermint recipes in July you guys. I've got Valentine's recipes under my belt for 2016. The struggle is real.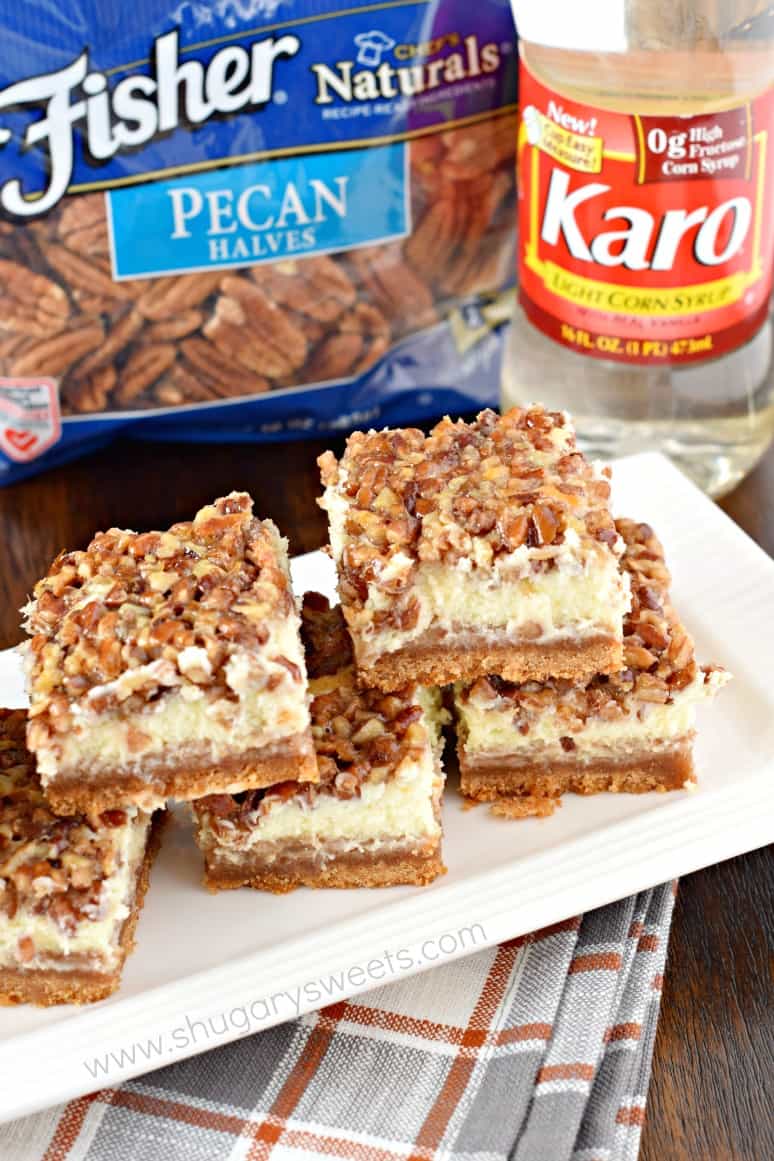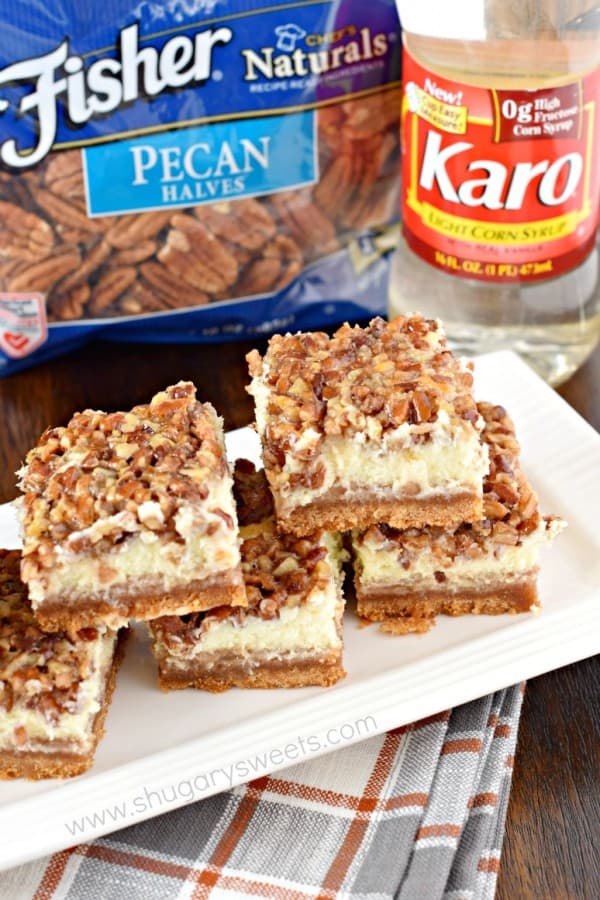 Needless to say, these Pecan Pie Cheesecake Bars are the perfect THANKSGIVING treat. Or any holiday really. They are layered with a thick graham cracker crust, creamy cheesecake center and then topped with a gooey, caramelized pecan pie layer (made with Karo light corn syrup) on top!
My partnership with Fisher Nuts has been so fun, and I hope you guys will enjoy seeing these nutty recipes for another year here on Shugary Sweets! I love using Fisher Nuts as they are one of the only brands that are preservative free! Be sure to scroll down after the recipe to see some of my favorite Fisher Nut recipes, as well as visiting the Fisher Nut Pinterest board for more recipes from my fellow bloggers!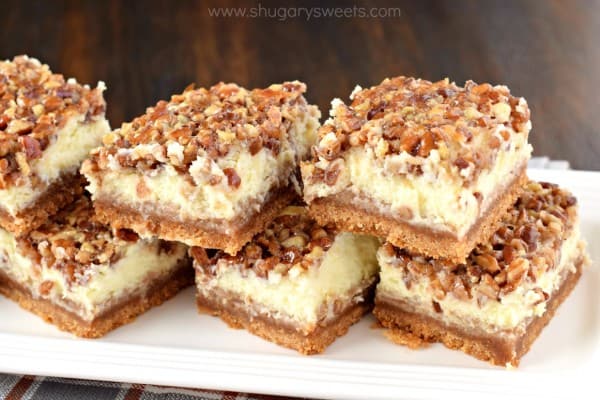 Connect with Fisher Nuts:
website | facebook | pinterest
A few of my favorite Fisher Nuts recipes: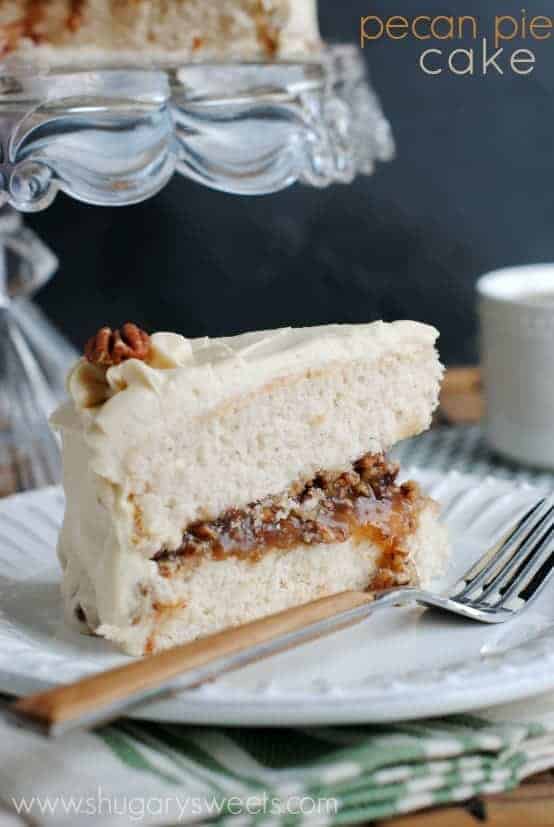 Pecan Pie Cake: a sweet layer cake with a pecan pie filling and brown sugar frosting!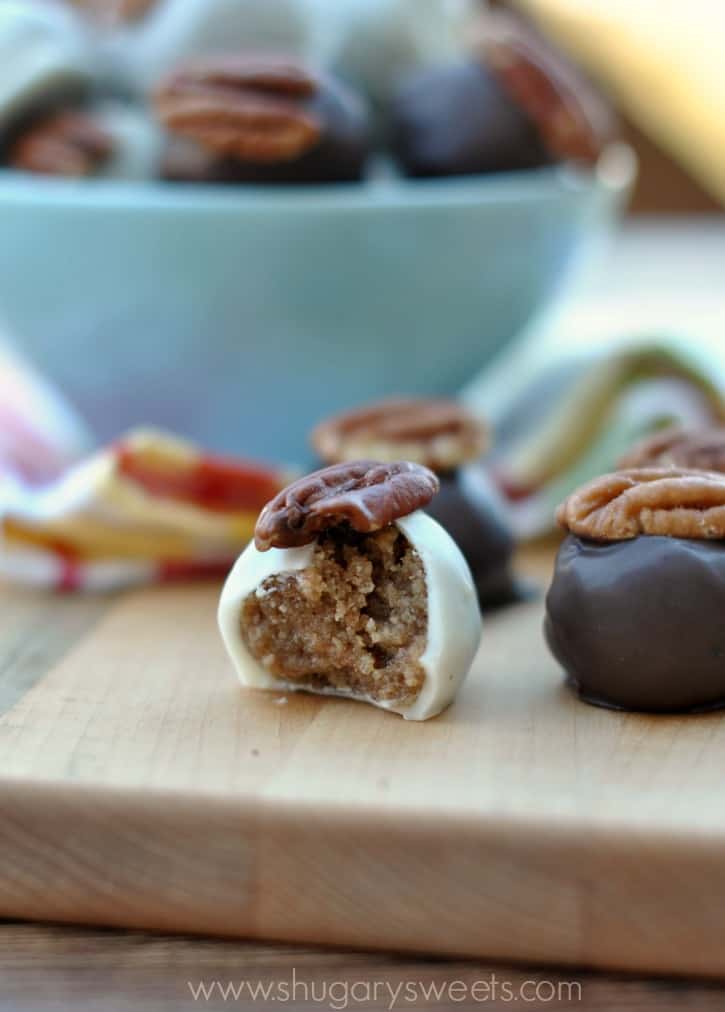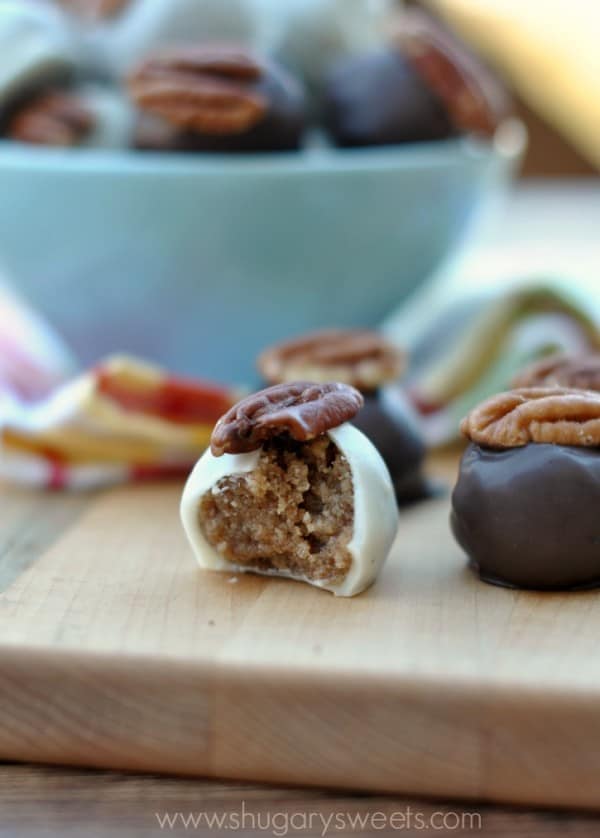 Pecan Pie Truffles: as amazing as they sound!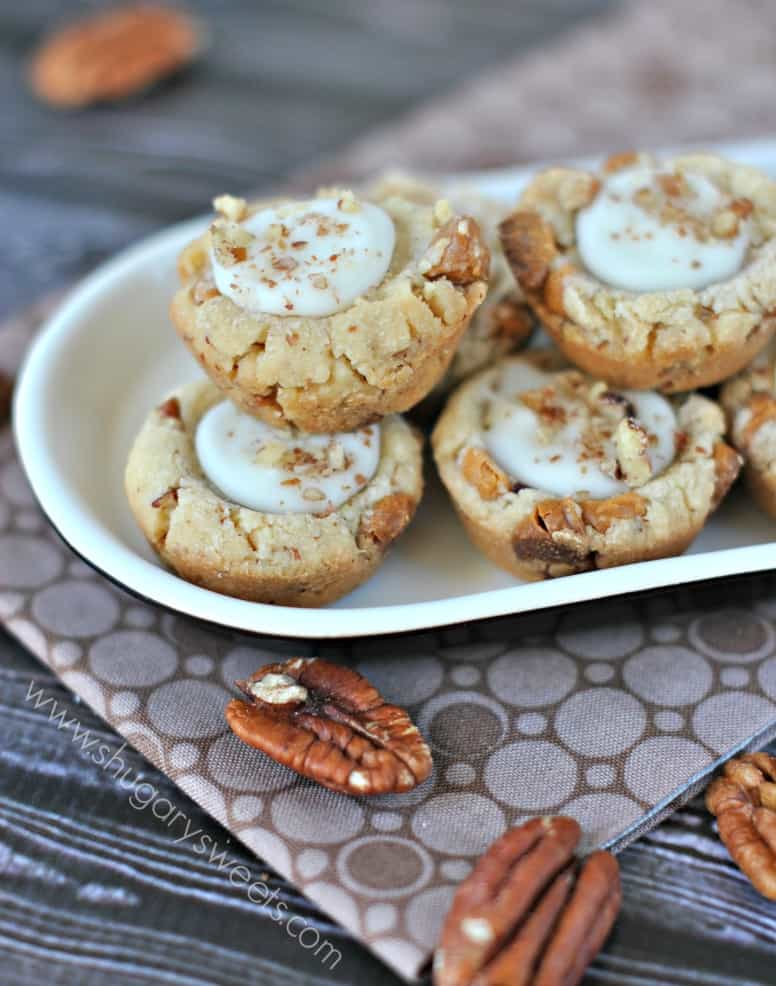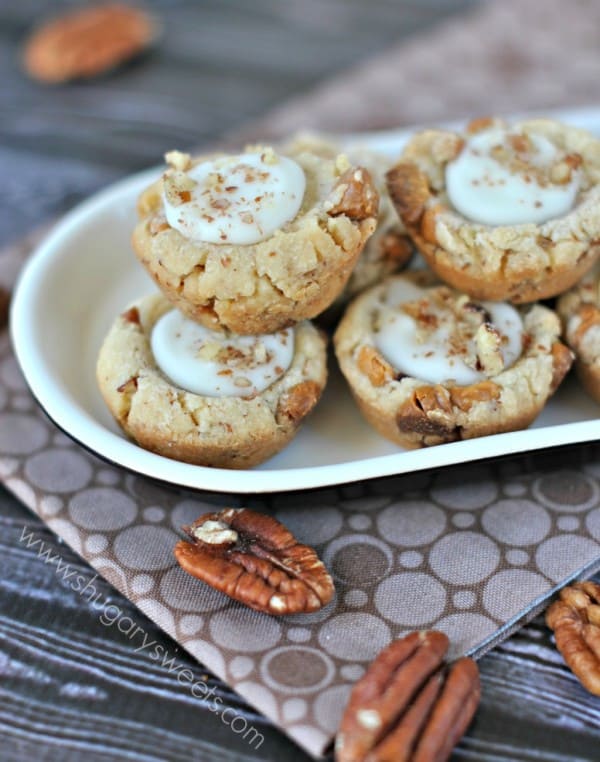 Butterscotch Pecan Sandies: little bites of heaven. My favorite cookie to give for the holidays!
Yield: 24 large bars
Pecan Pie Cheesecake Bars
Prep Time
4 hours
30 minutes
Ingredients
For the crust:
2 1/2 cup graham cracker crumbs (about 18 full size grahams)
1/4 cup granulated sugar
1/2 cup unsalted butter, melted
For the cheesecake layer:
2 packages (8 oz each) cream cheese, softened
3/4 cup granulated sugar
2 large eggs
1 tsp vanilla extract
For the pecan pie layer:
1 cup light brown sugar, packed
1/2 cup KARO light corn syrup
KARO light corn syrup
1/2 cup heavy cream
1/4 cup unsalted butter
1/2 tsp kosher salt
1 tsp vanilla extract
2 cups Fisher Pecan Halves, chopped
Instructions
Line a 13x9 baking dish with parchment paper. Set aside.
In a food processor, pulse graham crackers with sugar until fine crumbs. Add in melted butter and pulse until combined. Press into bottom of baking dish, firmly, using the palm of your hand (or bottom of a cup). Set aside.
For the cheesecake filling, beat cream cheese with sugar, eggs, and vanilla using the whisk attachment of an electric mixer. Beat until fluffy and smooth (about 3-5 minutes). Pour over graham crust. Set aside.
For the pecan pie layer, heat brown sugar, KARO corn syrup, cream, butter and salt in a small saucepan over medium heat. Bring to a boil. Stirring constantly, boil for 1 full minute. Remove from heat and add in vanilla and chopped pecans. Allow to cool slightly then pour slowly over cheesecake layer, using a spoon to pour it over so it doesn't sink to the bottom.
Bake bars in a 350 degree oven for 35 minutes. Remove from oven and cool completely.
Cover with plastic wrap and refrigerate for 4 hours, or overnight. Slice and enjoy!

Today's recipe was originally posted on November 23, 2015 and has been republished in November 2018.
**This is a sponsored post on behalf of Fisher Nuts. I was compensated for my time, however all opinions expressed are 100% my own!
This is a sponsored conversation written by me on behalf of Fisher. The opinions and text are all mine.