Dark Chocolate Brownie Bites paired with a fluffy Peppermint Frosting and topped with a Peppermint Hershey Kiss! A sweet treat that's just the right sized.
Love easy brownie bites? Our peanut butter brownie bites are loaded with flavor (and peanut butter)! Or give our mint chocolate brownie bites a try next.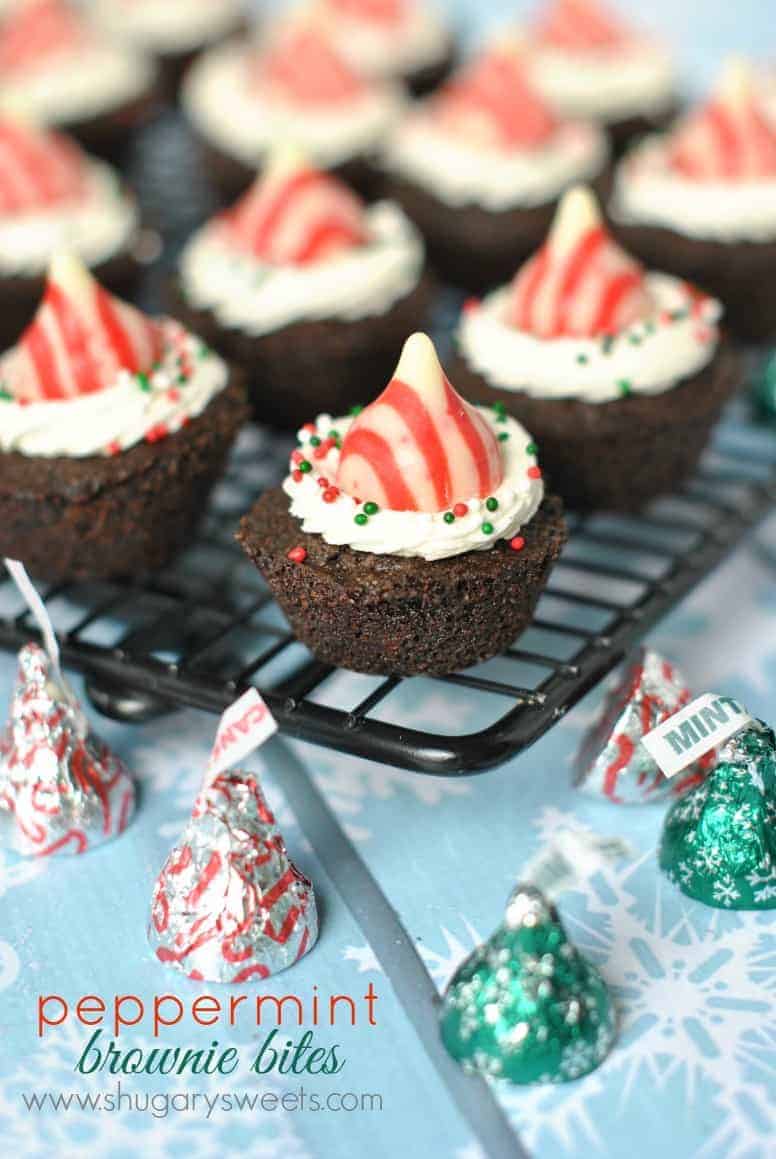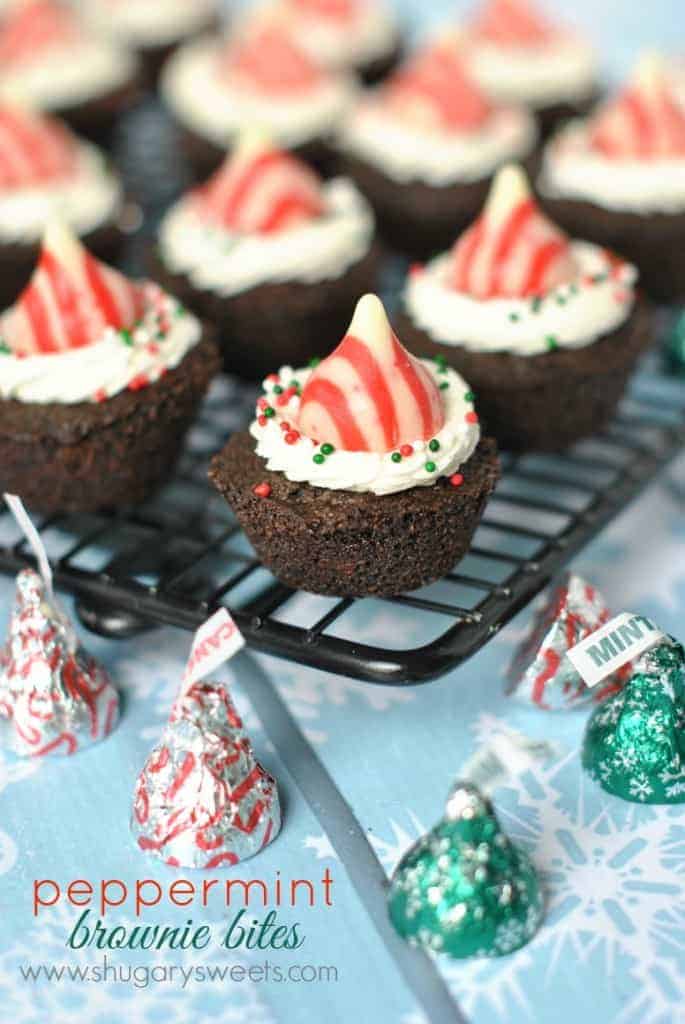 Why this Recipe is Best
Brownies are always a good idea. Brownie BITES are an even better idea, when you don't want to deal with slicing them into bars!
These Peppermint Brownie Bites take a basic chocolate brownie recipe and make them more festive with the addition of fluffy peppermint buttercream and a candy cane striped kiss on top.
With the perfect ratio of fudgy sweet chocolate and cool mint, you won't be able to resist having "just one more" of these bite sized brownies. The small size means they're perfect to share with a crowd, too!
If you love the combo of chocolate and peppermint you NEED to try these holiday brownie bites.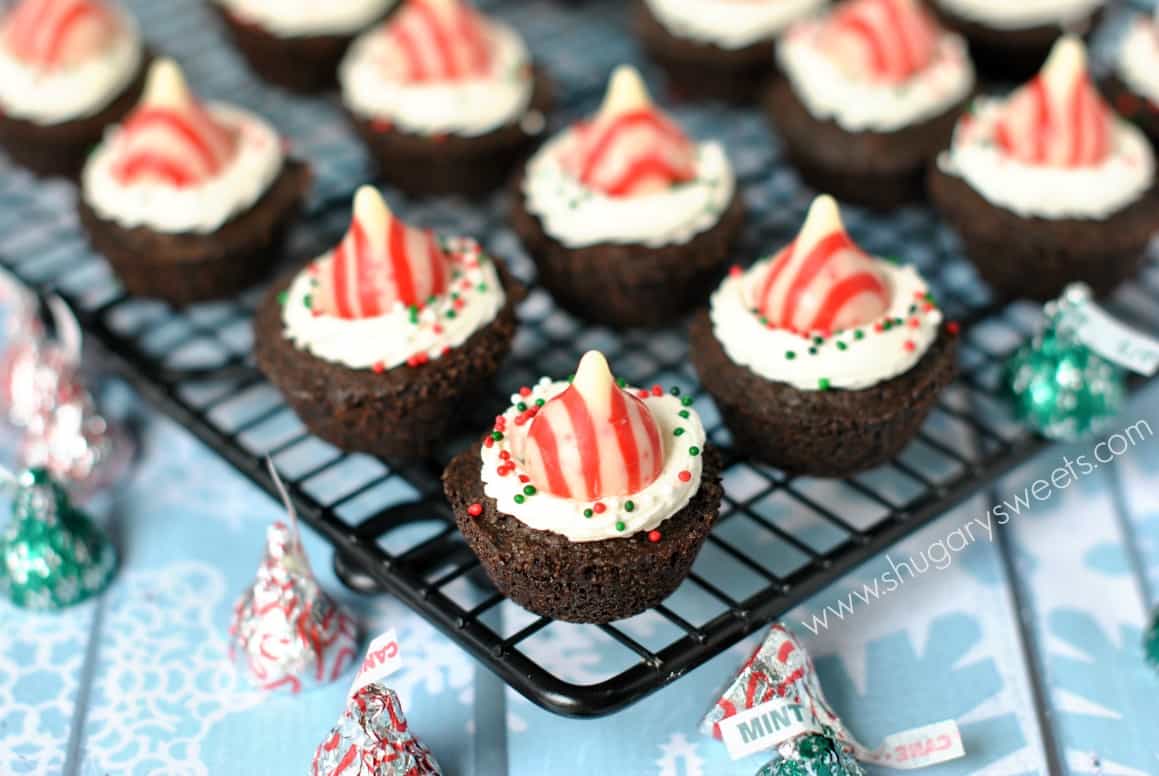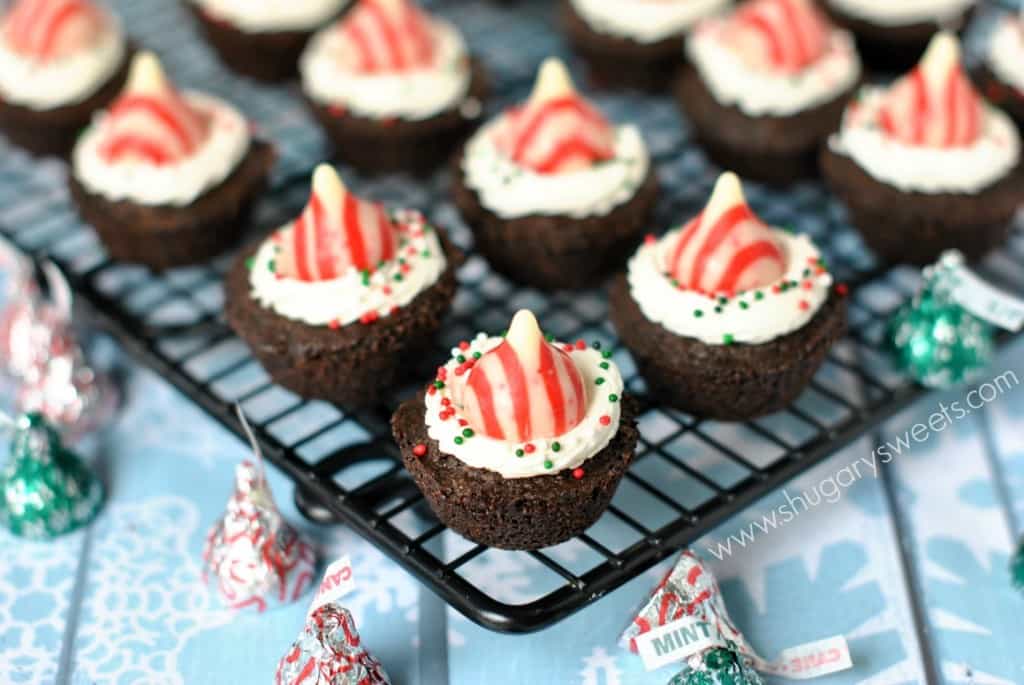 Ingredient Notes
Dark chocolate cocoa powder – I love the depth and richness unsweetened DARK cocoa powder gives to the brownies. You can also use regular unsweetened cocoa powder if preferred.
Unsalted butter – If using salted butter, just reduce the amount of added salt in the recipe.
Peppermint Hershey's Kisses or Hugs – Chocolate candies stuffed with peppermint add the finishing touch. If you can't find these, use regular chocolate kisses or hugs candies instead.
Sprinkles – Technically optional but always a good idea for adding holiday spirit! I use red and green sprinkles.
Step by Step Instructions
For the brownie bites:
STEP 1. Melt the butter
Place butter in a microwave safe bowl and heat in the microwave until melted.
STEP 2. Brownie batter
Add the butter to a mixing bowl with sugar, flour and cocoa powder and mix well to combine. Beat in the eggs.
STEP 3. Bake
Prepare a mini muffin tin by spraying it with with cooking spray (or lightly grease with the butter wrapper). Use a tablespoon to add a heaping spoonful of batter to each cavity.
Bake for 9 to 11 minutes, then allow brownies bites to cool for a few minutes in the pan. Transfer to a wire rack to let them cool completely before frosting.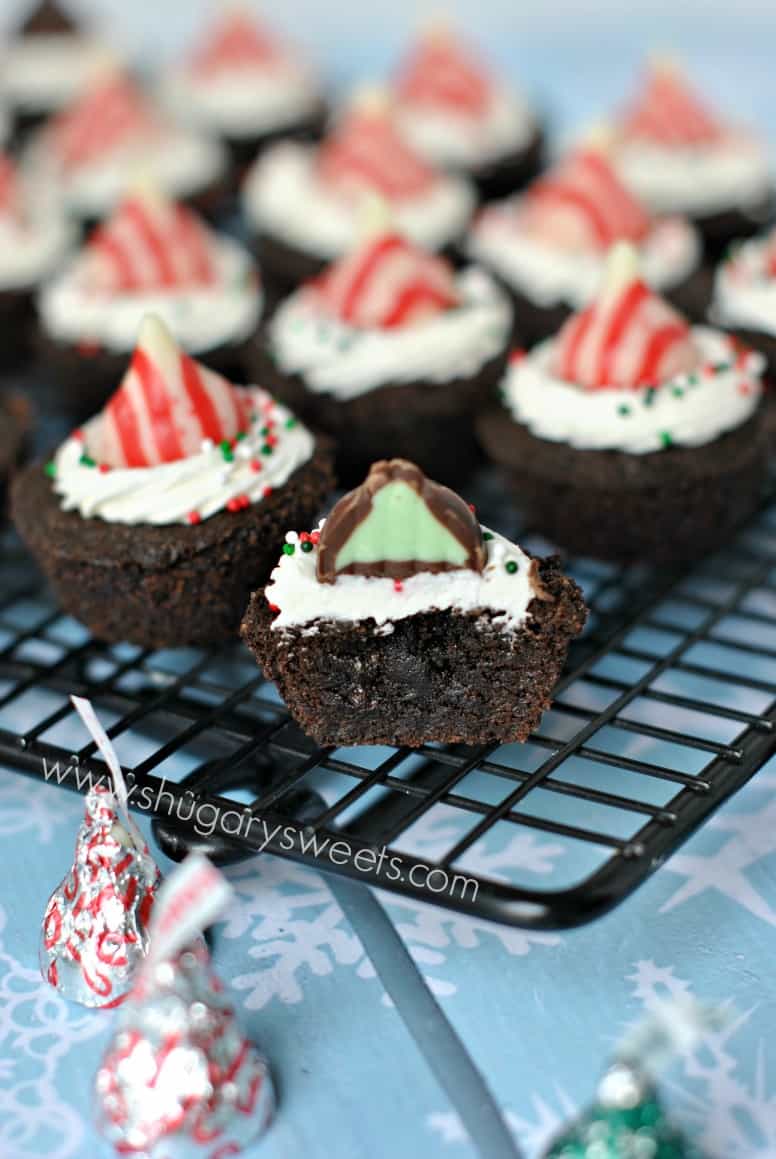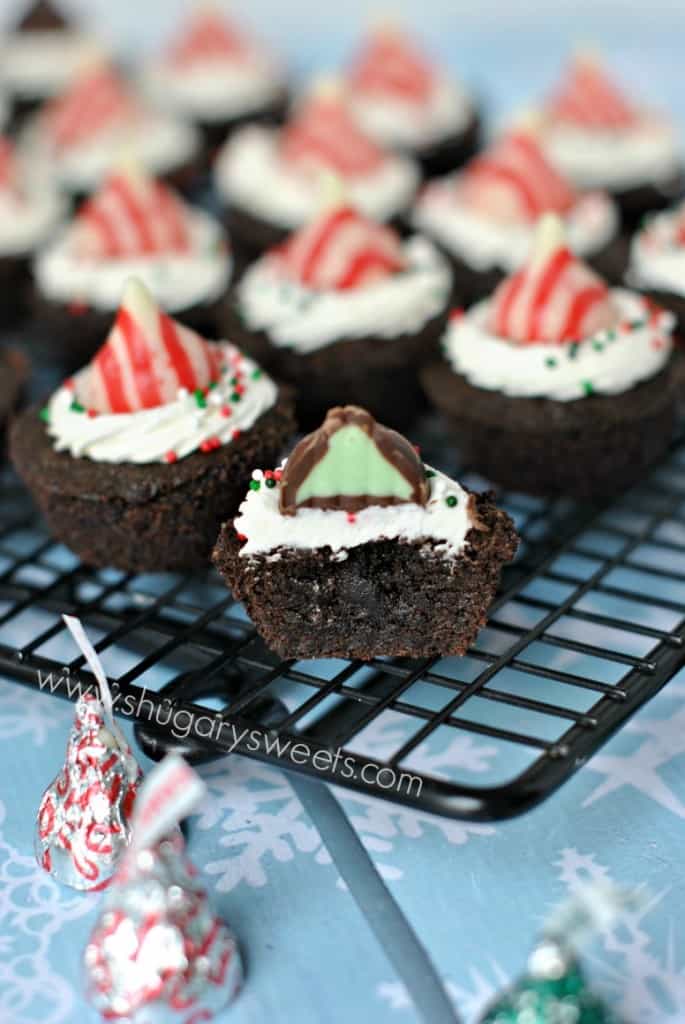 How to Make Peppermint Frosting
Oh, how I love this frosting! It's so easy to make with the perfect amount of fresh peppermint flavor.
Beat powdered sugar with butter, peppermint extract and a little bit of milk in a bowl until fluffy.
Spoon the frosting into a frosting or pastry bag using any tip you like to pipe it onto each brownie bite in your desired style. I like to leave a little bit of the edge of each brownie showing on top.
Press a Hershey's Kiss into the top of each frosted brownie bite, then add sprinkles to complete the look!
Recipe FAQs
Can this recipe be made as brownie bars?
Yep. Pour the batter into a square glass baking dish to make regular brownies. You will need to add a bit of baking time though! And don't forget to wait until the brownies cool completely before you cut them into bars.
How should you store brownie bites?
Once frosted, transfer the peppermint brownie bites to an airtight container and store at room temperature. They'll keep well for about 3 days.
Can you freeze these?
Yes! Brownie bites are perfect for freezer storage. I prefer to freeze them unfrosted in freezer-safe bags. When ready to serve, let thaw at room temperature and top with frosting and kisses.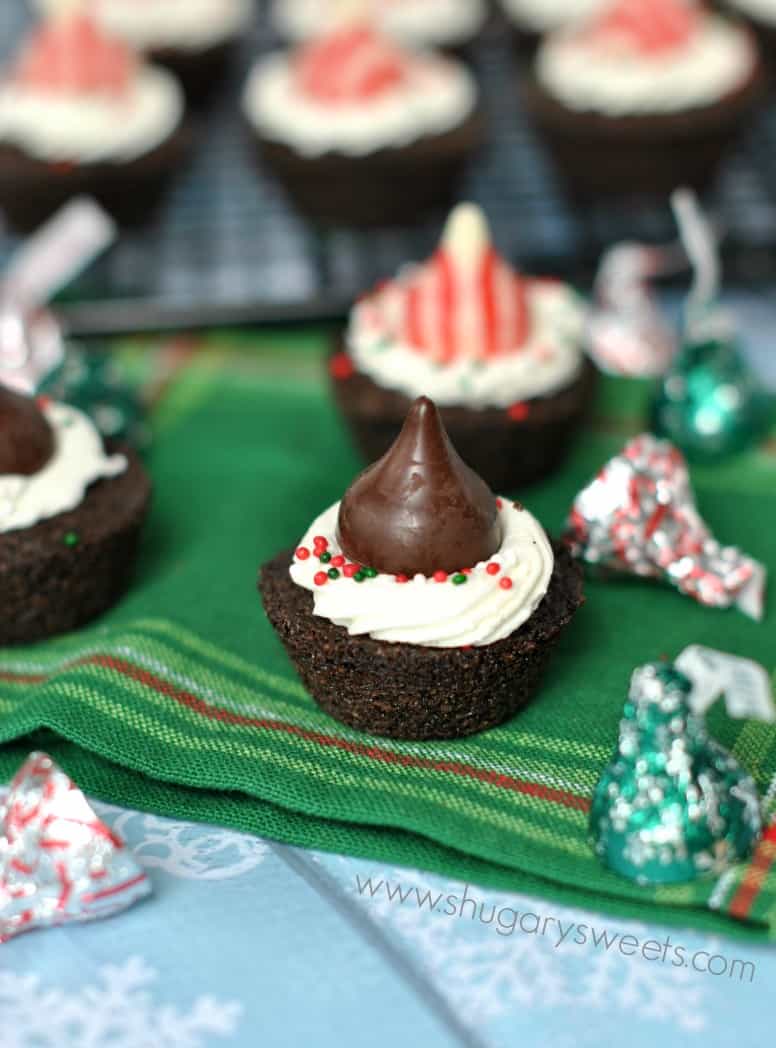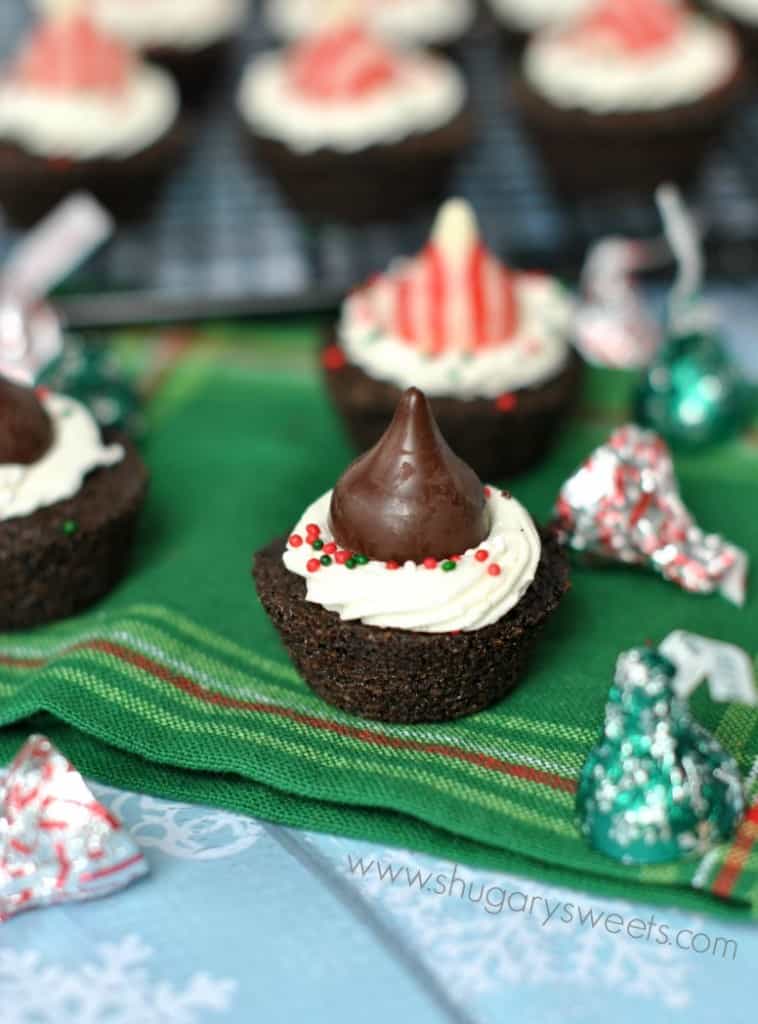 More Easy Dessert Recipes
Tasty, adorable and oh-so-easy to make, these Chocolate Peppermint Brownie Bites will be the hit of this year's holiday parties!