Chewy, fudgy chocolate chip cookie bars topped with chocolate fudge and rainbow M&M'S. Only 4 ingredients needed to make Rainbow Fudge Cookie Bars!
Love easy dessert recipes? These Oreo Brownies are one bowl, from scratch, and packed with flavor! Or give this delicious Ricotta Cookie recipe a try.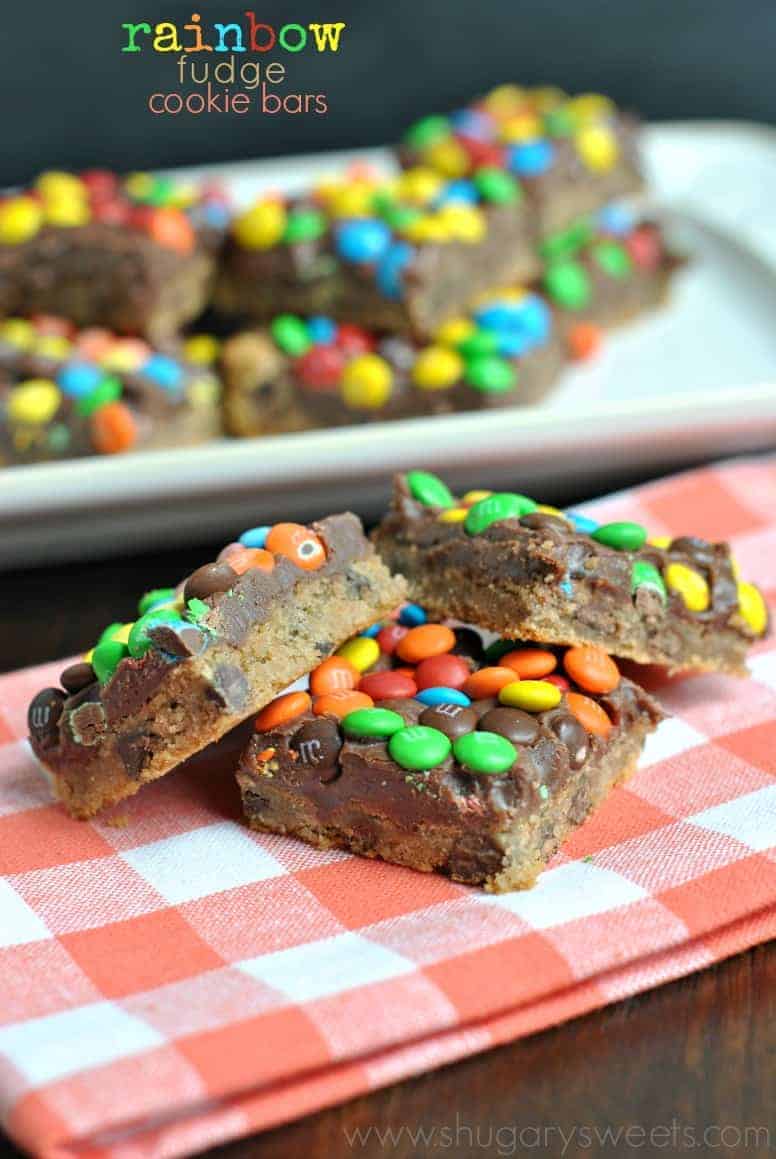 Four Ingredient Cookie Bars
Sometimes you don't want to run all over the store tracking down the ingredients you need to make a delicious dessert.
When you don't have the time or the energy for a complicated cookie bar recipe, these easy four ingredient fudge cookie bars are the solution!
Starting with a roll of cookie dough, you can make a layered cookie bar that's full of chocolate and topped with a crunchy layer of M&Ms.
The colorful candies add a rainbow splash to these cookie bars that's just right for a birthday party!
Ingredient Notes
Here's all you need to make fudge cookie bars:
Cookie dough – Use a 30 ounce package of your favorite chilled chocolate chip cookie dough.
Sweetened condensed milk
Chocolate chips – I used milk chocolate, but semi sweet would work too for a darker chocolate flavor.
Mini M&Ms – Use the package of baking M&Ms for best results or swap full sized M&Ms if preferred.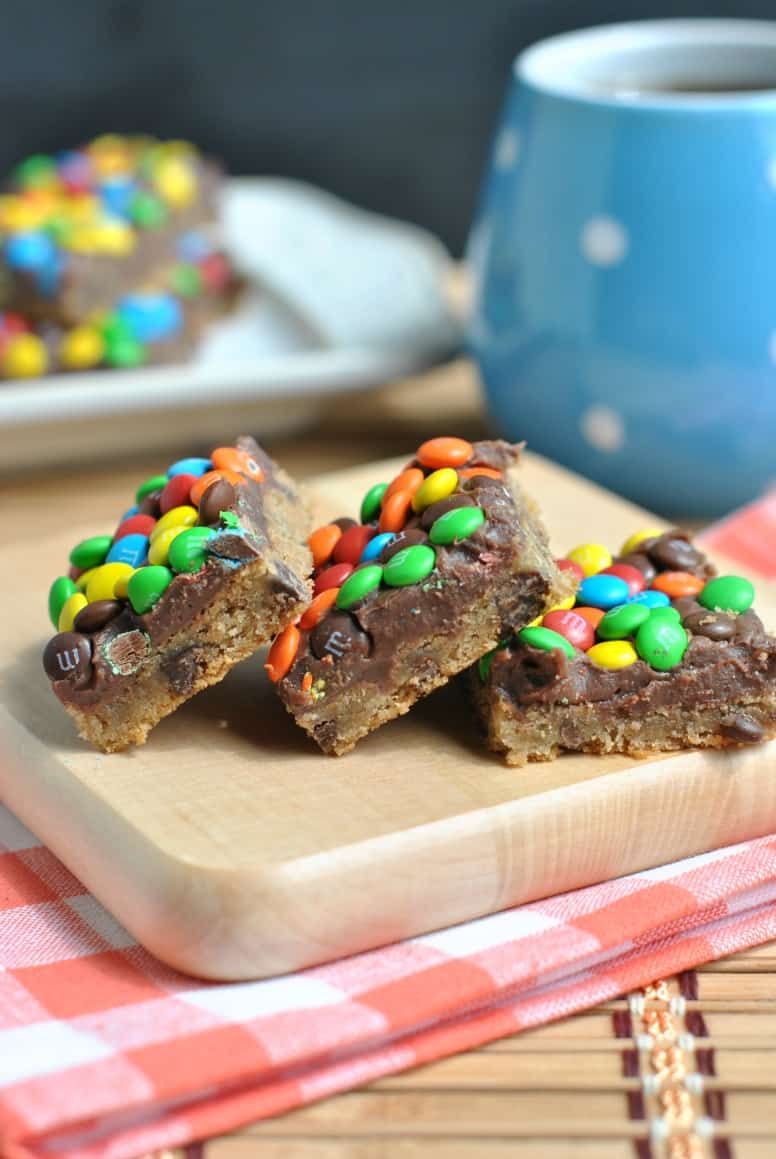 How to Make Rainbow Cookie Bars
First, bake the cookie bars.
You can make the fudge layer for these bars using your microwave! I heat the condensed milk and the chocolate morsels together in the microwave for 30 second increments.
Stir between each interval and repeat until the fudge mixture is smooth and all the chocolate is fully melted. For me, this takes about 90 – 120 seconds total of microwave time.
Then, you pour the fudge layer over a baked layer of cookie dough, top with M&Ms and let the bars chill in the fridge until the fudge layer is set. This takes at least 2 hours but you could also make them in advance to let the fudge chill over night.
Slice the bars and store in an airtight container until ready to eat.
Recipe FAQs
Can this be made with homemade cookie dough?
Sure thing! Make sure to make the equivalent of 30 ounces of dough so you have enough for the bottom layer of these bars.
What sized pan do I need?
I made mine in a 15 x 10 x 1 inch baking sheet.
Do these need to be kept in the refrigerator?
No. Once the fudge is set they keep just fine at room temperature!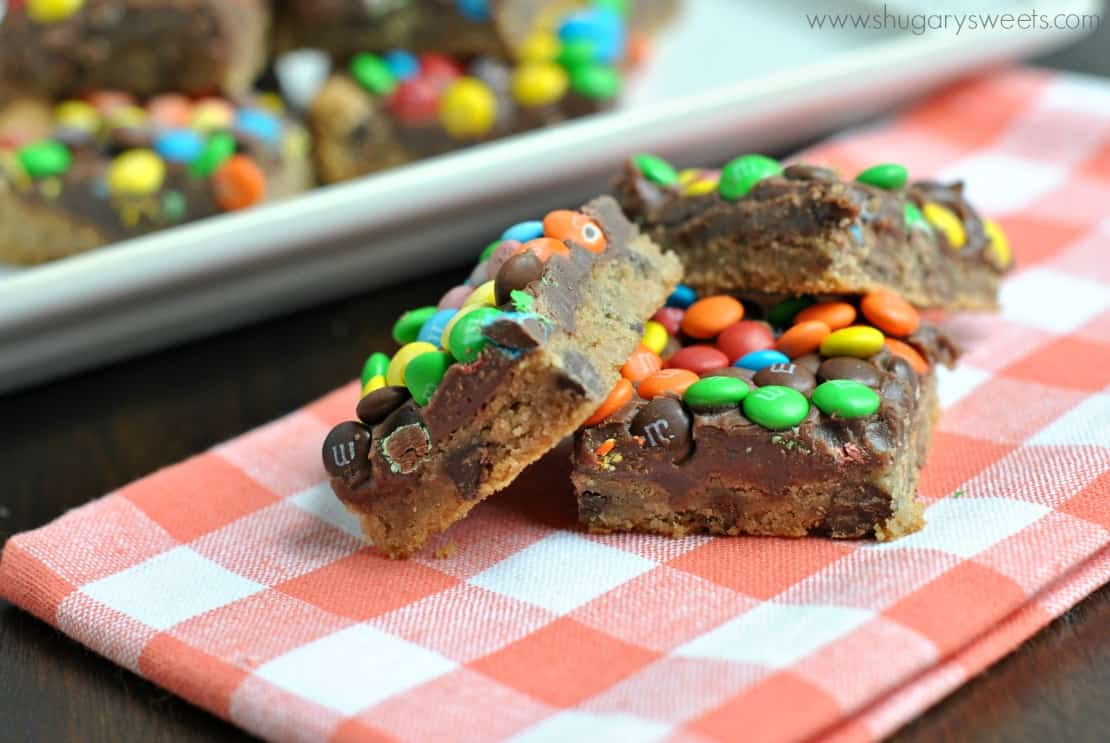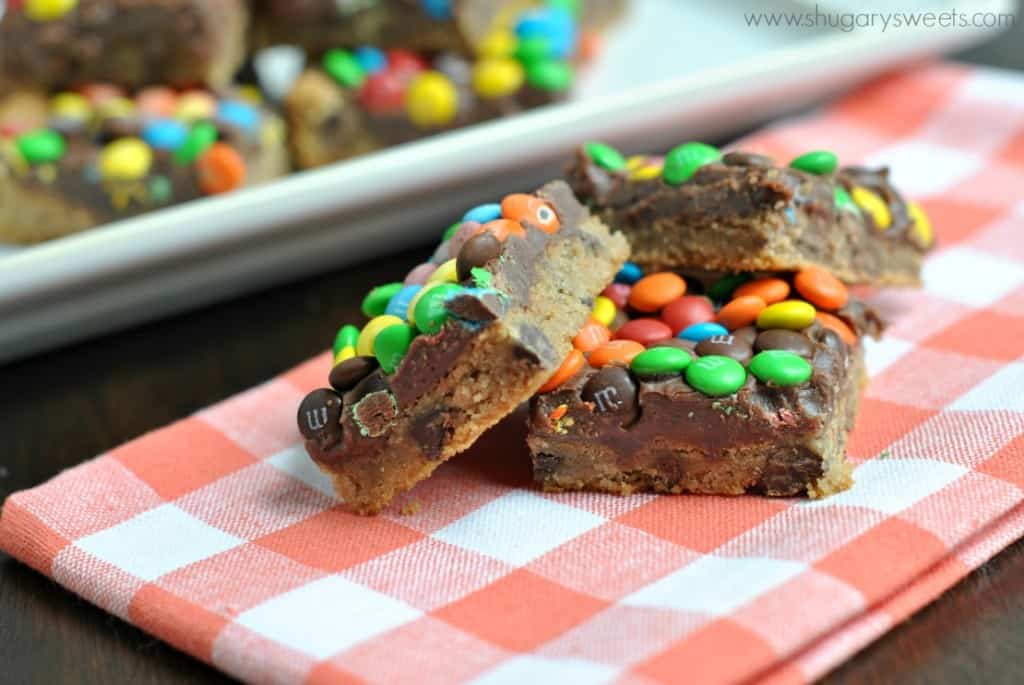 A chewy layer of chocolate chip cookies, a rich layer of fudge and colorful M&Ms make these Rainbow Fudge Cookie Bars so delightful.
More Birthday Desserts