Rocky Road Clusters combine chocolate, marshmallows, and peanuts for one amazing candy. No candy thermometer needed.
While we love making rocky road fudge, today's clusters are just as easy. Love nutty candy? Be sure to try our pecan pralines too.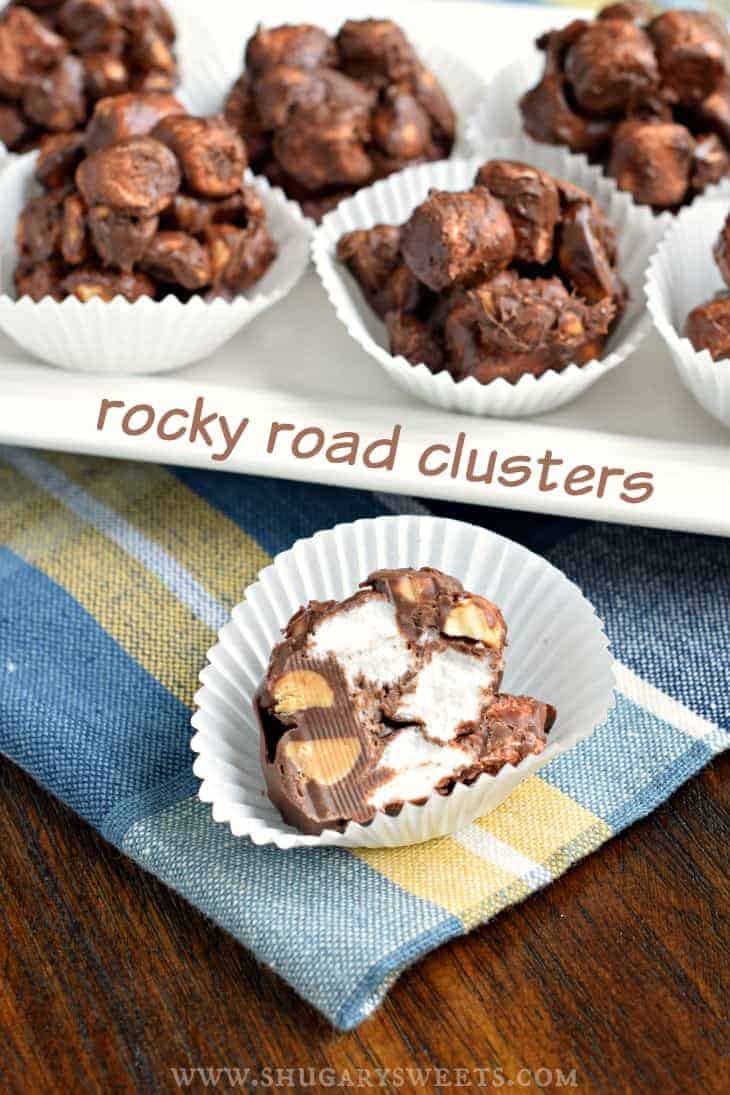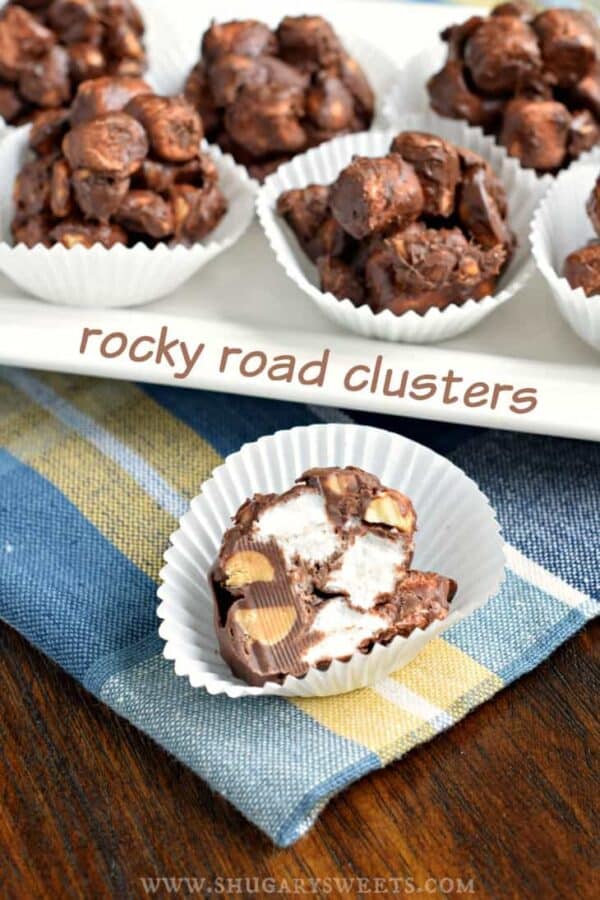 Why This Recipe is Best
Homemade candy doesn't have to be difficult and this recipe proves it. All you need is a microwave and a mixing bowl!
Plus, these Rocky Road Clusters feature the fantastic combination of chocolate, peanuts and marshmallows for an addictive candy everyone will be grabbing for!
You only need 4 ingredients for this recipe!
These cluster candies are ready, start to finish, in less than 20 minutes! (And the prep time is only about 3 minutes!)
The recipe yields 48 pieces of candy and these make a fantastic gift to share with friends, family, neighbors, teachers – anyone! They also work great for bake sales and cookie exchanges.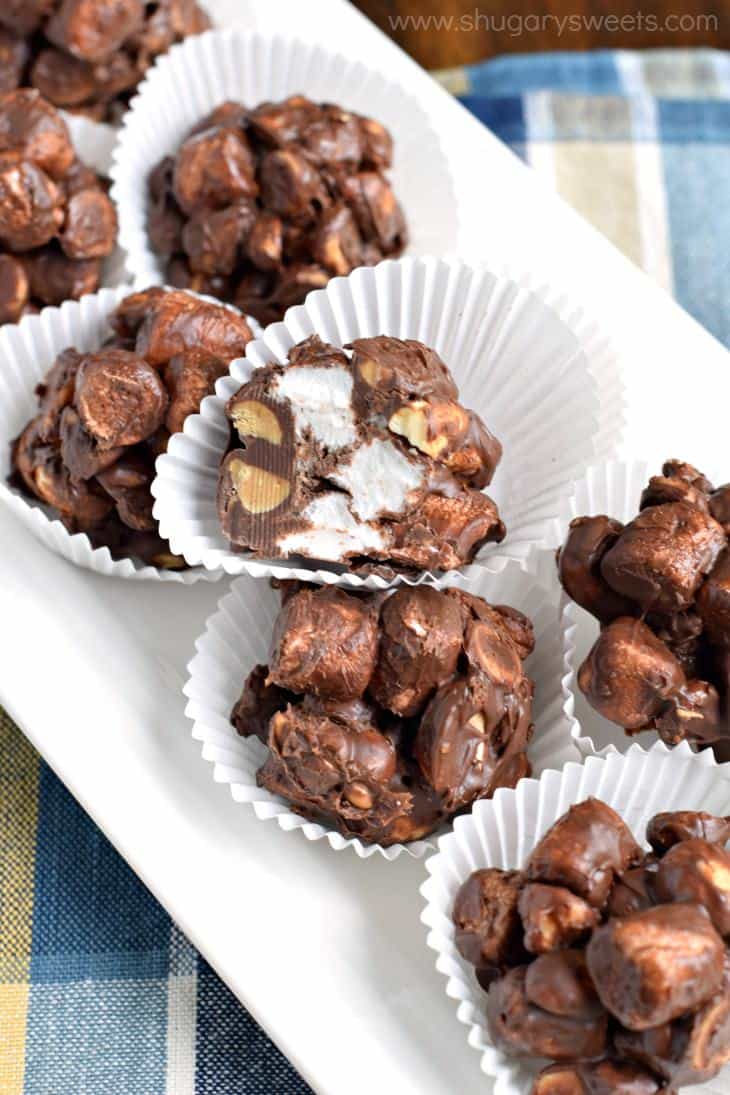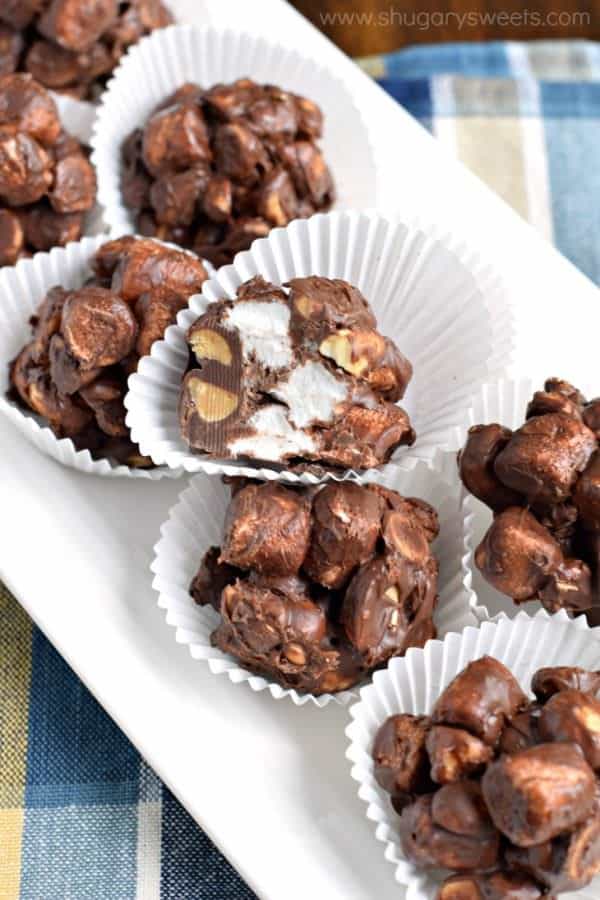 Ingredient Notes
Melting wafers: Use a good brand of dark chocolate melting wafers, such as Ghirardelli. They melt easily and help adhere the other mix-ins together to make the candy. You can substitute dark chocolate chips if needed.
Mini marshmallows: Rocky road isn't complete without marshmallows! Miniature ones are best. Or you could use full sized marshmallows cut into bite sized pieces.
Peanut butter morsels: You'll find these in the baking aisle, near the chocolate chips.
Peanuts: Salted peanuts are my go-to for this rocky road candy but almonds would also be delicious. Use what you have on hand! You could even use a combination of peanuts and almonds.
Easy Instructions
STEP 1. Melt the wafers. Melt the chocolate wafers in a bowl in the microwave for one minute. Stir and heat for an additional 30 seconds. Stir until the wafers are melted and smooth.
STEP 2. Add the mix-ins. Fold the marshmallows, peanut butter chips and peanuts into the melted chocolate mixture and stir until well coated.
STEP 3. Drop the clusters. Work quickly and use a 2 tablespoon cookie scoop to drop spoonfuls of the clusters onto a parchment paper lined cookie sheet. Allow to set up. (Or refrigerate for 15 minutes to set them more quickly.)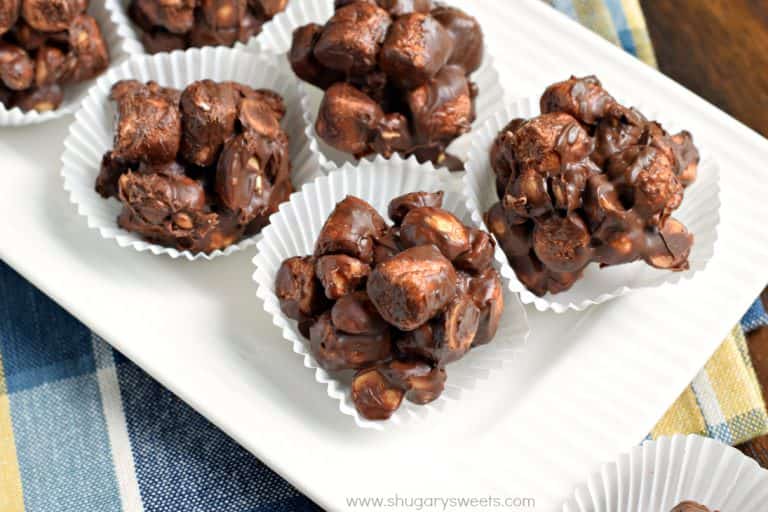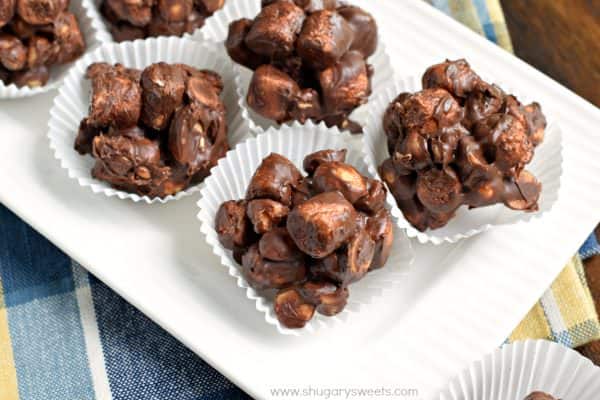 Tips and Tricks
Line the baking sheet with parchment paper so you can easily remove the candy once it's set up. Have that ready to go before you make the candy clusters.
Melt the wafers until smooth. Make sure you stir the melted wafers until the mixture is completely smooth before you add the mix ins.
Work quickly once you've added the mix-ins so the chocolate candy doesn't set up in the bowl before you make your clusters on the baking sheet.
Let the clusters set up completely on the parchment paper before serving or transferring them to store in a container. You can also refrigerate the clusters to help them set up more quickly.
Recipe FAQs
Can I use chocolate chips instead of melting wafers?
I prefer melting wafers because they melt more evenly. However, you can substitute dark chocolate chips instead; just be sure to melt until they can be stirred smoothly.
What can I use in place of the peanuts?
You can substitute almonds in place of the peanuts as a mix-in for this candy. If you have a peanut allergy, you'll also need to replace the peanut butter morsels with a different type of candy morsel, such as milk chocolate chips or butterscotch morsels.
How do I store rocky road clusters?
Once the candy has set up, it can be stored in an airtight container in the refrigerator or at room temperature for up to 5 days.
More Easy Dessert Recipes