Sweet and salty, this White Chocolate Cranberry Pecan Bread is perfect for breakfast, brunch, or dessert! A great loaf for the holidays, Cranberry Bread freezes beautifully too!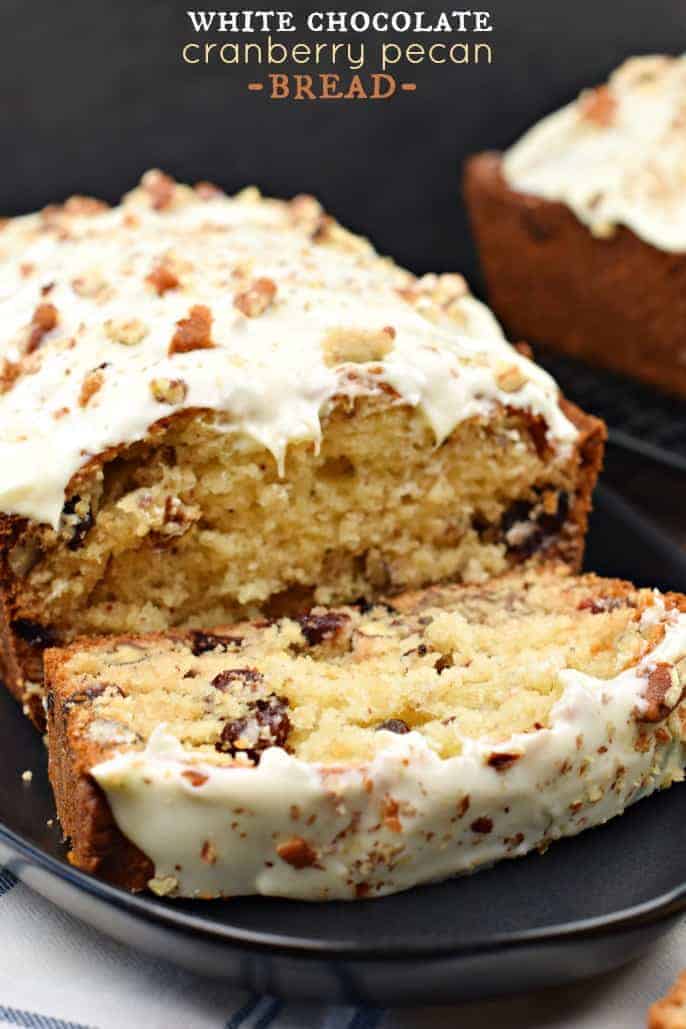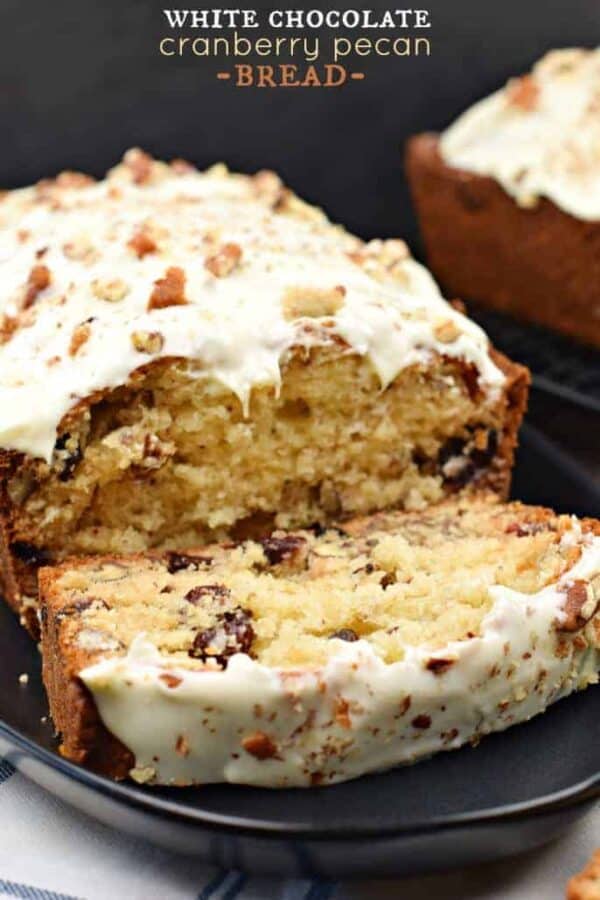 Why this Recipe is Best
This White Chocolate Cranberry Pecan Bread is the most delicious way to enjoy your holidays with your morning coffee. It also works as a dessert, afternoon snack or party food to share. I love a recipe that does it all!
You'll love the sweet bread with the nutty pecans! And the melted white chocolate on top adds the perfect finishing touch.
If you're making the effort to make Cranberry Pecan Bread from scratch, it's a huge plus when you can make two loaves at once! Eat one now and put the second loaf in the freezer for later. Future you will thank your past self for thinking ahead!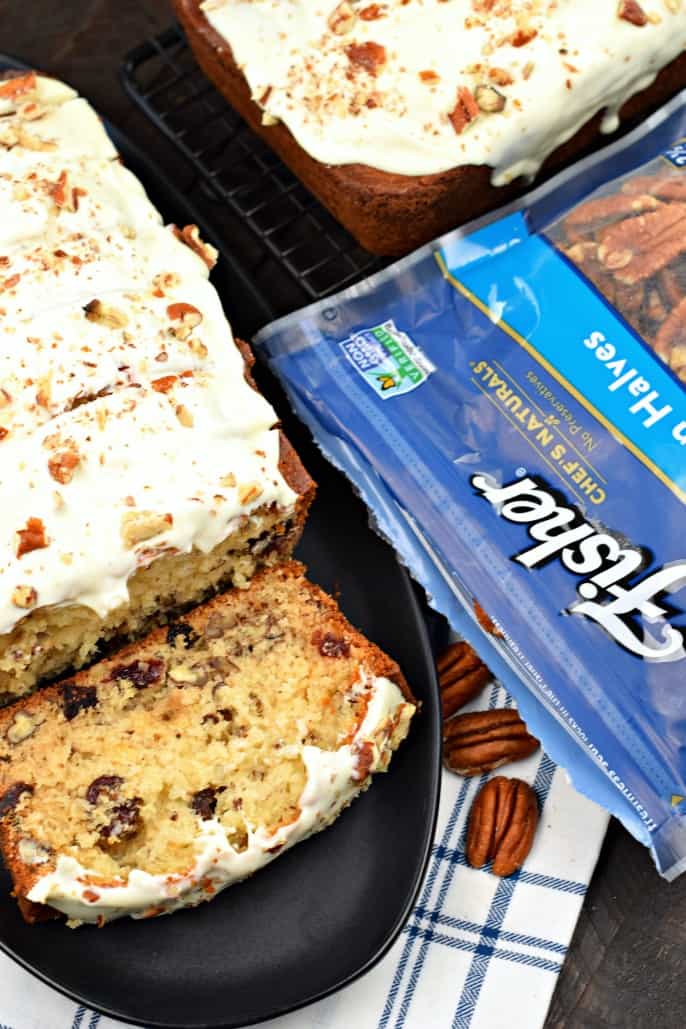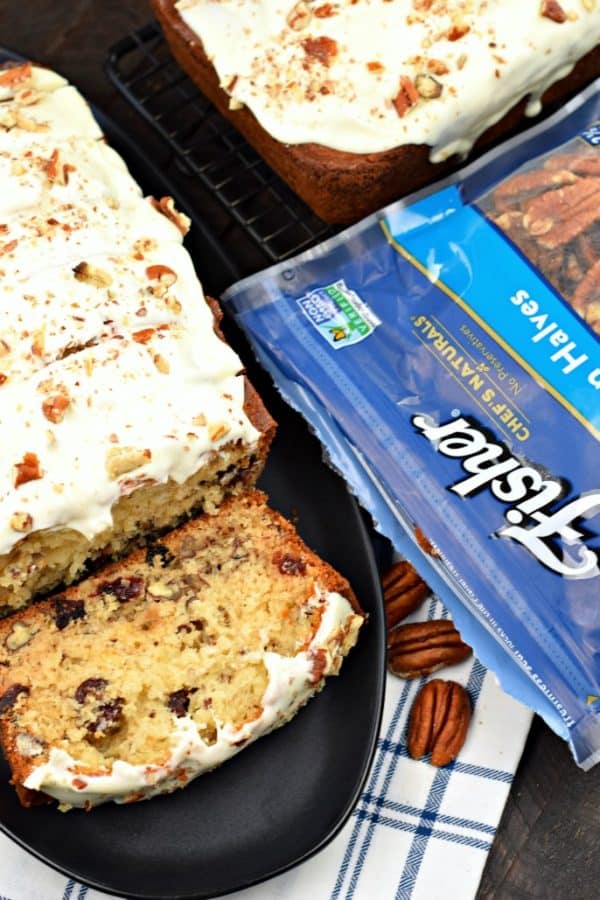 Ingredient Notes
Vanilla Yogurt – The yogurt makes the bread extra moist and sweet! I used regular vanilla yogurt but Greek style vanilla yogurt would work well too.
Dried Cranberries – Craisins or a similar brand of whole dried cranberries.
White chocolate candy wafers – These are perfect for creating a smooth topping that sets well but doesn't get too hard or dry. I love Ghirardelli melting wafers.
Pecans – I use coarsley chopped Fisher's pecan halves for sprinkling over the white chocolate.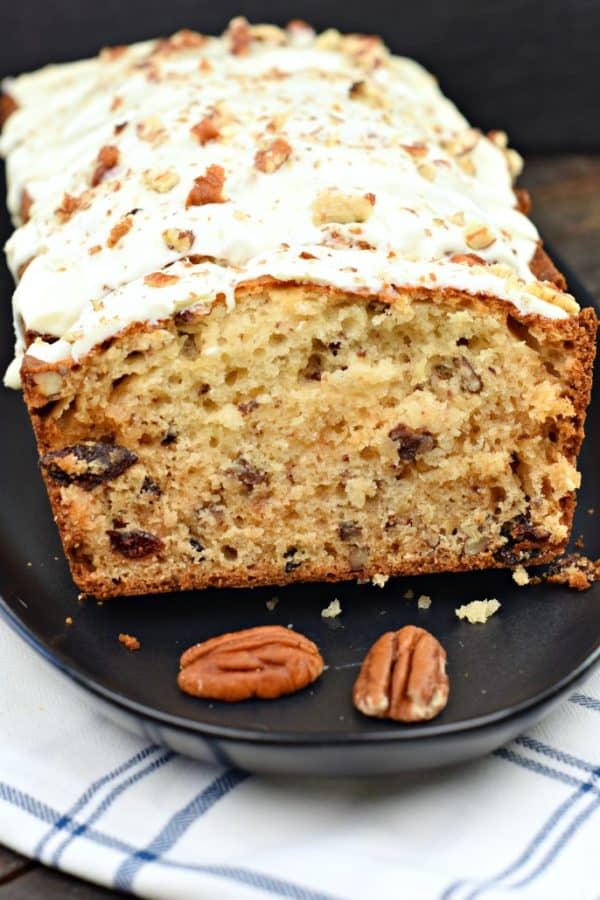 Step by Step Instructions
STEP 1. Combine wet ingredients
Beat the butter and sugar together, then add eggs, almond and vanilla extracts gradually. Mix until fully combined.
STEP 2. Add dry ingredients
Add flour, baking soda, baking powder and salt to the wet ingredients, mixing slowly. Add the yogurt and mix until everything is barely combined. Be careful not to overmix–a few lumps are okay.
Gently fold in the cranberries.
STEP 3. Bake
Divide the batter between two greased loaf pans and bake for about 60 minutes. A toothpick inserted in the center of each loaf should come out clean.
Let the bread cool in the pan for a few minutes before transferring to a wire rack to finish cooling.
STEP 4. Glaze
Melt the white chocolate wafers in a microwave safe bowl. Drizzle over the cooled bread and sprinkle with chopped pecans.
Let the glaze set for a few minutes, then slice and serve!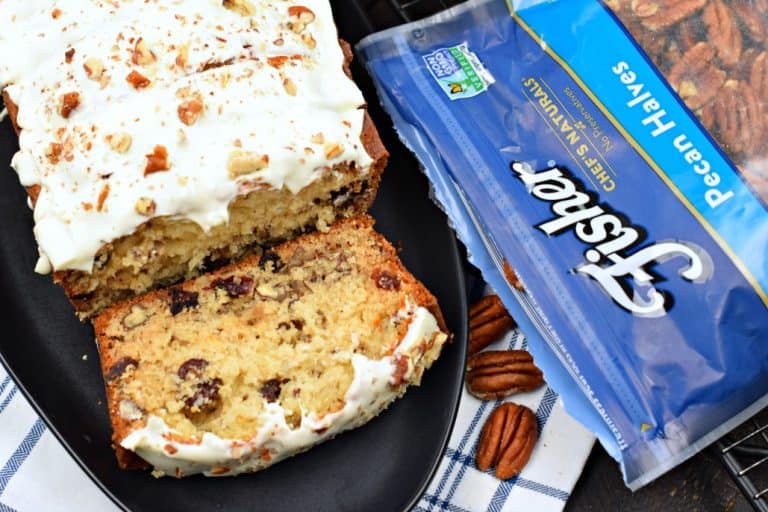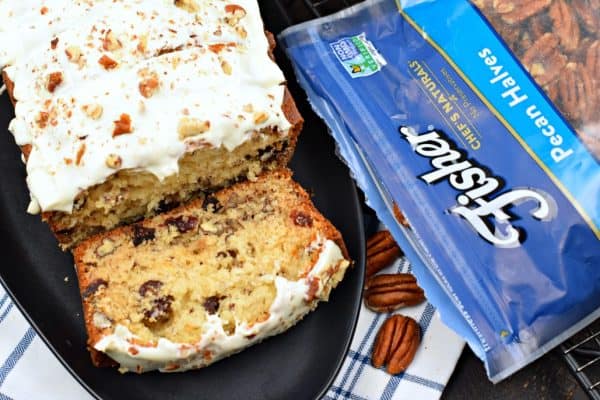 Recipe FAQ
What's the best way to store this bread?
Wrap the loaves in foil then in gallon sized ziploc bags for best freshness! From here you can store the bread at room temperature or stash in the freezer for longer storage.
Frozen bread will stay good for about 2 months.
What size loaf pan do I need to make this recipe?
I used 2 a 9 x 5 loaf pans. The recipe will work with other size pans but you may need to adjust the baking time.
Can I substitute white chocolate chips for the melting wafers?
You can but I find the melted chocolate chips tend to dry out a little more quickly when the glaze sets.
Can I make this without nuts?
Yes, to make this safer for those with nut allergies, feel free to leave the pecans off. You'll still have a delicious White Chocolate Cranberry bread!
White Chocolate Cranberry Bread tastes like Christmas cheer! Enjoy this bread with your morning coffee all winter long and bake up an extra loaf to share with a friend!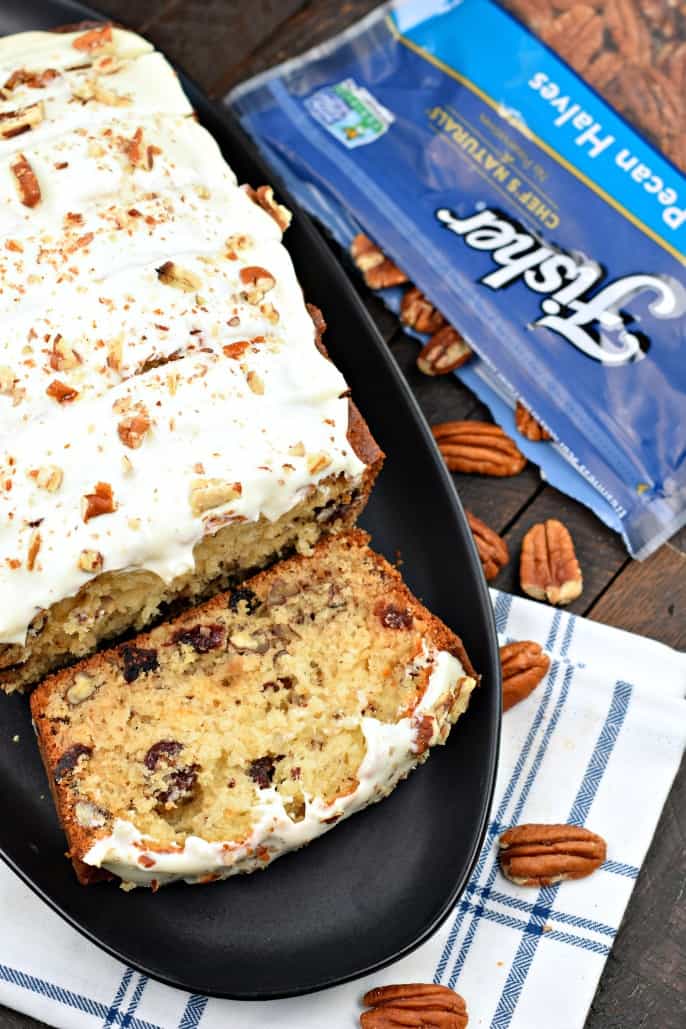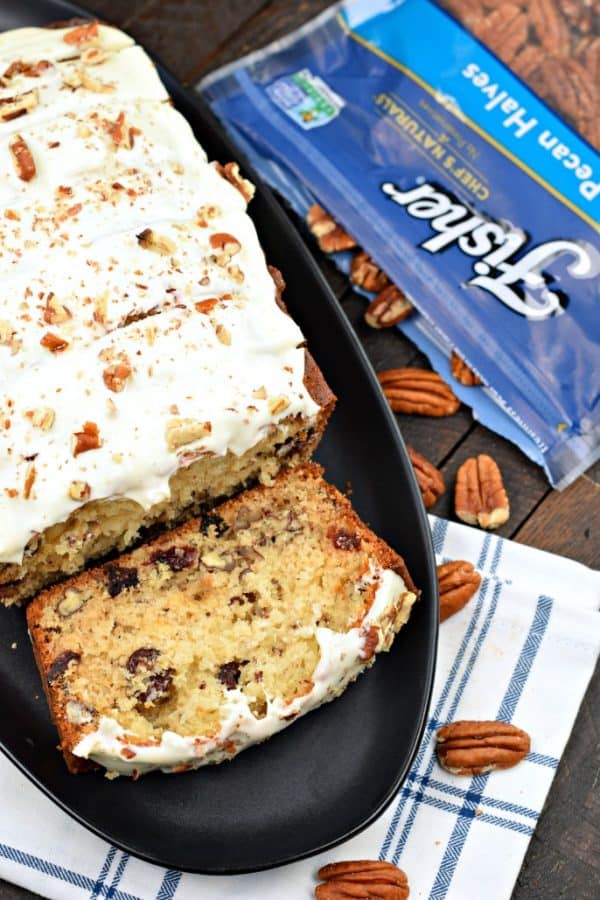 More Holiday Desserts
Turtle Fudge: the perfect treat to add to your holiday gift giving list!
Swedish Heirloom Cookies: some call them Snowballs, or Russian Tea Cookies, but whatever you name them, just bake and eat them ASAP 🙂
Pecan Egg Nog Cookies: these little unassuming bites melt in your mouth and I guarantee people will be asking for the recipe!