White Chocolate Reese's Cups are the inspiration for these White Chocolate Cupcakes with Peanut Butter Frosting! This recipe puts a delicious spin on the chocolate-peanut butter combo everyone loves.
Love peanut butter? Try our 3 ingredient peanut butter cookies. Or use more white chocolate reeses like we did in these peanut butter cookie cups!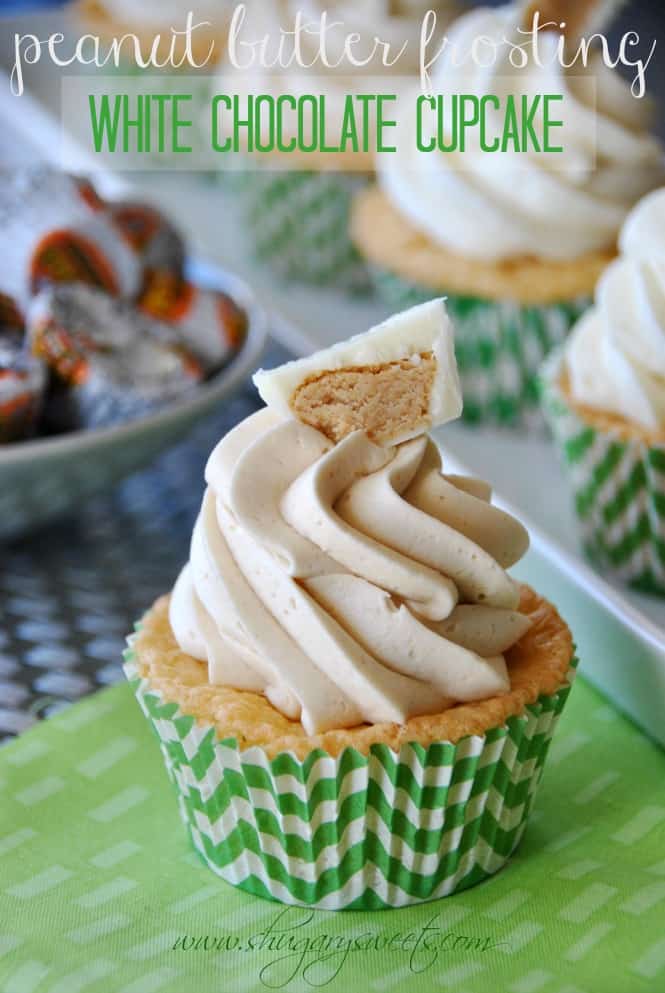 The Best Peanut Butter Cupcakes
Move over, jelly. Step aside, milk chocolate. White Chocolate is peanut butter's new perfect match!
The star of this cupcake (and, let's be honest, most cupcakes) is the frosting. Creamy peanut butter whipped with powdered sugar and real butter to fluffy buttercream perfection. It's so delicious that you'll be tempted to skip the cupcakes and just eat a bowl of peanut butter frosting for dessert.
You do NOT want to skip the cupcakes though, folks, no matter how good that frosting sugar rush sounds. Made with real bars of chocolate melted into the batter, this is a White Chocolate Cupcake like you've never tasted.
As if that weren't decadent enough, I also mixed up some classic white chocolate buttercream to pipe onto the cupcakes along with the peanut butter version. I mean, why just have ONE kind of frosting when you can have two?
Life is short. Eat more frosting.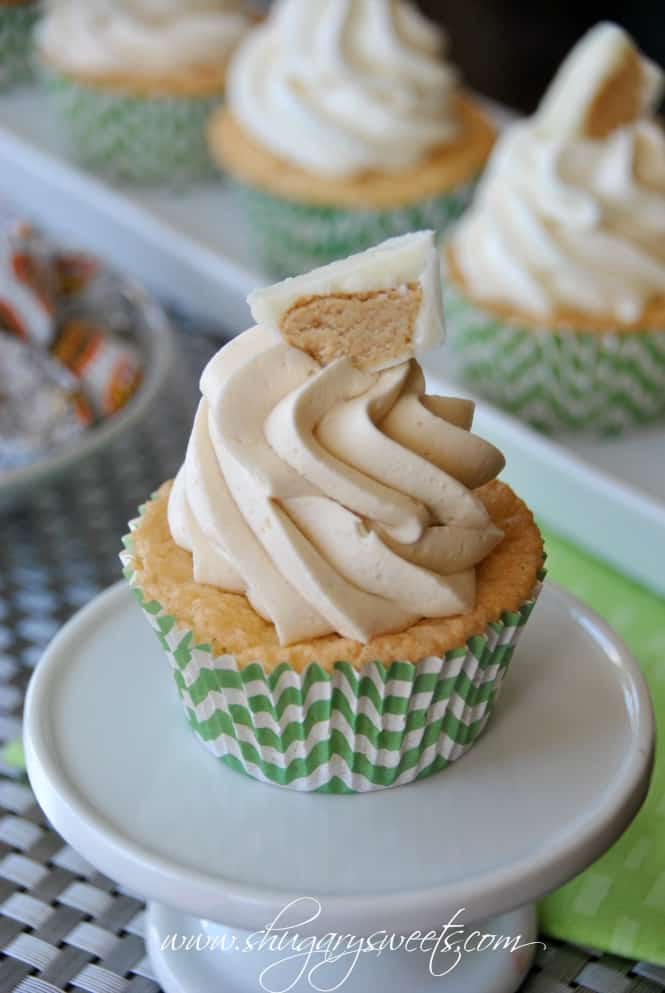 Ingredient Notes
Egg Whites – Separate them from the yolks a few minutes ahead of time so they can come to room temperature before you make the cupcakes.
Cake flour – This flour is processed to remove more of the gluten than all-purpose, creating a light and airy cupcake.
White Chocolate Bar – Use a good quality white chocolate for best taste. I used Green & Black's. You'll need some for the cupcake batter and more for the frosting.
Peanut Butter – Regular, shelf stable creamy peanut butter (like Jif or Skippy) work best.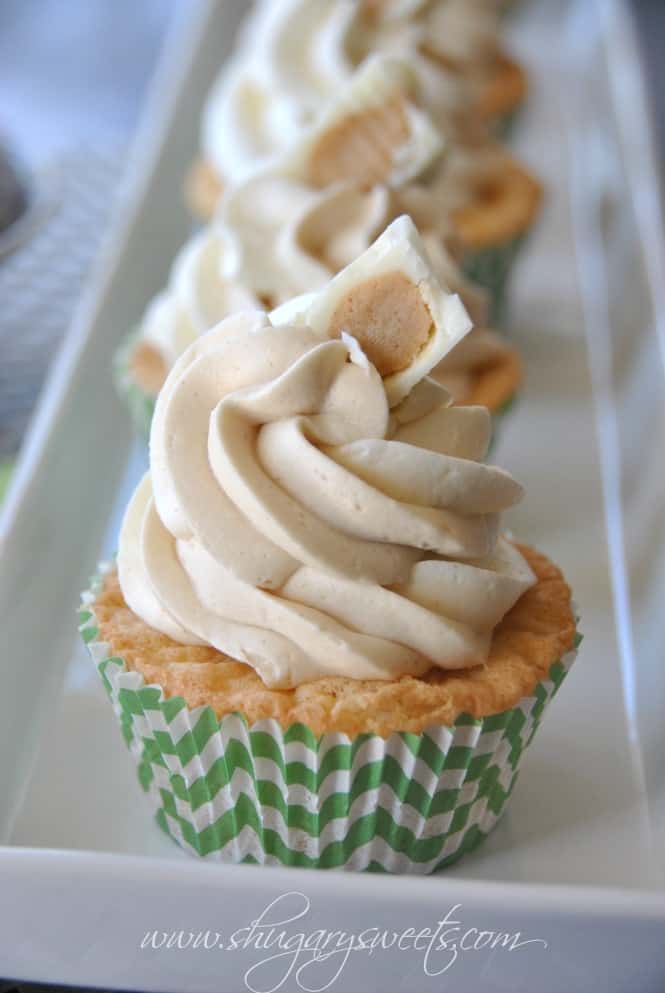 Step by Step Instructions
STEP 1. Make the cupcake batter
Whisk the egg whites and milk together. In a separate mixing bowl, beat the butter and sugar together, then add in the dry ingredients and the egg white mixture.
After the other ingredients are combined, fold in a melted white chocolate bar and a little more milk.
STEP 2. Bake the cupcakes
Divide the batter into a lined cupcake tin and bake for about 15 minutes. Let the baked cupcakes cool while you make the frostings.
STEP 3. White Chocolate Frosting
Beat butter in your mixer, then add in the powdered sugar, melted white chocolate and a drizzle of milk. Keep beating until fluffy and fully combined, then transfer to a frosting bag.
STEP 4. Peanut Butter Frosting
Make the peanut butter frosting the same way as the white chocolate frosting, adding peanut butter in lieu of white chocolate. Transfer this to another frosting bag and get ready to pipe!
STEP 5. Frost the cupcakes
Put both smaller pastry bags inside of an extra large pastry bag. Swirl the frostings onto the cupcakes however tall you like. I like a LOT of frosting on mine so I pipe it on extra high.
Tips & Tricks
Use a 6S tip to make the frosting look like the cupcakes in these pictures.
The peanut butter frosting is light so you won't see the swirl. That's okay–you'll taste it in each bite!
To get the perfect sized cupcake, fill the liners only half full. This ensures even baking and a flat top perfect for holding all of that extra delicious frosting.
Garnish with a mini white chocolate peanut butter cup for a pretty (and tasty) finishing touch!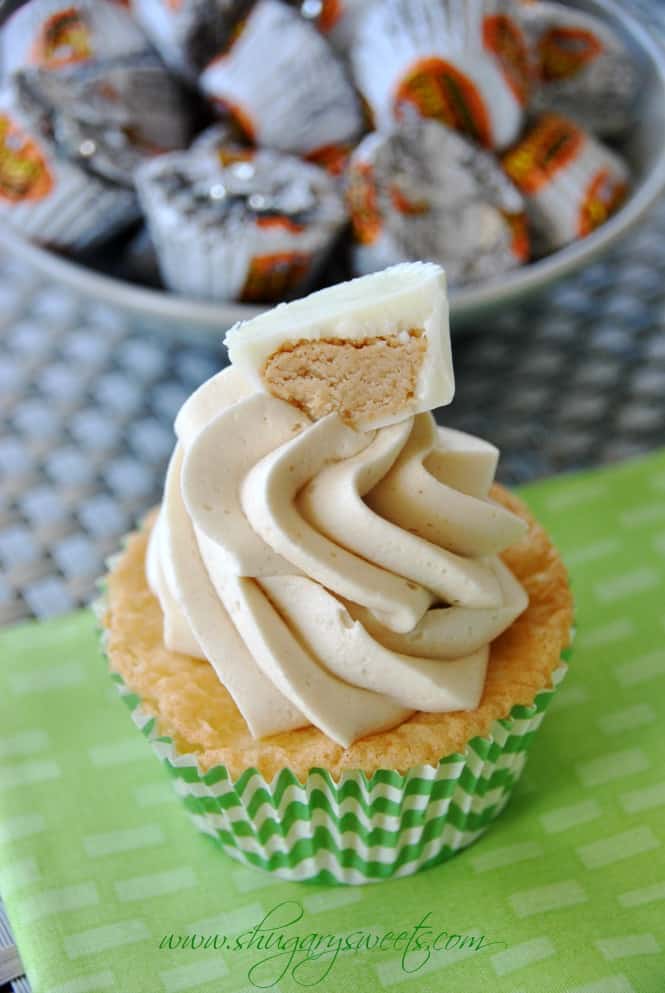 Recipe FAQs
Can I substitute all purpose flour for the cake flour?
I do not recommend substituting all purpose flour for the cake flour in this recipe. The cake flour has a lower gluten content giving the cupcakes an irresistible light consistency.
Can I make this frosting if I don't have a pastry bag?
You can make the cupcakes and frosting even without a pastry bag. Use a ziploc bag and cut the corner
What kind of peanut butter works best for frosting?
Shelf stable creamy peanut butters work best in frosting. The oils don't separate like most natural peanut butters which helps the frosting stay smooth well combined. The plain ol' jar of Skippy in your cupboard is perfect–no need to get fancy!
What's the best way to store frosted cupcakes?
The best way to store frosted cupcakes is in an airtight container. Use a bigger container to leave plenty of room between the cupcake frosting and the lid. The beautiful swirls of frosting will stay in tact and your cupcakes will stay good for 3 or 4 days.
More Peanut Butter Recipes
It's the scrumptious marriage of white chocolate and peanut butter makes these cupcakes so wonderful! White Chocolate Cupcakes with Peanut Butter Frosting are a must try dessert for peanut butter lovers.