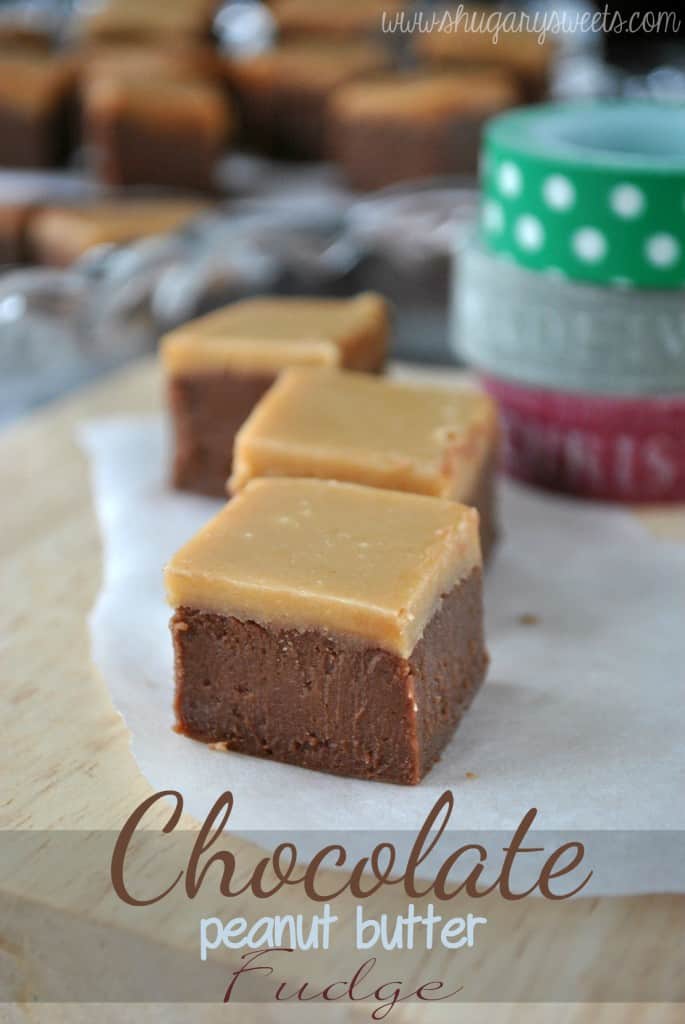 Here's the thing about this fudge. It makes a billion bite size pieces. Seriously. One billion (or 120, whatevs).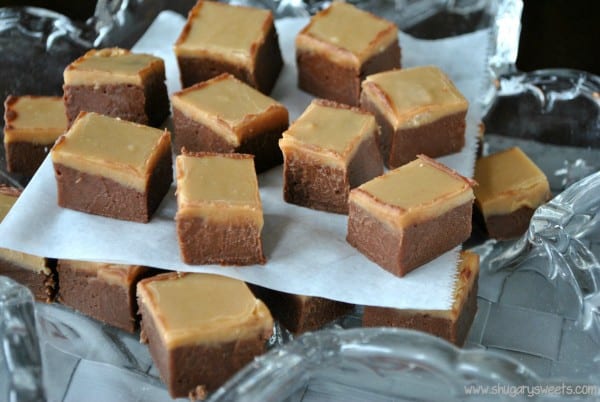 My mom gave me this recipe years and years ago (no idea where she got it). I added the peanut butter just for fun, but if you want just a decadent chocolate fudge, you can certainly skip the peanut butter layer!
These little fudge bites will be making an appearance on my candy trays this year…along with some of my other favorite fudge flavors…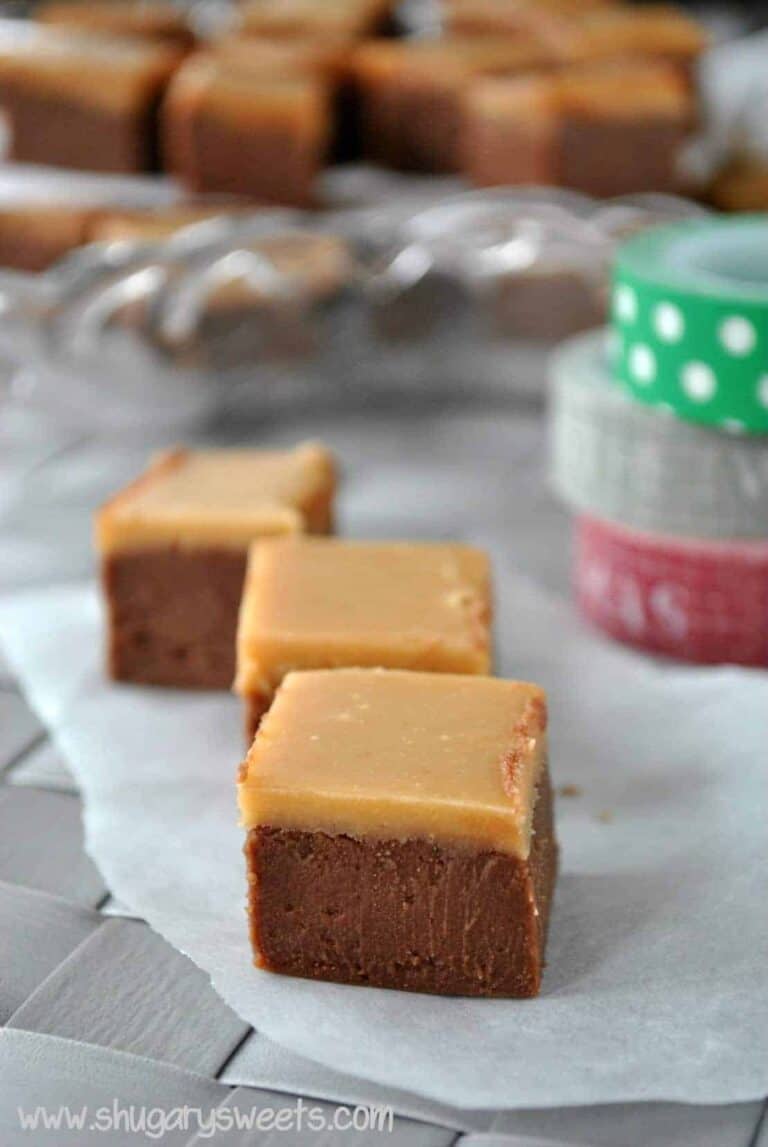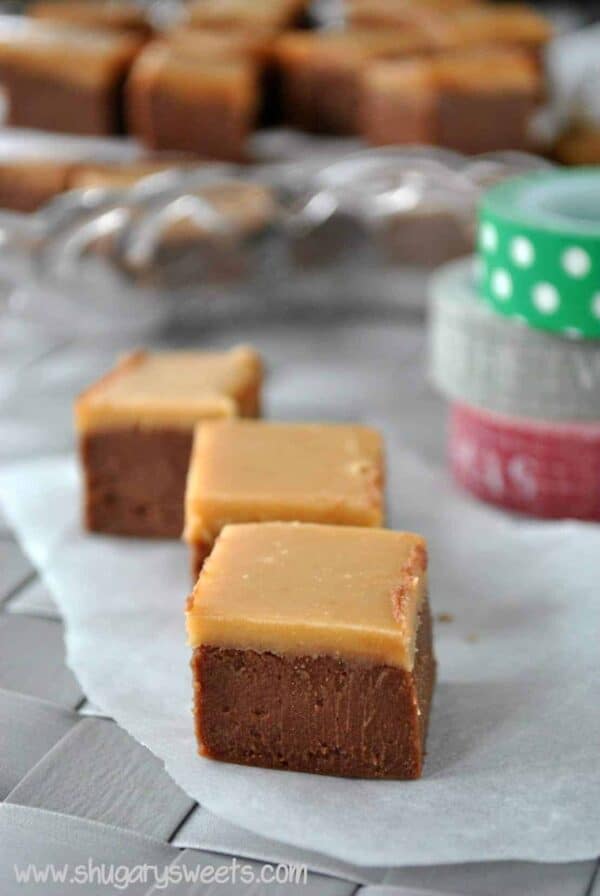 What's your favorite flavor of fudge?
Almond Fudge Bites– delicious holiday dessert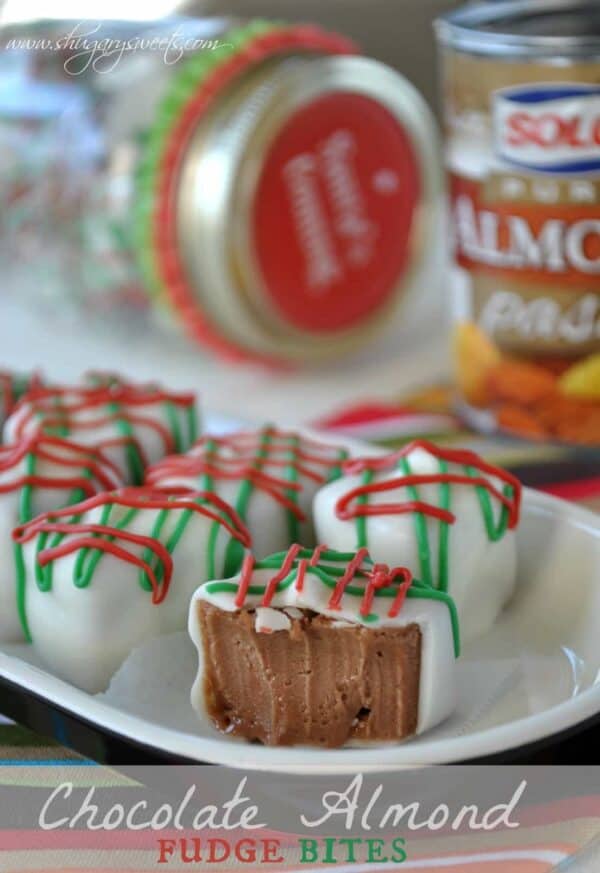 Peanut Butter Fudge: for those of you who prefer more peanut butter to chocolate ratio!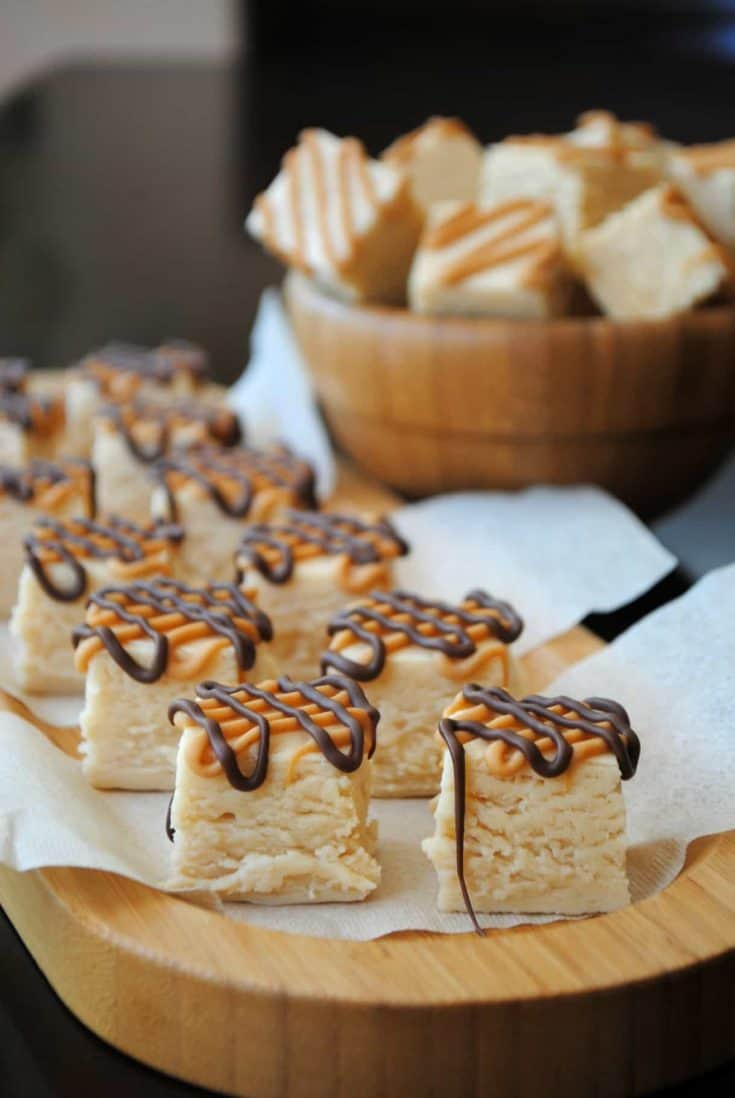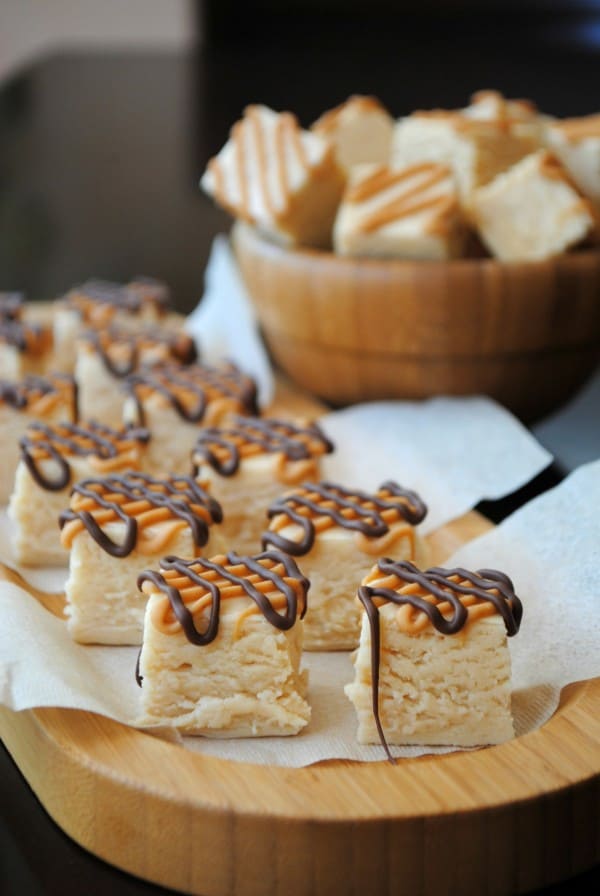 Cinnabon Fudge– fudge that tastes like a cinnamon roll. You're welcome.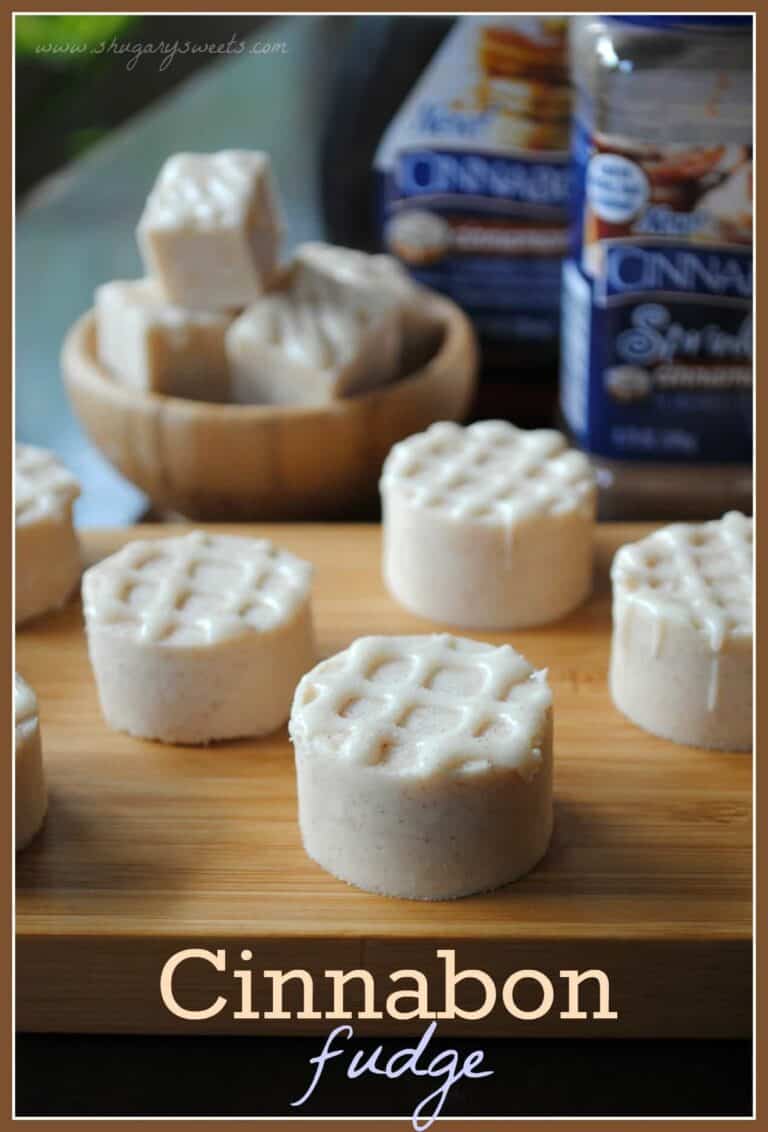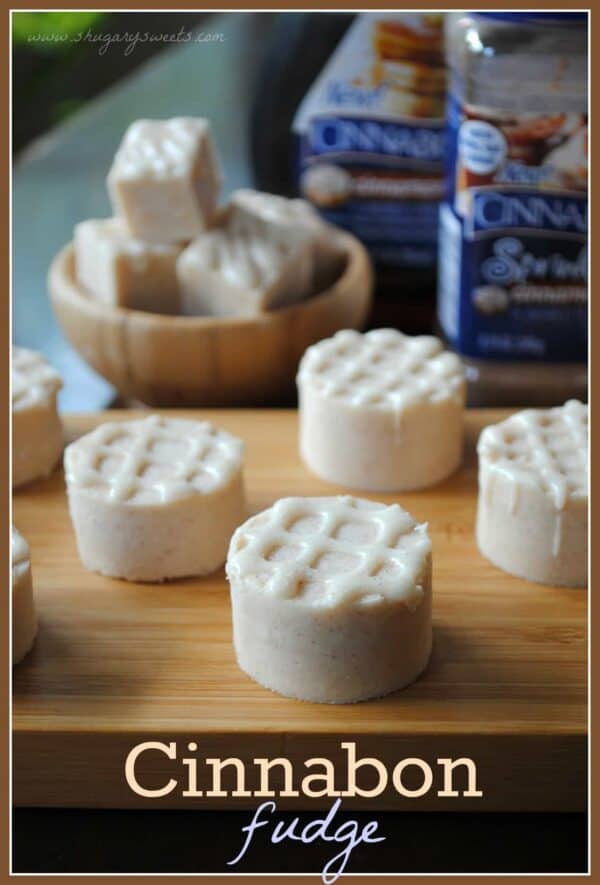 Strawberry Swirl Fudge– otherwise referred to as strawberries and cream fudge. Delish.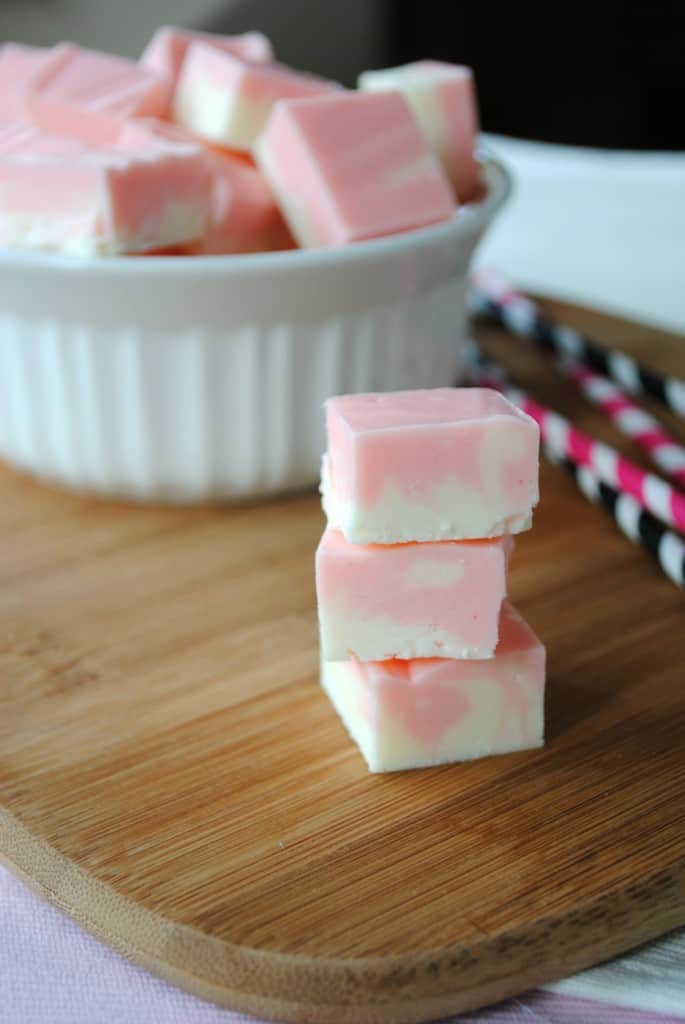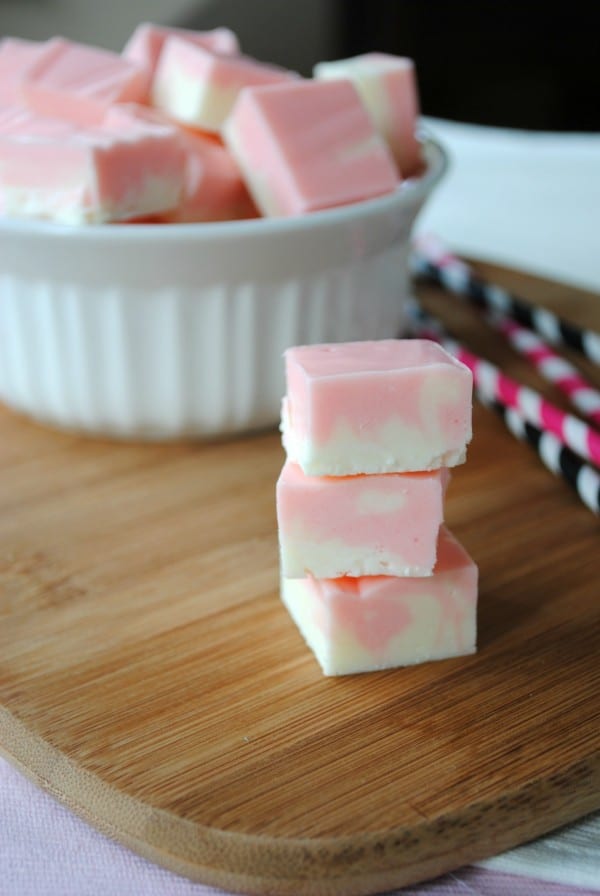 Peppermint Fudge– gorgeous and perfect for your Christmas tray!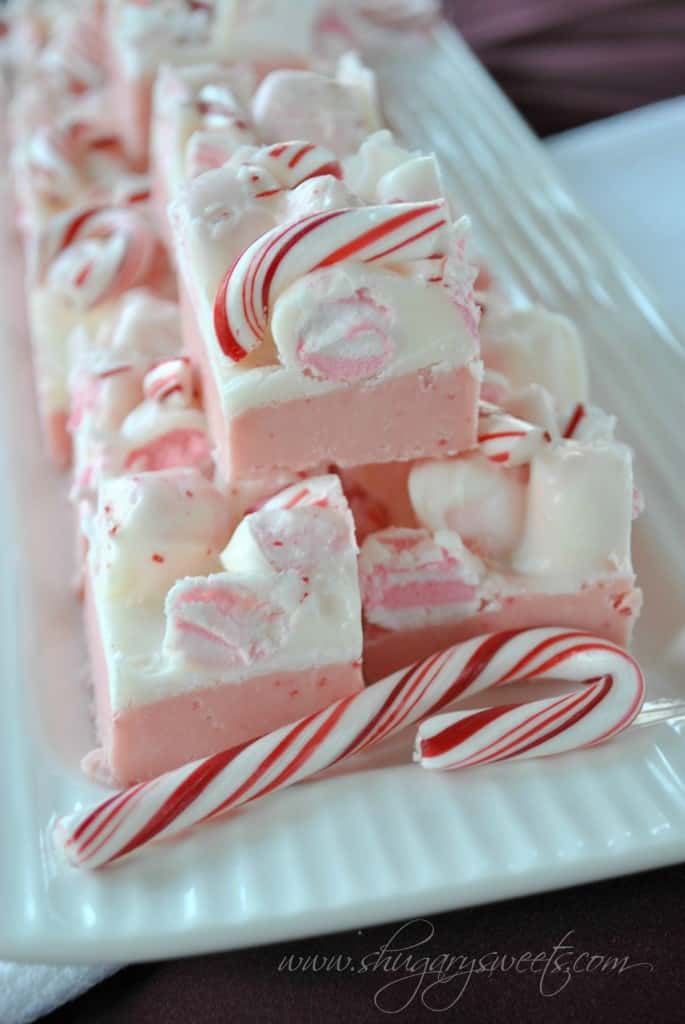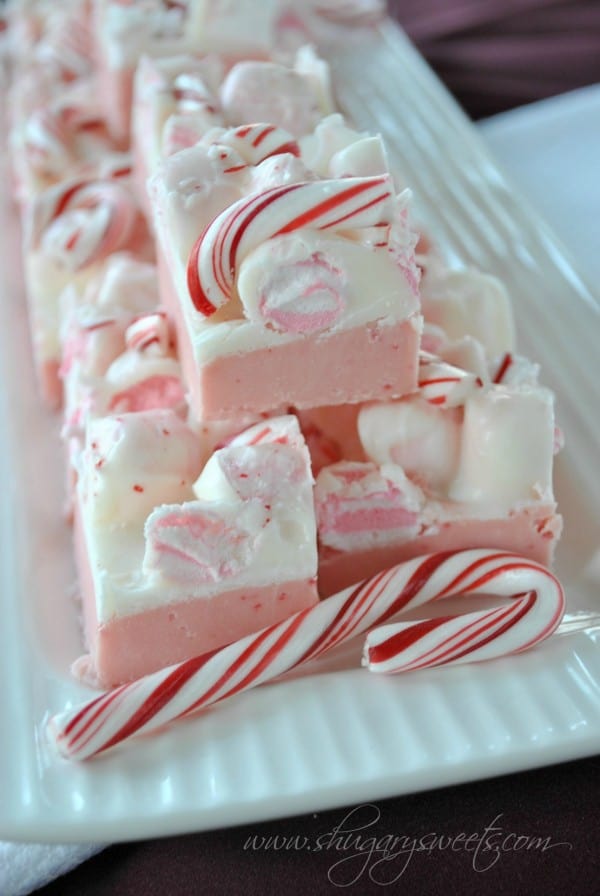 Chocolate Peanut Butter Fudge recipe:
Yield: 120 bites
Chocolate Peanut Butter Fudge
Total Time
2 hours
25 minutes
Creamy Chocolate Peanut Butter Fudge
Ingredients
4 cup granulated sugar
1 cup skim milk
1 tsp vanilla extract
1 cup unsalted butter
25 regular sized marshmallows
12oz milk chocolate morsels
12oz semi sweet chocolate morsels
2 oz baking chocolate (unsweetened)
1 can (14oz) sweetened condensed milk
2 Tbsp unsalted butter
1 bag (10oz) peanut butter morsels
Instructions
In a large mixing bowl, add marshmallows, chocolate morsels (both kinds) and baking chocolate. Set aside.
In a large pot, bring to a boil the sugar, milk, vanilla and butter (over medium high heat). Stirring constantly, boil for 2 minutes. Pour hot mixture over marshmallows and chocolate.
Using an electric mixer (or stand mixer), beat with whisk attachment until melted and smooth (may take several minutes).
Pour into a parchment paper lined 15x10x1 baking sheet.
In a small saucepan on medium heat, warm condensed milk with butter. Heat until butter is melted, add in peanut butter morsels. Whisk until melted and smooth, remove from heat.
Pour peanut butter over chocolate layer. Allow to set for 2 hours. Cut into bites and enjoy!
See the recipe Chocolate Peanut Butter Fudge on YouTube