Chocolate Cupcakes with m&m Frosting
Delicious, from scratch, Chocolate Cupcakes with m&m's frosting! Pile it high for more flavor and fun!
Be sure to sign up for my email…new recipes in your inbox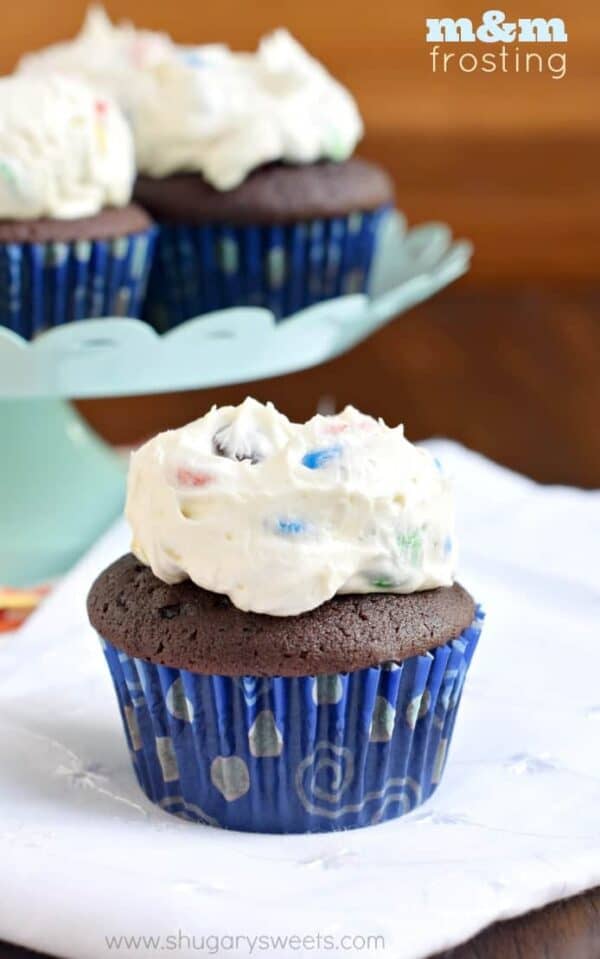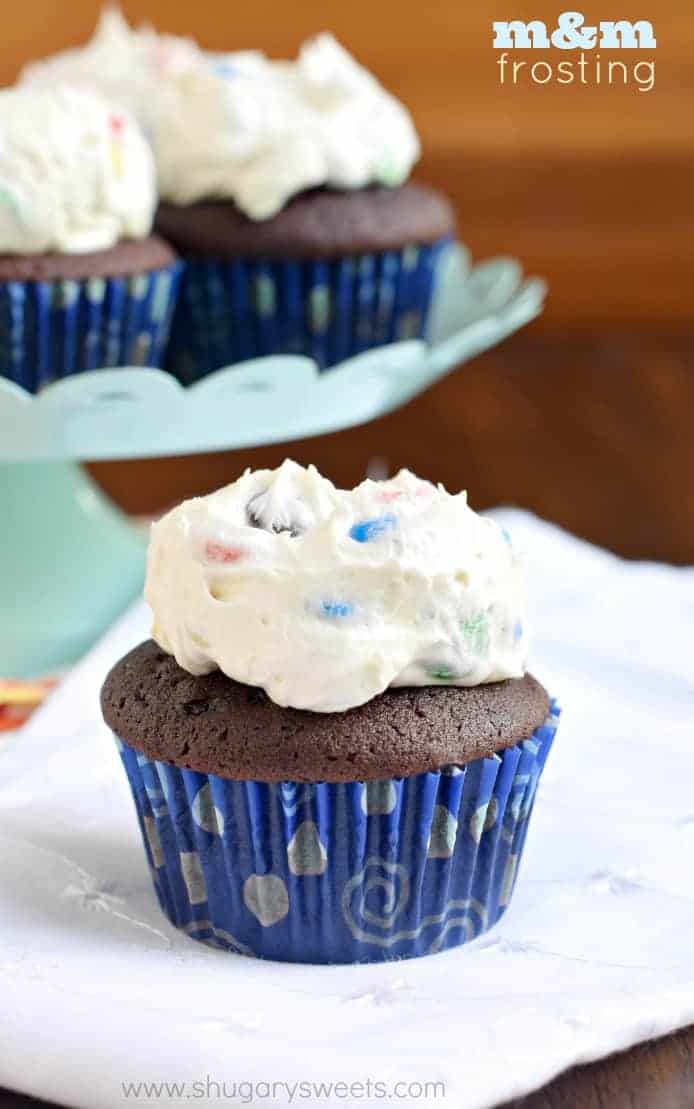 I've come to realize that my kids, while they enjoy my baking, they enjoy the benefits I provide. For example, a day before an event, they like to say to me "my team would LOVE if you could bring in some of those delicious cupcakes. I don't care what flavor, but you know, they all know you're a baker."
Which translates too…please make something over the top delicious in the next 12 hours. Something that won't embarrass me, but impress my friends. Oh, and can you make sure you make 3 dozen of that "something."
I've fallen trap to this scenario more times than I care to admit. Of course I love to bake for others. And my kids. But, I also like a little time to prepare. And I think my kids feel if they give me time I will say "no." So they spring it on me last minute, and beg, and flatter me in hopes I will say "yes." Which I almost always do!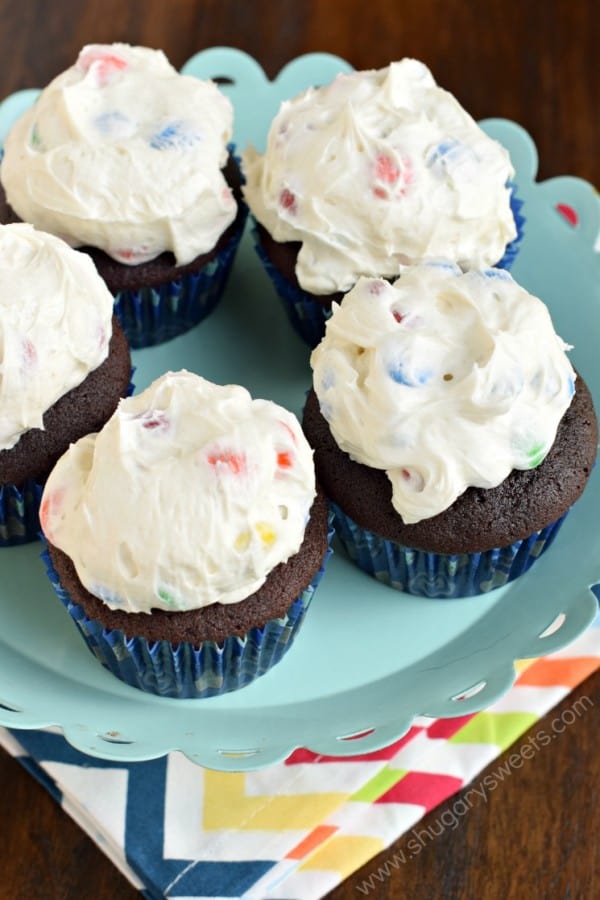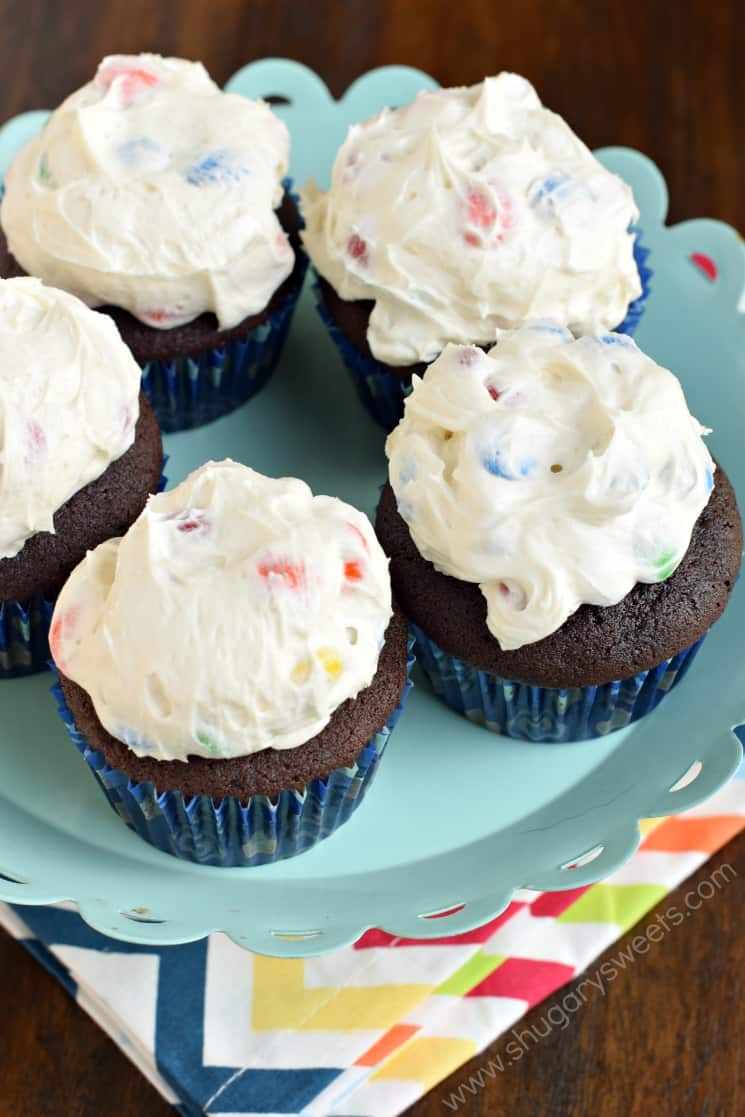 Enter: Chocolate Cupcakes with M&M's Frosting! Rich, moist, fudgy cupcakes with PILES of vanilla frosting loaded with candy.
I used my favorite chocolate cupcake recipe for the base. It makes about one dozen cupcakes. The frosting piled high like in the photos is enough for 12 cupcakes as well. If you need more cupcakes, you can double the cupcake recipe…and if you want to not use all that frosting on each cupcake you can stretch it to cover 24 cupcakes. But then again…why would you do that?
I have decided there are two types of people. Those who love the frosting. And those who love the cake. I am a frosting lover. My motto is: more frosting. #lamemotto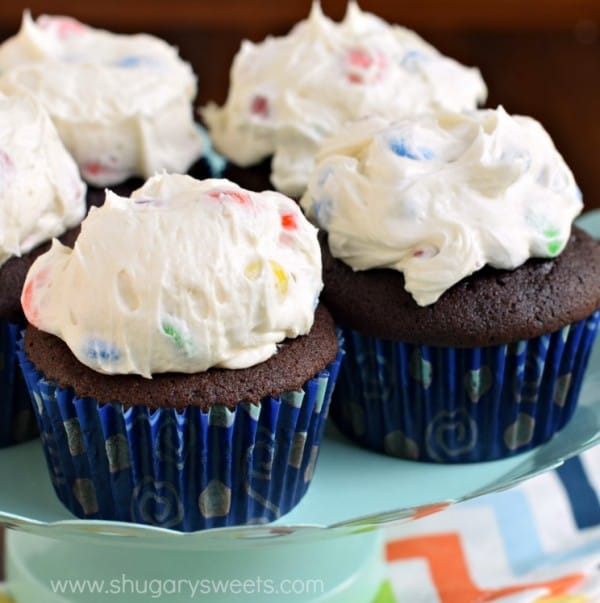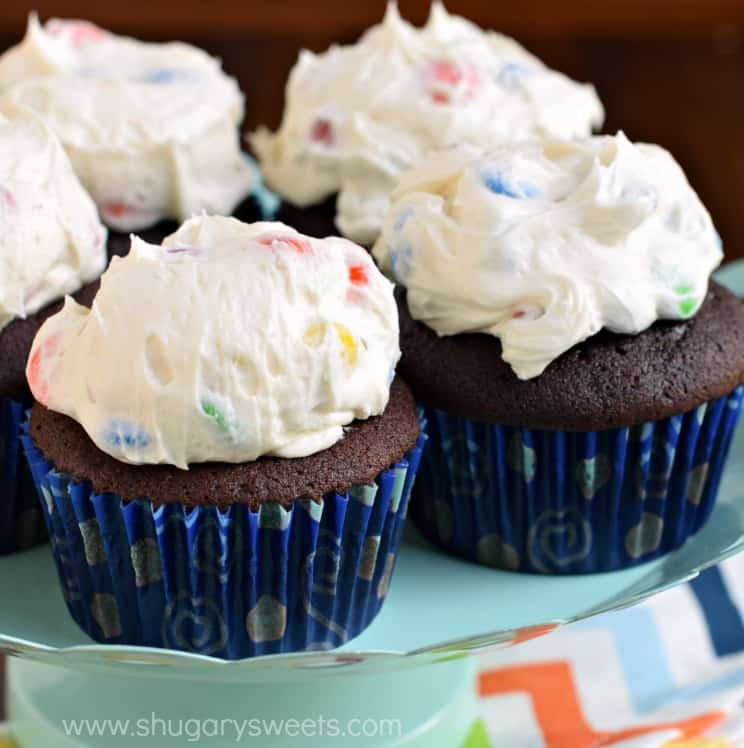 Which person are you? Cake or frosting??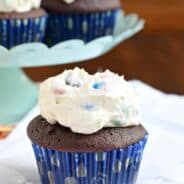 M&M Frosting
Yield: 12-15 cupcakes
Prep Time: 15 minutes
Cook Time: 15-18 minutes
Ingredients:
For the cupcakes:
1/4 cup unsalted butter, softened
3/4 cup granulated sugar
1 large egg
1 cup all-purpose flour
1/4 cup unsweetened cocoa powder (dark chocolate)
1/4 tsp kosher salt
1/2 tsp baking soda
1/2 tsp baking powder
1/4 cup brewed coffee (stronger the better)
1/4 cup buttermilk
For the frosting:
1/2 cup unsalted butter, softened
2 cup powdered sugar
1 tsp vanilla extract
1-2 Tbsp milk
10 oz package m&m candies
Directions:
Preheat oven to 350 degree F.
For the cupcakes, combine flour, cocoa powder, salt, baking soda, and baking powder in a small bowl. Set aside.
Mix brewed coffee with milk in a small measuring cup. Set aside.
In a large mixing bowl, beat butter with sugar for 5 minutes until fluffy. Add in egg. Slowly add in dry ingredients, alternating with coffee mixture (about 3 additions). Beat for 2-3 minutes after final addition, scraping down the sides of the bowl.
Scoop batter into paper lined cupcake tins. Bake for 15-18 minutes. Remove and cool completely on wire rack before adding frosting.
For the frosting, beat butter for 2 minutes. Add in powdered sugar, vanilla and milk and beat on medium high until fluffy, about 4-5 minutes. Fold in candies. Use a large scoop to add frosting to cupcakes! ENJOY.
**I used regular milk chocolate m&m candies. But the baking bits would be a great option too!
MAKING THIS RECIPE? Share it with me on Instagram using the hashtag #ShugarySweets so I can see what you're cooking up in the kitchen!
I love adding m&m's to my desserts: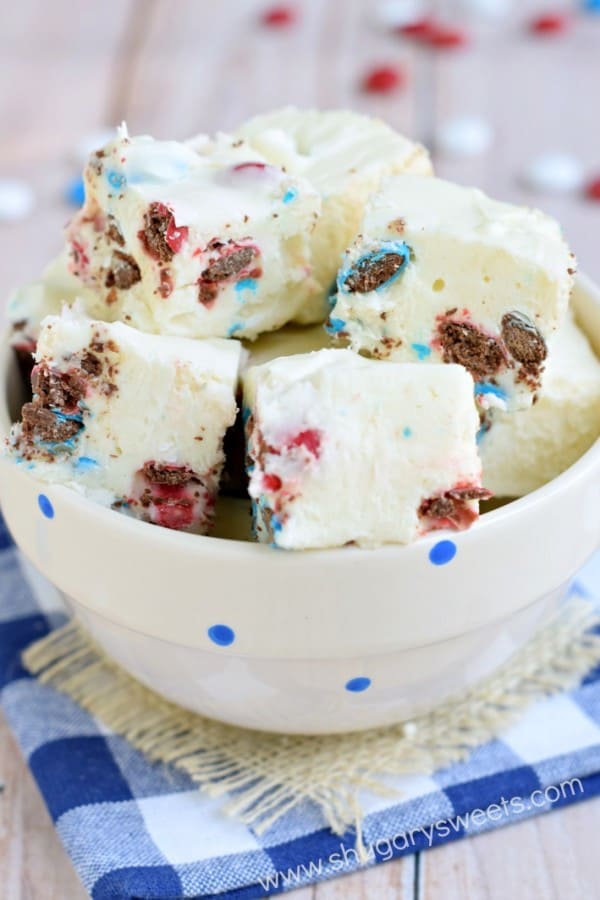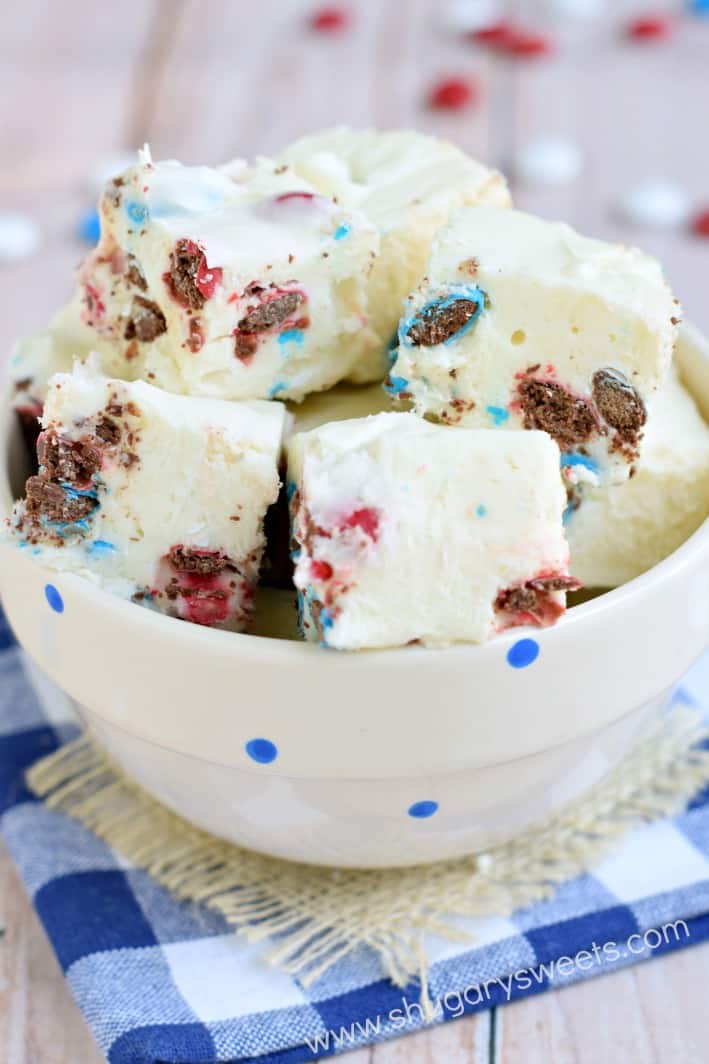 M&M Fudge: add any color/variety candy to your vanilla fudge for a delicious festive treat!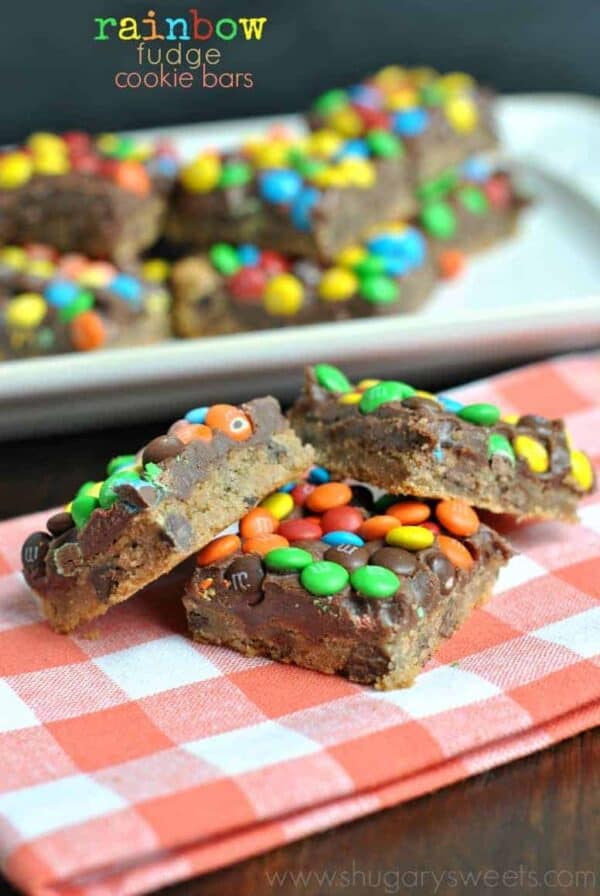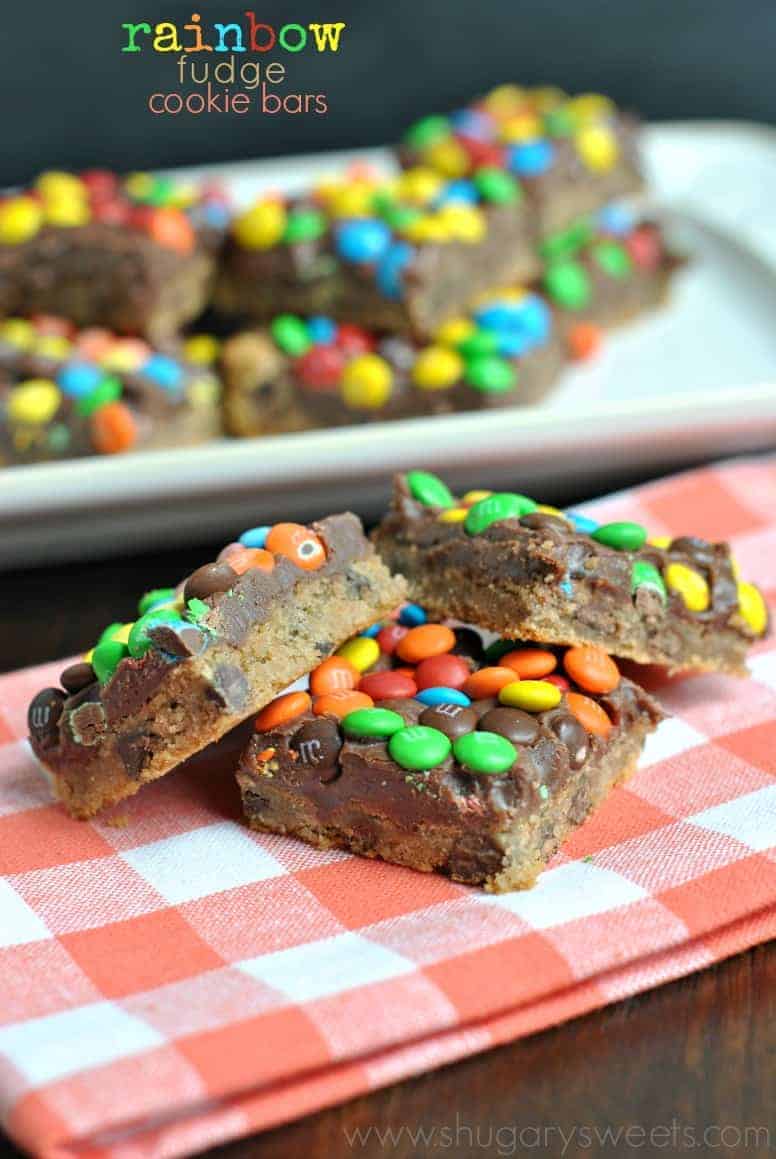 Rainbow Fudge Cookie Bars: easy 4 ingredient dessert idea. You're welcome!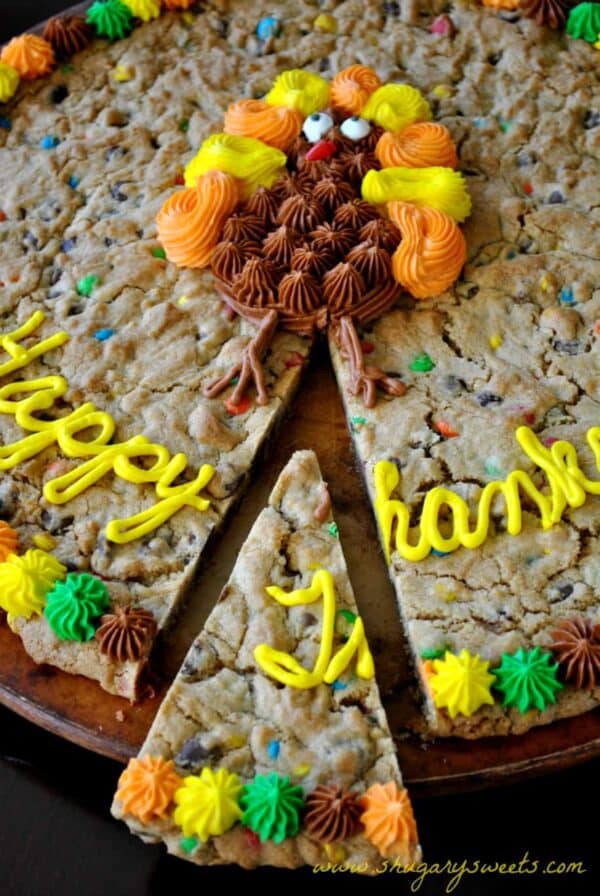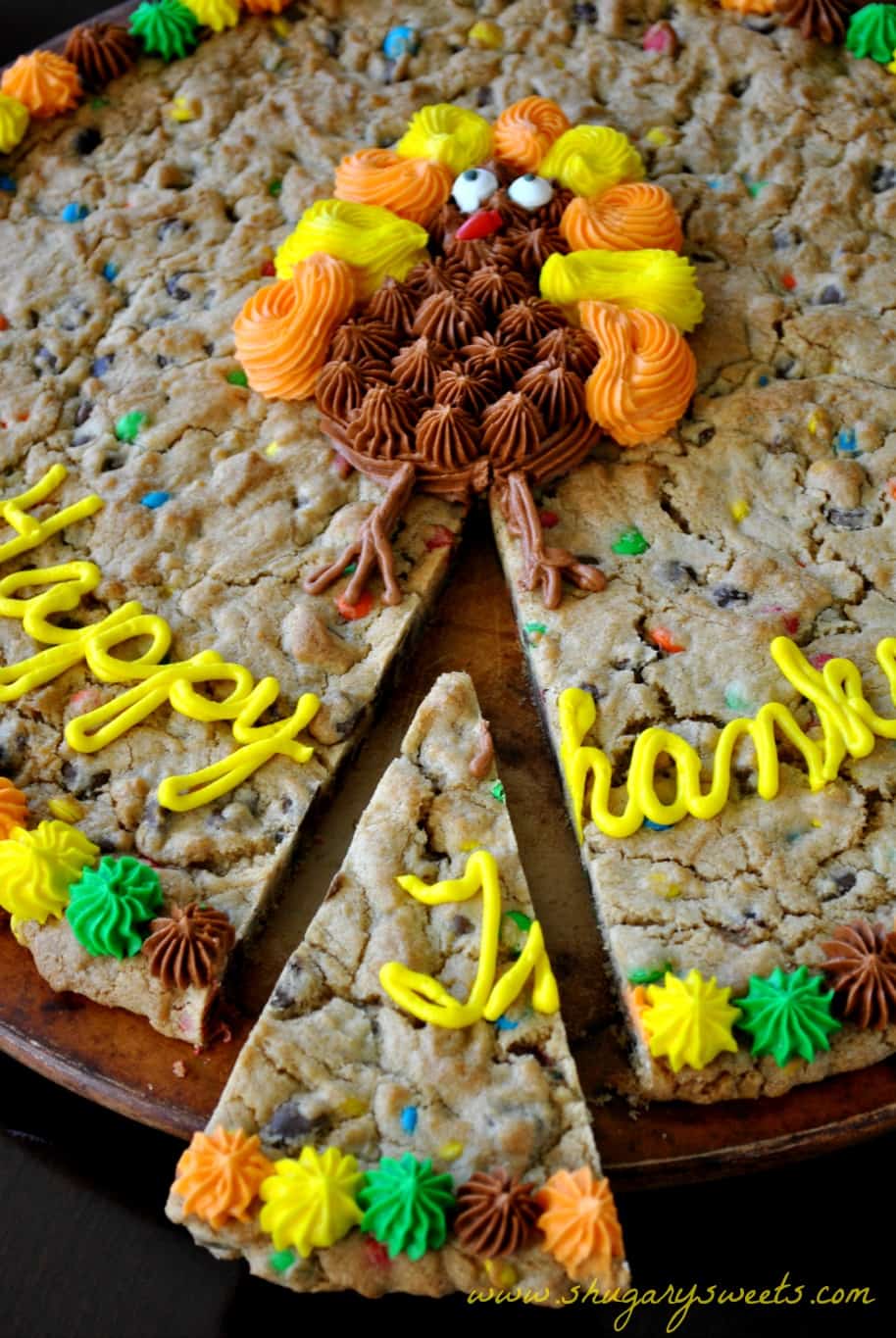 M&M Cookie Cake: better than the kind you get at the mall, and easy to make for any occasion!
Love this Chocolate Cupcake with M&M Frosting? Here are some awesome recipes from my friends: