Cold and creamy with a kick, this Artichoke Jalapeno Dip packs a ton of flavor! Skip the store bought party dips and make your own in just minutes.
Looking for more snack ideas for potlucks and parties? Our BLT dip recipe is always a hit. And don't forget to make a batch of this sweet cannoli dip too.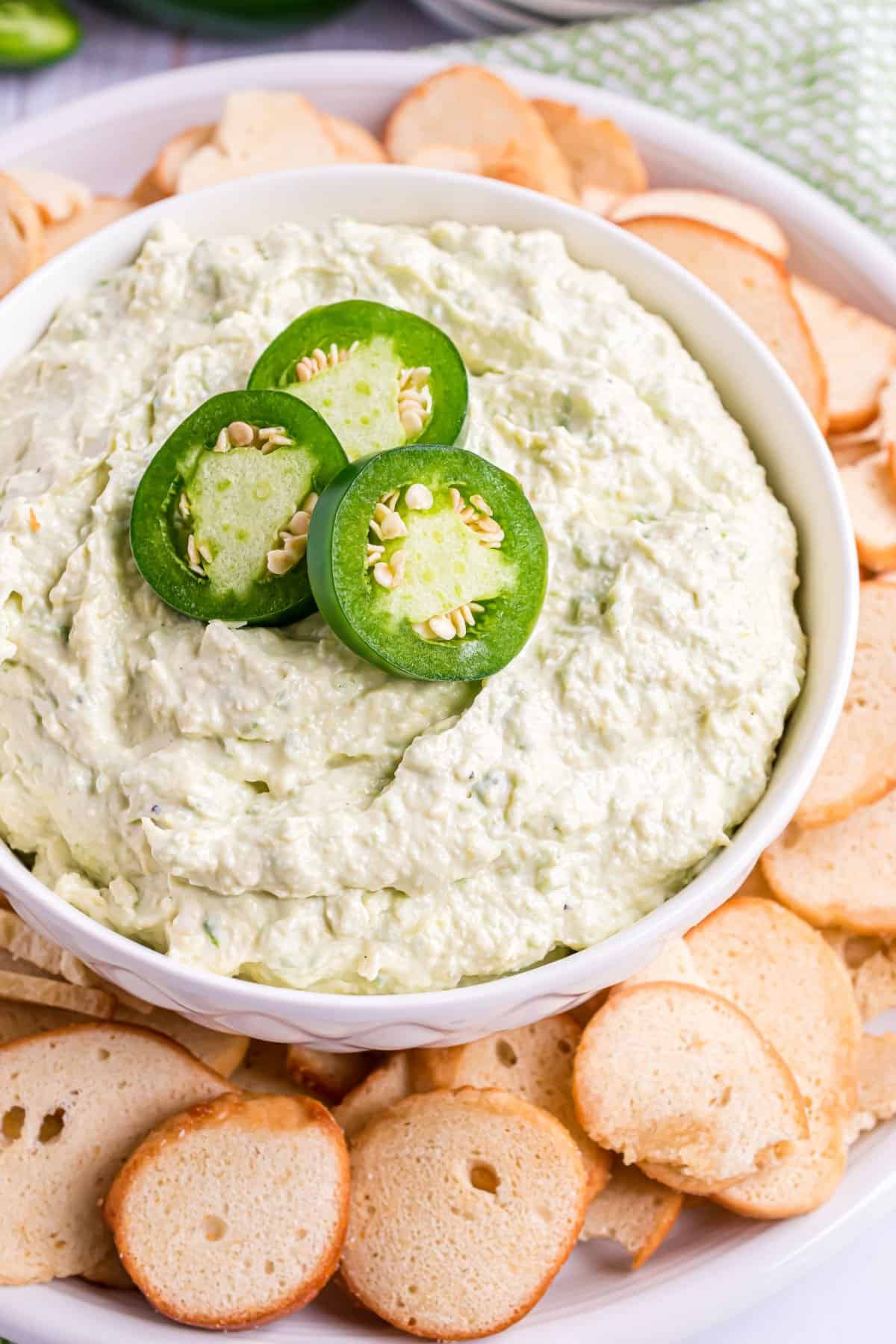 Why this Dip is Best
Anyone else do their regular grocery shopping at Costco? For those of us with teens who eat like bears about to go into hibernation (i.e. nonstop), getting our staples in bulk is vital.
Enter Costco. . . and my introduction to Artichoke Jalapeño Dip!
Jalapeno Artichoke Dip is one of my favorite Costco splurges. I'm usually good at keeping to necessities (you know, like the family size packages of Oreos) but every now and then I need an indulgence.
One day, it dawned on me. I can make Artichoke Dip with jalapenos at home!
This is perfect on a cheese and crackers tray for a party or a dinner party appetizer! Since it's served cold or room temperature, this Artichoke Jalapeno dip is a good choice for summer, too.
I love this just about every way imaginable: on crackers, sliced toasted baguette, scooped up with tortilla chips, or with veggie slices.
Pita chips and toasted bagels are other favorite vehicles for enjoying this creamy Artichoke spread. You could even use it as a spread for a sandwich or wrap!
It required no cooking or stove, just a few simple ingredients and a food processor.
Favortite Dip Recipes: Jalapeno Queso | Spinach Artichoke Dip
How Spicy is it?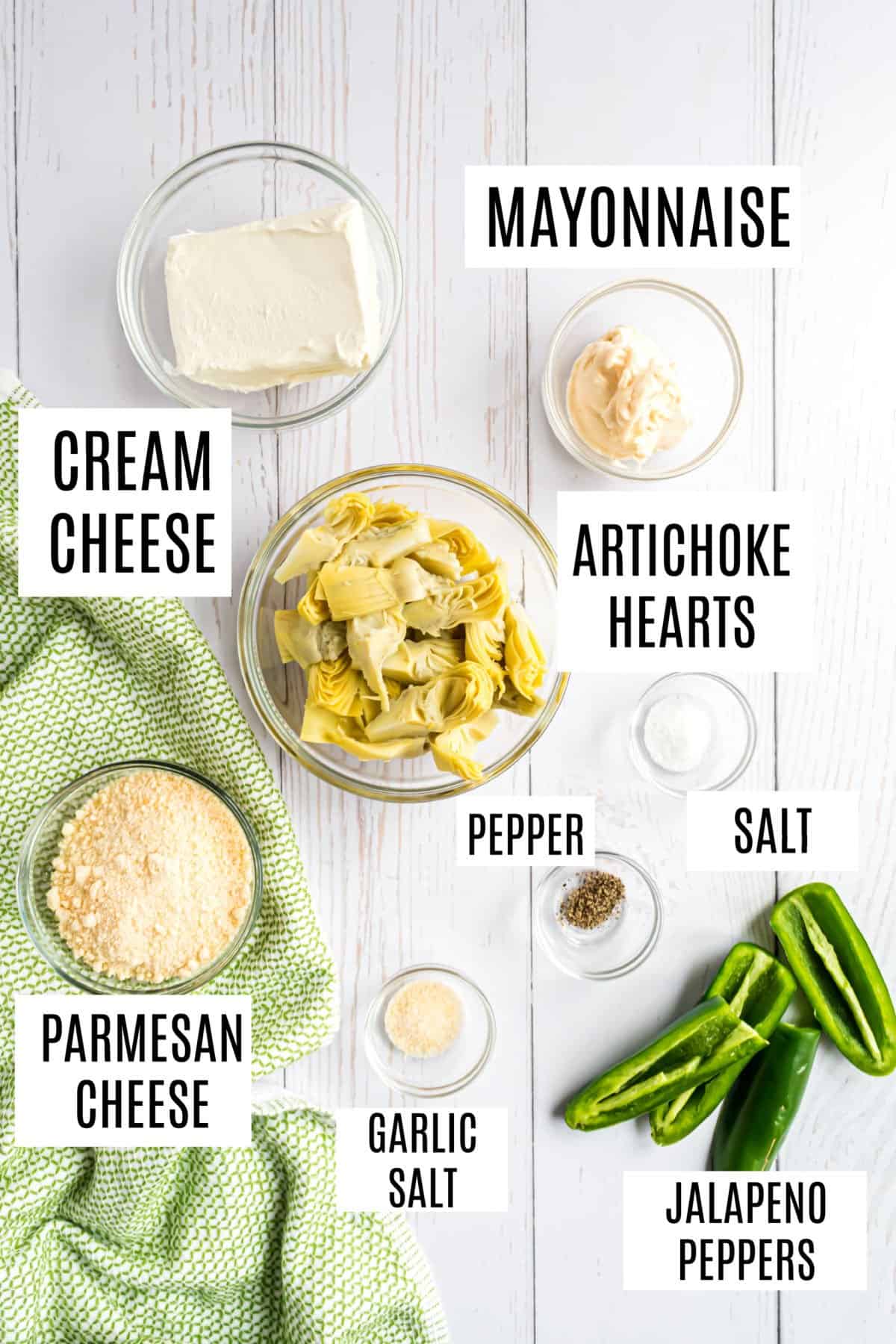 Artichokes. Jarred artichoke hearts provide the primary flavor of this dip. They're a bit tangy and salty and begging to be whipped up with some soft cream cheese, parmesan and mayonnaise.
Jalapenos. Chopped peppers infuse the artichoke dip with a kick that makes you keep coming back for more.
I wouldn't describe the dip as extremely spicy, despite the jalapeno kick. Even my friends who don't enjoy as much heat in their food as me, enjoyed the balance of tastes in this appetizer!
I seeded the jalapenos first to imbibe the dip with flavor without overwhelming heat. That said, if you can't get enough spice in your creamy dips, you could leave some of the seeds in for more kick.
How to Make Artichoke Jalapeno Dip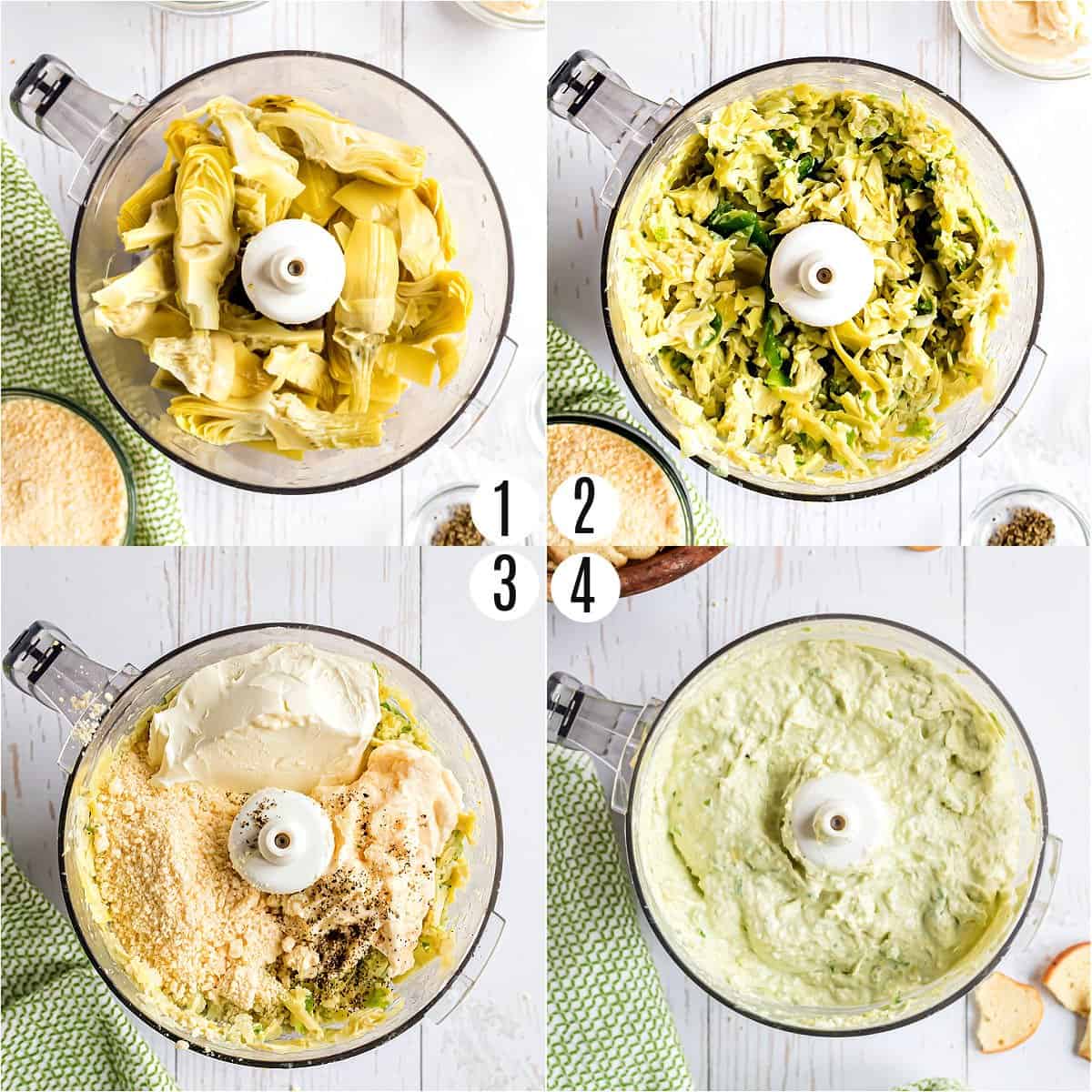 Chop the artichokes. Drain the jarred artichoke hearts, then add them to your food processor. Pulse a few times until chopped.
Add jalapenos. Add jalapenos into the food processor with the artichoke hearts and pulse until everything is finely chopped.
Make it creamy. Add some cream cheese, mayo, grated Parmesan and seasonings and pulse until everything is well combined and creamy.
Transfer the artichoke dip to a bowl and serve with all your favorite dippers!
Storing Dip
This cheese based dip needs to be stored in the fridge when you're not eating it. It'll keep well in an airtight container for about one week.
After you try this dip once, I can all but guarantee you're doing to want a tub of this in your fridge at all times! If you have a big family who likes this for a daily snack, feel free to double the recipe.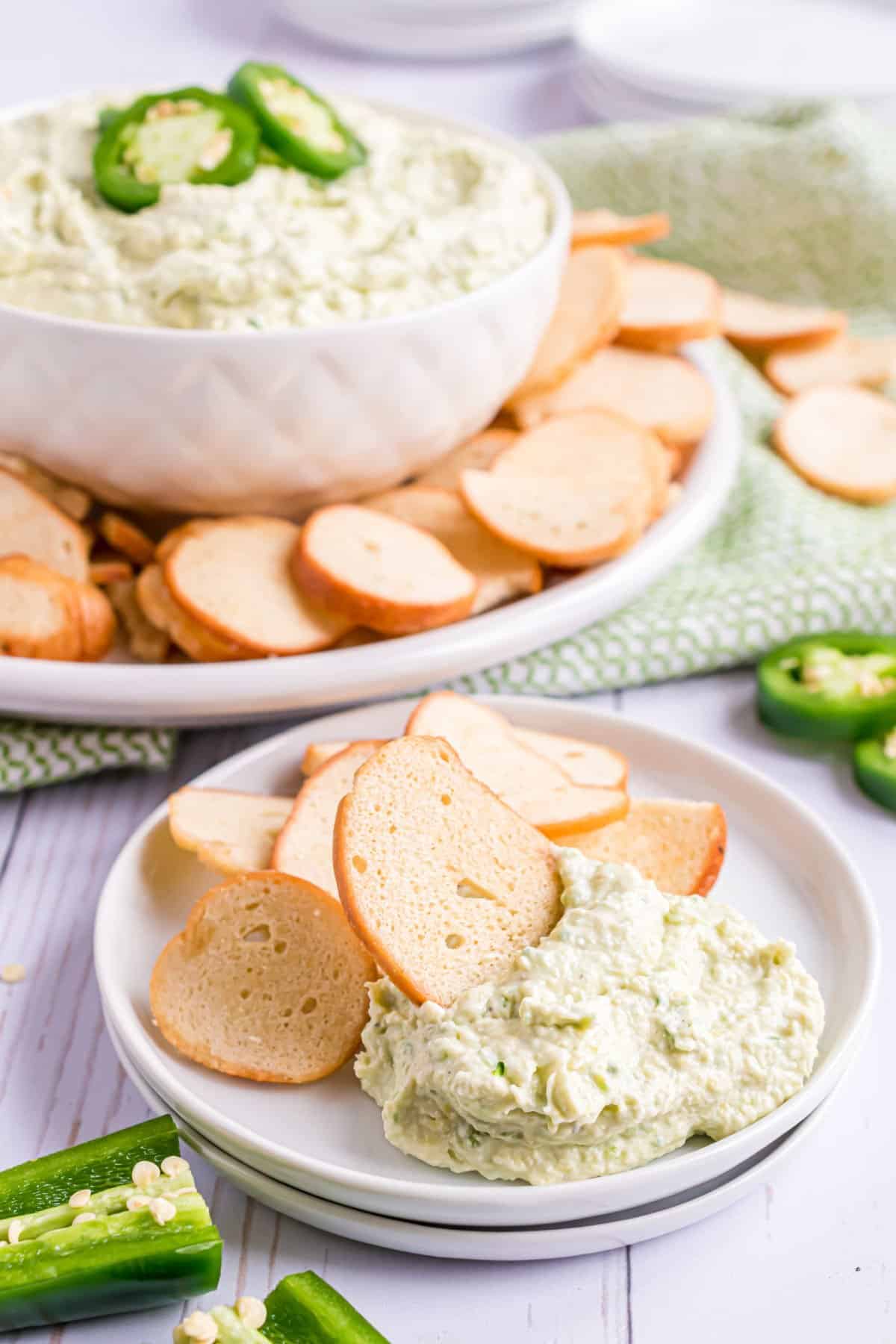 Serving Suggestions
As a party food or appetizer, here are a few ideas:
Entertaining crackers
Triscuits
Pita chips
Tortilla chips
Toast points
Sliced baguette
Carrot and celery sticks
Sliced bell peppers
Mini bagels
Serve today's dip alongside another one of our favorites, crockpot buffalo chicken dip!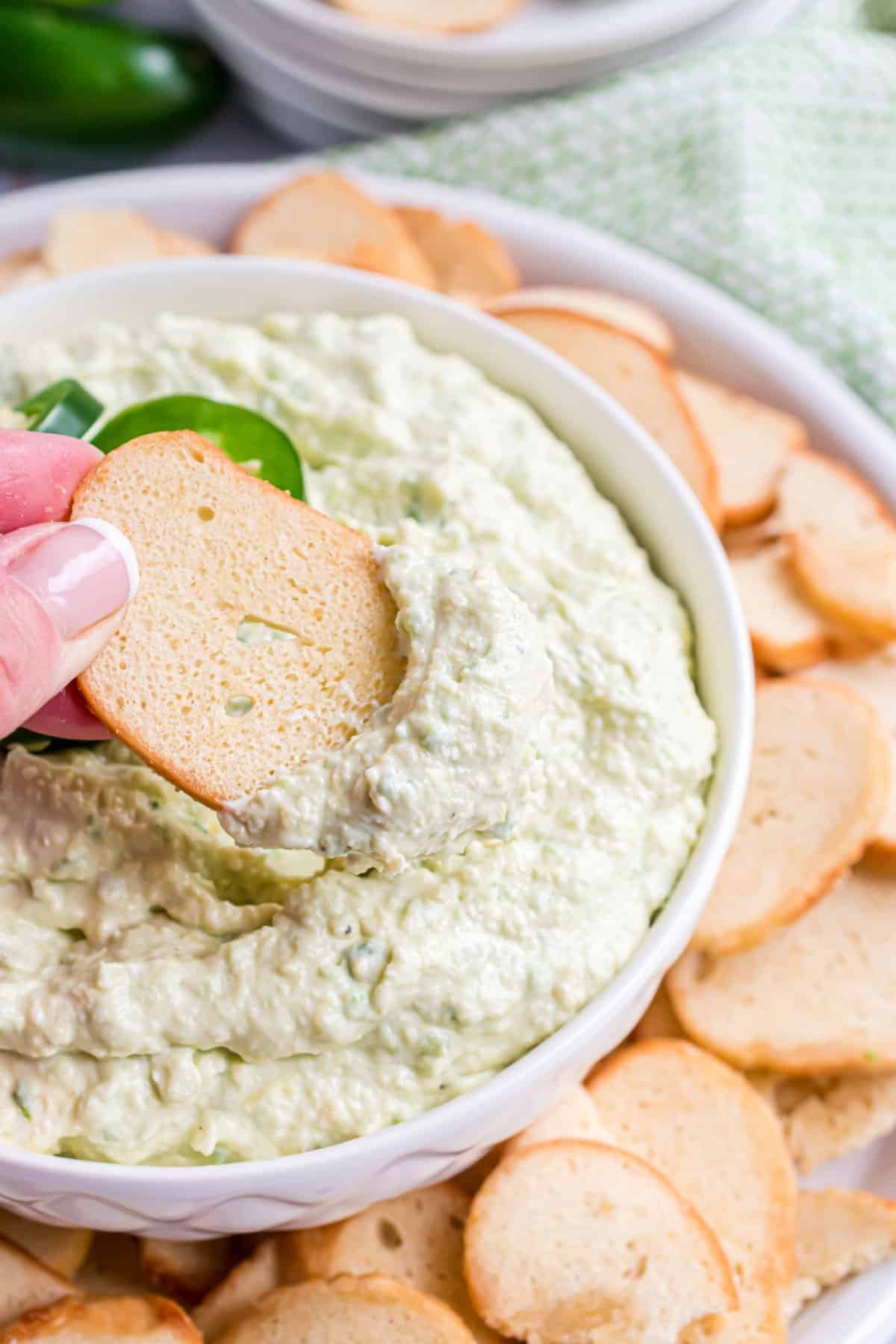 More Copycat Recipes
A cold artichoke dip with the kick of jalapeno, this snack comes together with just a few minutes of effort. Be careful–Artichoke Jalapeno Dip can become addictive!