This Instant Pot Chicken Fajitas recipe makes fajita night even easier! Strips of chicken cooked with Mexican spices and bell peppers are delicious served with tortillas and all your favorite toppings.
Love the tex mex flavor of today's recipe? Be sure to try our enchilada recipes too. From Crockpot Enchiladas to easy Chicken Enchilada Soup, their's a spicy flavor for everyone.
Why Make Fajitas in the Instant Pot?
Did you know you can make chicken fajitas in your pressure cooker? It's a simple method with fantastic results every time!
Fajitas are already pretty easy to make in a skillet or on the grill. But this Instant Pot fajitas recipe offers so many benefits.
No monitoring the chicken while it cooks. After the chicken strips are browned, you add the other ingredients, then "set it and forget it."
No marinating required. Traditional fajitas use a marinade to imbibe the meat with spicy flavor. This is delicious but usually requires at least 30 minutes of marinating time.
Tender chicken packed with flavor.
With this Instant Pot recipe, all those incredible, aromatic flavors get absorbed by the chicken as it pressure cooks.
No marinating, no standing over a stove. Just tender, spicy chicken fajitas in no time!
Ingredient Notes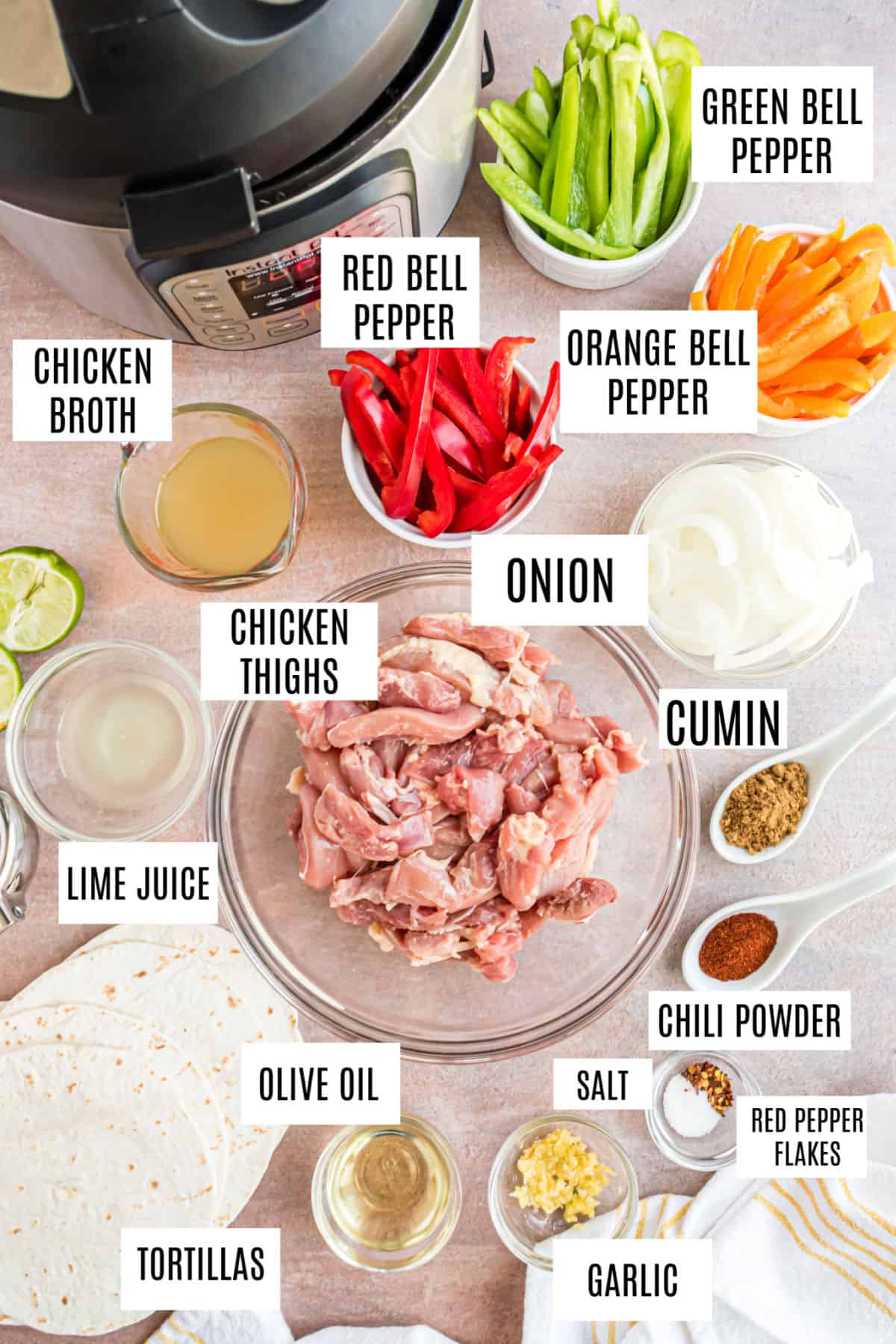 Chicken thighs. They should be boneless, skinless and cut into strips. You can substitute chicken breasts but I find the thicken thighs get juicier and retain more flavor.
Bell peppers. I used a combination of orange, green and sweet red peppers here for color and variety. Feel free to use all one color or just two varieties.
Seasoning. Chili powder, salt, red pepper flakes, garlic, and cumin. Want it spicier? Add more red pepper flakes! Make it easier and just use homemade taco seasoning instead. Or use this delicious fajita seasoning mix!
Easy Instructions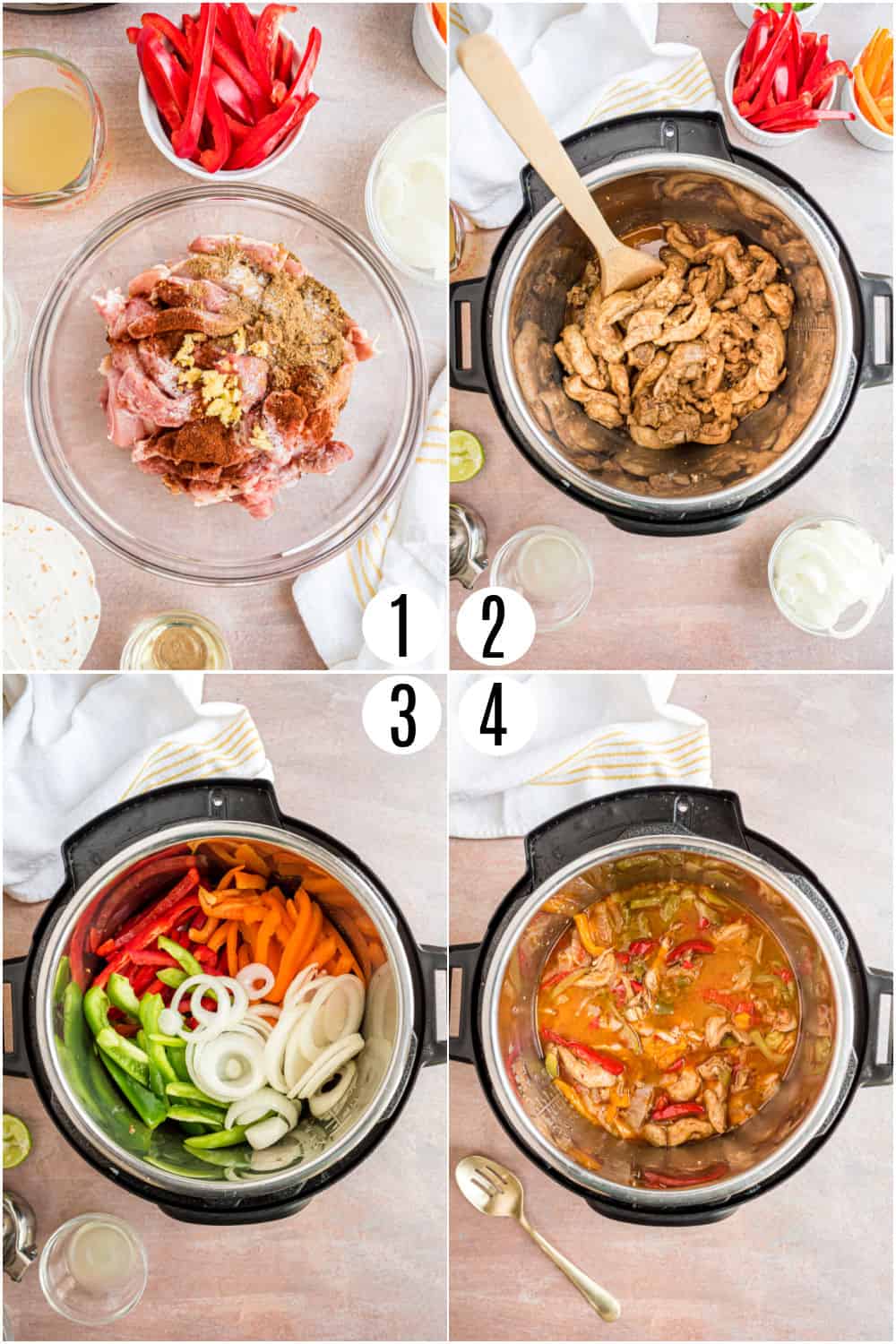 Season the chicken. Add the chicken strips to a bowl with cumin, salt, chili powder, red pepper flakes and garlic and stir.
Brown the chicken. Set your Instant Pot to the saute setting and add olive oil and chicken strips. Cook until browned, stirring every so often.
Deglaze. Add chicken broth to the pot and scrape any bits of chicken or spices from the bottom of the pot completely.
Pressure cook. Add the remaining chicken fajitas ingredients and do not stir. Secure the lid and set the Instant Pot to High Pressure for a cook time of 6 minutes.
Let the pot naturally release pressure for about 10 minutes. Then, release the remaining pressure by moving the valve to "Venting."
Stir and serve. Give everything a generous stir to combine the chicken with the peppers. Remove the chicken and vegetables and serve!
Chicken Fajitas are best served on warm flour tortillas.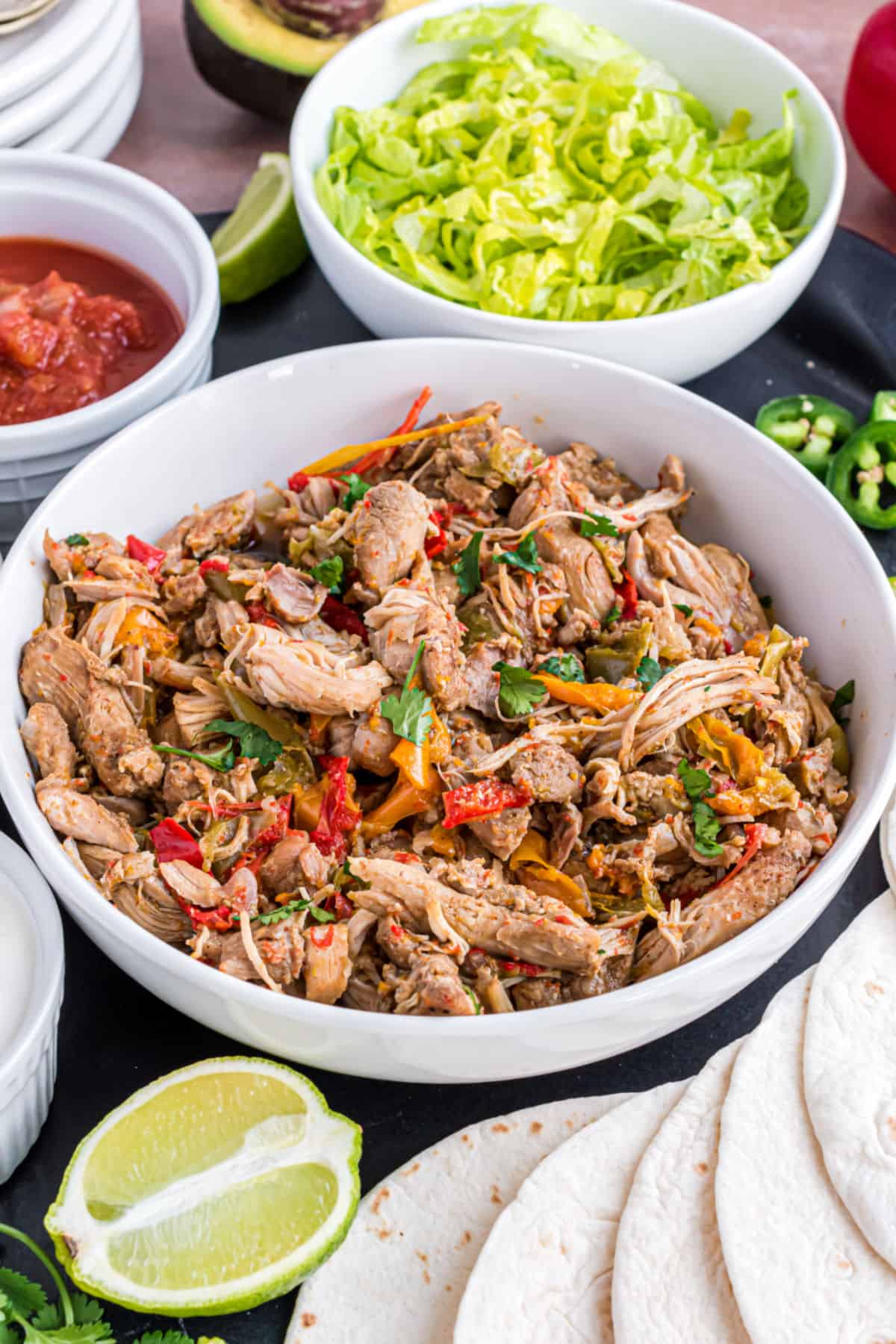 What to Serve with Fajitas
I recommend serving your fajitas with plenty of toppings on the side. That way everyone can add what they like to their own fajita!
Here are some of our favorite toppings.
Sour cream (or crema fresca)
Shredded cheese
Lettuce
Diced Tomato
Chopped Red Onion
Fresh cilantro
Garnish each plate with a lime wedge for squeezing over the chicken fajitas to add a mouthwatering tang.
Chicken Fajitas pair beautifully with Cilantro Lime Rice and black or refried beans on the side. Or whip up a mexican corn salad!
Use your extra flour tortillas to make a delicious batch of Baked Cinnamon Chips for dessert!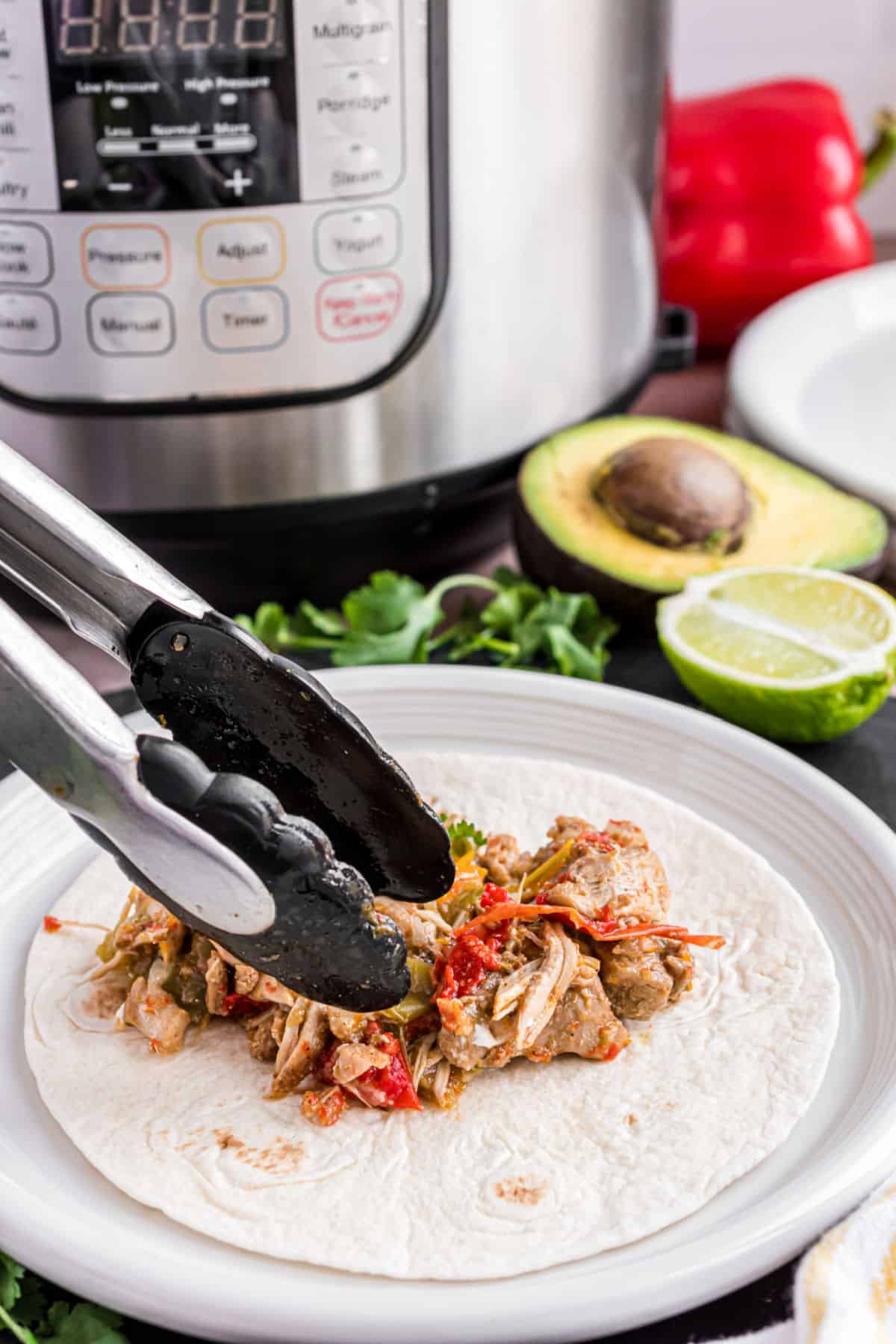 Recipe FAQs
How long does it take to make these Chicken Fajitas?
It takes about 40 minutes to make Chicken Fajitas in the Instant Pot. The recipe only needs 6 minutes of actual cooking time, but you need to brown the chicken and allow time for the pot to come to pressure.
What chicken is best for Instant Pot Chicken Fajitas?
Boneless, skinless chicken thighs work best for this Instant Pot Chicken Fajitas recipe.
Are Instant Pot Chicken Fajitas whole 30 approved?
Instant Pot Chicken Fajitas themselves are whole 30 approved, if you omit the tortillas and dairy based toppings.
What is deglazing?
Deglazing is the process of adding liquid to help remove any burned bits of food stuck to a pan. It's important after the saute step here to prevent getting a burn notice.
Everyone loves Chicken Fajitas! And you'll love how easy they are to make with this Instant Pot recipe.