Neapolitan Krispie Treats
Which flavor do you choose when enjoying Neapolitan ice cream? These Neapolitan Rice Krispie Treats let you enjoy all flavors in one delicious bite!
Be sure to follow me on Bloglovin'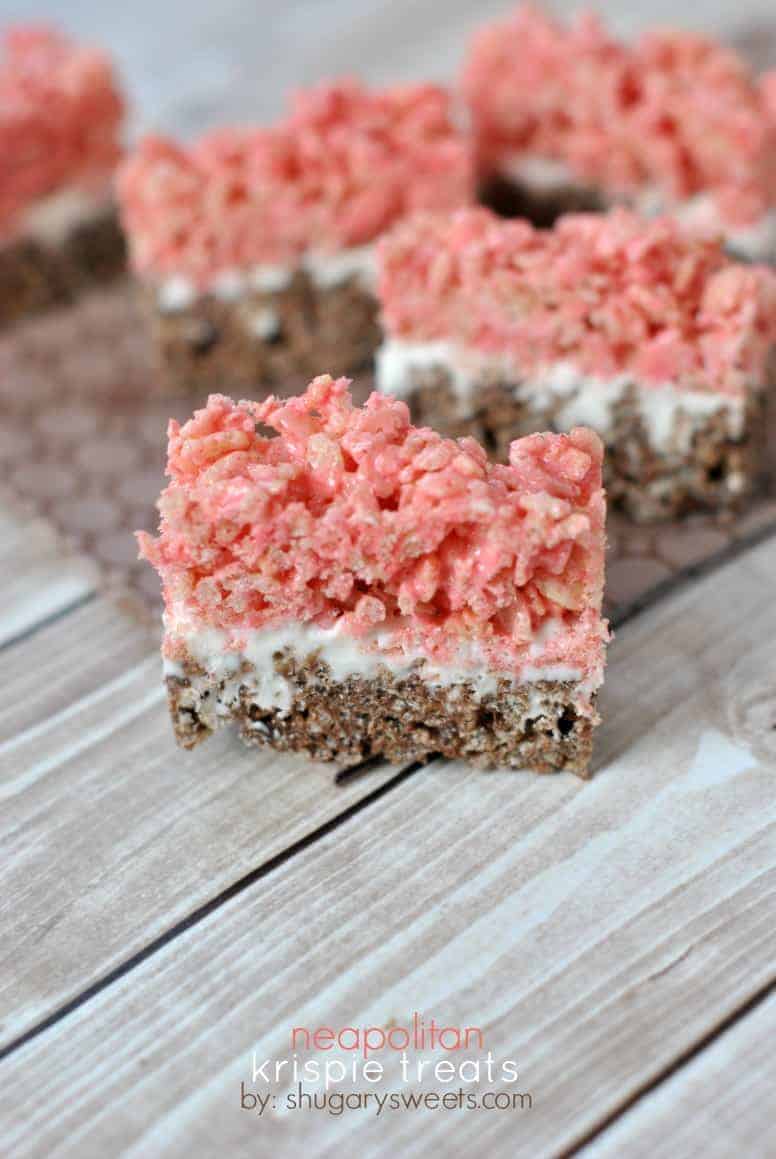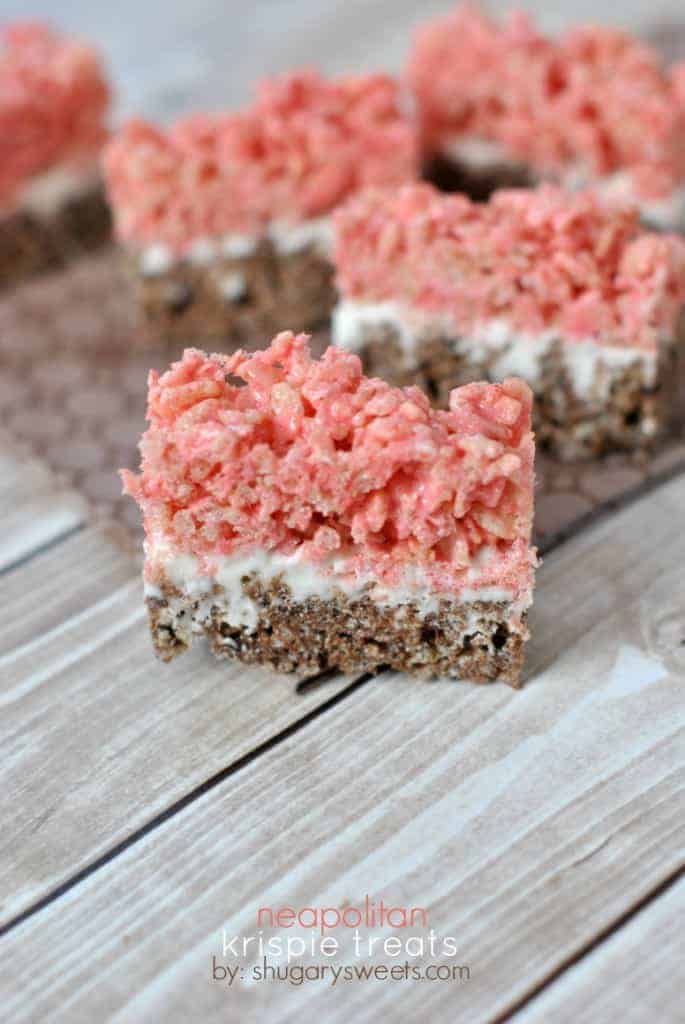 It's no secret that I am obsessed with Rice Krispie Treats. I'm not talking about those nasty prepackaged ones in the blue wrappers…I'm talking fresh and gooey, homemade Rice Krispie Treats.
If you're new around here, you may be thinking, "how old is she? 5?"
It's true. It's the most bizarre thing for a grown woman (I'm 40, by the way) to be obsessed with Rice Krispie Treats. Maybe bizarre isn't the right word, it's downright strange.
And when I say obsessed, I use that term lightly. Trust me on this.
When you go to a fondue place and you beg your family to not eat the krispie treats and give them all to you, it's odd.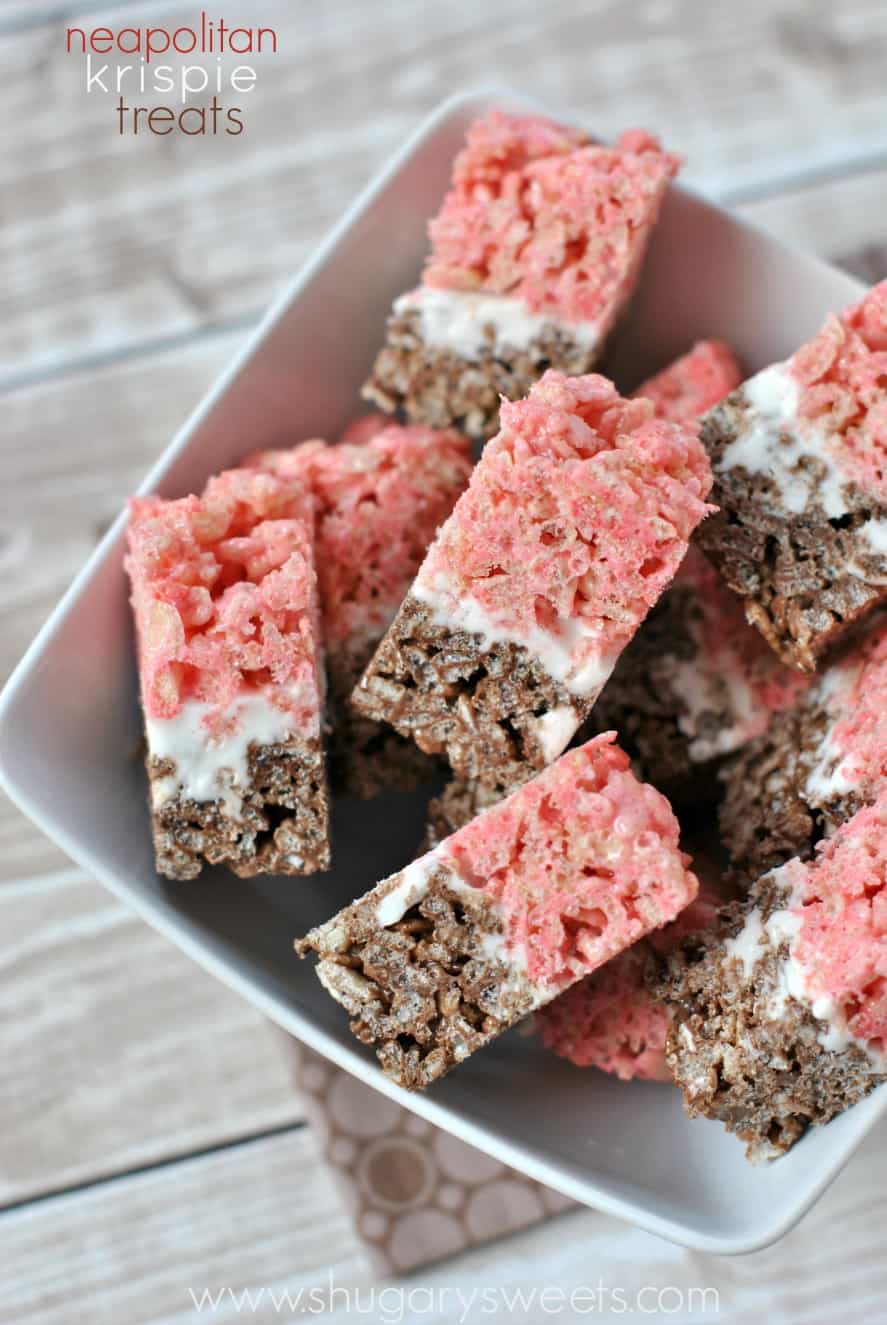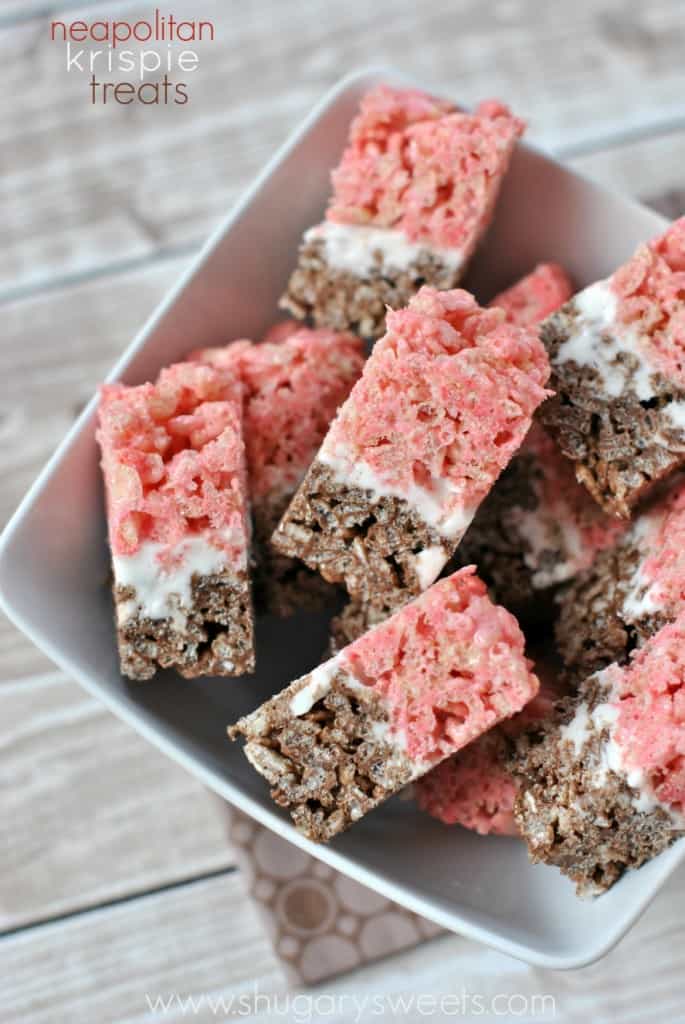 When you show up to a potluck and scope out the dessert table, finding a stack of homemade krispie treats and piling them on top of your tetrazinni and salad, it's odd. (I'm always afraid they will be gone by dessert time).
When you make a batch at home only to eat the entire pan before your FOUR lovely children get home. Again, odd.
I am obsessed. I have no will power when it comes to those gooey delicious treats!
Because of my complete lack of self control, I tend to not make them very often. But lately these Cherry Krispie Treats have been going crazy on Pinterest. And it reminds me how much I love them.
So I thought it would be fun to make a Neapolitan version. I used cocoa powder in the chocolate layer (but you can use cocoa krispies instead, if you like). And the strawberry layer is made with strawberry gelatin. But, my friends, this dessert is not complete without the creamy marshmallow frosting between the layers.
Don't even make me start on talking about my frosting obsession….
A few quick tips for how to make Rice Krispie Treats:
Always start with fresh marshmallows. Stale mallows are hard to melt. I've tried, it doesn't work well. And it doesn't result in a chewy krispie treat
Don't over mix your cereal into your melted marshmallows. You want to fold the cereal into the mixture by running your spatula from the outer side of the bowl (pan) to the center. Trying to get the sticky marshmallow from the bottom to the top. By overmixing, you're going to make crumbs of the cereal, no bueno!
Always use parchment paper or foil in your baking dish. If using foil, make sure to spread a little butter on it so the RKT don't stick. I usually use my empty butter wrappers to do this.
DON'T PRESS your krispie treats into the pan! You don't want rock hard treats. You want to gently, using your fingertips, spread the RKT into the pan. To keep my fingers from burning (and sticking), I run them in cold water (don't dry) and press the RKT gently. I repeat in the water if they start sticking. HOPE THIS HELPS!!
Connect with Shugary Sweets! Be sure to follow me on my social media, so you never miss a post!
Pinterest | instagram | Bloglovin'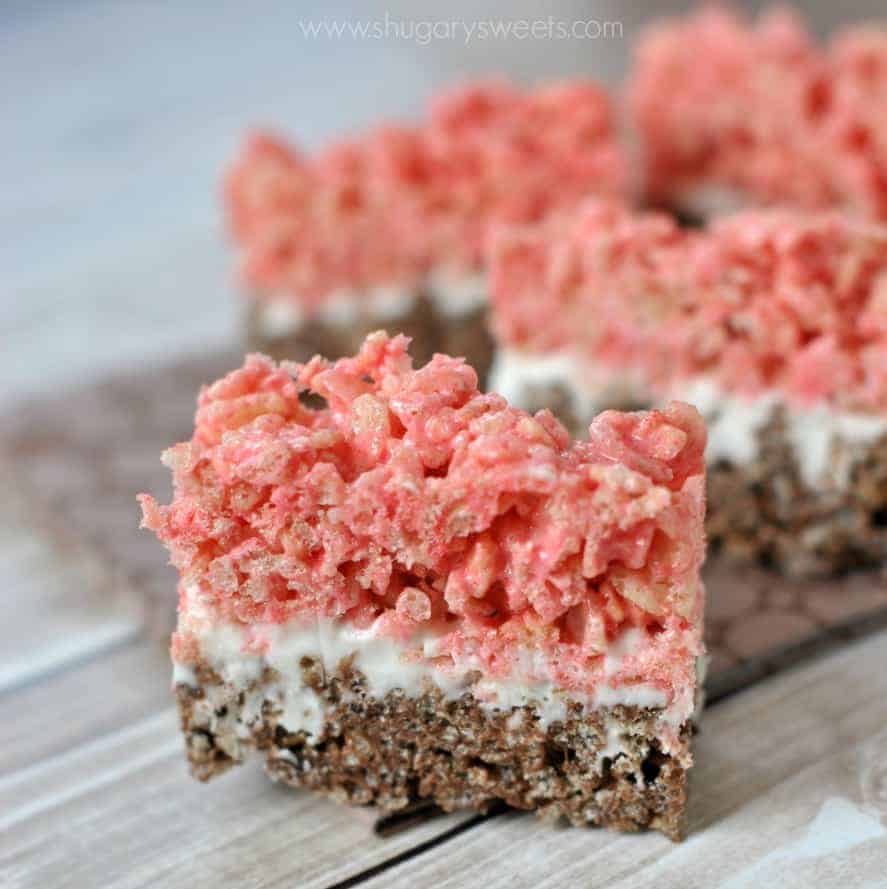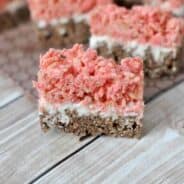 Neapolitan Krispie Treats
Yield: 32 pieces
Prep Time:25 minutes
Ingredients:
For the chocolate layer:
1/4 cup unsalted butter
10oz bag mini marshmallows
1/4 cup unsweetened baking cocoa
5 1/2 cup rice krispies cereal
For the marshmallow layer:
1/4 cup unsalted butter, softened
1 cup powdered sugar
1 jar (7oz) marshmallow cream
2 tsp milk
For the Strawberry layer:
1/4 cup unsalted butter
10oz bag mini marshmallows
0.3oz package sugar free strawberry gelatin mix
5 1/2 cup rice krispies cereal
Directions:
For the chocolate layer:
Line a 13x9 baking dish with foil. Spread about 1 tablespoon butter in bottom of pan. Set aside.
In a large saucepan, melt butter over medium heat. Add marshmallows and stir constantly until smooth. Remove from heat and stir in cocoa powder. Fold in cereal and mix until fully combined. Spread in bottom of baking dish, pressing very gently. Set aside.
For the marshmallow layer:
In a large mixing bowl, beat butter with powdered sugar, marshmallow cream and milk.
Beat for about 3 minutes until smooth. Spread evenly over the chocolate layer in the baking dish. Set aside.
For the strawberry layer:
In a large saucepan, melt butter over medium heat. Add marshmallows and stir constantly until melted and smooth. Remove from heat.
Mix in the strawberry gelatin powder until combined. Fold in cereal. Spread gently over marshmallow layer. Cover with plastic wrap and allow to set, about one hour.
Cut into desired pieces.
You can substitute cocoa krispies in the chocolate layer by replacing the cereal and removing the cocoa powder.
If using regular (not sugar free) gelatin, use about 1 Tbsp powder.
Store in a covered container for about 3-5 days at room temperature.
MAKING THIS RECIPE? Share it with me on Instagram using the hashtag #ShugarySweets so I can see what you're cooking up in the kitchen!
Love Rice Krispie Treats?
I've got a whole category of delicious RKT ideas!
I'm also obsessed with them on Pinterest. Check out my Rice Krispie Treat Addiction board!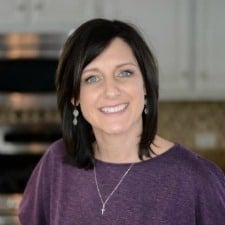 Aimee is a dessert lover (specifically rice krispie treats), workout enthusiast, self-taught foodie, and recipe creator. Her recipes have been featured in over 15 magazines, and her passion is to share her love of cooking with the everyday home cook! Learn more about Aimee.