Neapolitan Rice Krispie Treats layer strawberry, vanilla and chocolate flavors in one delicious bar! You'll love this fun twist on a classic dessert.
Love strawberry desserts? Try these Strawberry Glazed Hand Pies or this pretty Strawberry Shortcake Fudge next!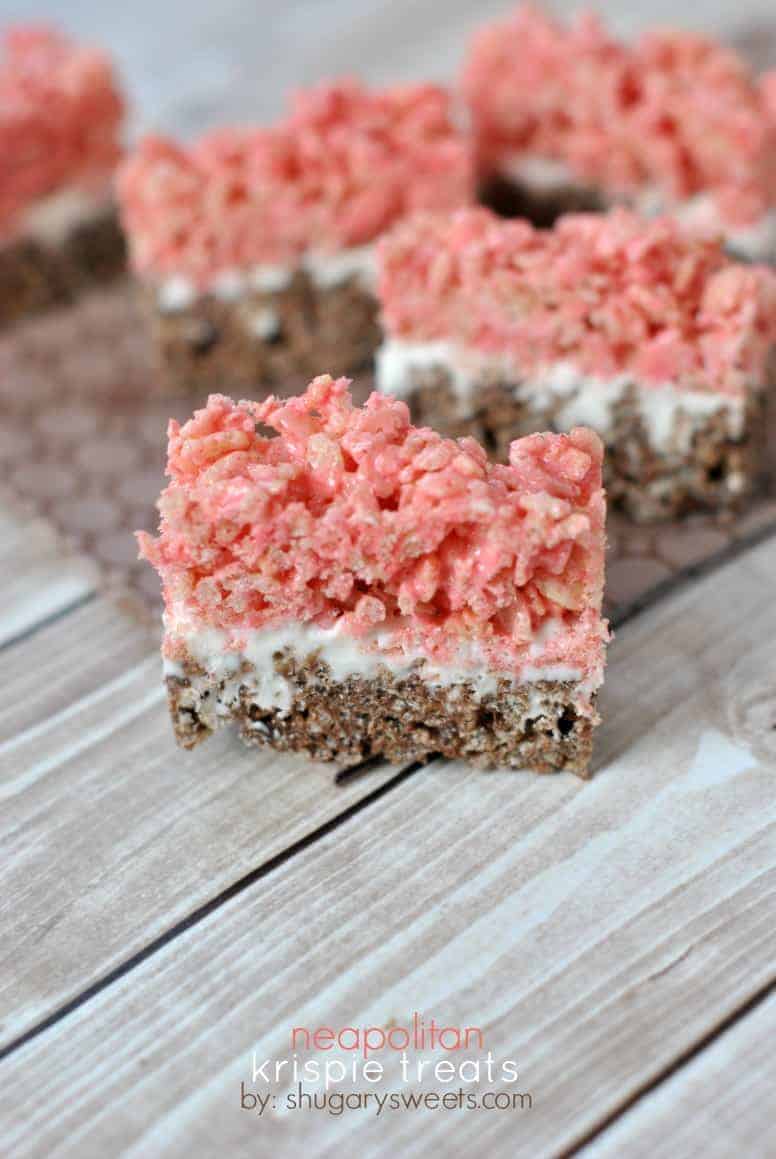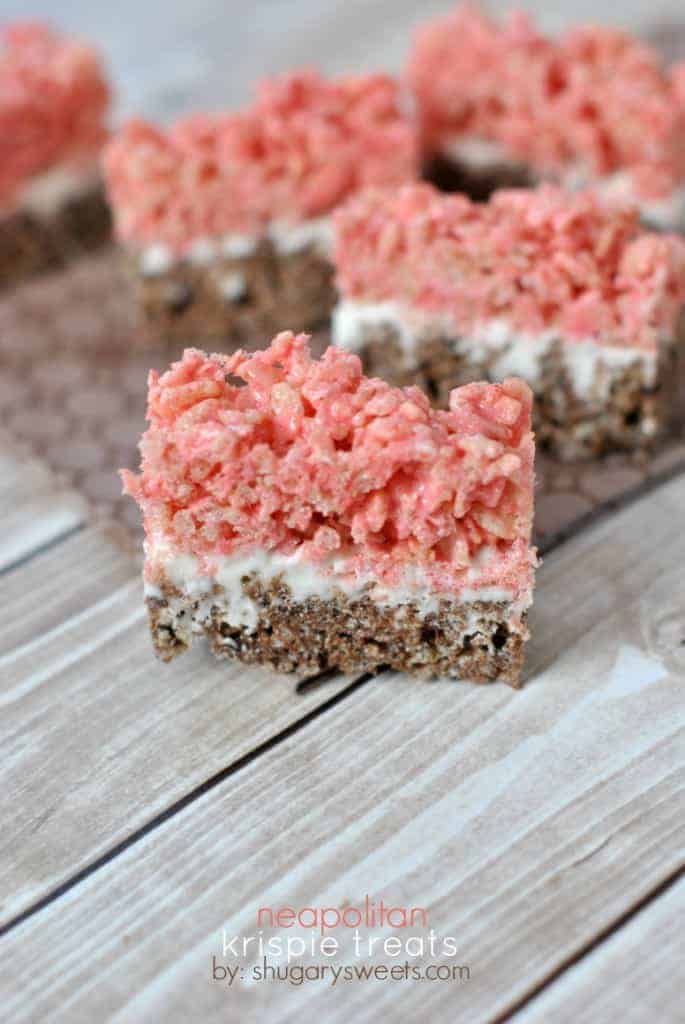 Neapolitan ice cream was made for those of us who have a hard time choosing. Strawberry chocolate, vanilla . . . give me a scoop with all of it please!
Why this Treat is Best
Strawberry and chocolate rice krispie treat layers.
Sandwiched together with a creamy marshmallow filling.
Inspired by Neapolitan flavored ice cream–only these treats don't melt in the sun!
This recipe is easy to make with an eye-catching combination of colors.
It's no secret that I am obsessed with Rice Krispie Treats.
I'm not talking about those nasty prepackaged ones in the blue wrappers…I'm talking fresh and gooey, homemade Rice Krispie Treats.
If you're new around here, you may be thinking, "How old is she? 5?"
It's true. It's the strangest thing for a grown woman (I'm almost 50, by the way) to be obsessed with Rice Krispie Treats. But I've come to embrace it over the years!
When you show up to a potluck and find a stack of homemade krispie treats on the table between the chicken tetrazinni and potato salad, it's odd.
When you make a batch at home only to eat the entire pan before your FOUR lovely children get home. Again, odd.
I am obsessed. I have no will power when it comes to those gooey delicious treats.
I hope you love these Neapolitan Krispie Treats as much as I do. Just promise me if you see them at a potluck, you won't eat all of them before I have a chance!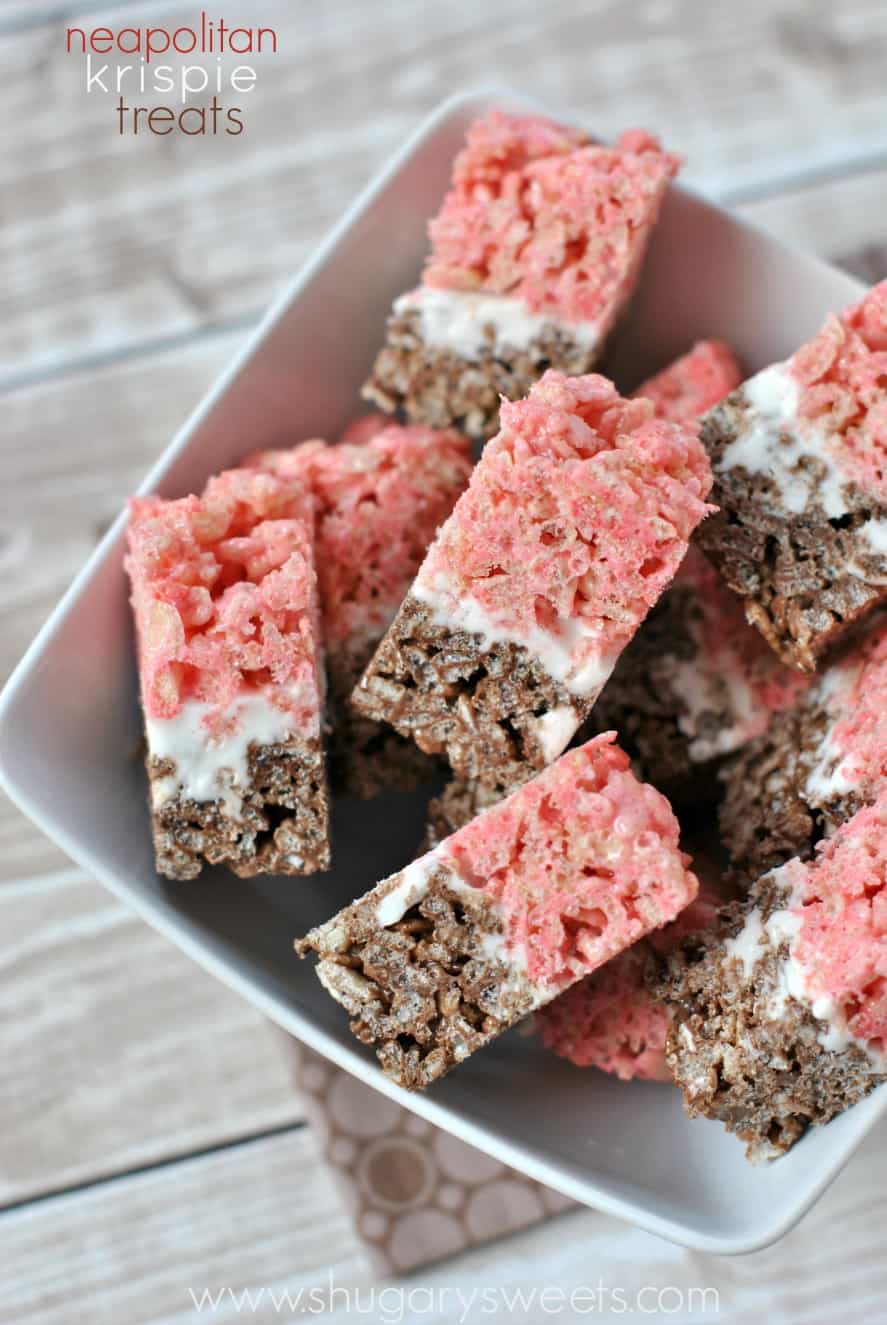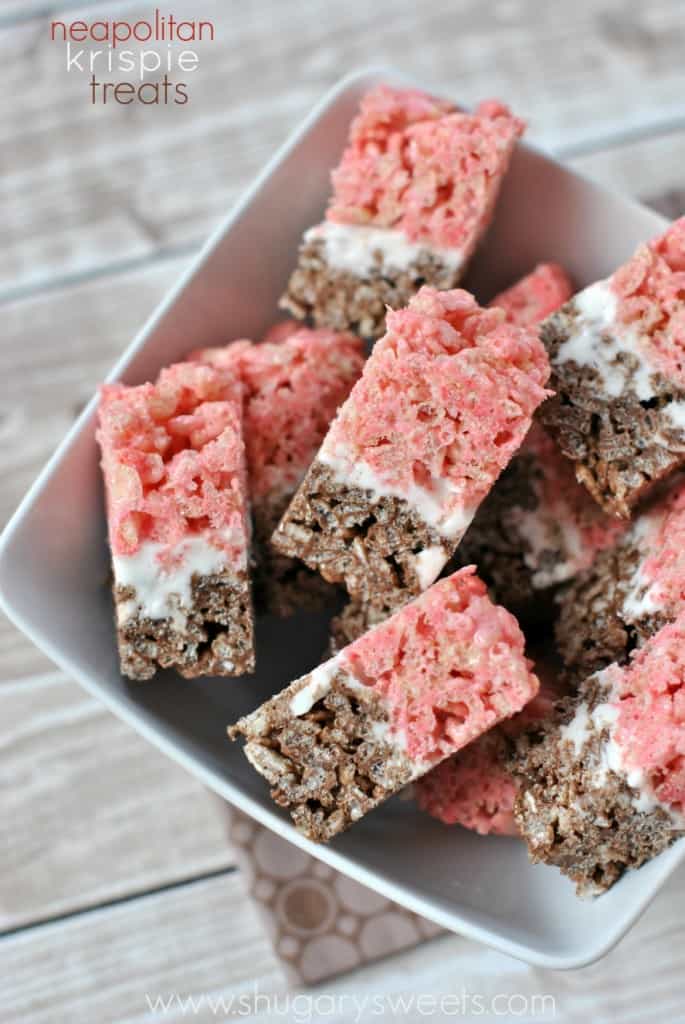 Ingredient Notes
Like all of my rice krispie treat recipes, this one starts with butter, mini marshmallows and rice krispies cereal.
To make Neapolitan krispie bars, you'll also need:
Cocoa krispies cereal – a chocolate flavored version of the classic.
Unsweetened baking cocoa – gives the chocolate krispie layer a richer flavor.
Strawberry gelatin powder – I used sugar free JELL-O in the strawberry krispie treats layer for a less overpowering flavor. If you use regular, reduce the amount to 1 tablespoon.
Marshmallow cream – for creating the sweet, soft marshmallow ("vanilla") layer at the center of the treats!
Easy Instructions
First, make the chocolate rice krispie treat mixture. Press it into the bottom of a buttered baking dish.
Beat together the marshmallow cream ingredients. Spread it over the chocolate krispie treats.
Now make another rice krispie treats mixture with the strawberry JELL-O. Gently press it over the marshmallow layer.
Cover the pan with plastic wrap or foil. Let the Neapolitan Krispie Treats set a room temperature for about 1 hour.
Slice in to bars to store, or serve and enjoy!
A few more tips for how to make Rice Krispie Treats.
Tips and Tricks
Start with fresh marshmallows. Stale mallows are hard to melt. I've tried, it doesn't work well. And it doesn't result in a chewy krispie treat
Don't over mix your cereal into your melted marshmallows. You want to fold the cereal into the mixture by running your spatula from the outer side of the bowl (pan) to the center. Trying to get the sticky marshmallow from the bottom to the top. By overmixing, you're going to make crumbs of the cereal. No bueno!
Always use parchment paper or foil in your baking dish. If using foil, make sure to spread a little butter on it so the RKT don't stick. I usually use my empty butter wrappers to do this.
DON'T PRESS your krispie treats into the pan! You don't want rock hard treats. You want to gently, using your fingertips, spread the RKT into the pan. To keep my fingers from burning (and sticking), I run them in cold water (don't dry) and press gently. I repeat in the water if they start sticking. HOPE THIS HELPS!!
Recipe FAQs
Do Rice Krispie Treats with marshmallow cream need to be refrigerated?
These treats hold up beautifully at room temperature! No refrigeration necessary.
How long do they stay good?
Neapolitan Rice Krispie Treats taste best enjoyed within 3-5 days of preparation. When I'm around, I tend to eat them all long before they get stale.
Make sure to keep the treats tightly covered for longest freshness!
Can I freeze these treats?
I don't recommend freezing homemade rice krispie treats. Some people have success with freezing them, but I like my krispie treats soft, chewy and gooey! Freezing makes them harder and less flavorful, in my opinion.
What can I use instead of cocoa krispies?
You can use any kind of chocolate cereal, like cocoa puffs or chocolate cheerios! The taste will be a little different without rice cereal but still delicious.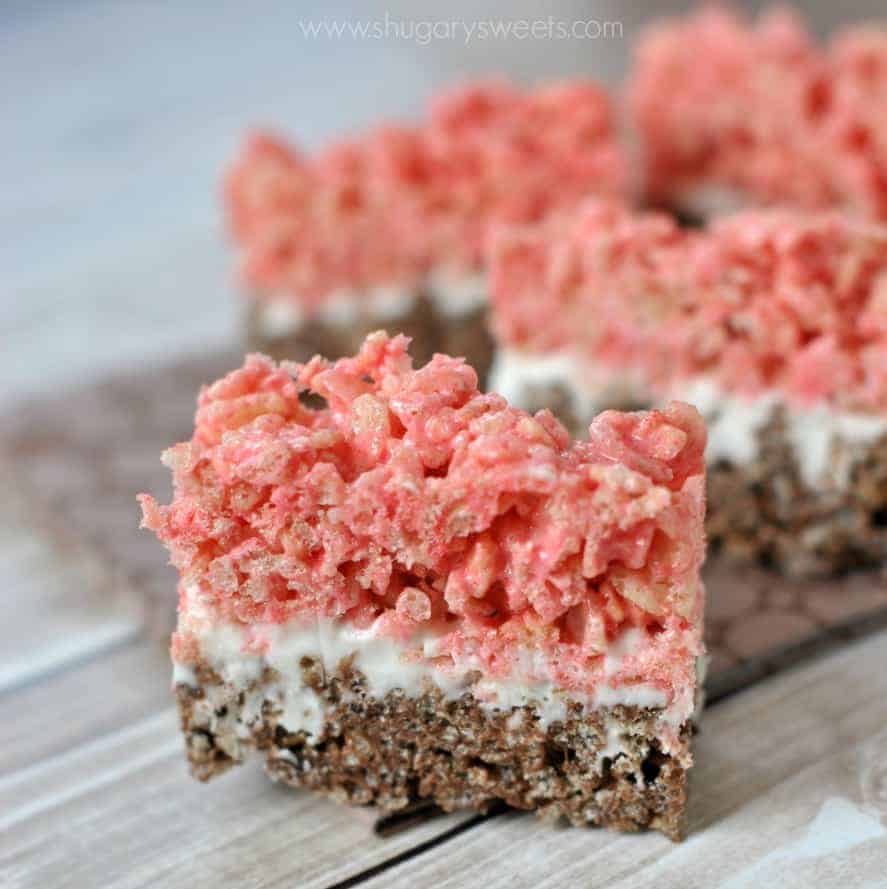 More Easy Dessert Recipes
Neapolitan Krispie Treats are easy to make with layers of chocolate, marshmallow and strawberry!