Too hot to turn on the oven? Try making this No Bake Peanut Butter version of a Chocolate Eclair Cake!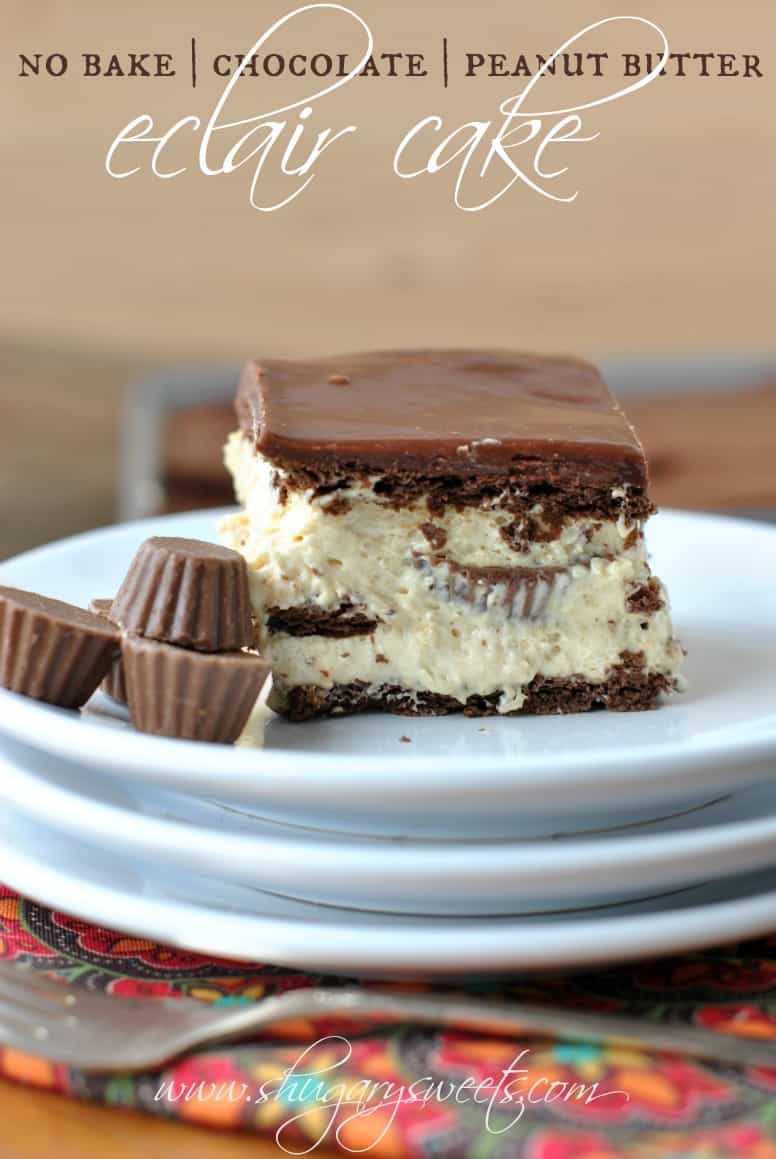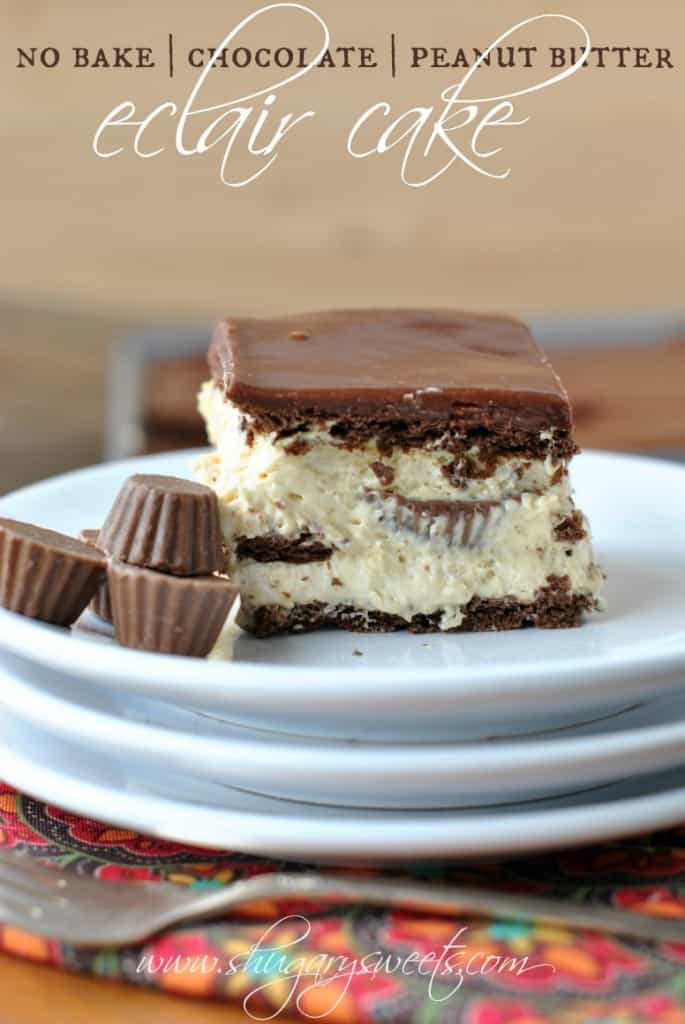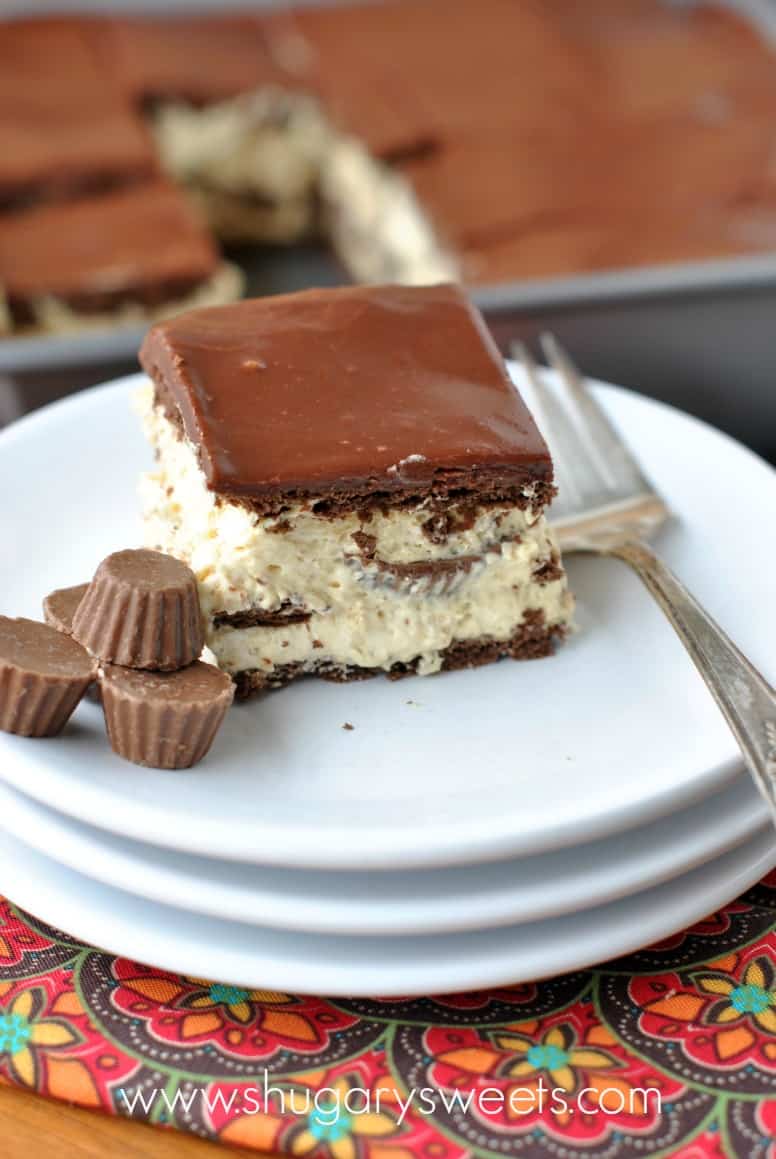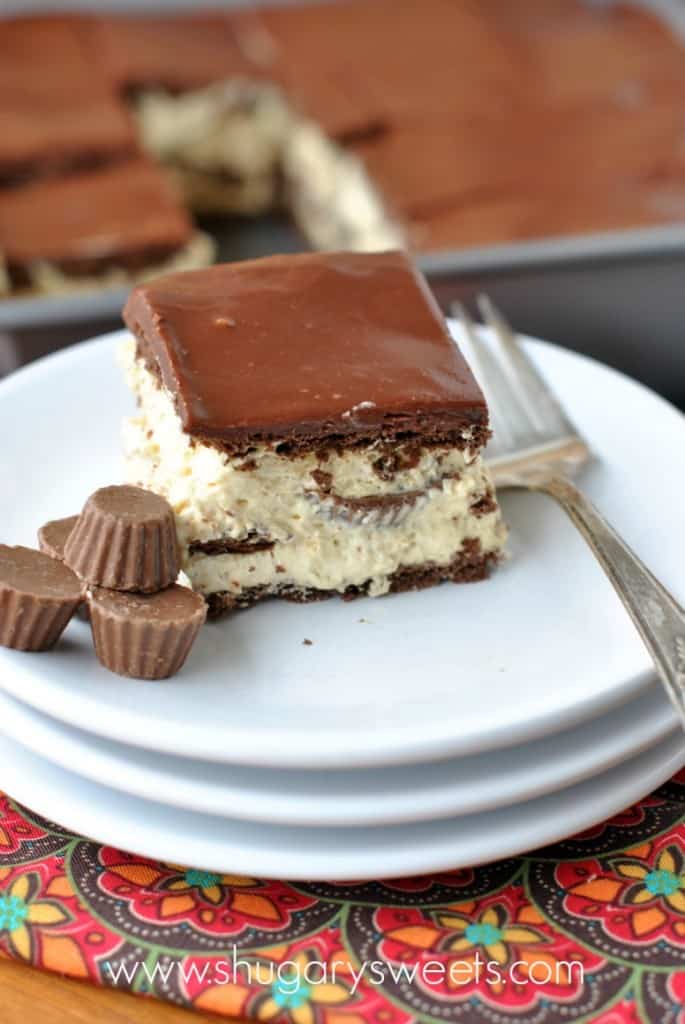 Sometimes, you, my readers have the best ideas! Last month I shared a Strawberry Eclair Cake recipe. Which is basically a twist on the traditional Eclair Cake.
One of you suggested I make a peanut butter version. And I'm so glad you did! I used chocolate graham crackers instead of original honey, which gave a delicious chocolate twist to the cake!
I also added peanut butter to the pudding filling. Oh, and some whole Reese's Peanut Butter cups. I made a homemade chocolate frosting, but if canned frosting is your thing, go for it! I also scaled this recipe down to a 9inch baking dish instead of a 13×9. It's quite rich, so you don't need as large a slice!!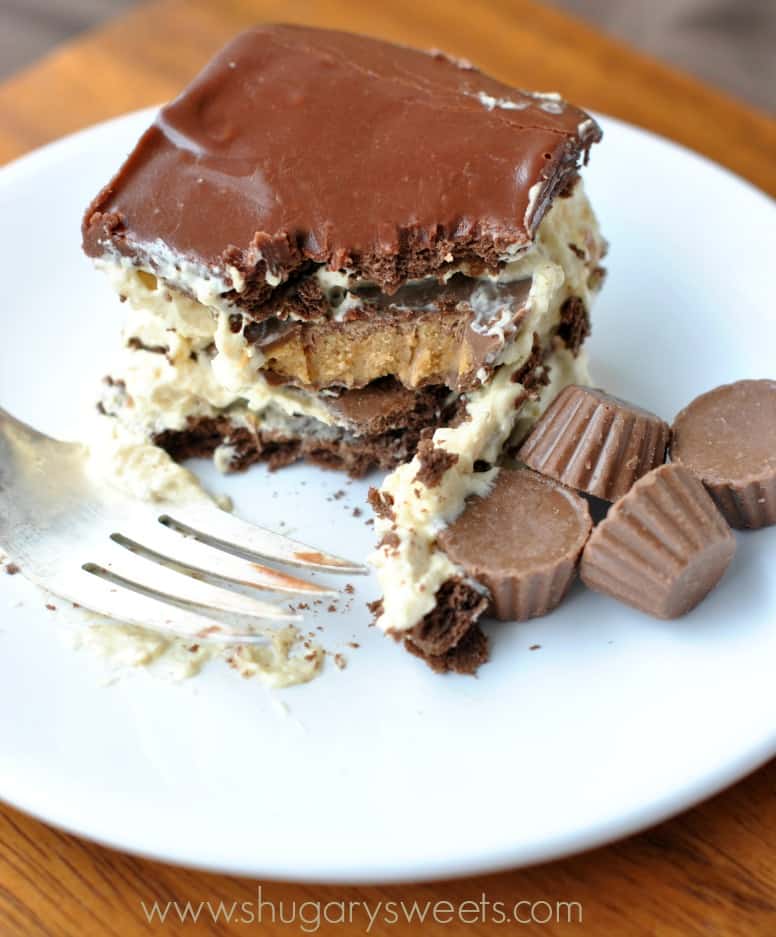 One bite of these and you will be so glad you tried this version! Be sure you let this cake sit in the fridge for at least 4 hours (or overnight) to help soften the crackers! It's an important step, k?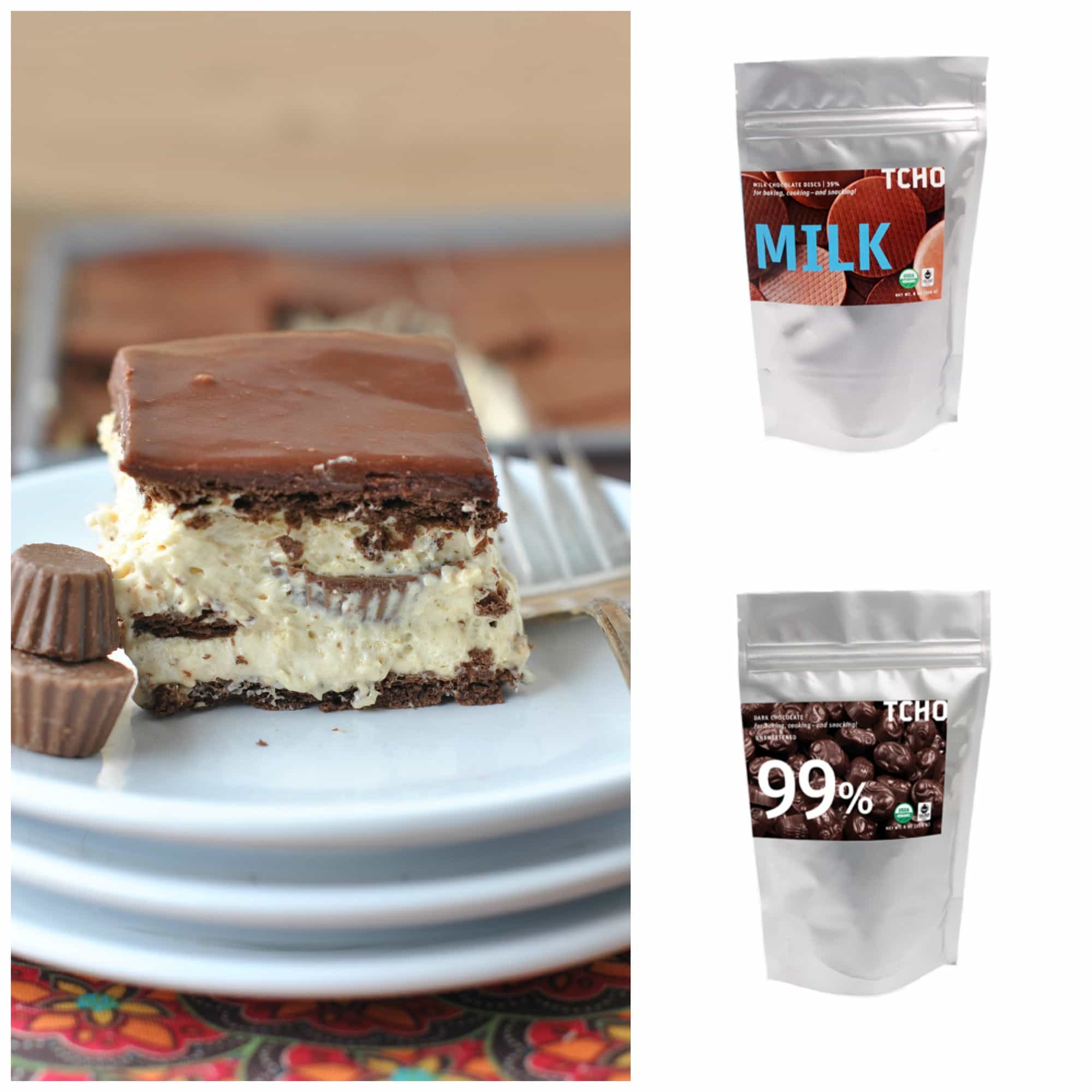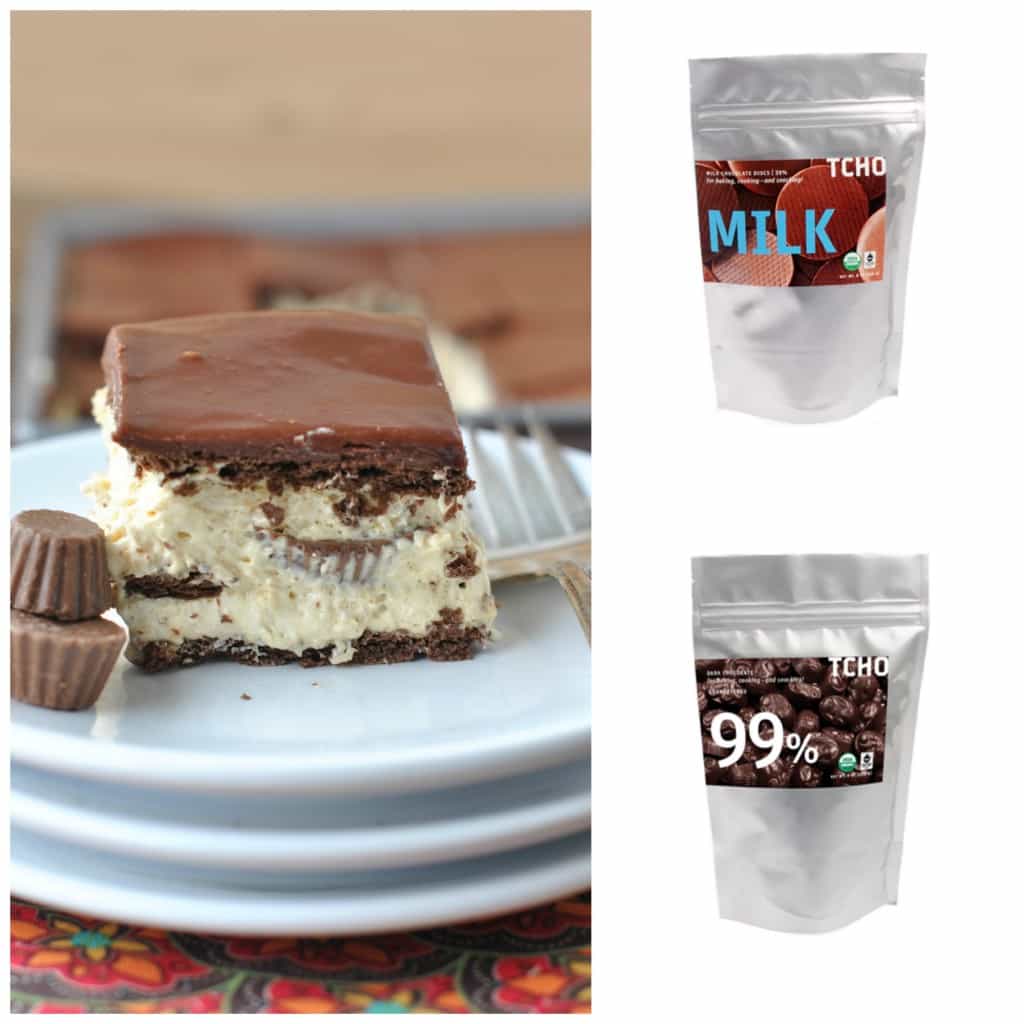 Speaking of the homemade frosting, I used one of my new favorite discoveries! TCHO Chocolate. I used their 99% unsweetened chocolate critters. They are so adorable too. But, word of warning, don't let their cuteness be mistaken as a good snack. They are unsweetened. So unless you like to snack on unsweet chocolate, (NOT ME) don't pop them in your mouth.
However, please please please use these for making delicious smooth and creamy frosting! I'm delighted in how smooth this chocolate melts. As some of you many know, chocolate can be difficult, temperamental product. And you want a good quality chocolate filled with rich creamy flavor, but also a product that melts perfectly. EVERY TIME. So far, TCHO Chocolate has been that perfect product!
TCHO provided me some samples, and I can't wait to purchase this chocolate on a regular basis. I've already used the other samples (dark chocolate and milk chocolate) in upcoming recipes! So stay tuned!!
Connect with Shugary Sweets! I know you want to see behind the scenes…check out my instagram!
Don't miss a single recipe!
Facebook | Twitter | Google+ | Pinterest | Bloglovin'
 Looking for more No Bake Recipes? Be sure you follow me on Pinterest! I have a No Bake dessert board which includes these Skinny No Bake Cookies!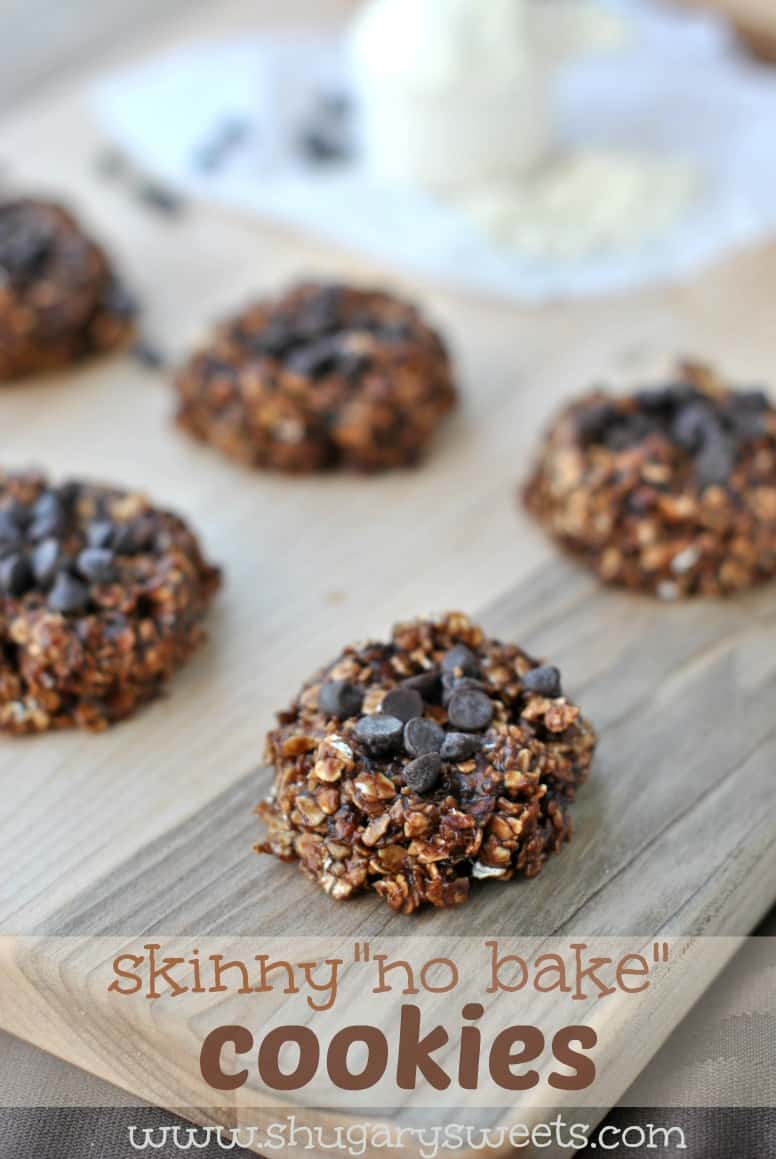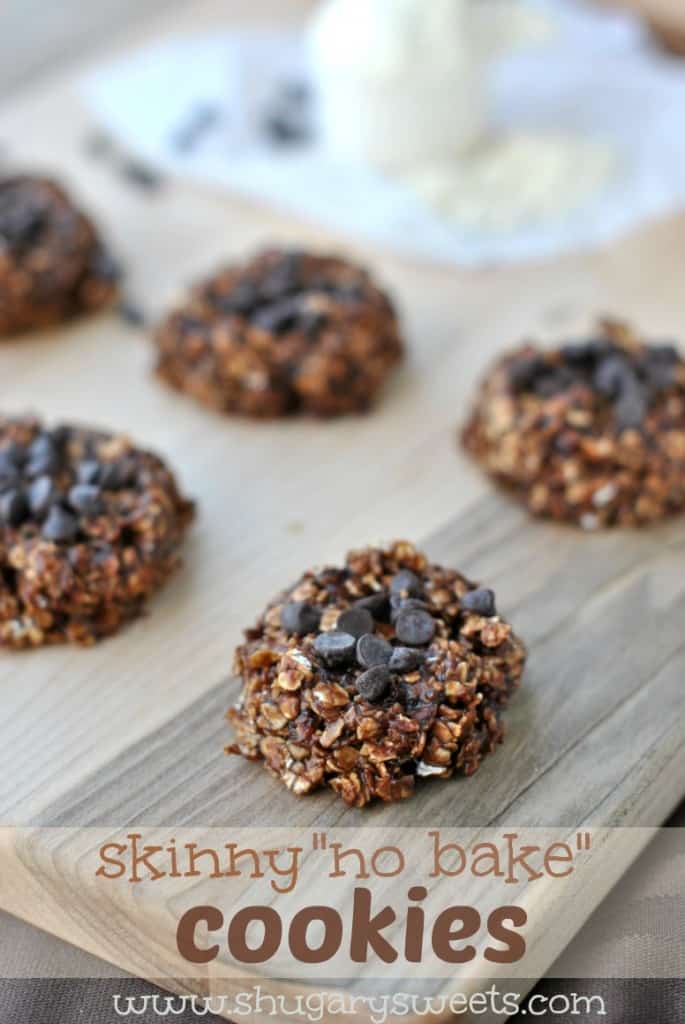 **TCHO chocolate provided me with samples. No other compensation was received. All views are 100% my own!**