Delicious Peanut Butter Cheesecake Bars are so good, you'll want to keep some to yourself! With layers of graham cracker crust, creamy cheesecake, and cookie dough, these bars are packed with peanut butter morsels and Reese's miniature PB cups!
Be sure to follow me on Bloglovin'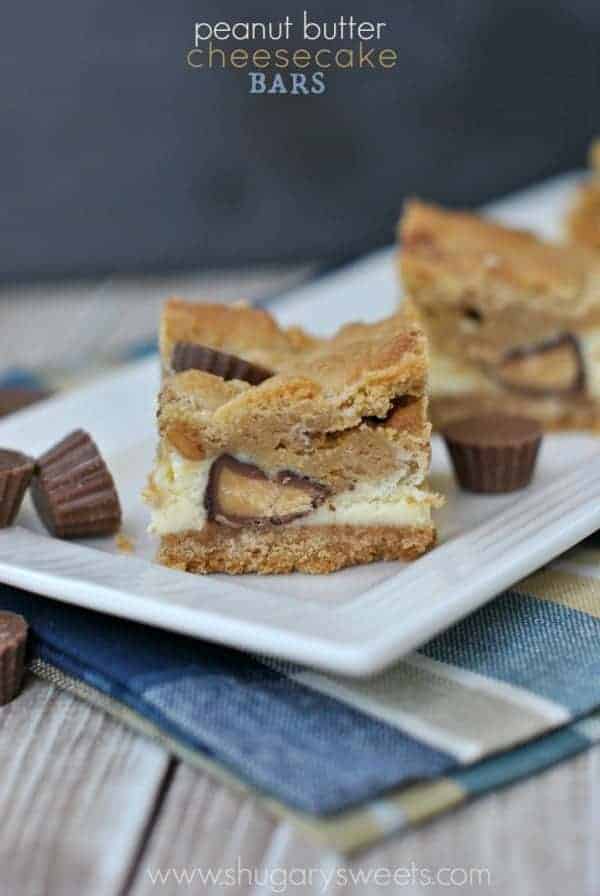 Last weekend we had a spur of the moment get together with neighbors. Surprisingly, everyone we invited showed up!
Isn't that the way it always works. You plan these big get togethers and parties and people cancel or have other plans. But you plan nothing, knock on some neighbors doors, send a couple texts, and everyone shows up! And by everyone I mean 7 other families! Drinks and desserts on the driveway.
I served a big jug of this Lemonade Beer (perfectly refreshing all summer long, we're quite in love with it)! It's great for even the non-beer drinkers, honestly!
I also made a Banana Split cake…but you won't see that recipe for another month. I'm having a Banana Split week on the blog the first week of July. Be sure to come back!
We whipped a batch of fruit salsa and guacamole too! Just in case people weren't in the mood for sweets! The other neighbors brought some delicious dips (which I need to beg for the recipes) as well as a sundae bar.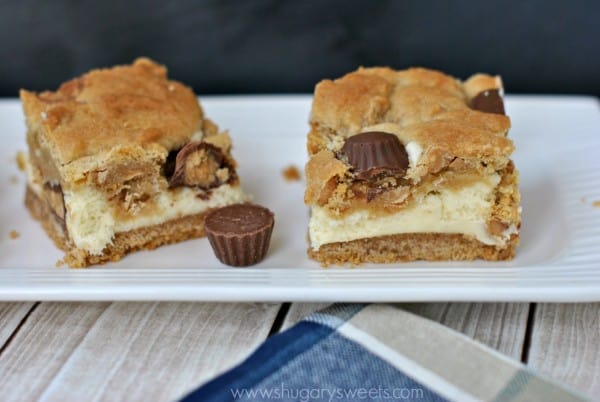 But one of my favorite treats of the night, were these Peanut Butter Cheesecake Bars. I remember loving these Chocolate Chip Cheesecake Bars so much, I wanted something that everyone would love.
And peanut butter seems to be the winner with my friends!
These bars have a layer of graham cracker crust. I always make my own crumbs by using my food processor, some sugar and melted butter. I find the taste of the already made crumbs (in a box) to be a bit off putting. But that's just me. If you like those, feel free to use them!
I then topped the crust with 1/2 bag of Reese's miniature peanut butter cups. Have you bought these pouches yet? My pantry if fully stocked with pretty much every version out there! I love them (I just saw they have peppermint patties now, pretty excited to pick up a bag of those minis)!
The next layer is a creamy cheesecake layer. I always use PHILADELPHIA cream cheese in my baked cheesecake. It bakes up perfect every time!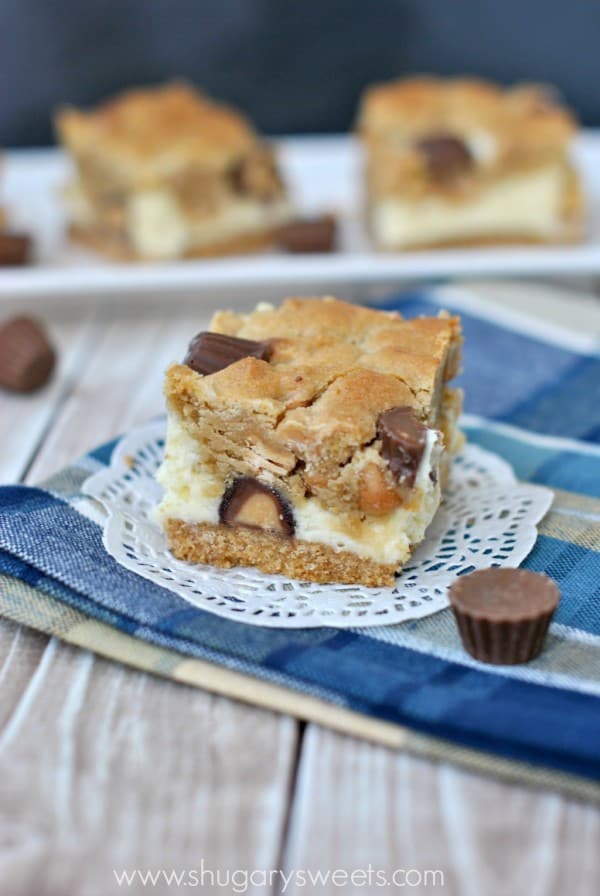 I topped the cheesecake layer with a batch of cookie dough. Instead of using peanut butter cookie dough, I used my favorite chocolate chip cookie recipe without the chocolate chips. I added peanut butter morsels instead. I didn't want the peanut butter flavor to overpower the cream cheese. I topped the cookie dough with the remainder of the Reese's peanut butter cups. This was the perfect amount of PB flavor!
Be sure you give these bars time to cool and chill. Make them the night before if you have time! Or make them in the morning and serve them for dessert. The chilled cheesecake layer is divine. Plus they are easier to cut after chilling!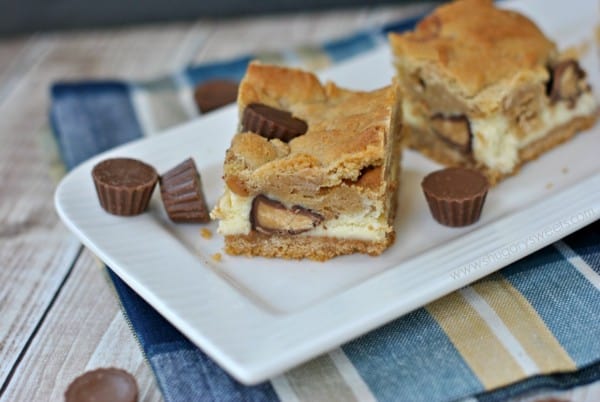 Connect with Shugary Sweets! Be sure to follow me on my social media, so you never miss a post!
Pinterest | instagram | Bloglovin'
Yield: 24 large bars
Peanut Butter Cheesecake Bars
Prep Time
3 hours
15 minutes
Ingredients
For the crust:
2 1/2 cup graham cracker crumbs (about 18 crackers)
1/4 cup granulated sugar
1/2 cup unsalted butter, melted
For the cheesecake:
2 packages (8 oz each) cream cheese, softened
3/4 cup granulated sugar
2 large eggs
1 tsp vanilla extract
For the Cookie dough:
3/4 cup unsalted butter, softened
1/2 cup granulated sugar
3/4 cup light brown sugar, packed
1 large egg
2 Tablespoon milk (I used skim)
2 tsp vanilla extract
1 3/4 cup all-purpose flour
1/2 tsp kosher salt
1 tsp baking soda
1 package (10oz) Reese's peanut butter chips (morsels)
1 pouch (8oz) Reese's minis peanut butter cups
Instructions
Line a 13x9 baking dish with parchment paper. Preheat oven to 350 degrees F.
For the crust, place graham crackers and sugar in food processor. Pulse until fine crumbs. Add melted butter and process. Pour into bottom of baking dish. Using the bottom of a cup (or hands), press crumbs down firmly until they cover the bottom of the dish evenly.
Top with 1/2 the package of Reese's minis pb cups.
For the cheesecake, beat cream cheese with sugar, eggs and vanilla for about 3-4 minutes until creamy and well blended. Pour over crust layer.
For the cookie dough, beat butter and sugar until creamy. Add egg, milk and vanilla, beating until well combined. Beat in flour, salt and baking soda. Fold in Reese's peanut butter chips. Drop by large scoops over cheesecake layer, using fingers to spread evenly. Top with remaining peanut butter cups.
Bake for 30-35 minutes, until cookie layer is lightly browned. Remove from oven and cool completely. Once cooled, refrigerate for 3 hours or overnight.
Cut into bars and enjoy!
Love Peanut Butter? You've come to the right place!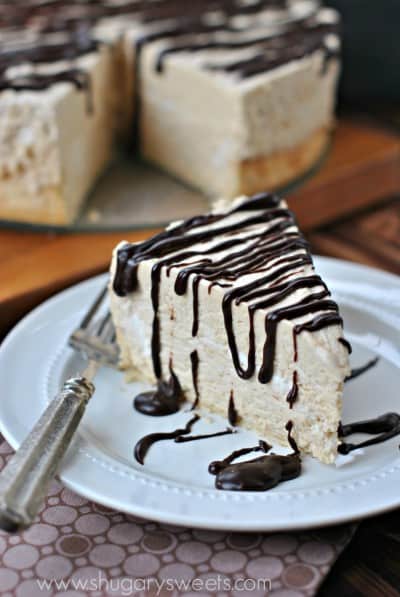 Peanut Butter Mousse Pie with chocolate ganache. You will want to make this recipe. SOON.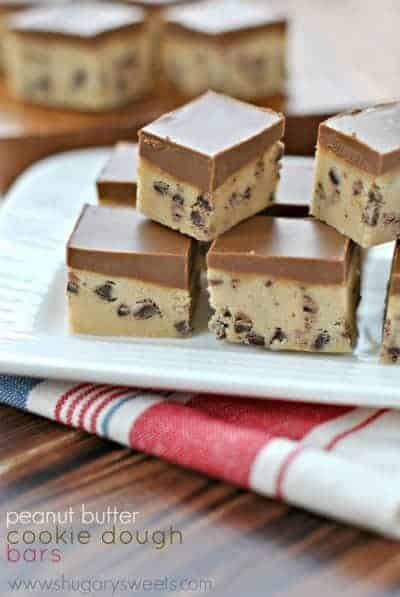 The name says it all: Peanut Butter Cookie Dough Bars. No bake bites of deliciousness!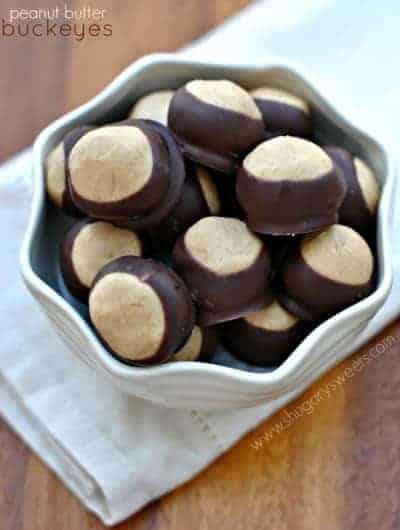 Peanut Butter Buckeyes: an Ohio favorite