Get a taste of summer with this refreshing Pina Colada Smoothie. Packed with flavor and protein, it's a fabulous workout recovery smoothie or poolside sipper.
Learn how to make toasted coconut as the perfect garnish for this smoothie! It's delicious on this Coconut Banana Bread too.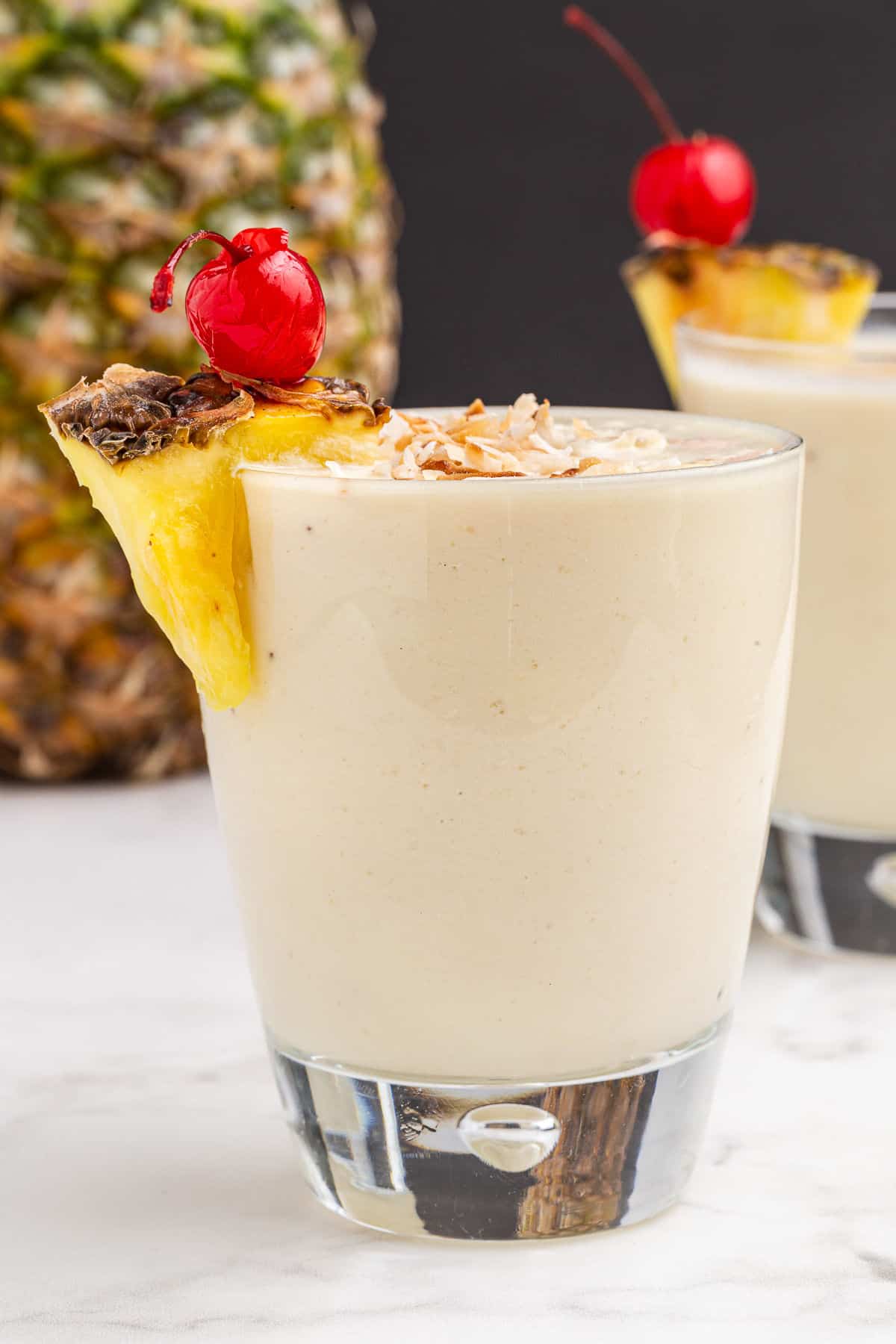 Why this Recipe is Best
You can serve this easy Pina Colada Smoothie as a healthy breakfast or post-workout snack OR as a healthier, non-alcoholic twist on the classic beachy cocktail. Kids love it as much as the adults!
Healthy indulgence – Greek yogurt and unsweetened fruit give this smoothie its creamy sweet flavor.
Protein packed – Add your favorite protein powder to make it even more satisfying.
Nonalcoholic Pina Colada – We use rum extract to make this blended drink taste even more like the real thing!
Refreshing and Easy – Sip this smoothie any time of year for an instant taste of the tropics.
Ingredient Notes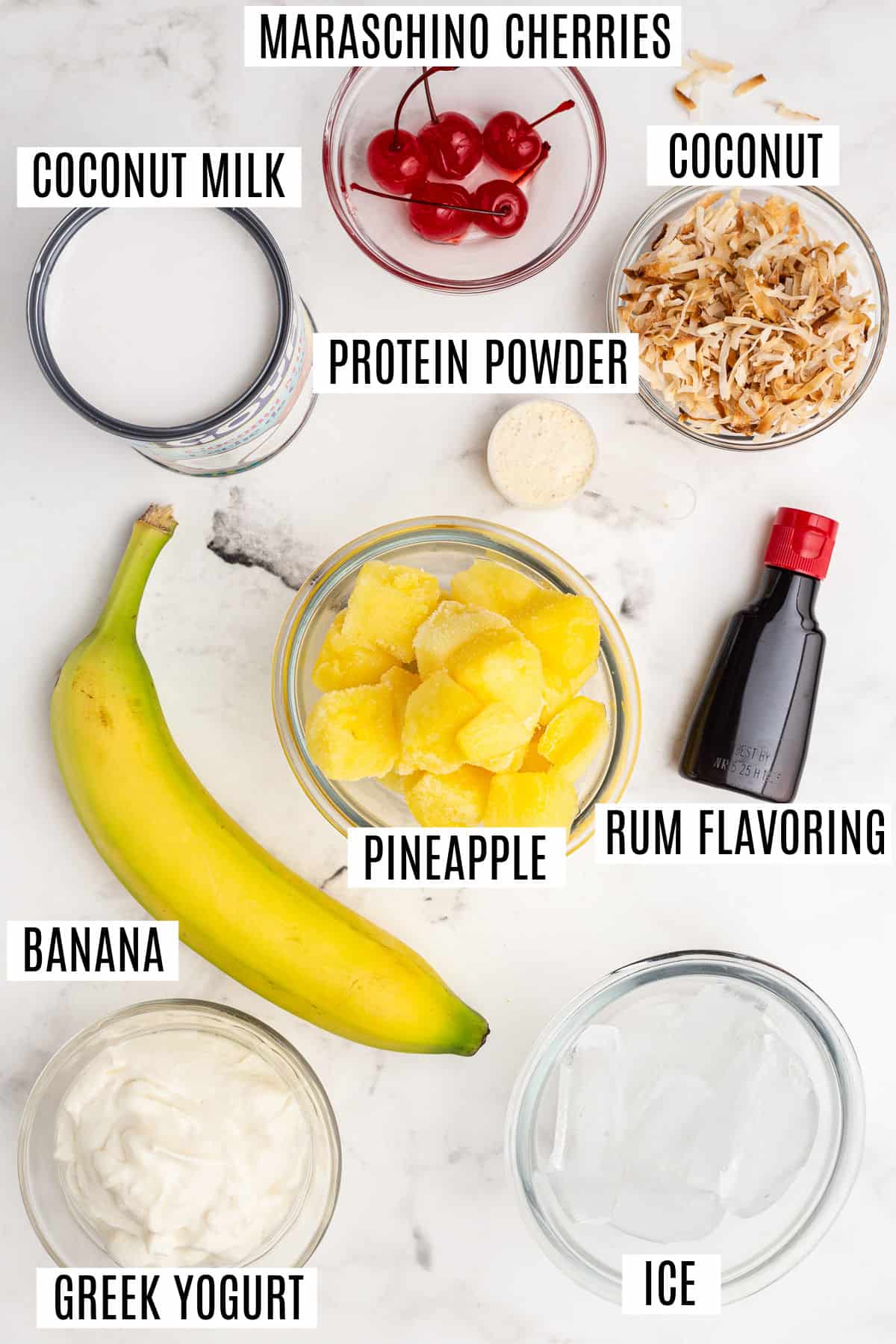 Vanilla Greek Yogurt – Thicker than regular yogurt, it makes the smoothie extra creamy while giving it a hint of vanilla flavor.
Pineapple – I've used fresh, frozen and canned in this pineapple smoothie recipe. They all taste great, so use what is most convenient for you.
Banana – This thickens the smoothie while adding lots of sweetness–no extra sugar required in this recipe.
Rum flavoring – The extract mimics the rich flavor of rum in the traditional pina colada cocktail without adding alcohol. We love it in eggnog flavored recipes too.
Protein powder – It's totally optional but a great way to add a little more protein to your diet! I recommend a vanilla flavored protein powder here.
Toasted coconut – Another optional ingredient! This provides a beautiful and delicious garnish for the pineapple coconut smoothie.
Tips and Tricks
This recipe is the perfect way to use ripened frozen bananas. If your bananas start to overripen before you can eat them all, just peel them and stash them in the freezer to use in this recipe.
Adjustments for frozen fruit. Frozen bananas and pineapple make the smoothie super thick and creamy. If you notice it's too thick, add a little milk to the blender until the consistency is to your liking.
Serving suggestions: Pour into a glass and top your smoothie with a maraschino cherry and sprinkle of toasted coconut. Pineapple wedges make a great garnish here too!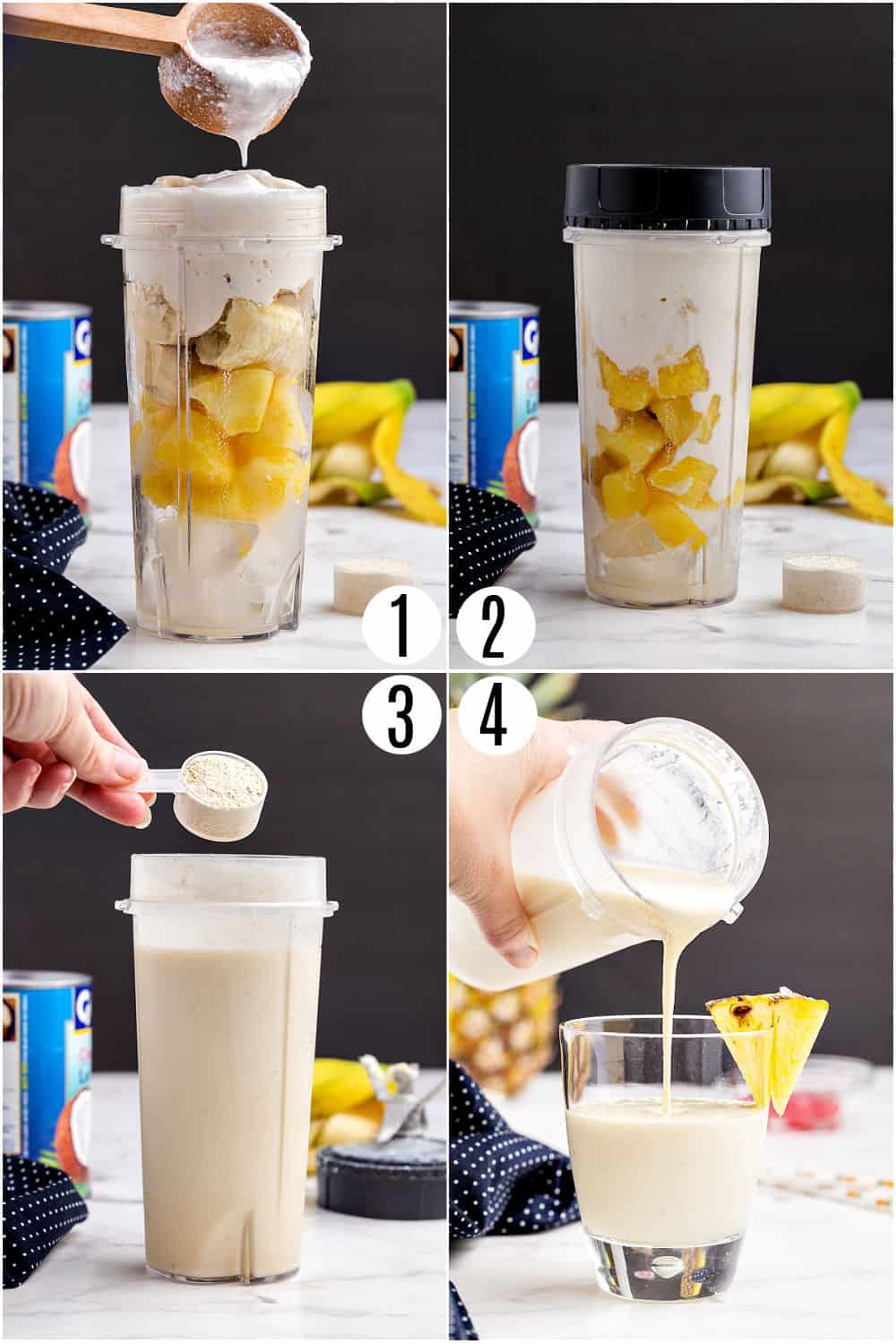 Recipe FAQs
Can I use regular vanilla yogurt instead of Greek yogurt in smoothies?
Yes, you can use regular yogurt in this smoothie recipe. The drink may be a little less thick but it will still taste delicious.
How do you toast coconut?
To toast coconut, bake it in an even layer at 375 degrees for about 5 minutes or until lightly toasted. See full instructions for this method of toasting coconut here.
Can I double this smoothie recipe?
You sure can! If your blender isn't large enough, it's so easy to just blend the Pina Colada Smoothies it in two batches.
Is rum extract or imitation rum flavor better?
You can use either one in this recipe! Real rum extract has a deeper more robust flavor but comes at a higher price tag. The less expensive imitation flavor works perfectly fine here, since it's blended with so many other ingredients.
Does the rum flavoring make the smoothie taste like alcohol?
No, it does not. The rum extract brings the complex, rich flavor of rum to the beverage without the sharpness of alcohol.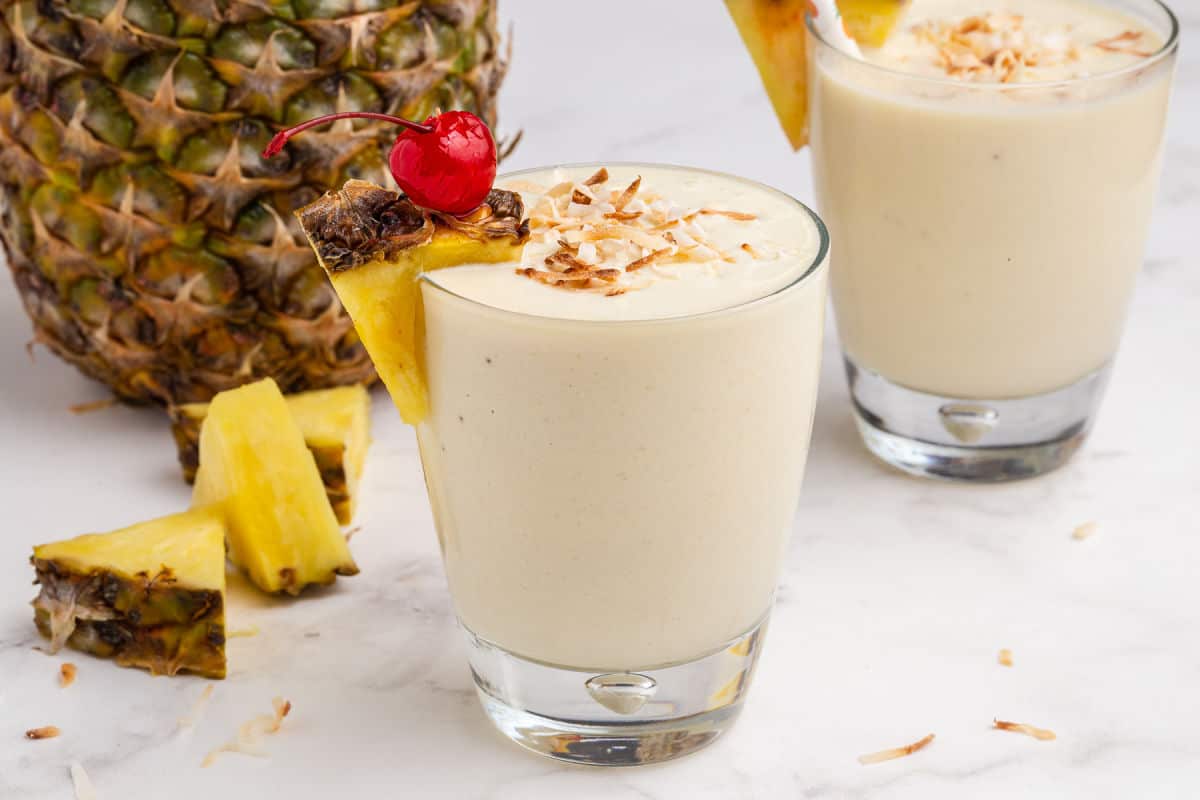 Whether you're lounging in a cabana or running from the gym to the office, this Pina Colada Smoothie is a perfect refreshing pick-me-up!