Start your day off right with a healthy Cranberry Orange Smoothie! This easy smoothie recipe is full of fresh zesty flavor. Add in some protein powder for a great post workout treat!
Want more healthy smoothie ideas? Try this Green Monster Smoothie next. Give our pina colada smoothie a try next!
Still have leftover cranberries to use up from your holiday baking? Try blending them into a refreshing Cranberry Orange Smoothie!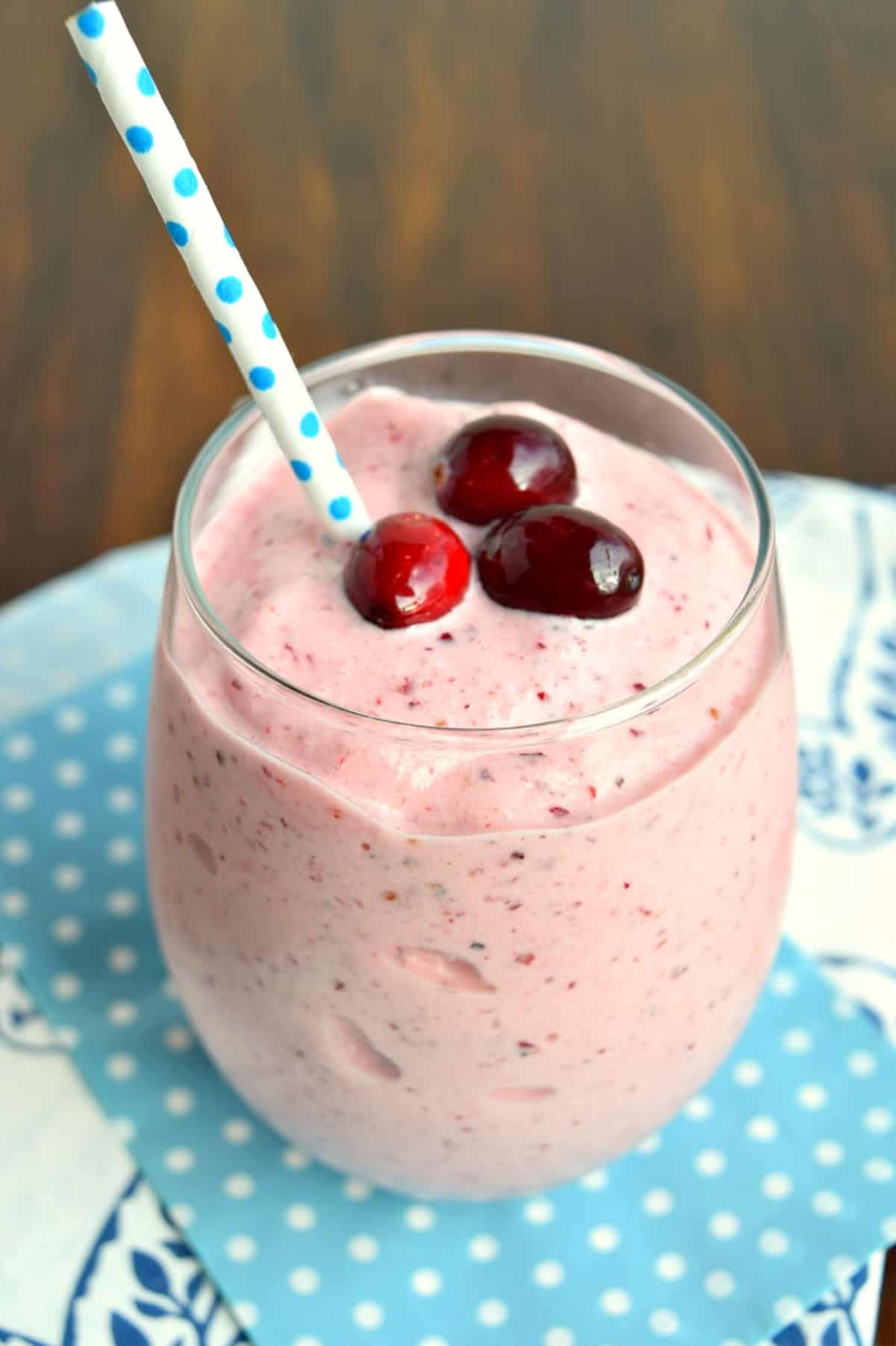 Why This Recipe Works
I can't get enough of cranberry-orange recipes, especially in the fall and winter.
Blending them into a smoothie satisfies that craving for tart citrus flavor while filling your body with good-for-you vitamins and protein. Easy and delicious!
Perfect cranberry orange flavor. If you like Cranberry Orange Muffins or Frozen Cranberry Orange Salad you're going to love this smoothie!
Thick and creamy. Made with yogurt and frozen banana, this drink has the consistency of a good milkshake–but so much healthier.
Protein boost. Blend in a little protein powder to turn it into a perfect post-workout smoothie.
Ingredient Notes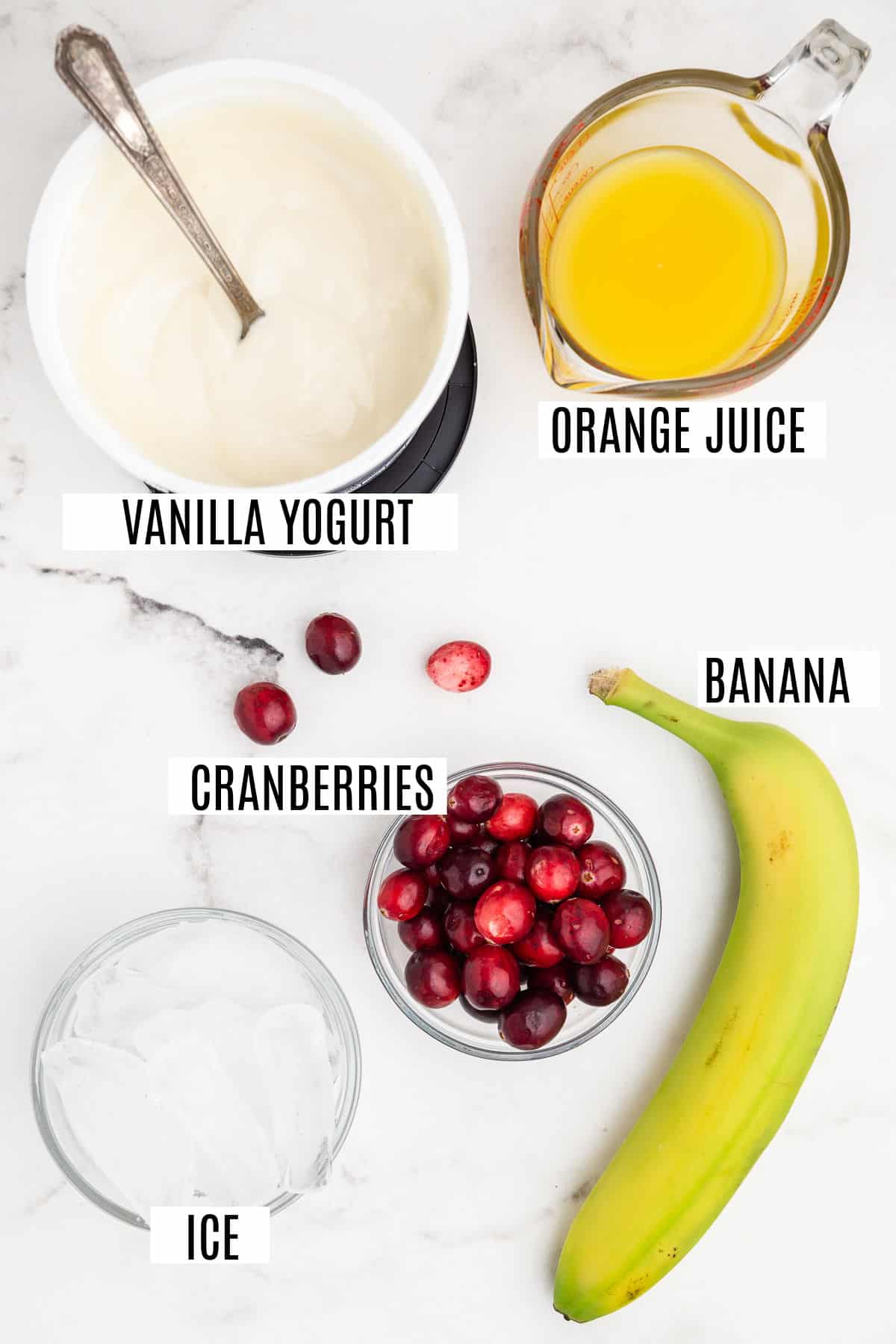 Vanilla yogurt – Any variety or brand you like is fine. I've made this with full fat, low fat and nonfat yogurt and had great results every time. Greek yogurt is my favorite, since it has more protein.
Cranberries – I use fresh cranberries, but frozen will work in this smoothie recipe too. Around the holidays, buy extra bags of fresh cranberries and toss them in the freezer. Perfect for using in today's smoothie or our favorite cranberry christmas cake!
Orange juice – Fresh squeezed or from a bottle. It's up to you.
Banana – Frozen banana is my preference for the thickest, creamiest smoothie. The sweetness balances the tart cranberries perfectly.
Protein powder – Vanilla or unflavored varieties are my preference. I usually try to find a low sugar version.
Tips and Tricks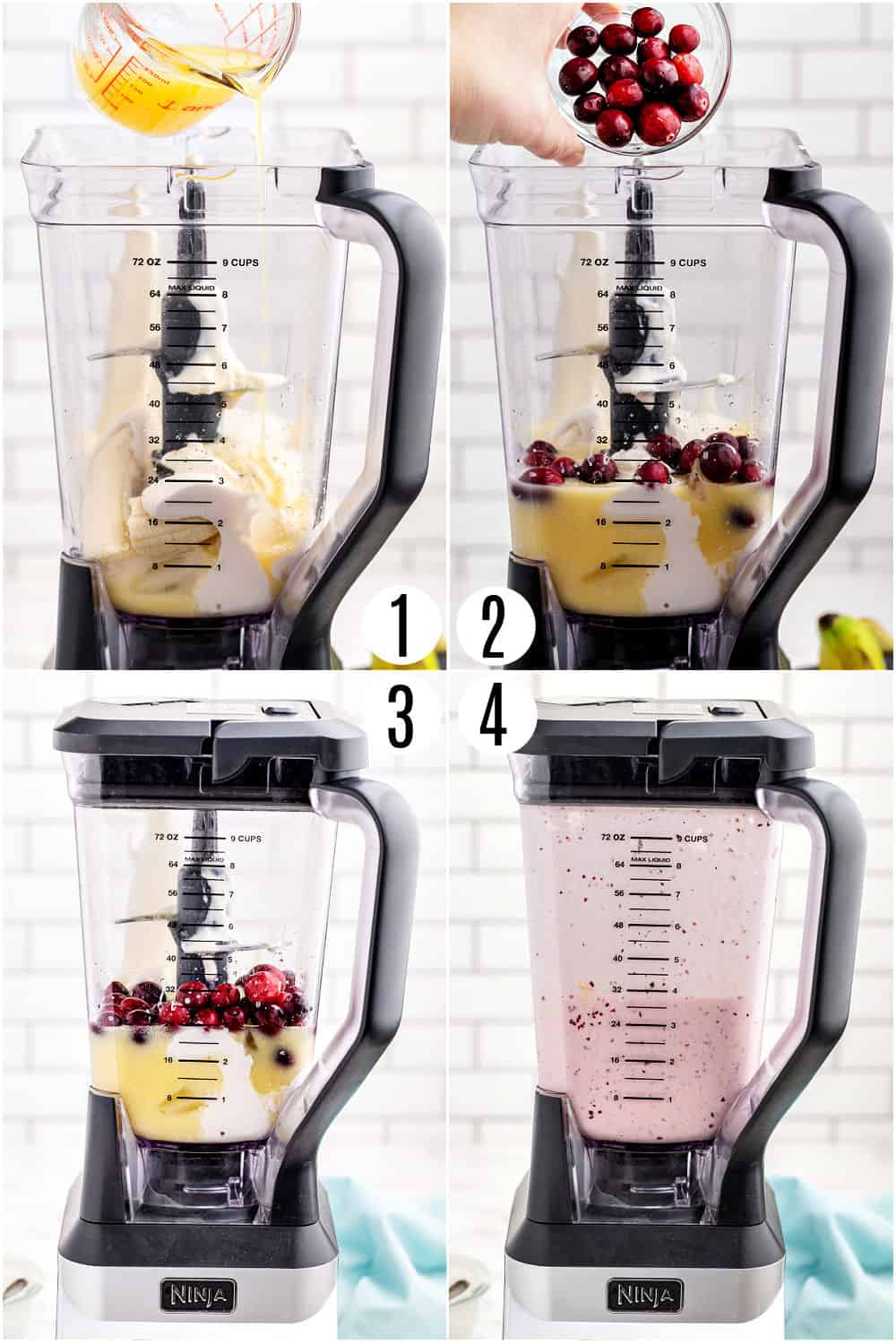 If you make this recipe with all frozen fruit, it make be very thick as you blend it. Feel free to add a splash of milk or more orange juice until the smoothie reaches your preferred consistency.
Serve immediately in one big glass or divide it between two smaller glasses.
Add a few fresh cranberries to each smoothie for a pretty garnish. An orange wedge on the rim would be a fun finishing touch too.
Got leftover sugared cranberries? Toss them in the smoothie for a sweet treat! Or blend them with vanilla ice cream to make a milkshake!
Recipe FAQs
How much protein powder should I add?
The quantity of protein powder you add will depend on the brand and your personal taste. Check the label of your protein powder for serving size recommendations.
Can I use frozen cranberries?
Yes, frozen cranberries can be used in this smoothie recipe.
How can I make this recipe dairy free?
If you need this smoothie to be dairy free, you can replace the yogurt with a nondairy version. Almond, soy and nut-based yogurts are perfect here. I would avoid coconut based yogurts unless you want a coconut flavor in your cranberry orange smoothies.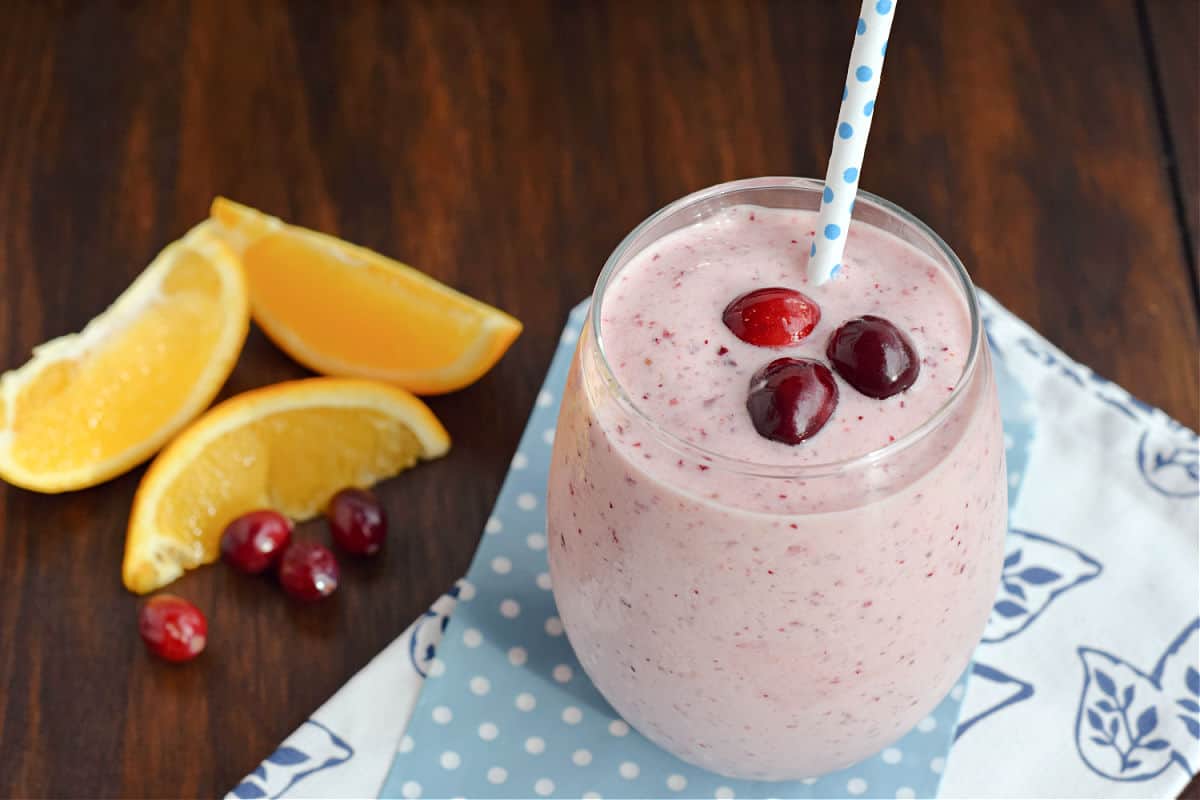 Whip up a big Cranberry Orange Smoothie for a quick healthy breakfast or a refreshing snack after your workout! This recipe creates a thick creamy smoothie with the perfect blend of sweet and tart flavors.