Reese's Peanut Butter Cup Cookies are pure peanut butter decadence. Made with Reese's cups and peanut butter morsels, these cookies have it all! Chewy and delicious.
Ever wished you could just eat cookie dough straight from the bowl? This Reese's Peanut Butter Cookie Dough Dip is for you! Or try our peanut butter cookie dough truffles for the perfect dessert!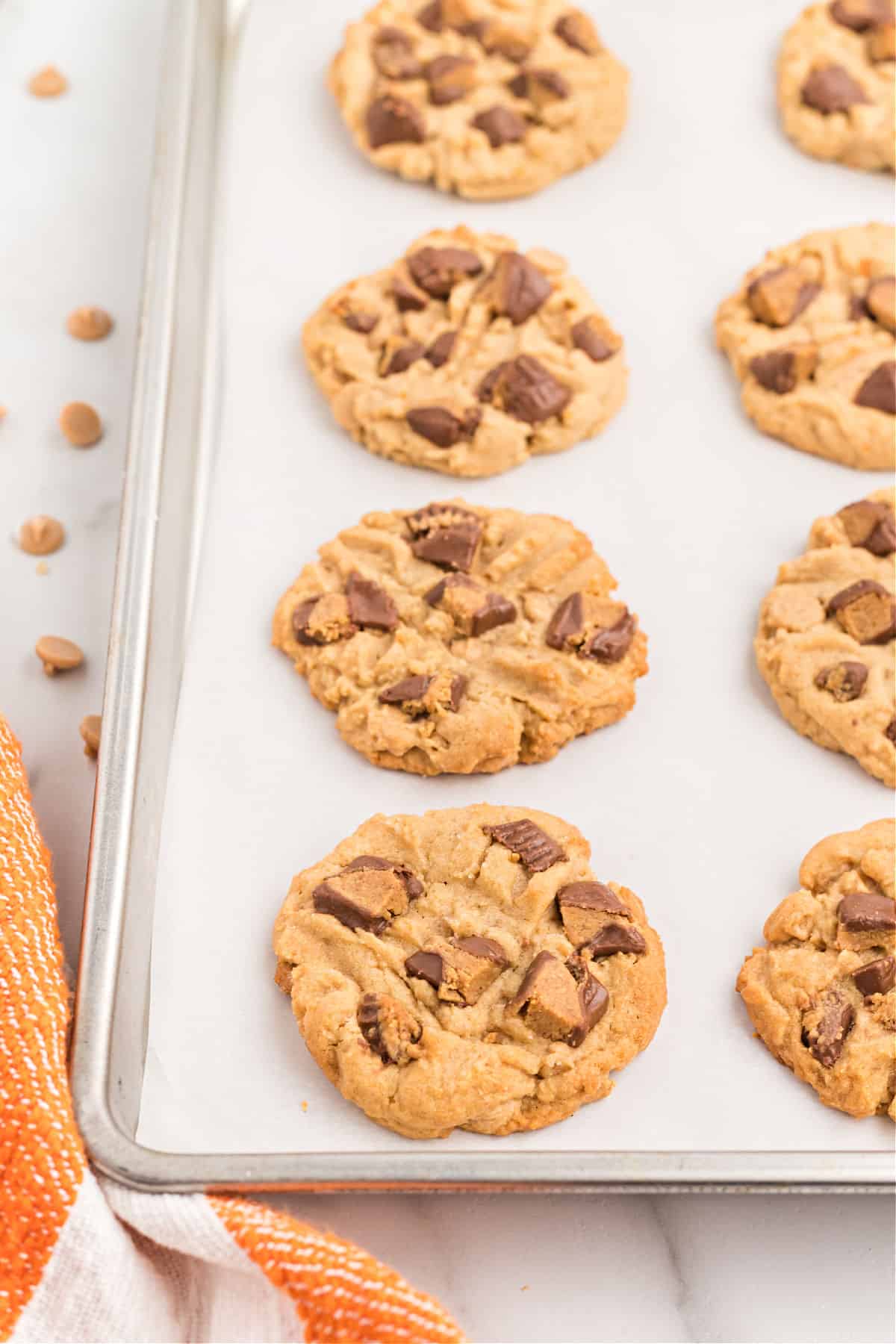 Why this Recipe Works
The only thing better than a peanut butter cookie is a chocolate peanut butter cookie.
And the only thing better than that is a chocolate and peanut butter cookie with MORE peanut butter!
These Reese's Peanut Butter Cup Cookies are about as peanut butter-y as it gets.
It starts with a rich and sweet peanut butter cookie dough.
Peanut butter morsels are folded in to the dough.
Just before baking, the cookies get topped with pieces of Reese's cups!
The resulting cookies are perfectly soft and chewy with all the decadent taste of a chocolate peanut butter cup.
Ingredient Notes
Peanut butter. For best results, use creamy shelf-stable peanut butter.
Peanut butter cups. We use the mini Reese's cups, chopped into quarters. You could also use our homemade peanut butter cups too.
Unsalted butter. Baking with unsalted butter allows you to better control the saltiness of the finished cookies.
Cornstarch. Adding a spoonful of cornstarch to the dough helps the cookies bake up thick and soft.
Easy Instructions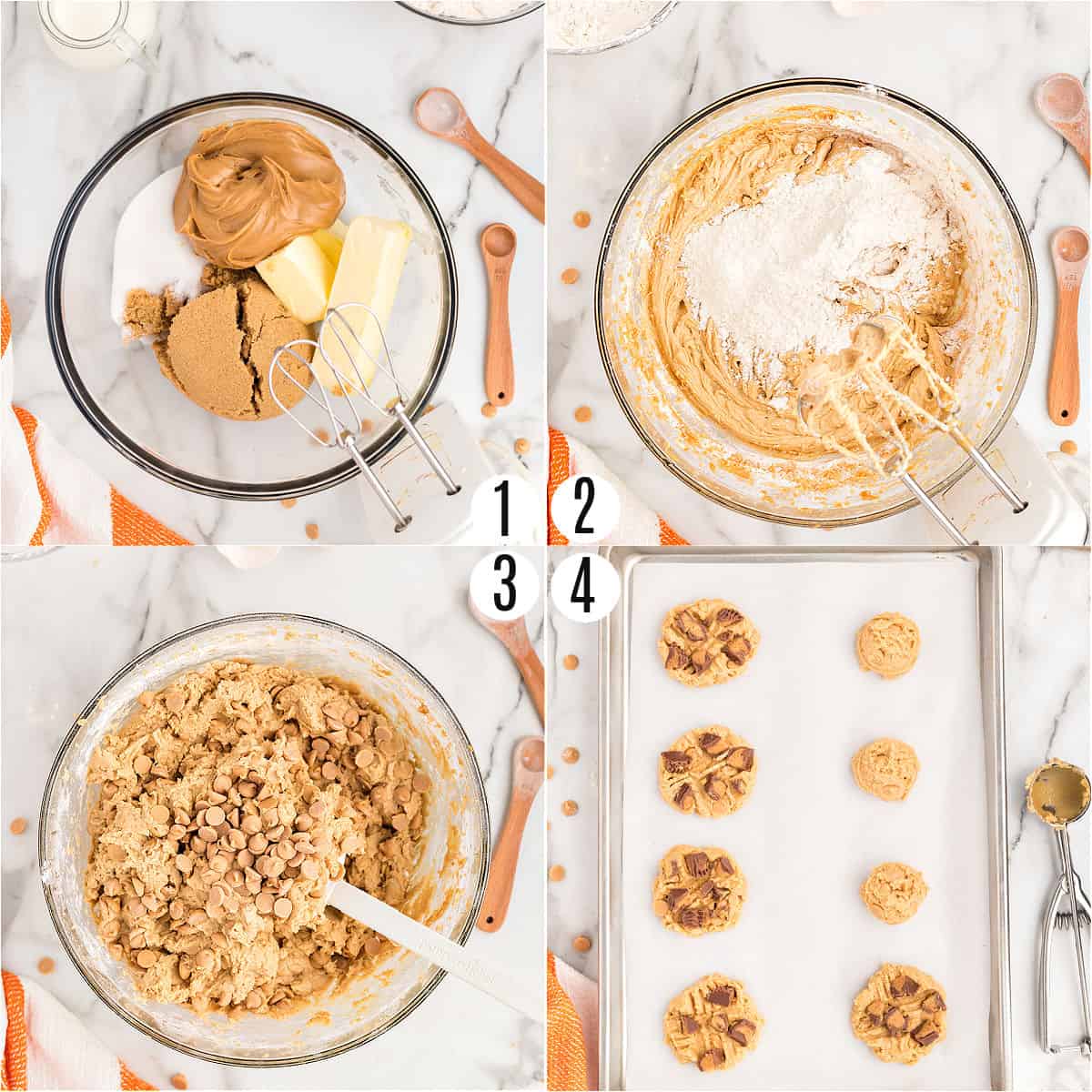 First, mix up the ingredients for the dough.
Then, drop the dough by the spoonful onto a baking sheet. Press a fork into the tops to flatten them a bit.
Before baking, press about 4-6 peanut butter cup pieces into the tops of the cookies.
Bake for about 10 minutes, let cool and enjoy!
Tips and Tricks
Let the baked cookies cool on the baking sheet for 2 minutes before transferring them. They're very soft when you first take them out of the oven but will firm up a bit more as they cool.
Mix things up by using different flavors of Reese's in these cookies, like dark or white chocolate peanut butter cups!
Store cookies in an airtight container. Enjoy within 1 week for best taste. At my house they get eaten up long before then!
Freeze Cookies. Use my tips on how to freeze cookie dough for later.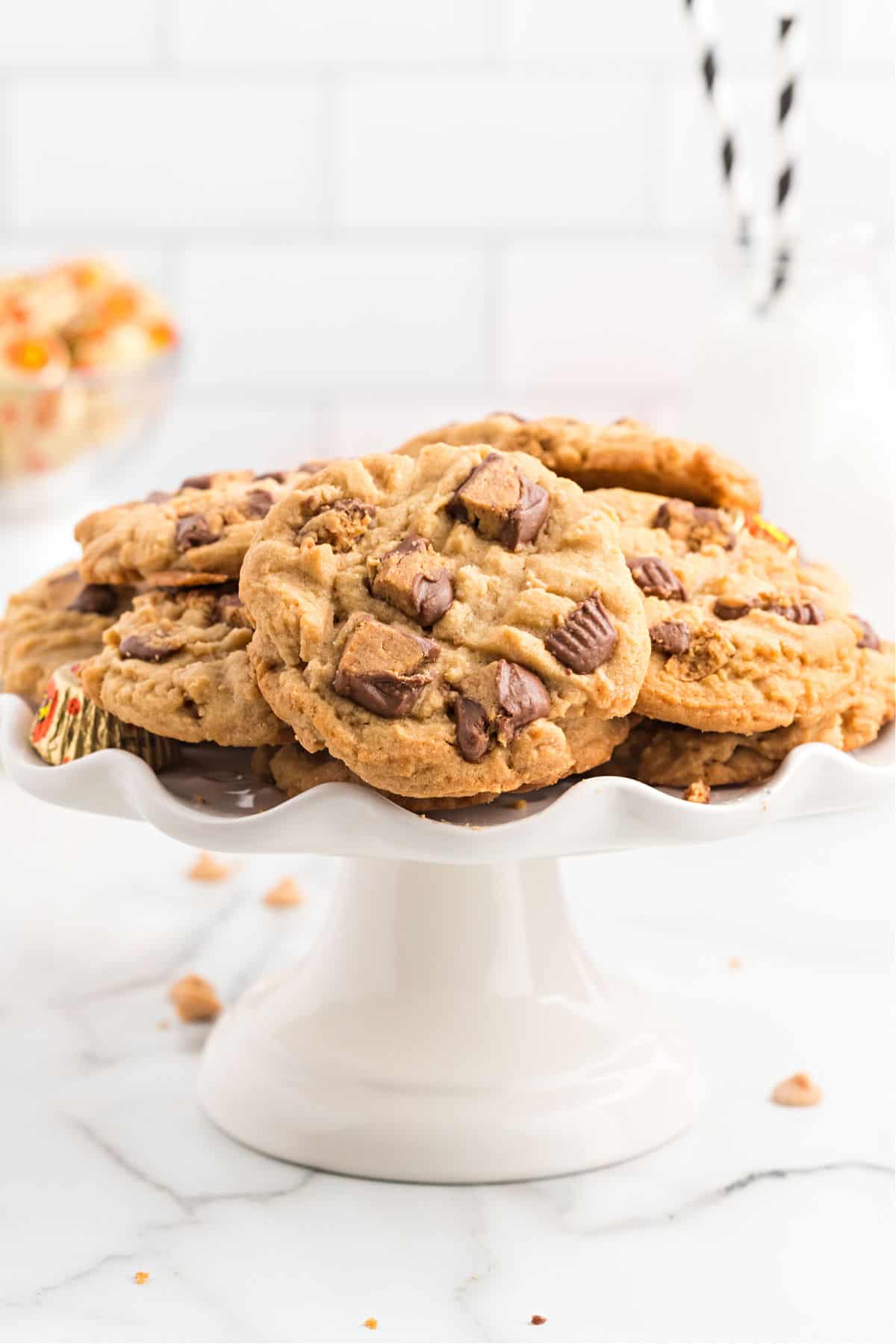 Recipe FAQs
Can I use natural peanut butter in these cookies?
I don't recommend using natural peanut butter in most of my cookie recipes. The oil in natural style of peanut butter (the kind you have to stir and keep in the fridge) will naturally separate from the nut butter as your cookies bake. This often results in greasy crumbly cookies. So, while natural peanut butter is delicious on your sandwich, it's not a good choice for these cookies!
Can I freeze these cookies?
Yes, peanut butter cup cookies can be kept in the freezer for up to 3 months. Make sure to place them in a sealable freezer safe bag to preserve the freshness.
I only have salted butter. Can I still make this recipe?
Yes, you can make these cookies with salted butter. I would omit the added kosher salt in the recipe so they don't turn out too salty!
Packed with pieces of real chocolate peanut butter cups, Reese's Peanut Butter Cup Cookies are the ultimate in peanut butter indulgence!