Raise your hand if you love Reese's! These Peanut Butter Cup Cookies have your favorite candy baked right in. When you can't decide between cookies and candy for dessert, make Reese's Cookies.
Remember my love of muffin tops? HERE, 
HERE
AND
HERE?
Well, guess what? That muffin top pan I used makes beautiful cookies too! I used it to make some giant chewy peanut butter cookies with Reese's inside.
Peanut Butter Cup Cookies
Peanut Butter Cookies happen to be my dad's favorite cookie. For father's day, I decided to make him the Ultimate Peanut Butter Cup Cookies.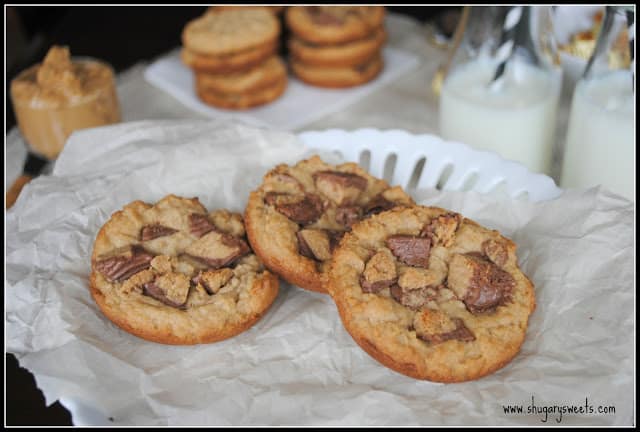 Each of these cookies is packed with peanut butter and peanut butter morsels. On top of that, I topped each one with a chopped up mini peanut butter cup!
This recipe is unapologetic peanut butter decadence. Make sure to have a big glass of milk handy–this is one RICH cookie!
Reese's Peanut Butter Cookies
If you don't want a cookie with quite so much indulgence, you could also just make them as plain peanut butter cookies with a criss cross top. This dough bakes up into a nice chewy cookie that's tasty all on its own.
To make the peanut butter cookie dough:
Beat butter with butter flavored crisco, sugars milk,  peanut butter and vanilla together in a mixer until creamy. Add eggs one at a time then beat in flour and baking soda.
You could scoop the dough into the pan or cookie sheet by the spoonful, flatten the tops and bake them OR turn them into out of this world peanut butter cup cookies like I did.
To make peanut butter cup cookies:
Fold peanut butter morsels into the cookie dough. Scoop the dough into the muffin top pan, filling each cavity.,
Chop up mini Reese's cups and lightly press them into the tops of every cookie before baking. Bake for about 10 minutes, but no more than 13 for a soft, chewy texture.
Let the baked cookies cool for a couple of minutes in the pan before transferring them to a wire rack to finish cooling completely. Pour yourself a glass of milk and enjoy!
Can you freeze peanut butter cup cookies?
Yes indeed! These big fudgy cookies hold up well in the freezer. Feel free to double the recipe so you can store some in the fridge. Then, the next time you have an irresistible craving for something rich, decadent and peanut buttery, these ready made cookies can come to your rescue!
Can you make these with a regular cookie sheet?
I chose to try baking the dough in my muffin top pan this time. It resulted in cookies that were extra thick, creating a generous "nest" for the chopped peanut butter cup topping.
You could certainly make these on a cookie sheet like regular cookies, too. Use a rounded spoon to scoop the dough onto the baking pan, then use a fork to flatten the tops a bit. You may not be able to fit as many peanut butter cup pieces into each cookie with this method. . . which means I guess you'll just have to eat the leftover candy. Or make another batch of cookies.
I know, I know. Tragic.
Tips & Tricks
Want more chocolate in your peanut butter cup cookies? Substitute half the peanut butter morsels for semi-sweet chocolate chips.
Feel free to use any peanut butter cup brand you like, here! I like the mini cups for chopping but you could also use full sized peanut butter cups and just cut them a bit smaller.
For an almond version, substitute almond butter for peanut butter and almond butter cups for the Reese's!
I do not recommend substituting butter for the crisco here. Shortening helps make these cookies extra chewy without getting greasy.
I used creamy no-stir peanut butter in these cookies! If you like a little nutty crunchiness in your cookies, chunky peanut butter would work too.
My dad gave my Reese's Peanut Butter Cookies an enthusiastic two thumbs up! I think he said something about them being the "best ever" but it was hard to tell with his mouth full of cookies.
Lest you accuse me of depriving my own kids and husband of the miracle that is these cookies, I made sure to make a second batch for us to share at home, too. The only downside is that they STILL disappeared too fast!
Cookies stuffed with peanut butter cups are so good that I temporarily forgot about all other food options and ate these for three straight "snacks" in a row. There's peanut butter in them, though, so that means they're basically a protein snack.
Don't question my logic here. . . just go bake some cookies!
Packed with pieces of real chocolate peanut butter cups, Reese's Peanut Butter Cup Cookies are the ultimate in peanut butter indulgence!