Reese's Peanut Butter Cup Cookies
Remember my love of muffin tops?
 HERE
, 
HERE
AND
HERE?
Well, guess what? That muffin top pan I used makes beautiful cookies too!
I forgot I made these cookies back in March. We went to visit my parents and peanut butter cookies happen to be my dad's favorite cookie! Happy Birthday Dad!!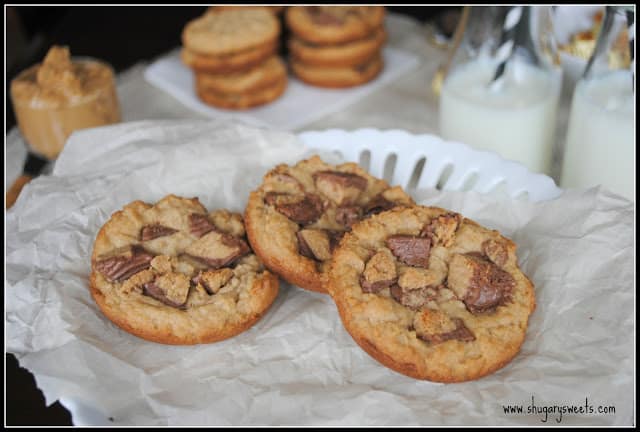 Each cookies is packed with peanut butter and peanut butter morsels. Then topped with one chopped mini peanut butter cup! One of the perks of being a food blogger? Eating the props! Especially that big bowl of peanut butter!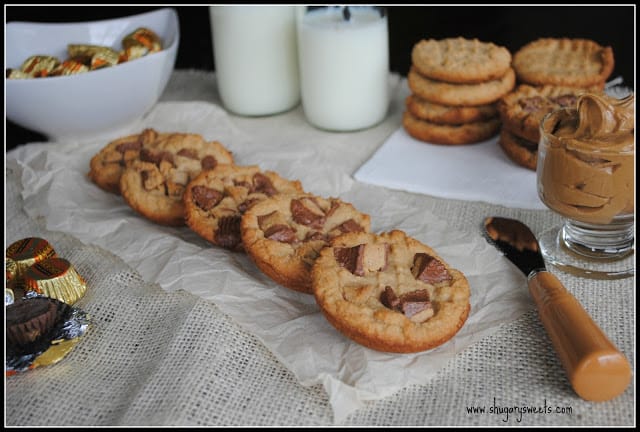 Reese's Peanut Butter Cup Cookies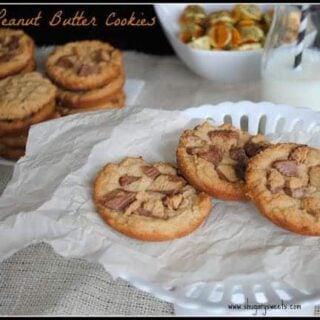 Ingredients
6 Tbsp butter, softened
3/4 cup Crisco (butter flavored)
1/2 cup sugar
2 cup brown sugar
1 1/2 cup peanut butter
1/3 cup milk
2 Tbsp vanilla
2 eggs
3 1/2 cup flour
1 1/2 tsp kosher salt
1 1/2 tsp baking soda
2 bags (11oz) peanut butter morsels
40 mini Reese's peanut butter cups
Instructions
In mixer, beat butter, crisco, sugars, milk, peanut butter and vanilla until creamy. Add eggs one at a time. Beat in flour, salt and baking soda. Fold in peanut butter morsels.

Preheat oven to 375 degrees.

Drop tablespoons of dough into cavity of muffin top pan. Flatten with fork. Chop each peanut butter cup into fourths and press into tops of cookies. Bake for 10-13 minutes. Allow to cool 2 minutes in pan, transfer to wire rack and cool completely.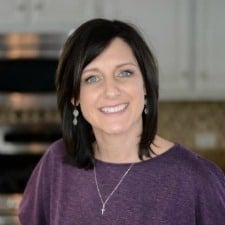 Aimee is a dessert lover (specifically rice krispie treats), workout enthusiast, self-taught foodie, and recipe creator. Her recipes have been featured in over 15 magazines, and her passion is to share her love of cooking with the everyday home cook! Learn more about Aimee.