Forget Chinese takeout. Make this low-carb Sausage Egg Roll Skillet for dinner in just 20 minutes!
Recreating your favorite restaurant dishes at home is easier than you think! Once you taste this Instant Pot Orange Chicken and today's egg roll skillet you'll be ready to throw out your takeout menus for good.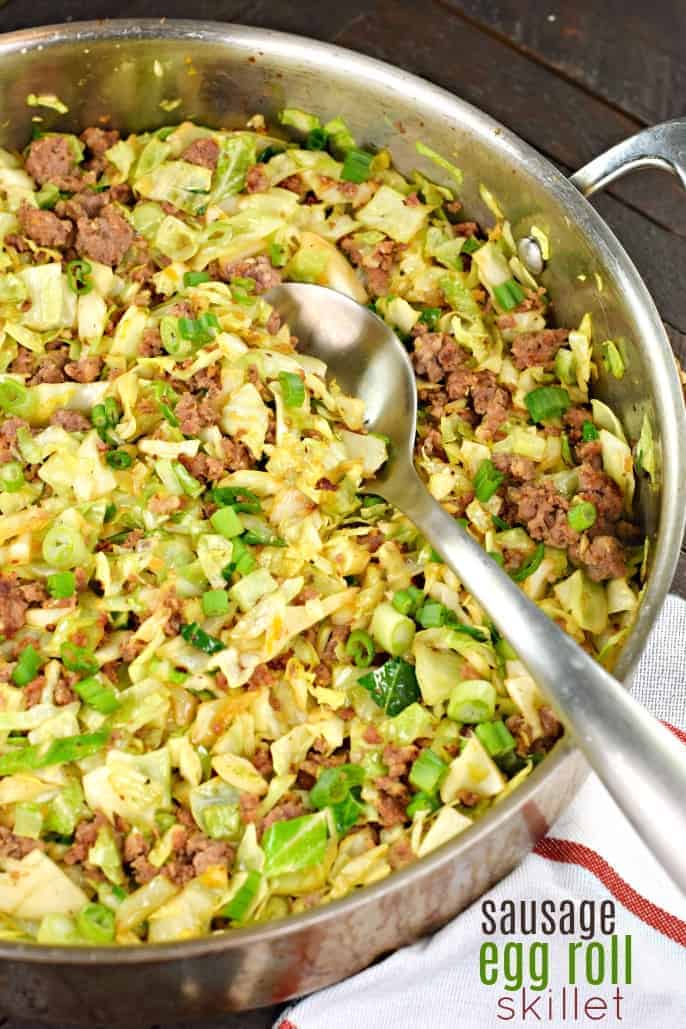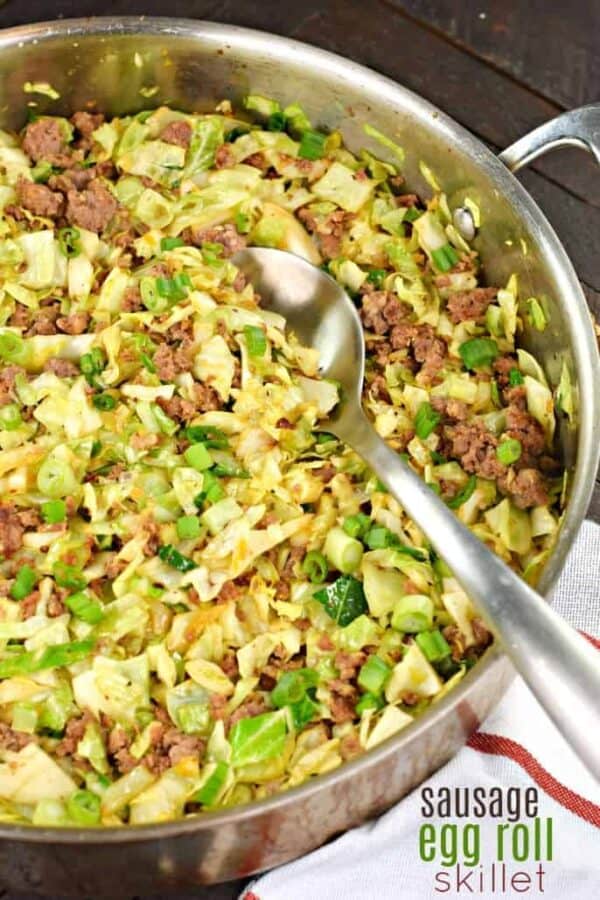 Why This Dinner is Best
Egg Roll Skillet is a life changing dinner hack. I don't use phrases like that often, so you know I mean business here.
There are plenty of versions of the "egg roll in a bowl" out there ranging from the simple to the elaborate. This is the one I love best for a few reasons.
This meal has all the crave-worthy taste of an egg roll, served in a bowl instead of a wrapper.
Sausage and cabbage are cooked with garlic, soy sauce and a hint of ginger for an amazing savory flavor.
You only need one pan and a handful of simple ingredients.
It happens to be low carb and easy to make gluten free!
It's ready in 20 minutes. That's less time than it takes to wait for a takeout delivery.
When you're not sure what to make for dinner, Sausage Egg Roll Skillet is the easy answer! After you try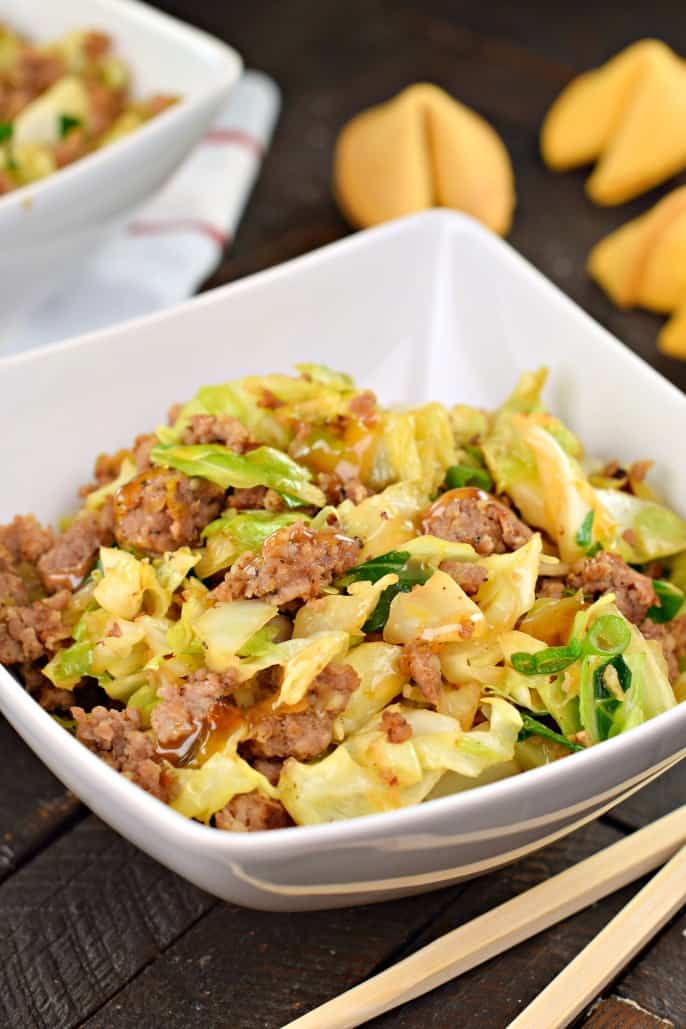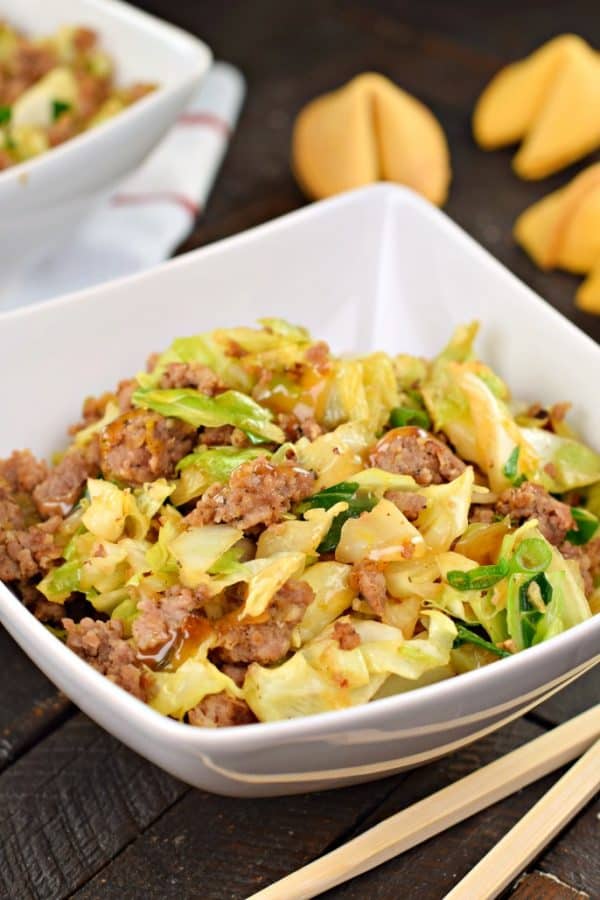 Ingredient Notes
Here's what I use for these "deconstructed" egg rolls.
Pork sausage – Mild is best so it doesn't overwhelm the other flavors in the dish.
Shredded green cabbage – I buy the packages of shredded cabbage or use cole slaw mix to save time.
Garlic and ginger – Give the egg roll skillet its amazing flavor with a hint of spice.
Soy sauce – A gluten free version or tamari sauce could be used instead.
Sesame oil – Stirred in right at the end for the perfect "restaurant quality" taste.
Green onions – For a zesty kick, color and freshness.
Making Sausage Egg Roll Skillet could hardly be any easier. Brown the sausage, then add the cabbage, soy sauce, garlic and ginger. Cook everything together for a few minutes and serve.
Tips and Tricks
I prefer to drain out the excess fat in the skillet after browning the sausage. You can also skip this step if you enjoy the extra pork flavor!
Serve the "egg roll in a bowl" with a little duck sauce for drizzling on top.
For a spicy option serve with sriracha or another chili-garlic style sauce on the side.
Egg Roll Skillet is a complete meal all on its own, but is also delicious served with a side of steamed rice or cauliflower rice!
Speaking of rice, have you tried my Chicken Fried Rice recipe yet? It's not low carb but it IS better for you than the salt-laden versions at most restaurants.
Recipe FAQs
How do I tell when the cabbage is fully cooked?
The cabbage is fully cooked when the leaves are soft, pliable and turn a brighter green shade. This only takes a few minutes. You don't want the cabbage to turn into mush!
How do I make a gluten free egg roll skillet?
This recipe is gluten free if you use gluten free soy sauce! Make sure to check the label on your sausage to ensure no hidden gluten containing fillers, too.
Can I make this ahead of time?
Egg Roll Skillets are best enjoyed right away. You can save time by shredding the cabbage ahead of time or using bags of coleslaw mix instead.
How do I reheat the leftovers?
Leftovers can be reheated in the microwave or on the stove top. I recommend the stove top method for best texture. Just toss the leftovers in a skillet on medium heat until warmed through.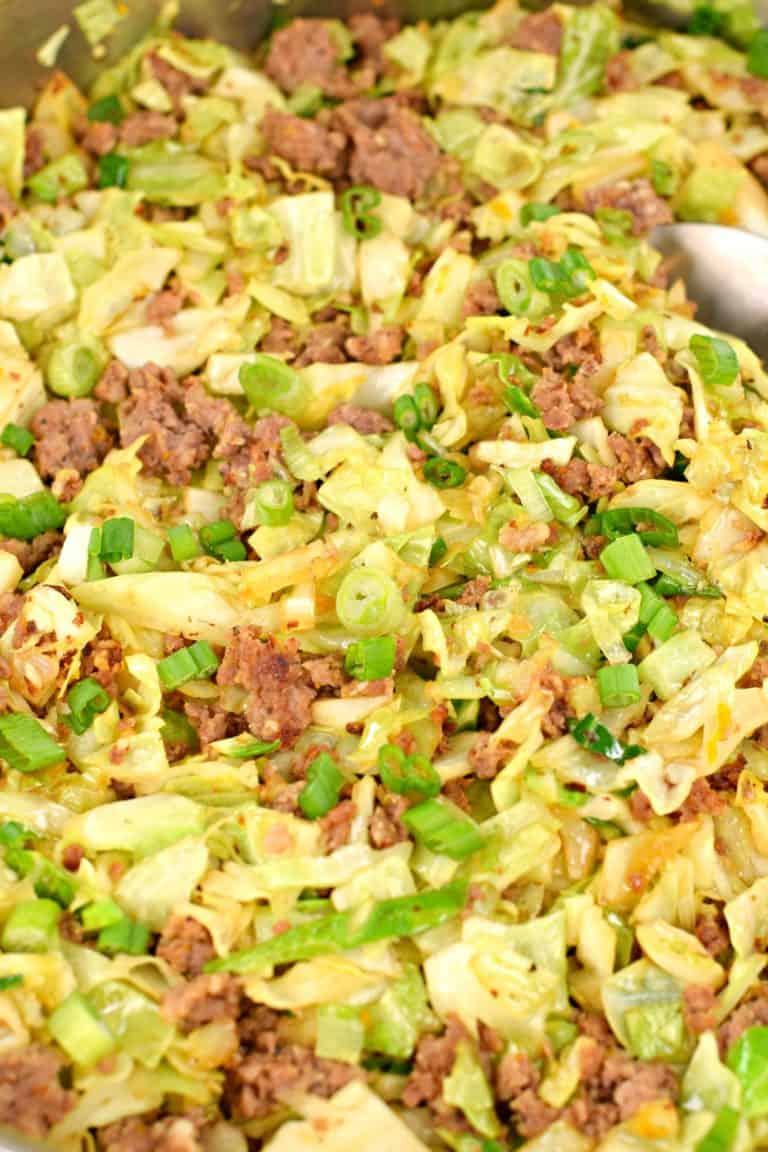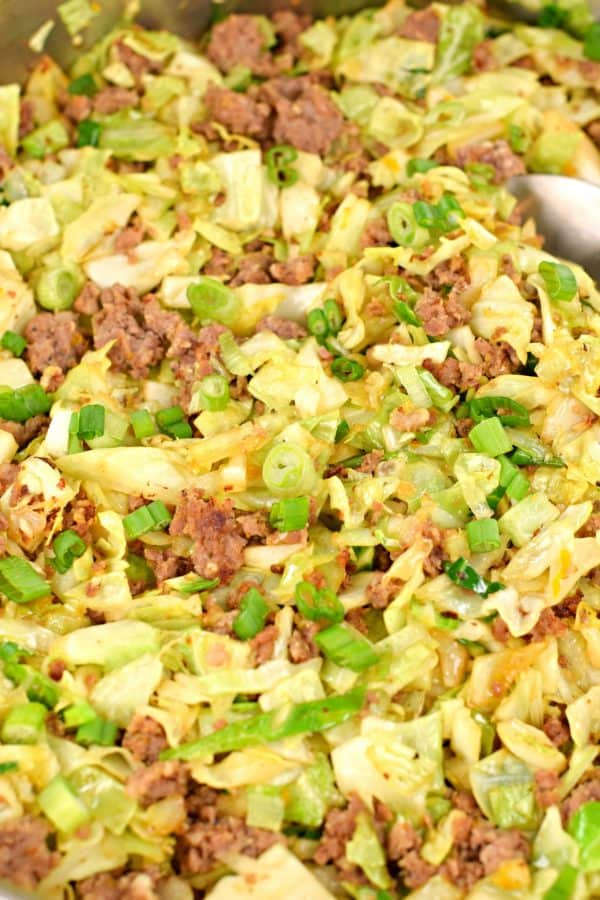 More Easy Take Out Recipes