Chicken Pot Pie Soup is the ultimate comfort food in an easy to serve bowl. You'll love this cozy soup recipe with the pie crust dippers! Ready in under 30 minutes!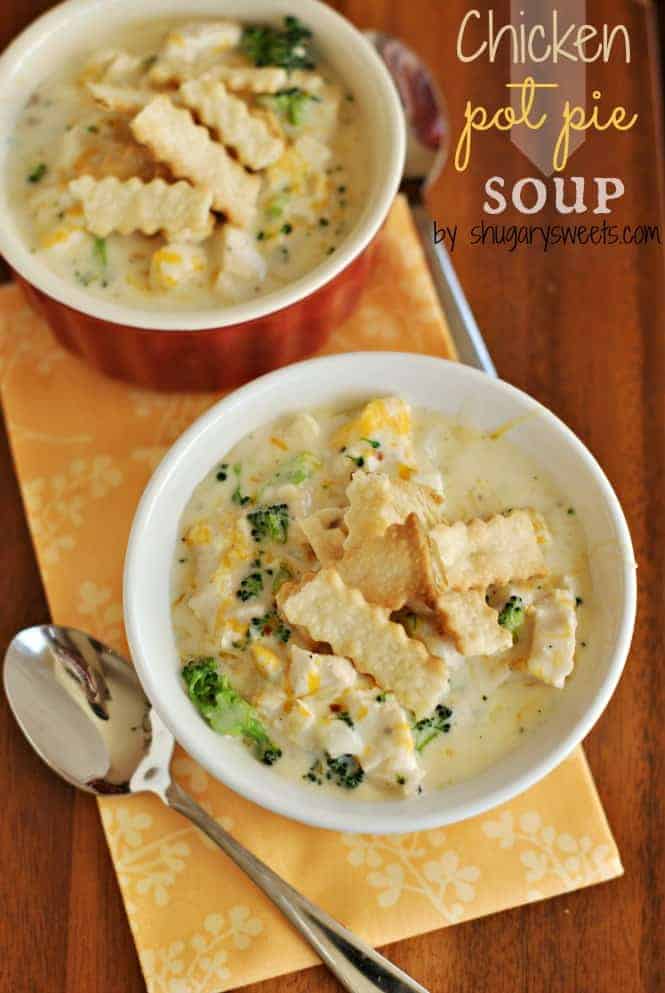 Why this Recipe is Best
I'm always looking for easy dinner recipe ideas. I bought a package of Pillsbury pie crusts and had every intention of making some individual pot pies.
But then my kids requested broccoli cheese soup. So I thought, what if I combined the two?
Chicken Pot Pies are the ultimate comfort food. Today's soup is loaded with chicken, broccoli, onion, celery and cheese. You can change it up by using YOUR favorite vegetables. Add potatoes, frozen peas, and carrots for a more classic pot pie.
Substitute leftover turkey for the chicken, and nobody will be the wiser. I've also got a Beef Pot Pie Soup recipe on the blog if you think you want to try that version. It's a little less creamy, and a lot more like a stew!
How to make Chicken for recipes
BAKE. To make life easier, whenever I cook chicken for dinner, I always bake up a few extra plain chicken breast. I stick them in a ziploc freezer bag and put them in the freezer to save for a quick dinner fix.
BOIL OR GRILL. If you don't have any cooked chicken on hand, you can bake a couple breasts, grill them, or boil them.
ROTISSERIE. One of my favorite, easy things to do is purchase a rotisserie chicken for quick dinner assembly! Our grocery store even sells them pre-shredded at a decent price!
SLOW COOKER. Another option would be to put a few pounds of chicken breasts with one cup of chicken broth in the slow cooker. Cook on low for 6 hours. When done, shred chicken and use immediately in recipes or divide in ziploc freezer bags for future meals. This is something I tend to do on the weekends when we're just relaxing at home.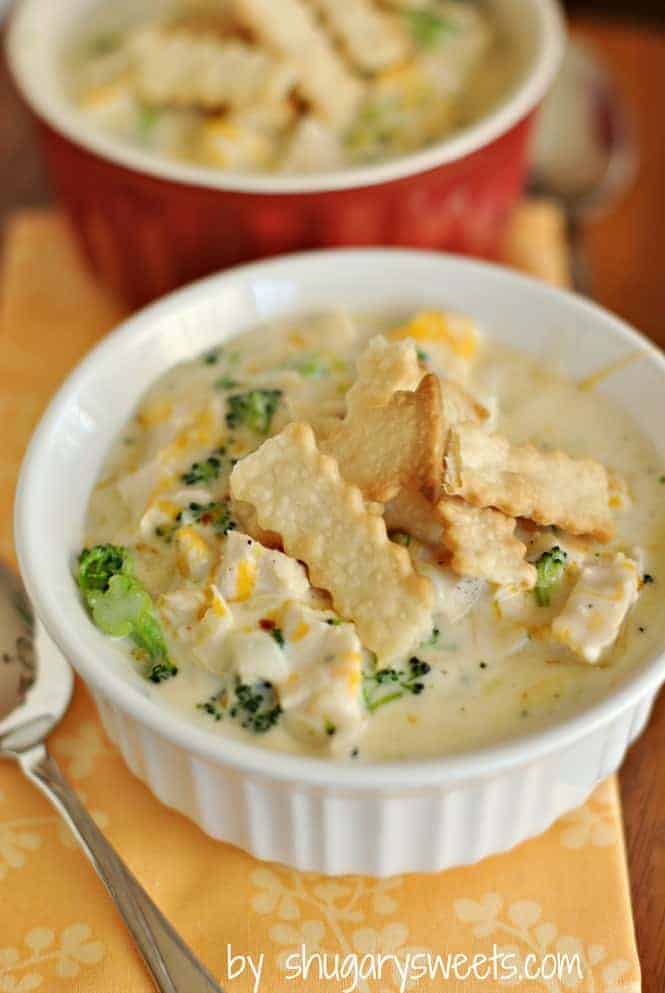 How to make Chicken Pot Pie Soup
STEP 1. Cook your chicken. You can use my examples above, choosing your favorite, easy option. You can also use leftover turkey after the holidays!
STEP 2. Add butter in a soup pot with onion, celery and broccoli over medium high heat. This makes your house smell amazing. I love the smell of onions cooking, is that strange?
STEP 3. Add some flour to thicken, then add your broth, cream, milk, chicken and seasonings. Simmer for about 10-15 minutes until heated thoroughly.
PRO TIP: Want to lighten it up? Skip the cream and choose just milk. It may be a little thinner, but still tastes amazing.
STEP 4. While your soup is cooking, prepare the pie crust by cutting it into strips (I used a fancy pastry cutter, but a pizza wheel works too). Bake pie crust strips in a 450 degree oven for about 6-8 minutes, until browned.
You could also use thawed puff pastry instead!
STEP 5. Once your soup has thickened, add in the shredded cheese and heat until melted. Serve with pie crust dippers.
This delicious soup takes about 30 minutes, yet tastes like you've been cooking all day! At my house it has quickly become everyone's favorite dinner.
TIPS for Easy Chicken Pot Pie Soup Recipe
Leftover turkey after Thanksgiving and Christmas is a great idea. Comfort food is always a good option.
Keep it vegetarian. Skip the meat and add more vegetables. Swap in some potatoes, peas, carrots, and mushrooms!
Take away the heavy cream and substitute with fat free milk. You may want to add in an extra tablespoon of flour to help this soup thicken up.
Another way to cut calories would be to remove the cheese and pie crust dippers. I know. Those pie crust dippers are one of the best parts. But if you don't make them, you won't miss them. 

What to serve with Pot Pie Soup:
More Chicken Soup recipes
Old Fashioned Chicken Noodle Soup is hearty and delicious, and now easy to make in the Instant Pot or on the stove! The savory broth with delicious chicken, noodles, and vegetables is perfect for dinner or lunch!
I love dinner recipes that come together in 30 minutes. Say hello to BBQ Chicken Pizza Soup. We made some Pizza Crust dippers to go with this delicious, hearty soup too!
Get out your slow cooker, this Southwest Chicken Chowder is a fix and forget it dinner recipe! Packed with potatoes, corn and chicken, you'll love the kick of flavor from the jalapenos, salsa and taco seasoning!
This White Chicken Chili has all the flavor of comfort food, without all the fat! Enjoy a bowl for dinner tonight!!
More Delicious Dinner Recipes:
Need a quick and easy dinner idea? Try making this Chicken Pot Pie Soup recipe. Use refrigerated pie crust to make the crust on top, saves time and tastes delicious!