Tender Pork Tenderloin seasoned with a Chipotle marinade and drizzled with a Cilantro Lime Sauce. This is one weeknight dinner dish that my whole family loved!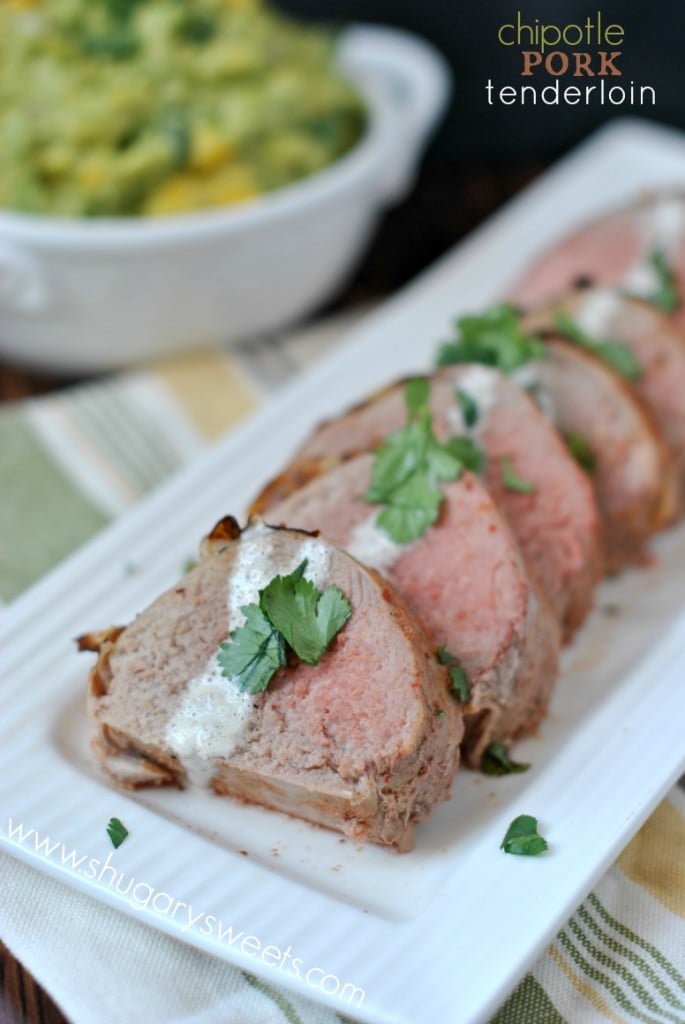 Today's recipe uses pork tenderloins.
I love using these small tenderloins for an easy dinner recipe. They are perfect for a quick toss on the grill, or roast them in your oven at a high temperature.
BUT, there is a key to SUCCESSFULLY cooking a pork tenderloin. Use a meat thermometer.
Growing up, I think I was taught there should be NO pink in your pork. Most of the time, pork chops and pork tenderloins were chewy grey cuts of meat. Not my favorite.
Using a meat thermometer will help you not overcook those delicious cuts of meat. When the center of your tenderloin hits 145degrees, remove it from the oven and allow it to rest about 5 minutes before slicing.
This will keep all the juices inside, and the result will be a tender cut of pork with a "blush of pink" in the center. It's SAFE to eat.
If you're looking for the perfect PORK chop recipe, I've got that too! Thick and juicy, this crispy parmesan oven Baked Pork Chops recipe is delicious. The BEST pork chop recipe you'll ever need!
How to make Chipotle Pork Tenderloin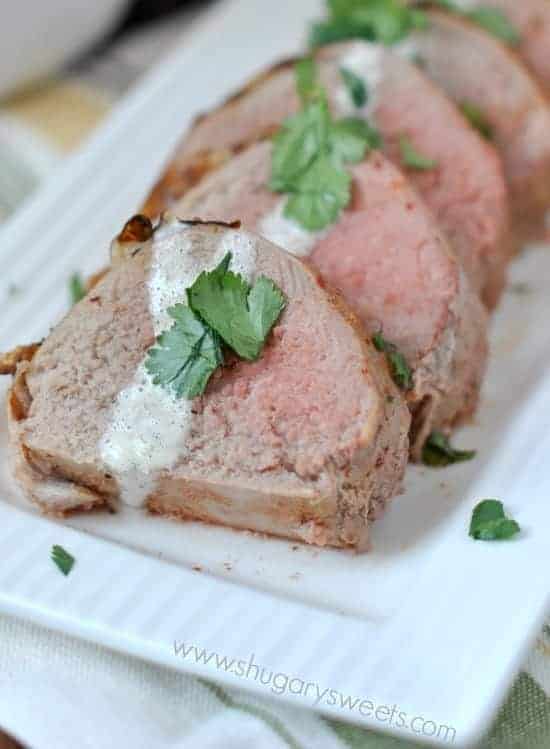 For today's marinade I used a can of chipotle chilies in adobo sauce. I plucked out two chilies for the recipe (and about a teaspoon of sauce).
Don't worry about wasting the remaining chilies in your can….do what I do! Take the leftover chilies and put them in an ice cube tray, individually. Divide the sauce amongst them, then freeze. Once frozen, pop them into a ziploc bag and keep them frozen and handy for when you make this again.
You WILL make this again!!
I put my pork in the marinade for about four hours, but overnight would work well too!!
While they were baking in the oven, I whipped up a quick cilantro lime dressing.
This sweet dressing was great at taking away some of the heat from the chilies. Our dinner was ready in 30 minutes! I also served it up with a side of the mango guacamole from earlier this week. My kids were thrilled that they got to eat guacamole as a side dish.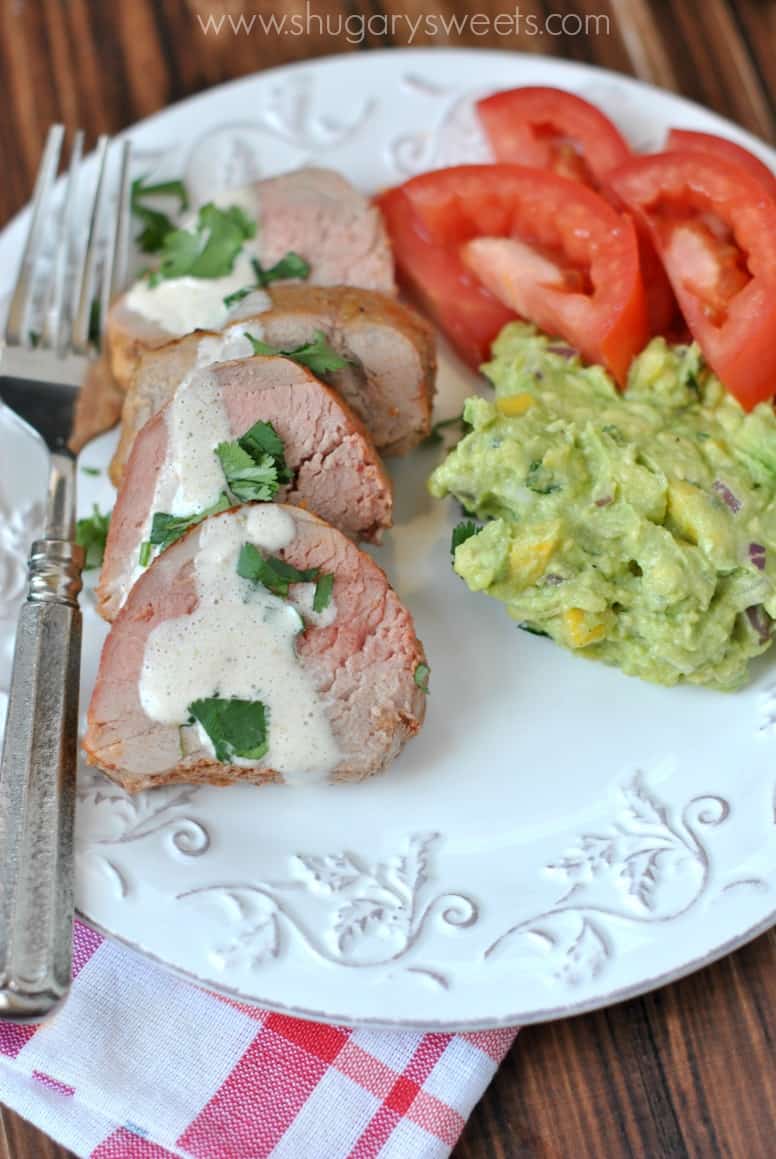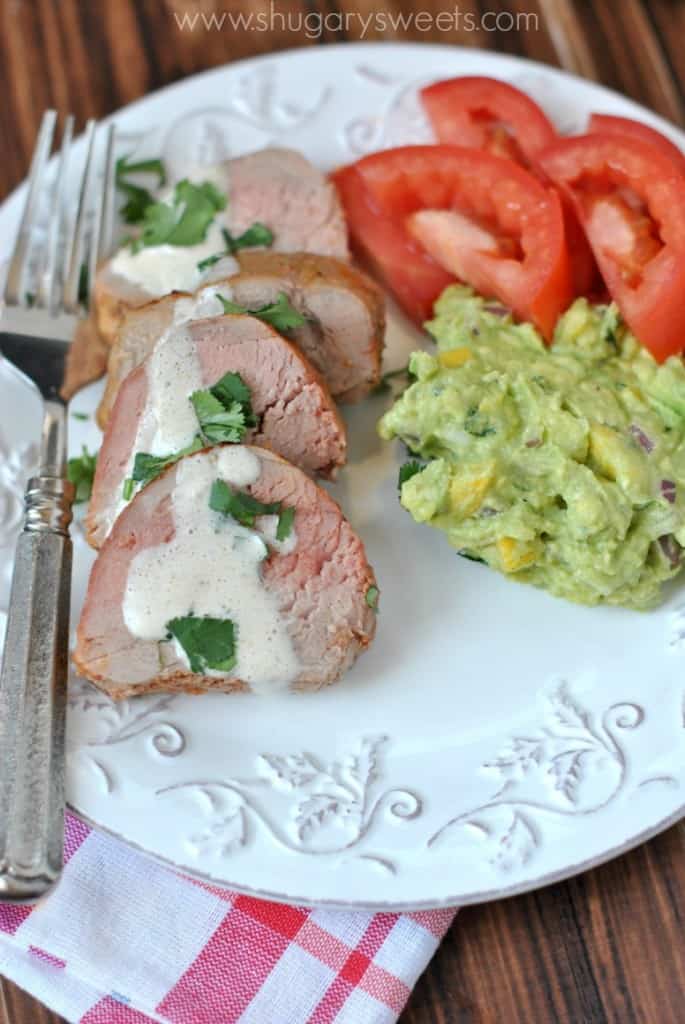 Connect with Shugary Sweets!
Be sure to follow me on my social media, so you never miss a post!
Facebook | Twitter | Pinterest | instagram
More Dinner Recipes: