This rich and fudgy Chocolate Cupcake is my go-to recipe for super moist and flavorful chocolate cupcakes! Topped with chocolate or vanilla buttercream frosting, the taste is incredible!
Love chocolate? Our Fudgy Brownies are literally the best. We might be biased, but you bake a batch and let us know what you think! For more chocolate, try this Gooey Chocolate Cake Bar!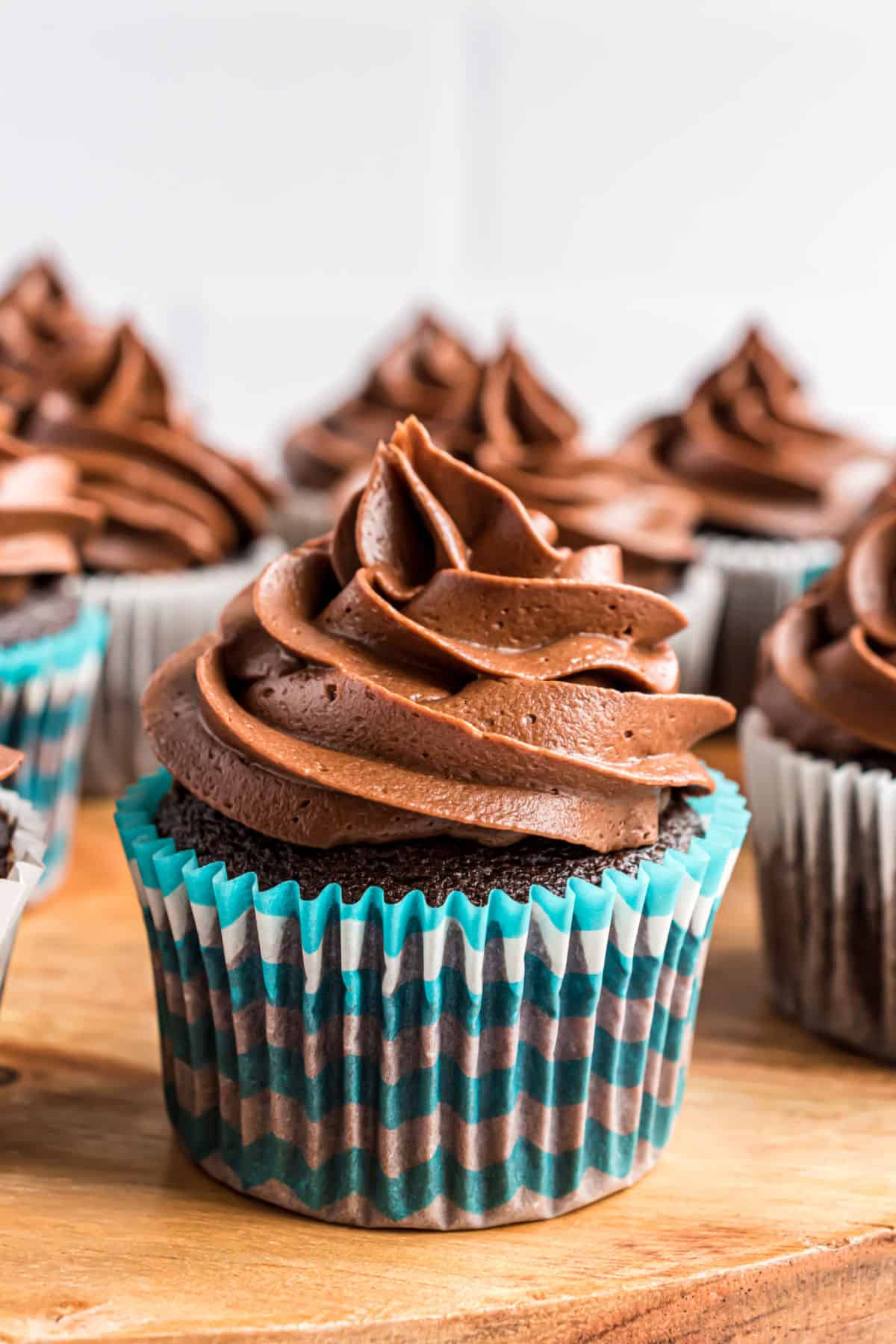 Why this Recipe Works
I have been testing chocolate cupcakes for years, always trying to tweak and perfect it. Like these Hostess Cupcakes!
Here it is friends, the perfect chocolate cupcake recipe!
I wanted a cupcake that is not only rich and fudgy, but strong enough to hold frosting! A cupcake that stays moist for days and doesn't dry out.
So I turned to an ingredient I always trust to make baked goods extra moist: buttermilk. It locks in moisture without disrupting that pure chocolate goodness.
There's no doubt these cupcakes are phenomenal. Here's why:
If you love our chocolate cupcakes, you've got to try our strawberry cupcake recipe next!
Ingredient Notes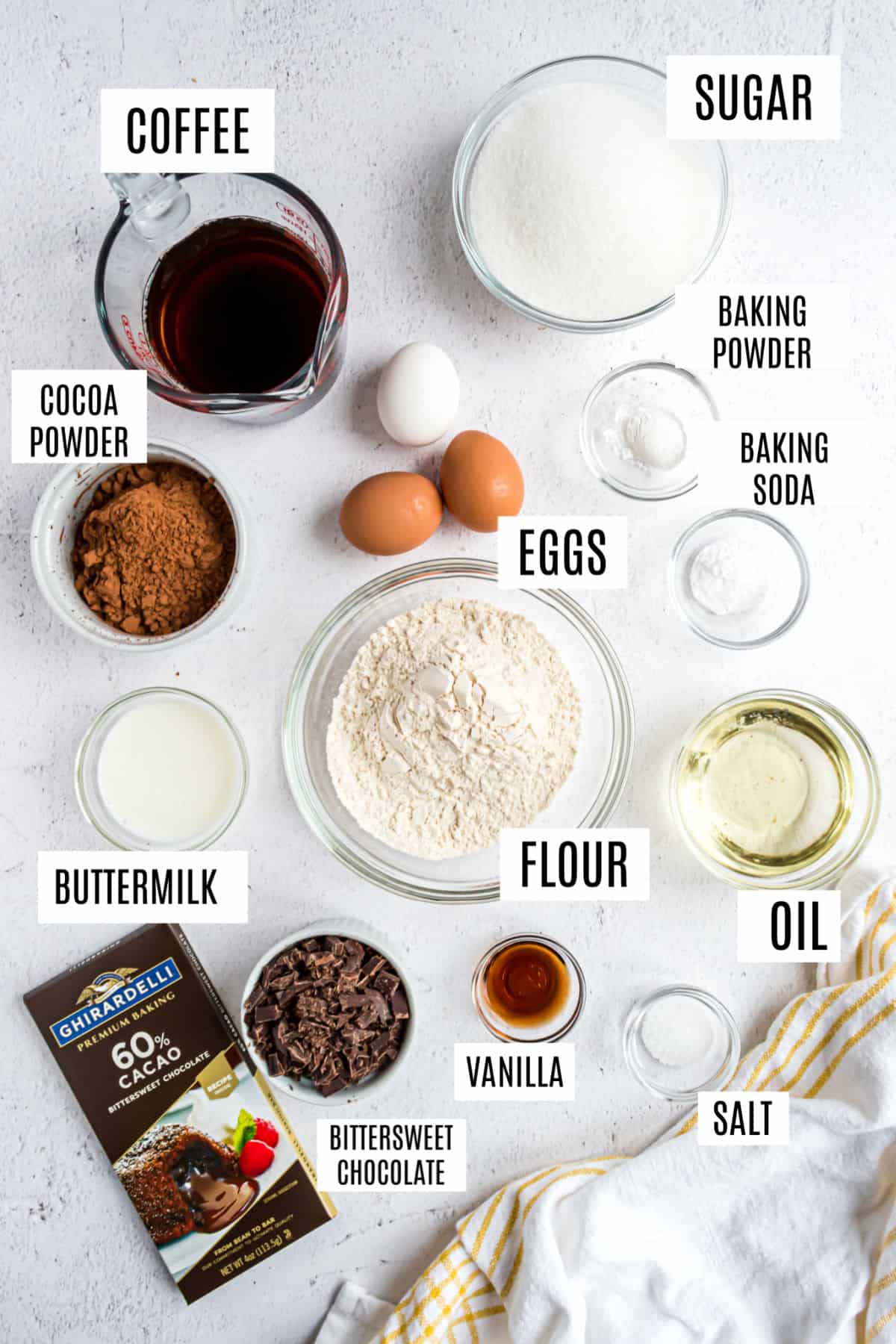 Two Kinds of Chocolate. I recommend bittersweet baking squares, chopped into bite size pieces. Anything over 60% cacao is perfect. I also use unsweetened cocoa powder (this brand is my favorite)!
Hot brewed coffee. Coffee helps enhance the natural cocoa flavor of the chocolate without giving the cupcakes a coffee flavor. Brew it fresh or reheat a leftover cup from this morning!
Buttermilk. My easy homemade buttermilk substitute works wonders in this recipe if you don't have store bought.
Vanilla extract. Use pure vanilla extract when possible for best flavor. Learn how to make your own vanilla extract to enhance all your baked goods!
All-purpose flour. Because cocoa powder can be heavy, you need all-purpose flour to help structure these cupcakes, and cake flour is too delicate in this recipe. Make sure to learn how to measure flour properly!
Vegetable oil. Unlike in my chocolate cake recipe which uses butter, we use oil in cupcakes. This helps improve the chocolate flavor without drying out the cupcakes or leaving them too crumbly.
Easy Instructions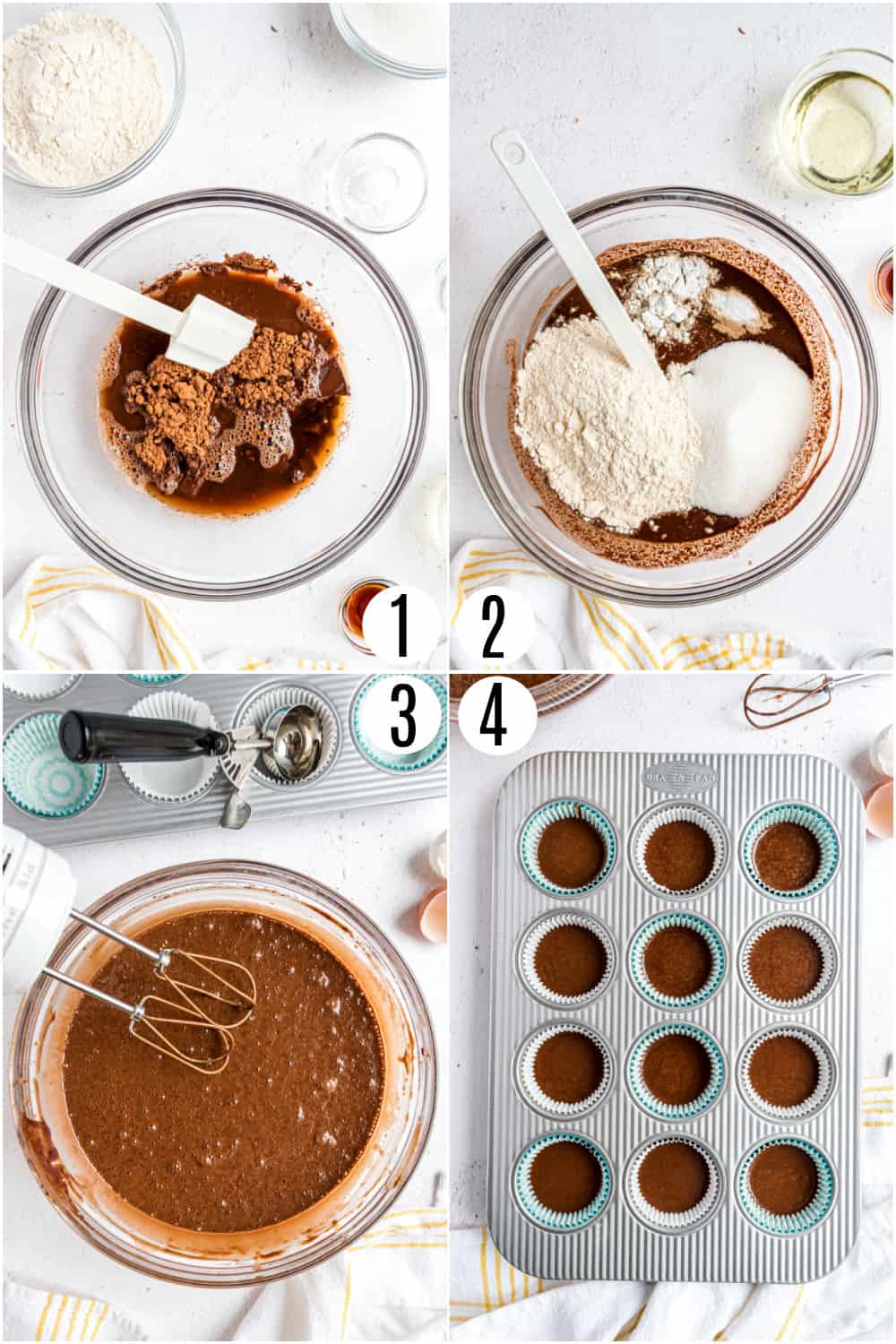 Bloom the Chocolate.
Place the chopped chocolate squares and the cocoa powder in a bowl. Pour HOT coffee over the chocolate mixture. Stir to melt and combine all the chocolate. The heat of the coffee helps BLOOM the chocolate flavor!
PRO TIP: If you don't want to use coffee, use hot water instead!
Make the Batter. Add the dry ingredients, followed by the wet ingredients. Beat until the batter is thin and well combined.
Bake. Spoon the batter into a lined cupcake tin. Bake for 18 – 20 minutes.
Cool cupcakes completely before adding frosting! You could also top these with our vanilla sour cream frosting!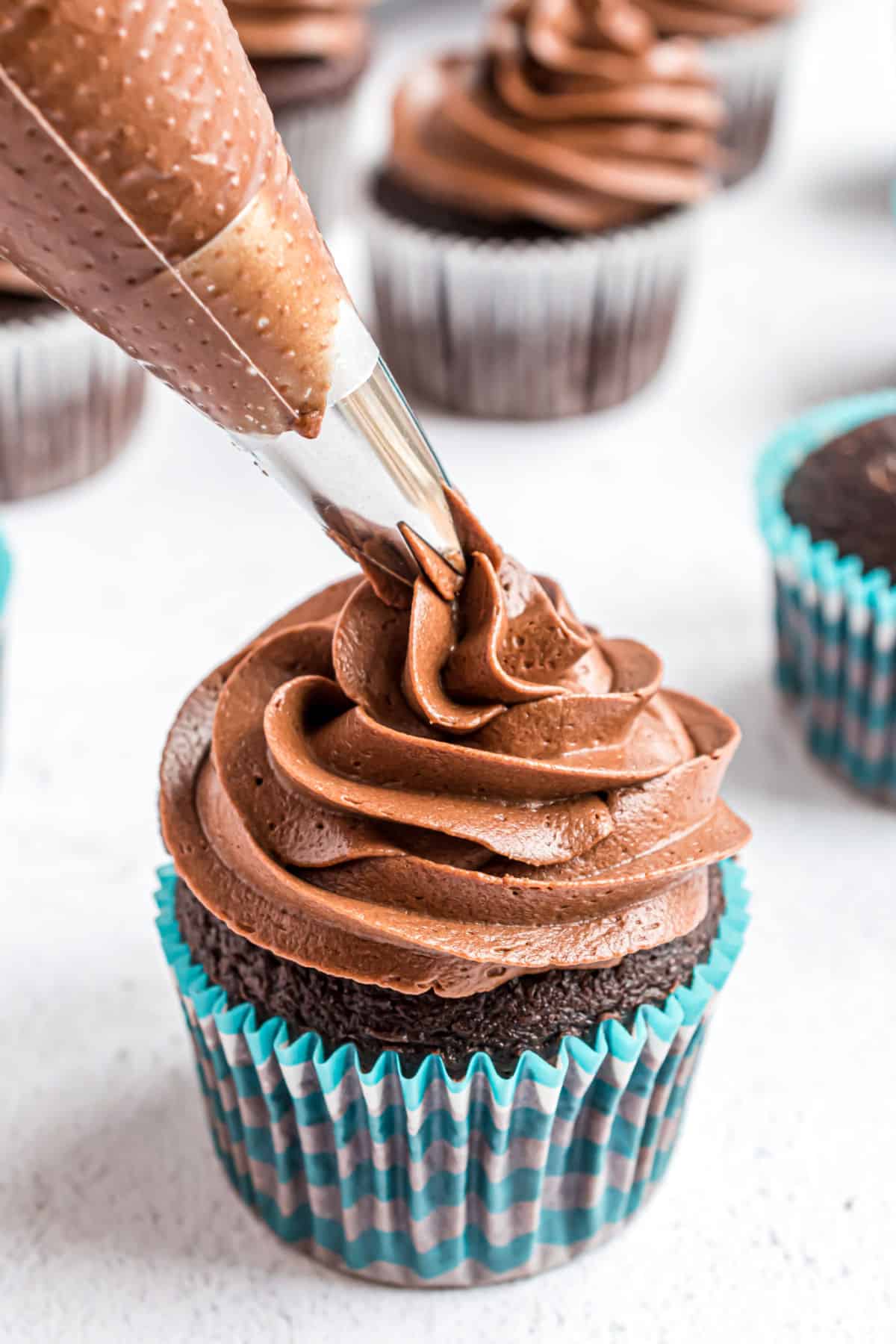 Tips and Tricks
Use hot coffee. The warmth of the coffee helps melt the chocolate, making it easier to incorporate info the batter. If you use leftover brewed coffee, reheat it in the microwave for 1 minute before adding to the cocoa.
Scrape the bowl: As you mix the dry ingredients into the wet, scrape down the sides and bottom of the bowl to ensure the chocolate doesn't settle.
Use good quality chocolate. The better the cocoa and chocolate squares you use, the better the finished cupcakes will taste.
How to tell when cupcakes are done. Some people swear by the toothpick test. I prefer to touch the tops of the cupcakes. If it bounces right back, the cupcakes are done. If it stays indented, they need a little longer.
Strawberry. What goes better with chocolate than strawberry? Add a swirl of our homemade strawberry frosting to the top of these rich chocolate cupcakes!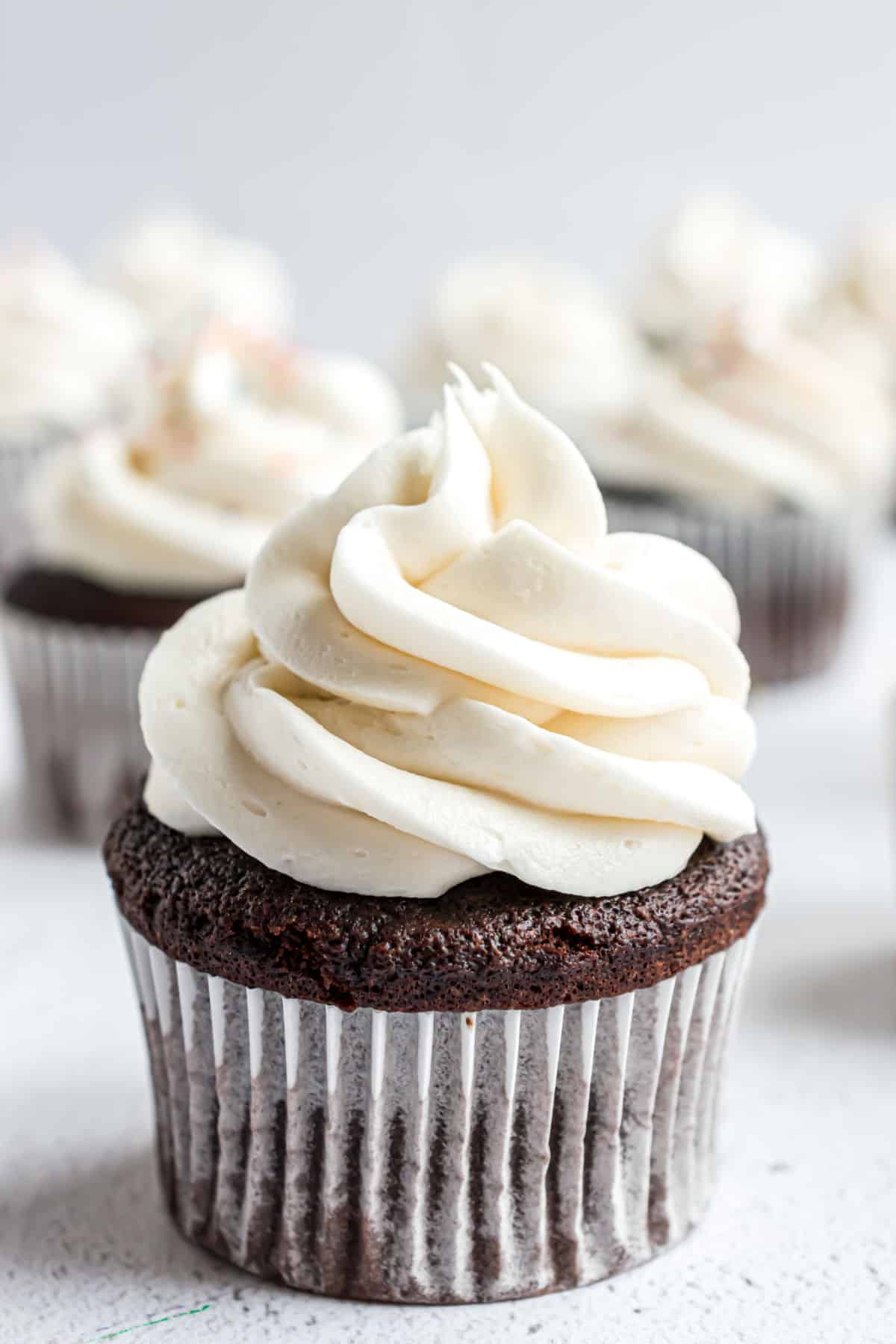 Recipe FAQs
Why is my cupcake batter so thin?
This chocolate cupcake batter is supposed to be thin! Use a large cookie scoop or ice cream scoop to divide the batter evenly into the cupcake pan. It will bake up into perfect cupcakes.
Can you frost cupcakes without a frosting bag?
Yes, you can certainly frost cupcakes without a frosting bag! To pipe the frosting: Transfer the chocolate frosting to a ziploc bag. Snip off the corner of the plastic bag. Squeeze the frosting onto your cupcakes as desired. You can also use a flat spatula to spread the frosting over the chocolate cupcakes.
How do you store these cupcakes?
Baked chocolate frosted chocolate cupcakes should be stored in an airtight container. They will keep well for about 3 days.
Why did my cupcakes sink after baking?
Chocolate cupcakes tend to sink after baking if the liners are too full. Also, cocoa powder is not structurally strong enough to hold up the amount of moisture in this cupcake. Adding more flour would create a dense cupcake. It's okay for some sinkage while it cools!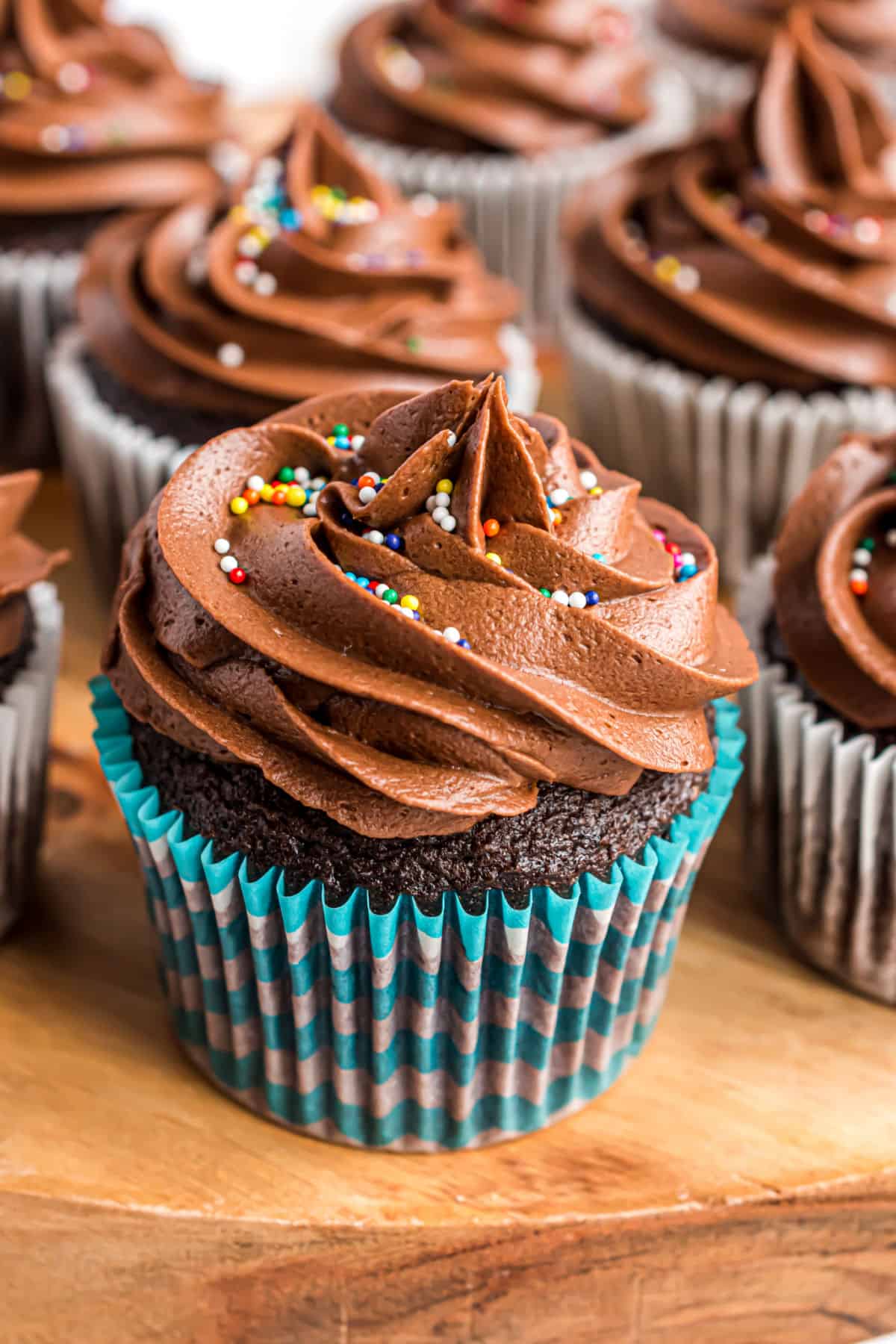 More Chocolate Cupcakes
Chocolate frosted chocolate cupcakes are pure cocoa perfection. With fluffyy buttercream frosting, these ultra moist cupcakes are guaranteed to satisfy even the most intense chocolate craving!