Chubby Hubby Clusters are homemade candy made with just 4 ingredients! Chocolate, peanut butter and pretzels combine for the perfect sweet and salty treat.
If you like candy with pretzels, try this Pretzel Candy recipe next! You'll love our Cookie Dough Pretzel Bites too.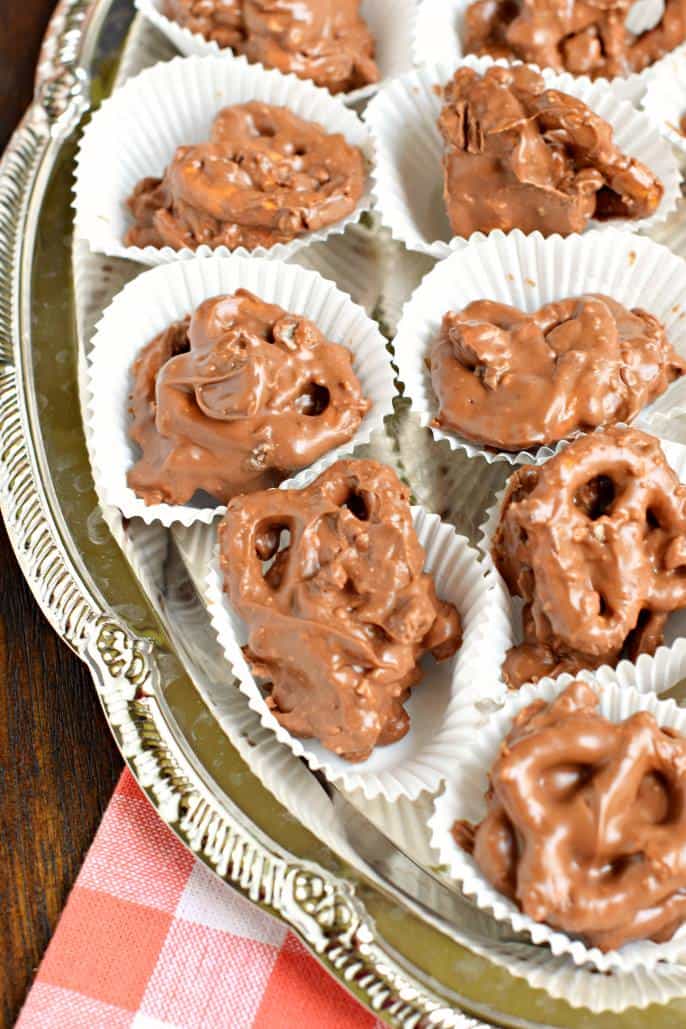 What is Chubby Hubby Candy
Chubby Hubby Candy are clusters of pretzels, peanut butter and malted milk balls dipped in melted chocolate. It's inspired by the popular Ben & Jerry's ice cream flavor of the same name—and just as addictively delicious!
These easy chocolate clusters might just be the perfect homemade candy for fans of sweet and salty snacks.
You have the super sweet milk chocolate, the salted pretzel flavor and that "something special" from the malted milk balls.
I love making these Chubby Hubby Clusters as a gift or a little treat to share with the family.
Only 4 ingredients.
Ready in 30 minutes.
No special equipment needed.
If you love these, try our homemade kitkat recipe next!
Ingredient Notes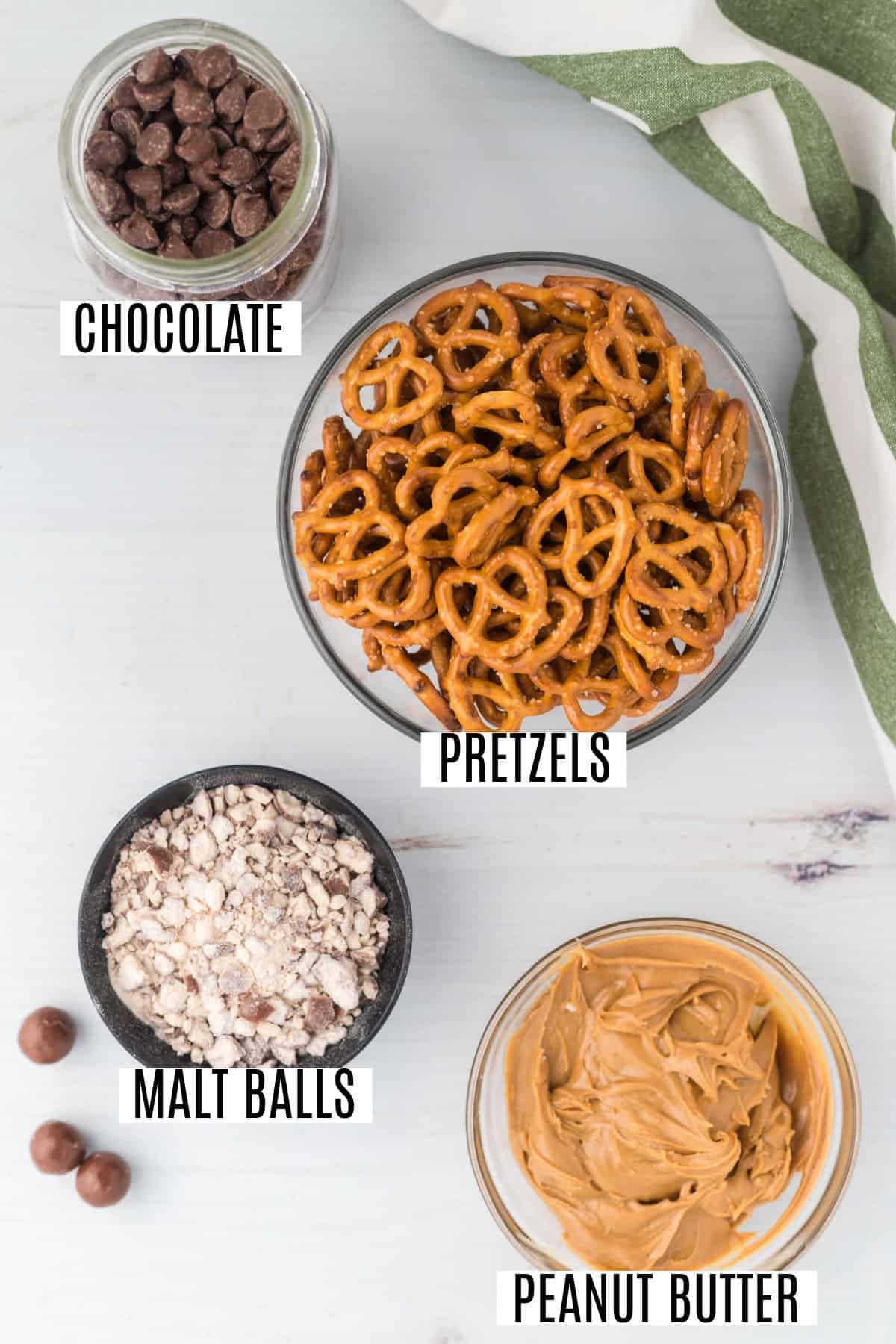 Here's everything you need to make Chubby Hubby clusters candy.
Mini pretzel twists – I use salted twists for the sweet-salty flavor. Unsalted twists will also work if you want your clusters less salty.
Creamy peanut butter – Using regular peanut butter like JIF or Skippy brands will make for sweeter chubby hubby. For less sweetness, you can use natural unsweetened peanut butter.
Malted Milk Balls – Whoppers or a similar style of chocolate malt ball candies are best. The malt adds a hint of nutty grain flavor that sets these apart.
Milk chocolate – I use milk chocolate chips. Semi-sweet chocolate chips would also be a good choice if you prefer a darker cocoa flavor.
Tips and Tricks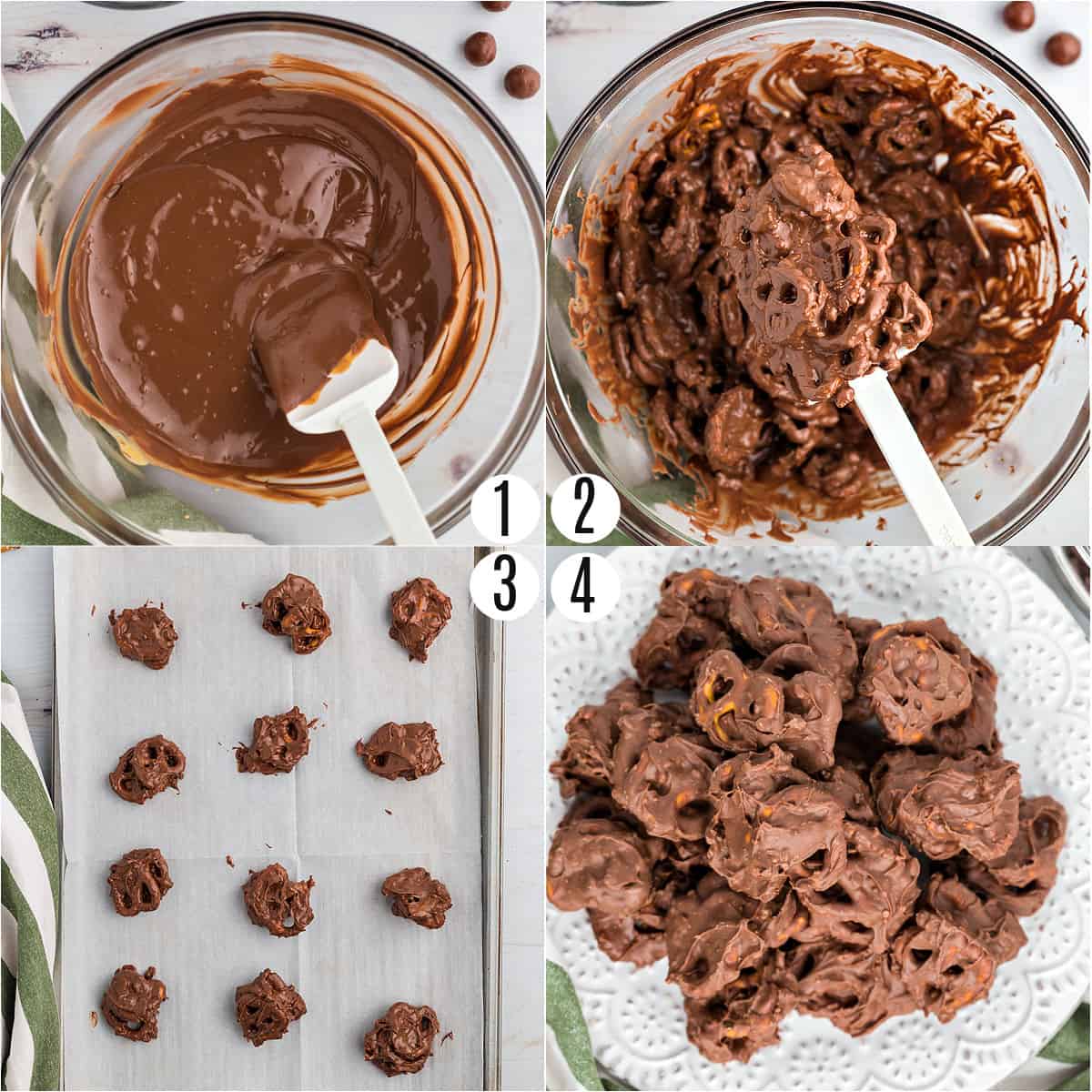 Melt the chocolate chips and peanut butter. Heat them in the microwave, stirring every 30 seconds until smooth and combined.
Work quickly. After folding in the malt balls and pretzels, you'll need to quickly scoop the mixture into clusters, before the chocolate sets.
Use mini cupcake liners. They help keep the chubby hubby clusters from sticking to a pan AND make them easy to eat.
Let set before eating. The chocolate needs a few minutes to harden so it doesn't get all over your hands and face when you take a bite!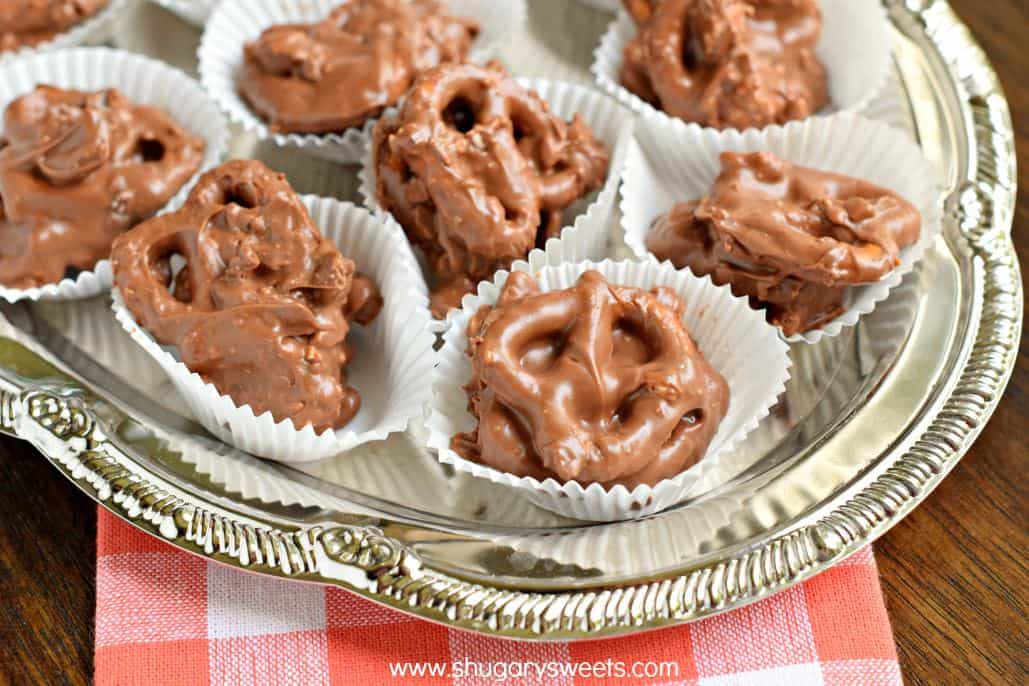 Recipe FAQs
Can I replace the malted milk balls with malt powder?
No, malted milk powder should not be substituted in this chubby hubby clusters recipe. The crunch of the malted milk balls is important for giving the clusters their structure.
How do I store pretzel candy?
These chubby hubby clusters should be stored covered or tightly wrapped at room temperature. They don't usually need to be chilled, but if you notice the chocolate is softening too much, you can transfer them to the refrigerator.
How do I melt chocolate chips without a microwave?
If you don't have a microwave, you can melt the chocolate chips and peanut butter in a double boiler on the stove.
Place a heat-safe bowl over a sauce pan filled with water. Add chocolate chips and peanut butter to the bowl. Bring the water to a low simmer, stirring the chocolate regularly until melted and smooth.
Can I make chubby hubby clusters with white chocolate or dark chocolate?
Yes, you can swap out the milk chocolate chips for any flavor you like!
More Easy Candy Recipes
Chubby Hubby Clusters are the perfect homemade candy for any time of year!