Take care of a cinnamon roll craving and a fudge craving all in one bite! This easy Cinnamon Fudge combines the best of both treats for a creamy indulgence you can make in your own kitchen.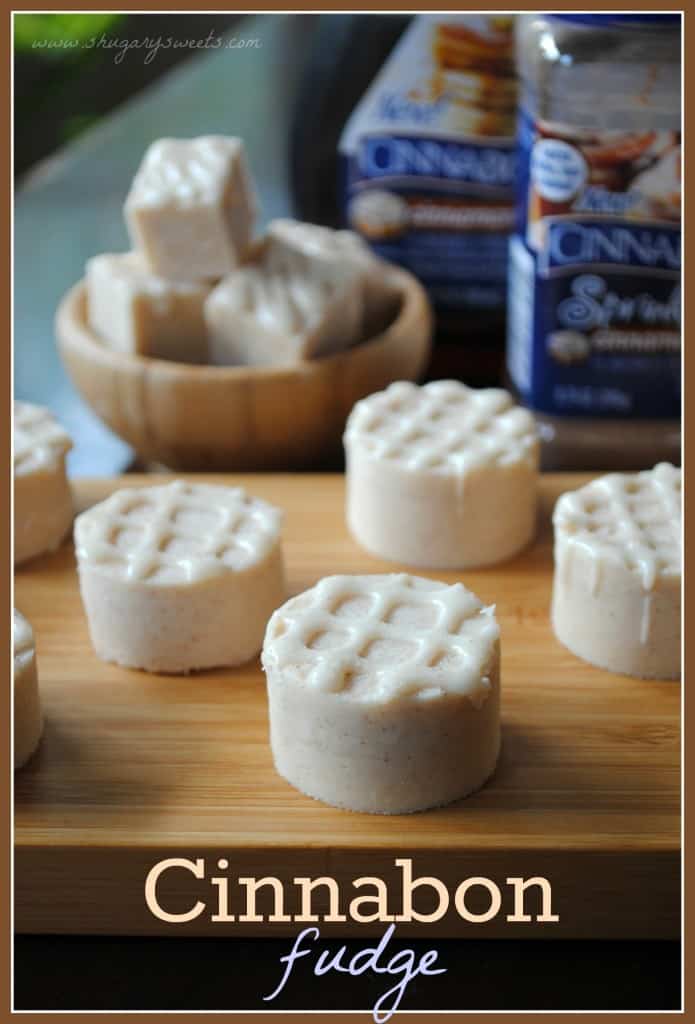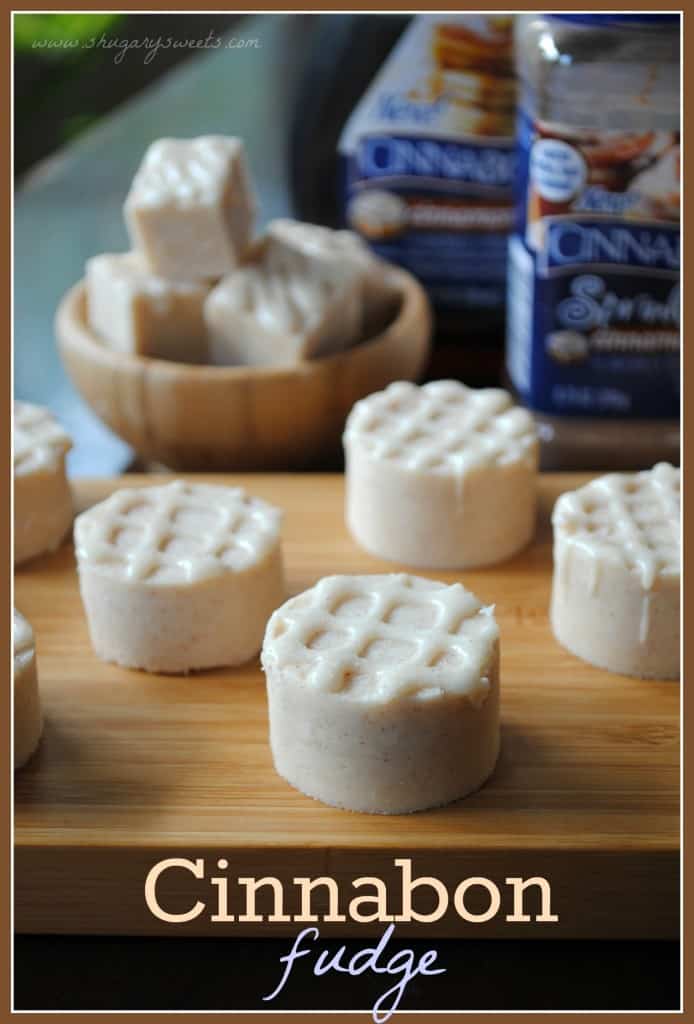 Any Cinnabon lovers out there? Okay, maybe it's the smell of cinnabons I love the most. I prefer my homemade Cinnamon Rolls (warm with extra frosting) over the kind from the Cinnabon counter.
But we all know the feeling. You're walking through the airport or the mall and BAM the buttery, cinnamon sugar aroma of a freshly made cinnamon from the Cinnabon stand drifts into your nostrils. I don't care how much willpower you have, your mouth will start watering.
Cinnabon Fudge
When I was trying to think of new fudge flavors to try, I began combing through my favorite flavor combinations for something I hadn't done before.
Then, as suddenly as the enticing scent of Cinnamon at a mall food court, it hit me: Cinnamon Roll Fudge!
This easy Cinnamon Sugar Fudge tastes like eating a mini cinnamon roll, baked into a piece of creamy fudge.
Made with a white chocolate and marshmallow base, then topped with maple syrup and cinnamon sugar, this fudge can be cut into squares or shaped into circles for a bite-sized treat.
Easy Cinnamon Sugar Fudge Recipe
No special equipment or candy making experience necessary! In just a few steps–and with some patience–you'll be ready to share a pan of Cinnamon Roll Fudge.
STEP 1. Cook the fudge base
In a large saucepan, heat granulated sugar with butter, salt, 1/4 cup cinnamon sugar and heavy cream. Bring it all to a boil and stir while the mixture cooks for 4 minutes.
Remove the butter and sugar mixture from heat. Quickly stir in white chocolate morsels, marshmallow cream and more cinnamon sugar.
Whisk vigorously until smooth. Be patient, this may take a couple minutes. If you have an electric mixer, use it here to make your life easier!
STEP 2. Whisk
Pour fudge into a prepared pan lined with parchment paper and refrigerate 3 hours, until fully set and hardened.
Remove the fudge from the pan, remove parchment paper and cut the fudge into circles using a round cookie cutter or, if you prefer, use a knife to slize the fudge into bite sized pieces.
STEP 2. Make the maple cinnamon drizzle
To make drizzle, whisk togetherpowdered sugar, maple syrup and heavy cream until smooth. Pour into a ziploc bag, and snip a tiny piece off the corner.
Drizzle over cut pieces of fudge then sprinkle cinnamon sugar on top. Place fudge back in refrigerator until icing hardens, about 15 minutes. Enjoy cold!
Cinnamon Sugar Mix
You may notice that the recipe calls for quite a bit of cinnamon sugar. I used my homemade Cinnamon Sugar mix here. Make plenty of it, then keep a jar on hand for baking, sprinkling on toast, oatmeal or another batch of Cinnabon Fudge!
Storing
Keep fudge stored in airtight container in refrigerator. If you have multiple layers of fudge to fit into one container, place a sheet of wax paper between each layer.
It'll keep in the fridge for about a week for best flavor. You can also freeze this fudge in a freezer safe bag. Let thaw in the refrigerator overnight before serving.
More Tips & Tricks
Marshmallow cream is sometimes called "marshmallow fluff." You can find it in jars in most grocery stores, near the james and jellies or in the baking aisle.
A frosting bag could also be used in place of the ziplog bag for drizzling the icing over the fudge pieces.
A stand mixer is the most effective and fast way to ensure all the white chocolate gets fully incorporated into the other fudge ingredients. If you do not have one, you can mix by hand with a heavy spoon or whisk. It will take much longer, so be patient. Keep mixing until you see no big chunks or flakes of chocolate.
No need to warm up the oven or even leave your house to get that Cinnabon fix! Creamy bites of Cinnamon Roll Fudge are the answer. Dancing with cinnamon sugar, maple and white chocolate, this fudge is a must-try for cinnamon roll lovers.