Delicious, cheesy, Breakfast Casserole, can be made the night before. Put in the oven in the morning and enjoy this hearty, breakfast bake! Made with eggs, sausage, hashbrowns, and cheese, it's the perfect holiday or weekend breakfast recipe.
Our overnight french toast casserole is also delicious. The perfect pairing for brunch. Add in a plate of baked chocolate donuts for a simple touch.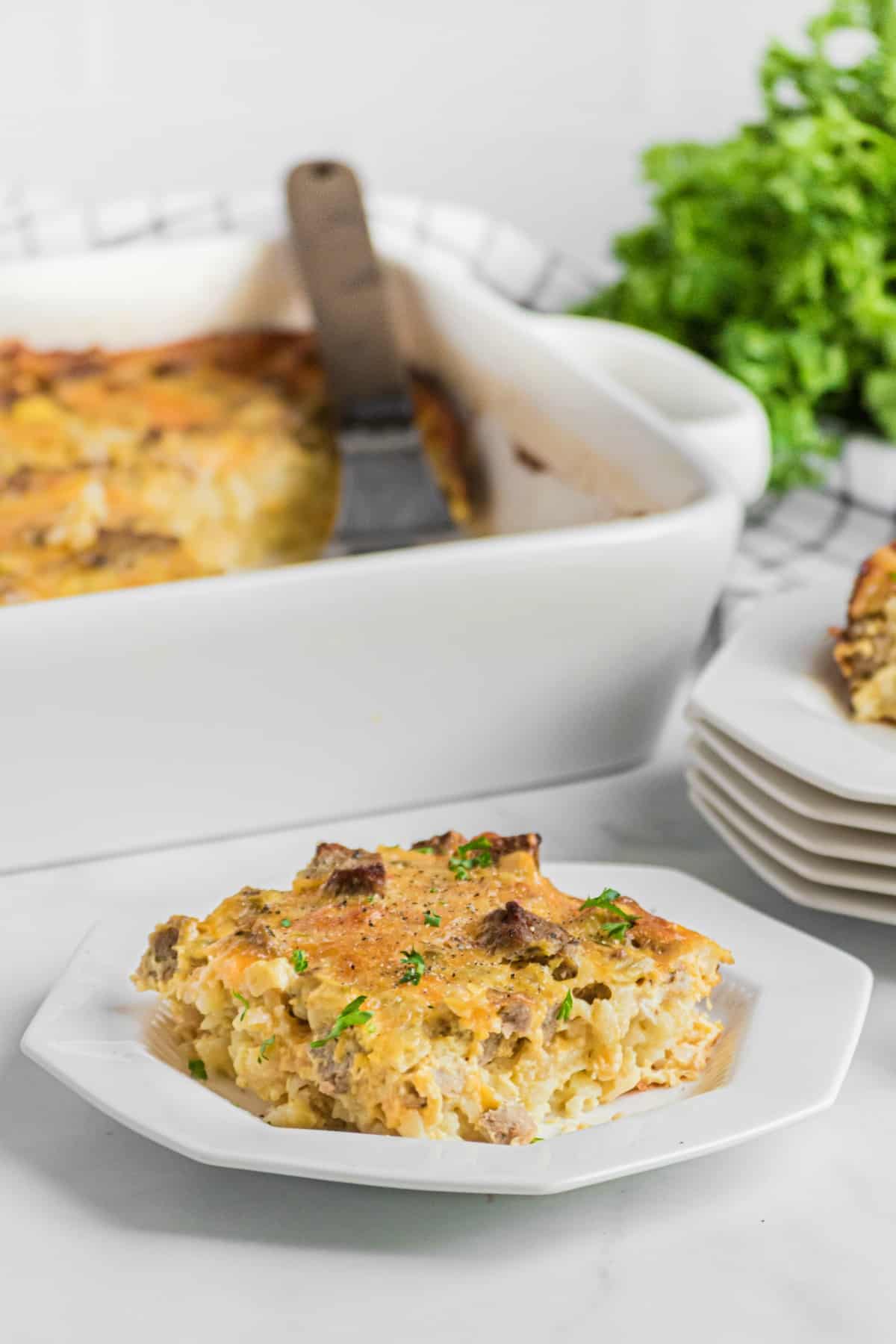 Why this Recipe is Best
Today's recipe is one of my favorite egg casserole recipes.
Depending on the meat you have available (I have used ham, bacon and sausage…this one is made with sausage), you can change up the flavor.
You can also make it vegetarian and only use your favorite vegetables (broccoli, onion, peppers, spinach and tomato). I like to use a little combo of both a meat and a vegetable.
Make it the night before, perfect for holidays and weekend mornings!
Today I used pork sausage and spinach. Yum. The combination is delicious.
Easy Instructions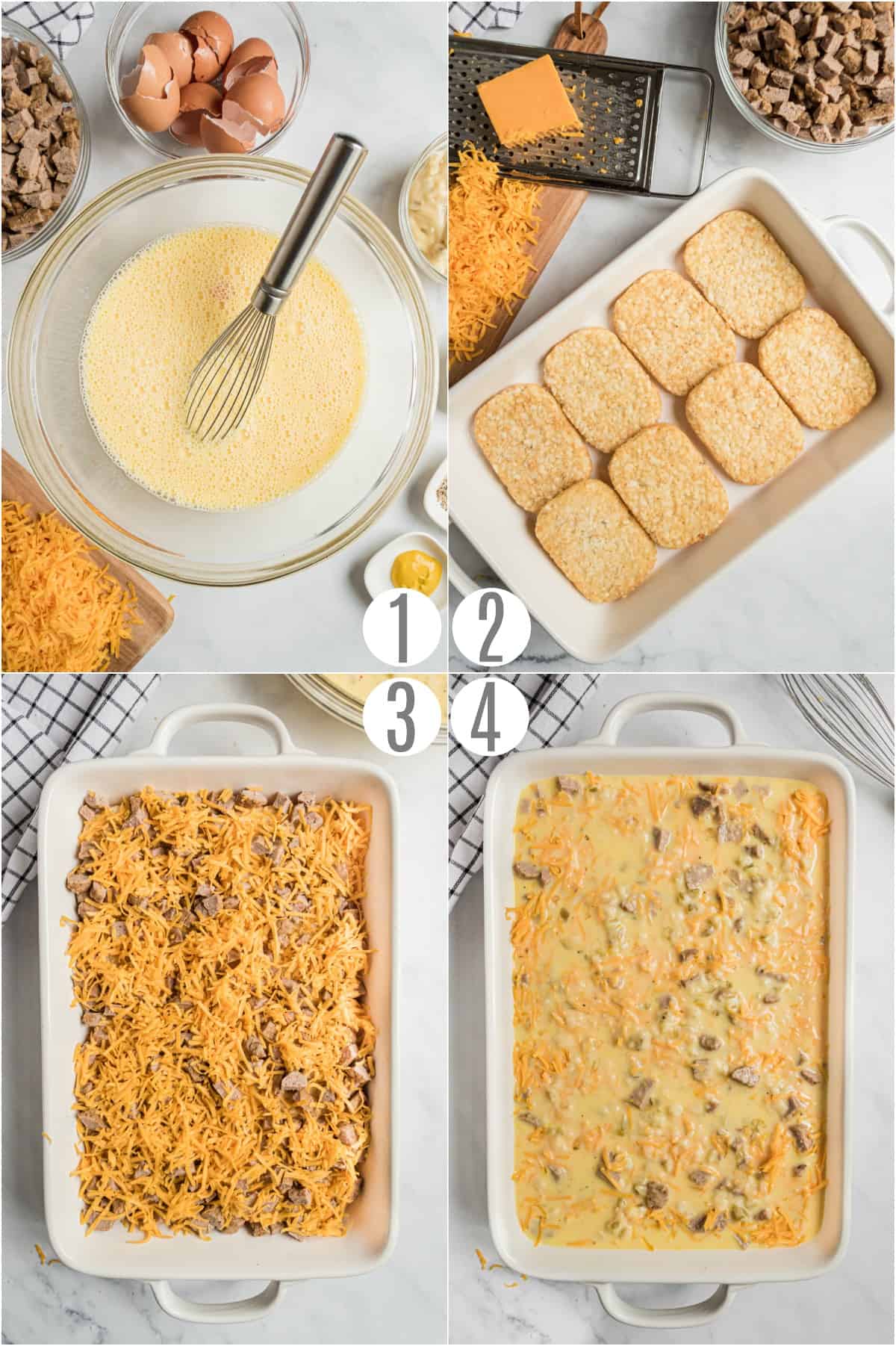 First decide if you will be using meat, veggies, or both! If using meat, make sure it is precooked. This is a great use for leftover ham during the holidays!
Line the bottom of your casserole dish with hashbrown patties. If you can't find them in the freezer section, you can substitute tator tots of the bottom layer!
Next cover the hashbrowns with your meat, veggies and cheese!
You'll want to mix up the eggs with the remaining ingredients and pour this over your meat and cheese. Cover with foil and place in the refrigerator overnight.
In the morning, pop the covered dish into the oven. It's a hearty meal that takes nearly two hours to bake, so plan accordingly! If you'd like to eat this for a "breakfast for dinner" make it in the morning, refrigerate all day, then put it in the oven for dinner. ENJOY.
Substitution ideas
Whether you keep this meaty, or want a vegetarian dish, there are so many options available.
MEAT: choose one or more of the following. Ham, bacon, chorizo, breakfast sausage, turkey bacon.
VEGETABLES: spinach, tomatoes, mushroom, green pepper, kale, onion are all delicious options.
POTATO: this recipe uses frozen hash brown patties. But you can also use shredded hashbrowns, cubed hash browns, and even tater tots!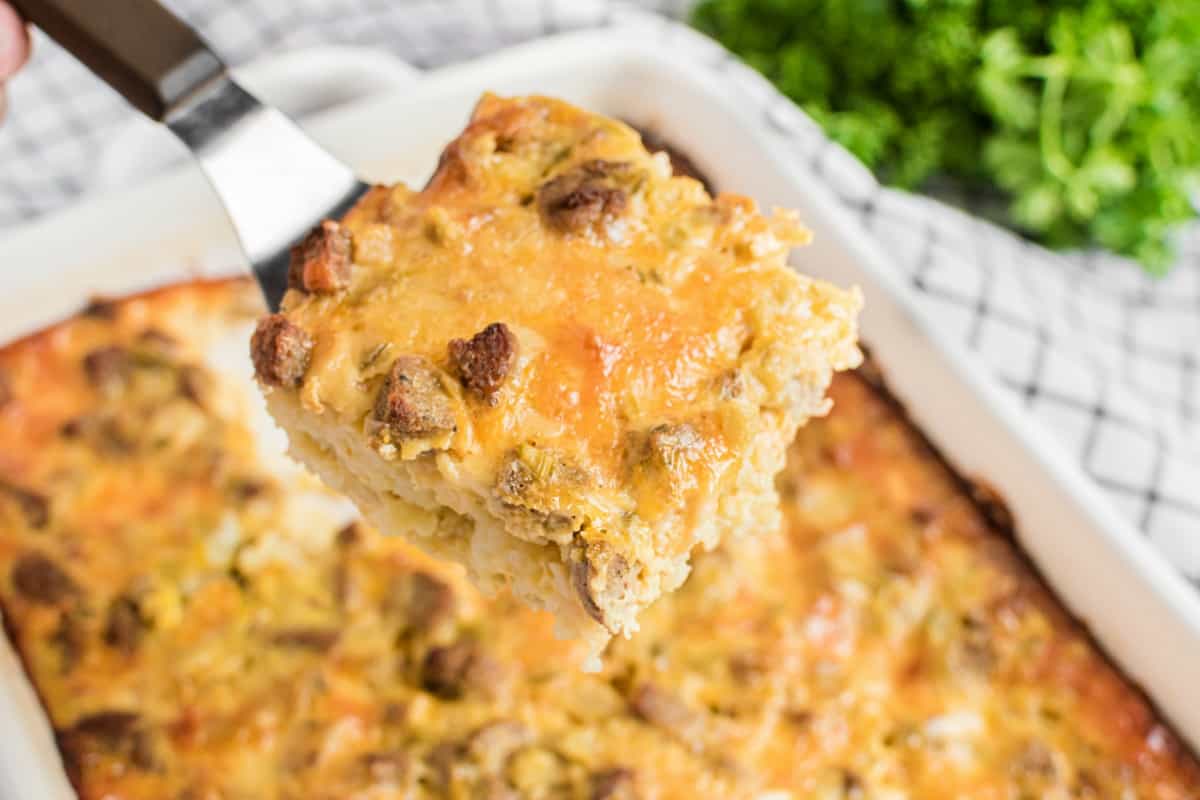 Tips and Tricks
Make this casserole ahead of time for easy breakfast or dinner. Assemble as written and refrigerate covered with foil for up to 24 hours.
Store leftover casserole in refrigerator and enjoy within 3 days.
Leftovers can be frozen for later and reheated in microwave. ENJOY.
Delicious, cheesy Egg Casserole, can be made the night before. Put in the oven in the morning and enjoy this hearty, breakfast bake!