Smooth and decadent, French Silk Pie is a chocolate lovers dream! You'll love the flaky pie crust, topped with smooth and silky chocolate!
Love pie? Be sure to add my homemade Cherry Pie to your dessert list. Or give these handheld Peach Pies a try this year!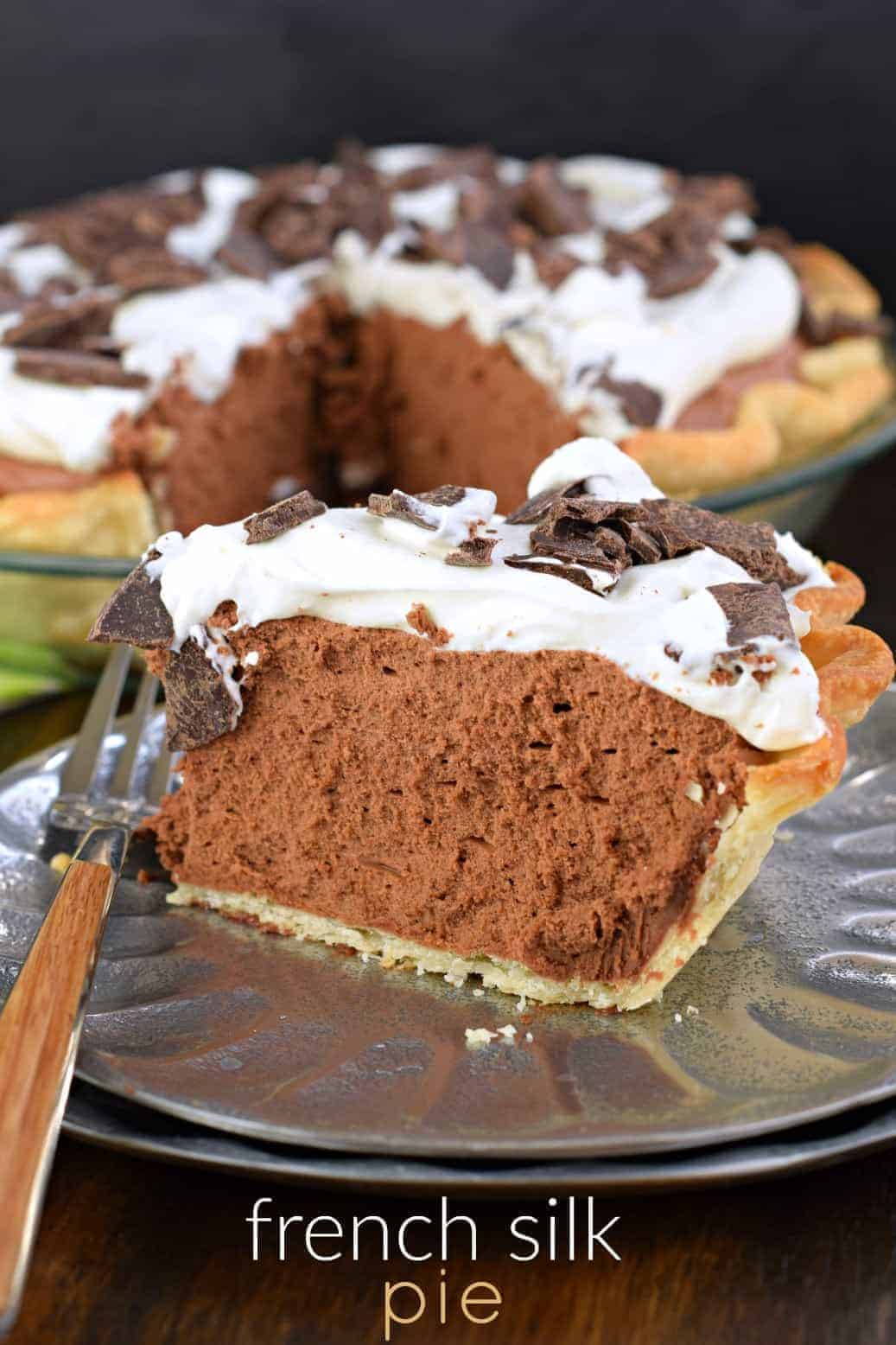 The Perfect Chocolate Pie Recipe
Growing up we always had French Silk Pie at holiday get togethers. It usually came from Bakers Square (anyone remember this restaurant?)!
That fudgy, creamy chocolate pie is still to this day one of my favorites! Most Thanksgivings we still serve a French Silk Pie along with the traditional pumpkin pie and pecan pie desserts!
If you prefer a homemade pie crust, you can totally go that route!
I did go the extra steps and make a homemade whipped cream to top this pie (but Cool Whip would work too if you prefer).
How to make French Silk Pie
There is one thing to remember when making this pie. All chocolate is NOT created equal. Do not lick your fingers after melting the baking chocolate…it's very bitter, haha!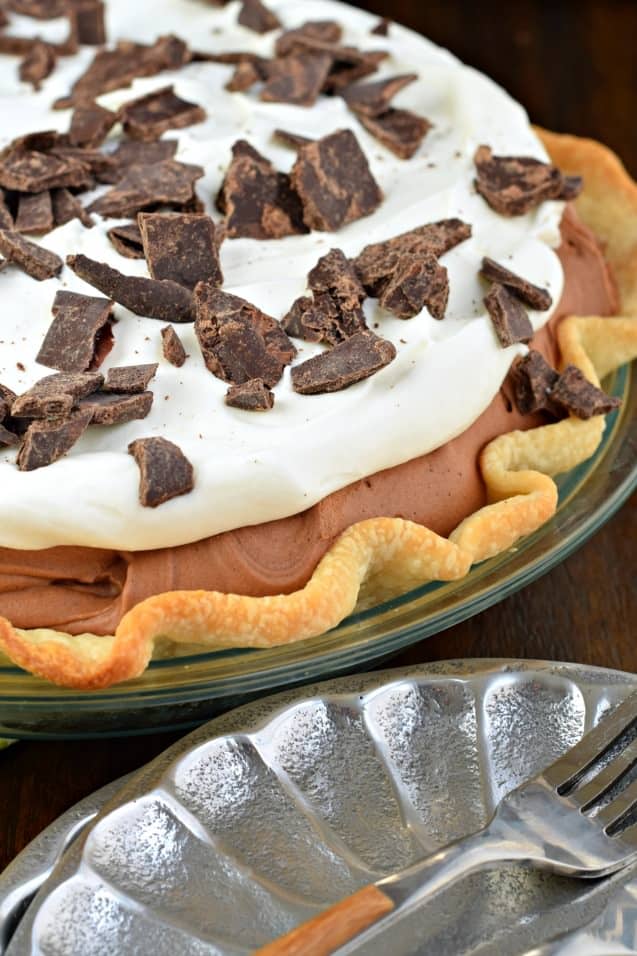 STEP 1: Prepare a baked pie crust in a deep pie plate according to package directions (for a single baked pie shell). Allow pie crust to cool completely.
STEP 2: In a small microwave bowl, melt unsweetened baking chocolate on high heat for one minute. Stir and heat again in 15 second intervals until melted and smooth. Set aside to cool.
STEP 3: In a large bowl of an electric mixer, beat butter with sugar until fluffy (about 3 minutes). Slowly drizzle in the cooled chocolate and beat the mixture on medium speed. Add in vanilla extract.
Because this recipe uses RAW EGGS, make sure you purchase the pasteurized eggs. These are found in most large grocery stores and safe for your family!
STEP 4: Add eggs, one at a time, beating with the whisk attachment on high speed for about 5 minutes after each egg. DO NOT RUSH. This is what creates a light and fluffy texture to your pie! Once all the eggs have been added (about 20 minutes later, this is why you MUST have a KitchenAid stand mixer or handheld mixer), pour this into your prepared pie pan!
STEP 5: For the garnish, beat the heavy cream for 3 minutes until it begins to form stiff peaks. Slowly add in the powdered sugar and beat until fluffy! Spread over the top of the pie. Cover with plastic wrap and refrigerate pie for at least two hours (or overnight).
How to make Chocolate Curls
An easy trick for making chocolate curls (if you don't want to scrape the curls into pretty pieces) is to spread your melted chocolate for the topping onto a piece of parchment paper, very thin!
Then roll that parchment paper into a tight "tube" and place in refrigerator. When you are ready to garnish your pie, remove the chocolate from the refrigerator and unroll your parchment.
The chocolate will break off into pieces, giving you the perfect chocolate chunk garnish without having to do any extra work!
Want to skip it? Just add mini chocolate chips instead (like in my video below)
For a creamy chocolate treat, without all the work, try my homemade chocolate pudding recipe!
ENJOY!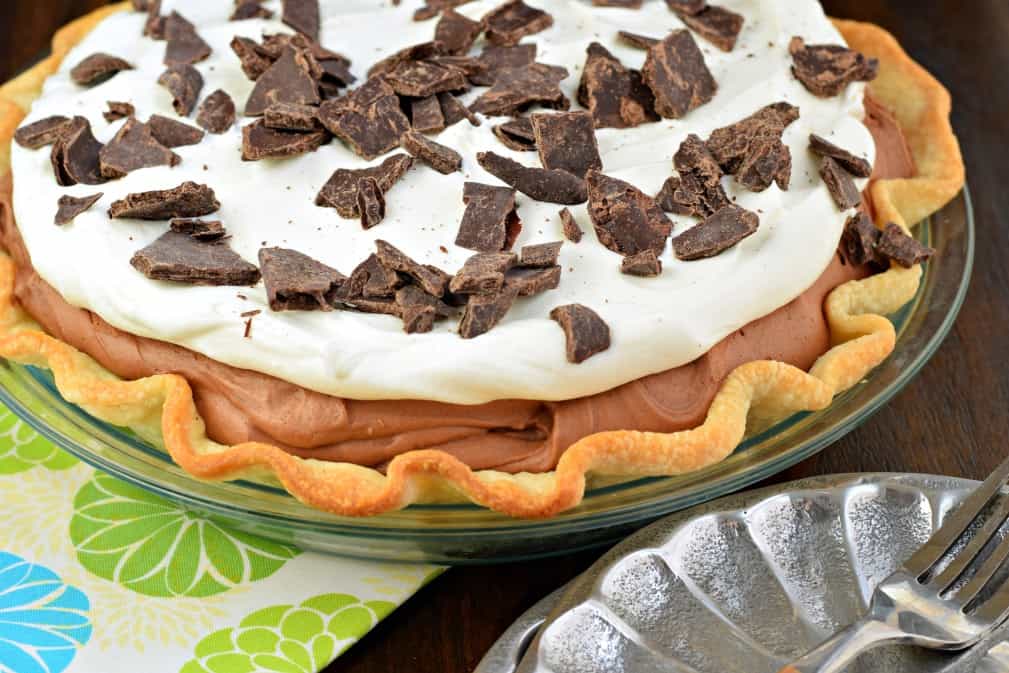 Recipe FAQs
Why is it called French Silk Pie?
French Silk Pie got it's name from it's creamy silk texture.
Why is my French Silk Pie runny?
Adding your eggs too quickly or taking too long could result in either a runny consistency or too thick of a consistency. Be sure to follow the recipe exactly as directed.
Is it safe to eat raw eggs in French Silk Pie?
Using PASTEURIZED eggs means that during the pasteurization process, heat was used to destroy bacteria. Be sure to choose the pasteurized version.
Smooth and decadent, French Silk Pie is a chocolate lovers dream! You'll love the flaky pie crust, topped with smooth and silky chocolate!