Oreo Toffee is a sweet and scrumptious snack! This recipe layers crunchy cracker toffee with white chocolate and Oreos for a treat everyone will devour.
If you love today's toffee, be sure to try our delicious Oreo brownies next! Or give our delicious oreo cheesecake recipe a try.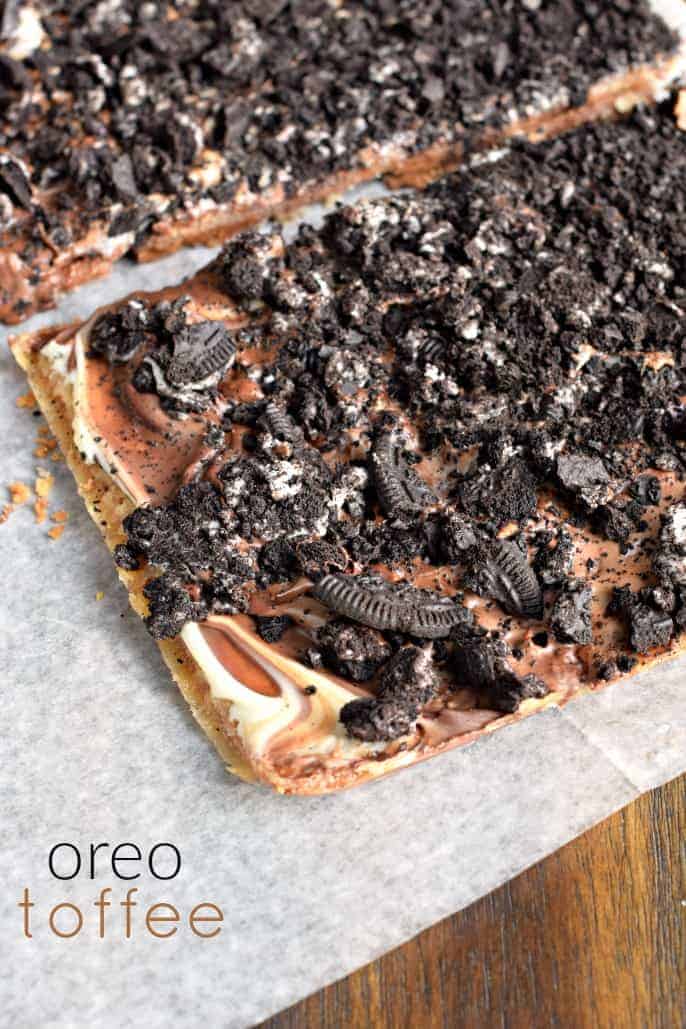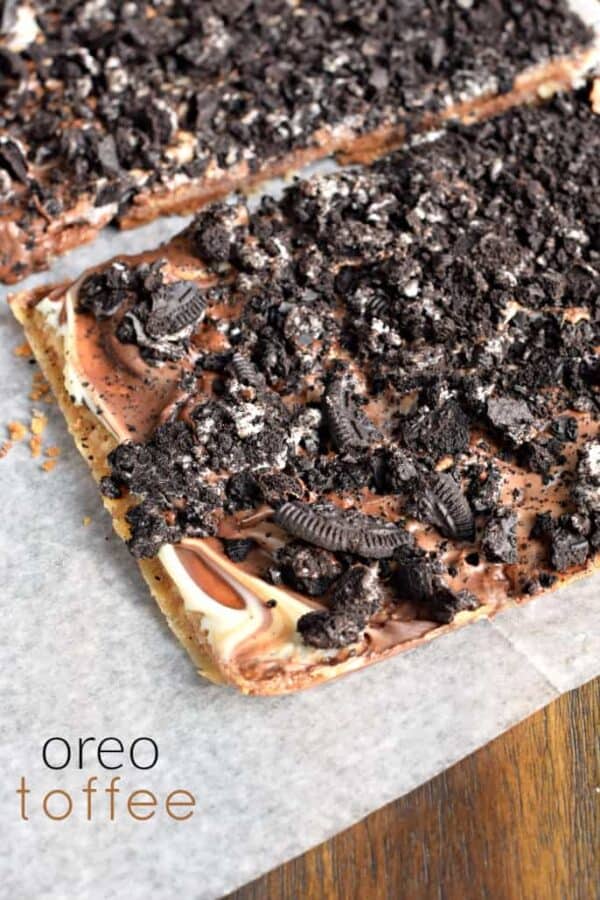 Why this Recipe is Best
I'm obsessed with cracker toffee. Have you tried this amazing creation yet?
Years ago my obsession started with these Brickle Bars. Then moved onto Saltine Toffee, then I added some variations that included this Peanut Butter toffee, this coconut toffee, and this holiday Peppermint toffee.
Today, I'm back with an Oreo Toffee recipe.
I used my graham cracker toffee recipe covered in swirls of white and dark chocolate.
Plenty of crushed Oreos cookies on top add even more sweet appeal.
You'll love how easy it is to make with only 6 ingredients.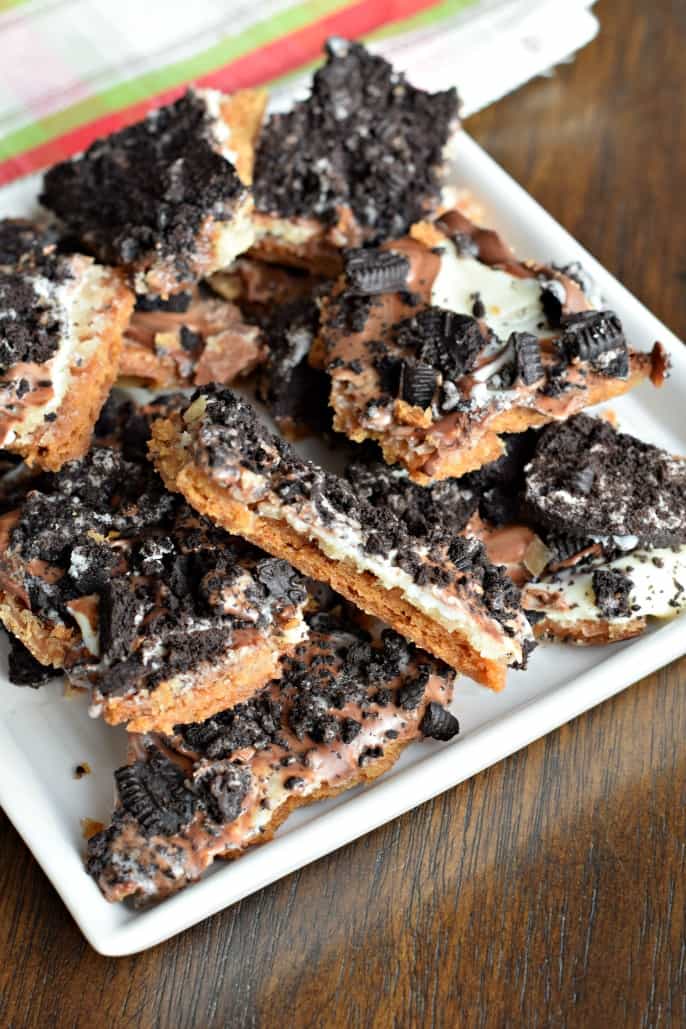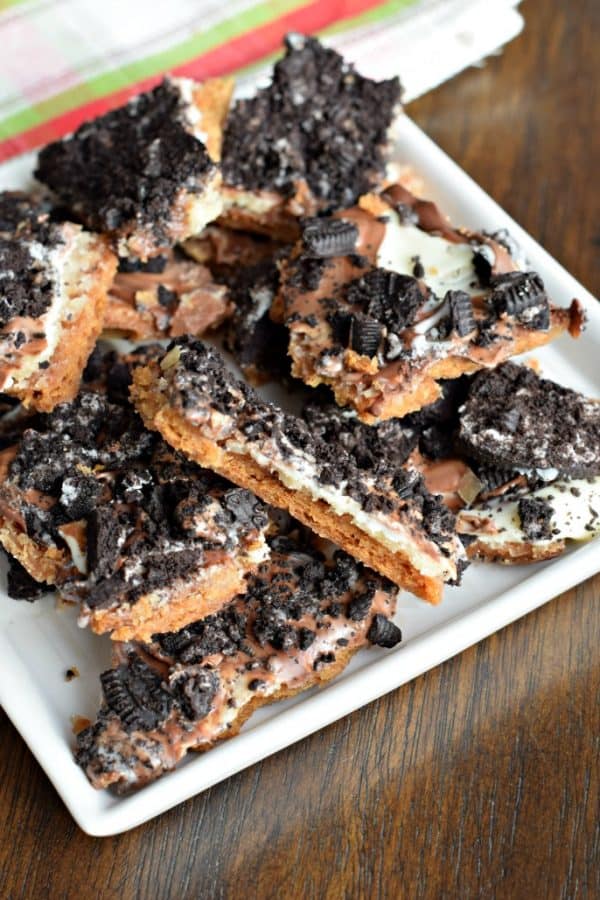 Ingredient Notes
Here's everything you need to make this irresistible Oreo Toffee.
Graham crackers – You use saltine crackers instead for more of a salted toffee flavor.
Butter – Unsalted is best. It allows more control over the saltiness of the finished toffee.
Sugar – For that sweet candy taste.
Chocolate chips – I used half white chocolate and half semi-sweet chocolate.
Oreo cookies – Crushed into coarse crumbs.
Easy Instructions
Pan melt your butter, then add your sugar. Bring this mixture to a rolling boil.
Line 12-13 full size graham crackers on a 15 x 10 x 1-inch baking sheet.
Pour mixture over crackers, slowly, making sure that all the crackers have been covered in butter
Bake this for about 12-14 minutes. You want to make sure that the crackers look light brown and caramelized.
Now it's time to add the Oreos to your cracker toffee:
Drop some semi-sweet morsels and some white chocolate chips over the hot crackers. Allow to sit about 3-5 minutes to soften. Then use a spatula to gently spread the melted chocolate over the crackers. After swirling your chocolate, add your crushed cookies and allow chocolate to set.
Once the chocolate has hardened, store the Oreo graham cracker toffee in an airtight container at room temperature for up to 7 days.
Tips and Tricks
You can also store this Oreo Toffee in the refrigerator, like I do. I think it tastes even better when its chilled!
For a sweeter flavor, substitute milk chocolate chips for the semi-sweet morsels.
Use a nonstick baking sheet, or line your pan with parchment paper before making this toffee to prevent sticking.
Toffee makes a great homemade gift idea for the holidays! Place pieces of Oreo toffee in a decorative tin or mason jar as gifts; you'll make someone's day!
Recipe FAQs
How do you crush Oreos?
Place the Oreos in a plastic bag with a zip top. Use a rolling pin or mallet to crush the Oreos while inside the bag.

They don't need to be totally pulverized. You want plenty of texture, so a few large pieces in the mix are perfect.
Can I use a different kind of cracker?
YES! That's the beauty of cracker toffee recipes. I have tested this recipe with both graham crackers and saltine crackers.
Chocolate flavored graham crackers would make this toffee taste even more chocolate-y! Ritz crackers and club crackers are two more good options.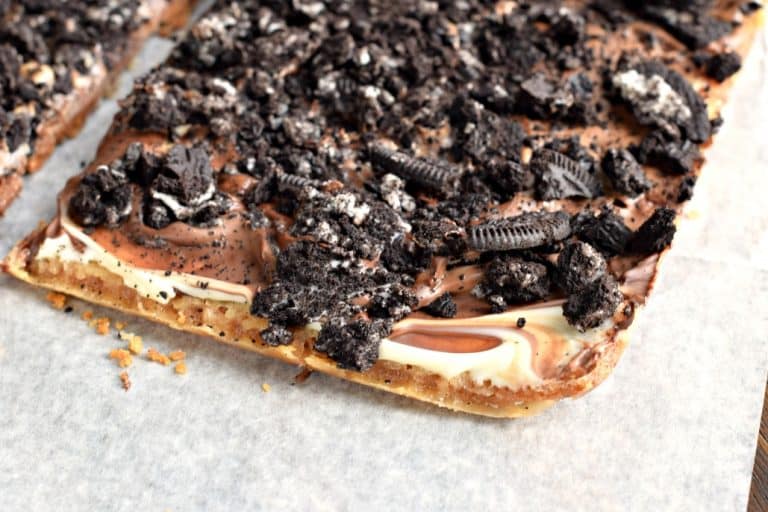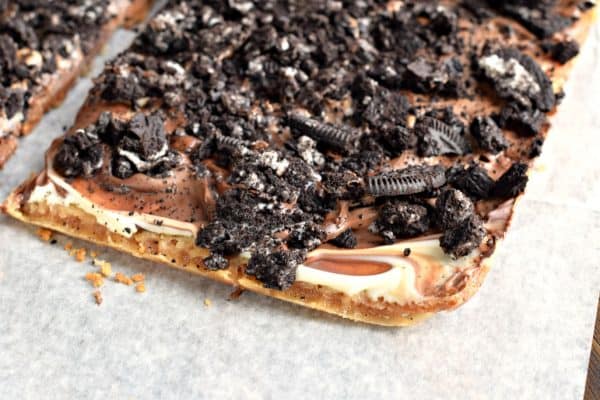 More Easy Desserts