Delicious Caramel Coconut Cracker Toffee is a scrumptious treat you must try! Transform those graham crackers into this decadent treat in just minutes!
Love chocolate and coconut? Our Coconut Macaroons are chewy and amazing. Or give our Coconut truffles a try next!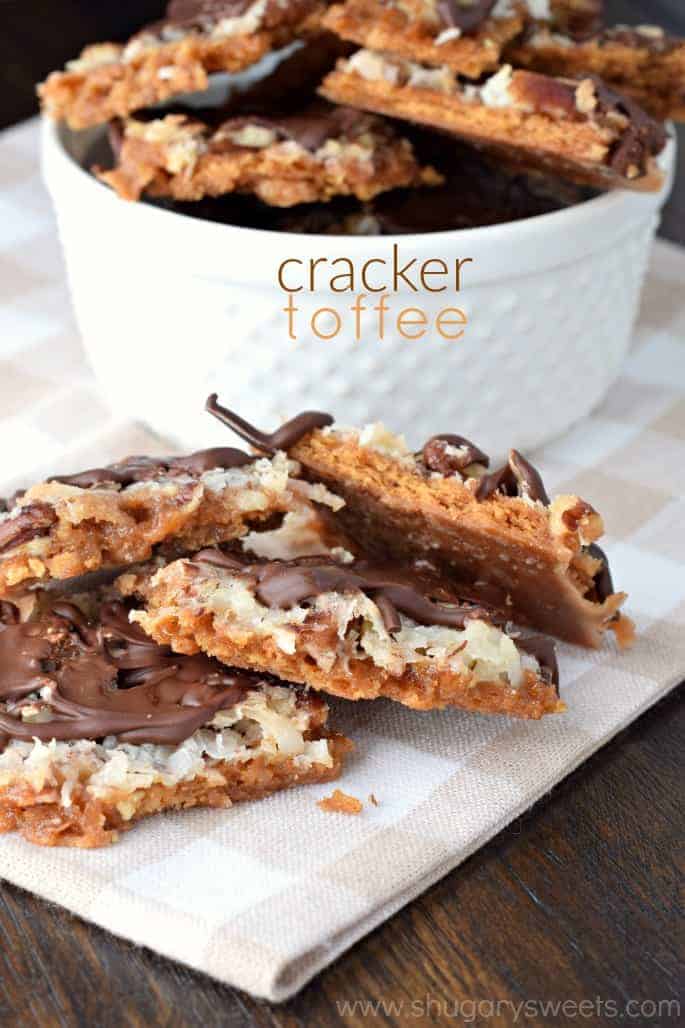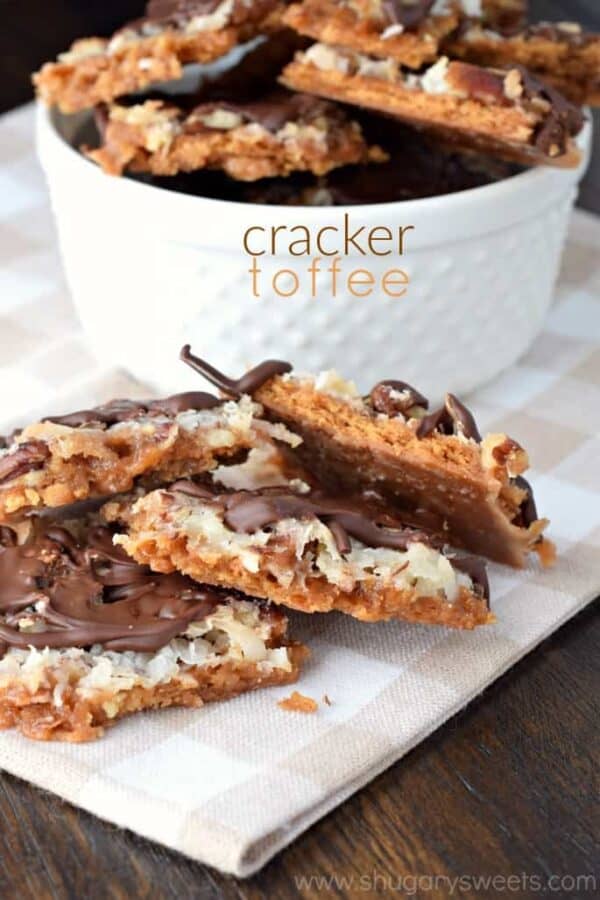 Why this Toffee is Best
I have a new obsession. Well, it's not NEW, I have always been obsessed with homemade candy. But right now I LOVE cracker toffee.
Have you tried it yet? Based off my original Saltine Toffee Recipe, today's version has Chocolate and Coconut!
It's no secret that I love Samoa Girl Scout Cookies. I even created a truffle recipe that tastes JUST like the cookie…but in candy form. This candy recipe today is inspired by those cookies.
You've got caramel (toffee). Chocolate. Coconut. Crispy cookie (toffee). And I threw in some pecans, because, why not?
How to make Coconut Cracker Toffee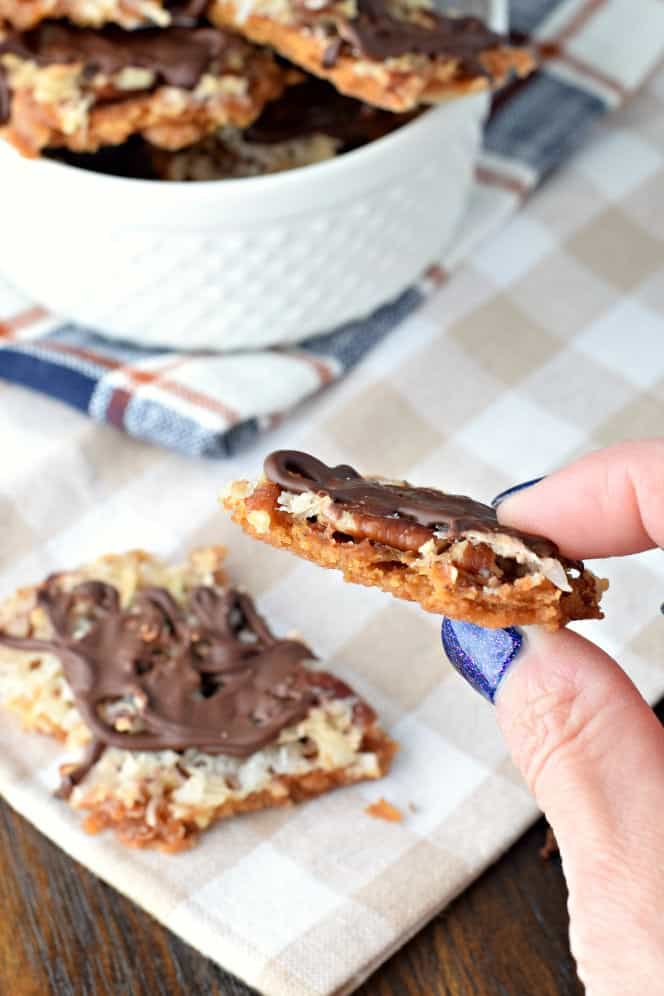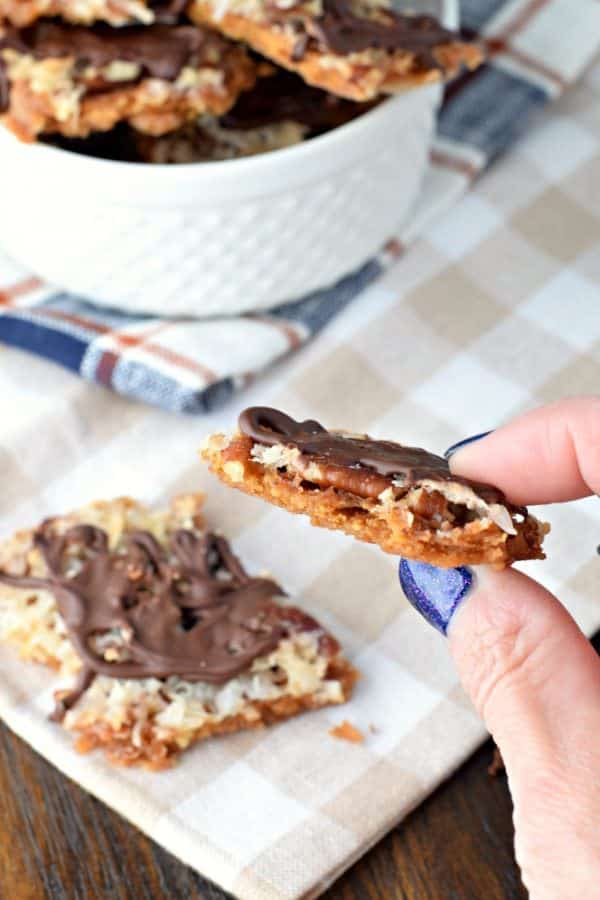 Use a metal baking sheet for best results. You can line it with parchment paper, but I just lay my graham crackers right on the pan.
Melt the butter and sugar in a small pan until it begins to boil. Once it boils, pour it over your graham crackers (on the pan).
Sprinkle generously with your toppings: coconut and pecans. I use sweetened shredded coconut. It doesn't toast up completely, instead it leaves a slightly chewy texture on top of the toffee. If you prefer to have toasted, feel free to toast your coconut FIRST (350 degree/10 minutes).
Cook your toffee for about 15 minutes. It will be bubbly and caramelized.
Allow toffee to sit in the pan for about 10 minutes, to soak up all the caramel. Using a large spatula, scoop big pieces onto a piece of parchment paper. It's okay if they aren't uniform pieces, you're going to break them up into smaller sizes.
Melt chocolate according to package and spread over toffee (the toffee can still be warm). Allow toffee to harden and chocolate to set (about 30 minutes). ENJOY!!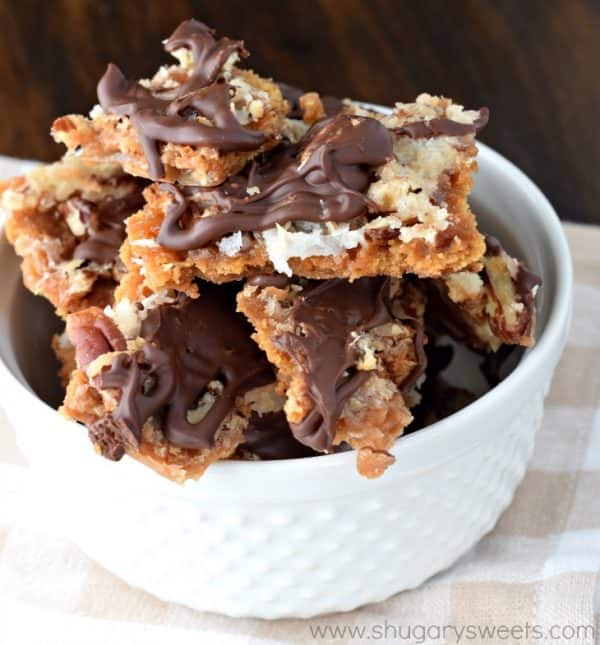 How to store Cracker Toffee
Keep toffee in airtight container at room temperature.
Toffee will stay fresh for about one week.
More Cracker Toffee Recipes