This Pumpkin Chocolate Chip Cookie Dough Dip needs to be at every fall party! Serve with some pretzels, graham crackers, or my favorite: Gingersnap cookies!
Be sure to sign up for my email…new recipes in your inbox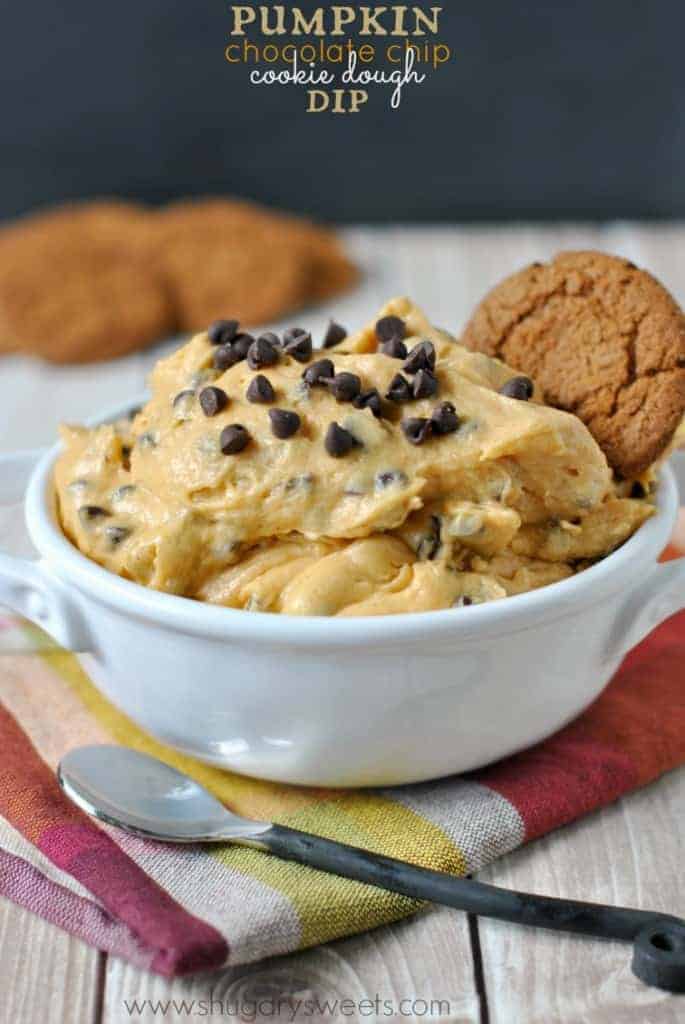 So there are times on the blog that I make a recipe, and it could be MONTHS before you ever see it here. Not that it's a "bad" recipe, I just have so many to share, there has to be a certain "order" to how I share my recipes. And then, there is the moment of taking one bite of a recipe and I know I need to share it immediately.
Today's recipes was one of those, "OMG you NEED this in your life, yesterday" recipes.
Wednesday I was planning on making a cheesecake. But, I only had one block of cream cheese. I also had a small bowl of pumpkin in my refrigerator, leftover from making some Pumpkin Spice coffee creamer.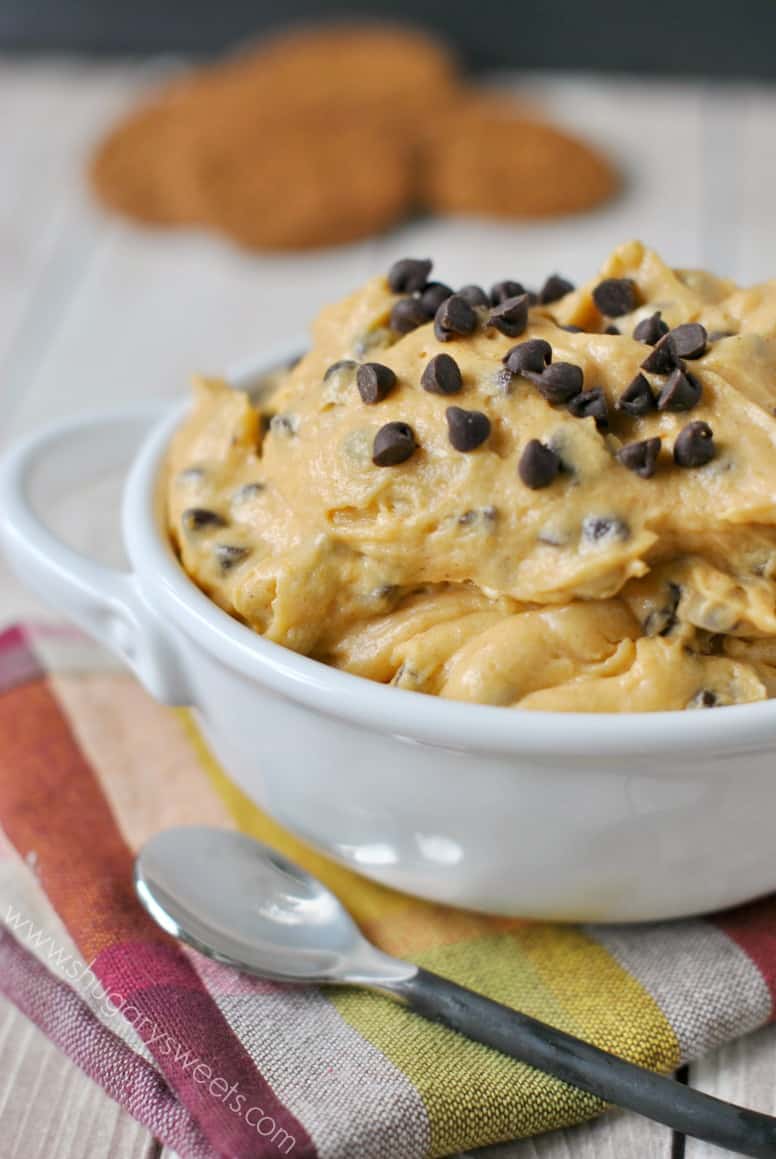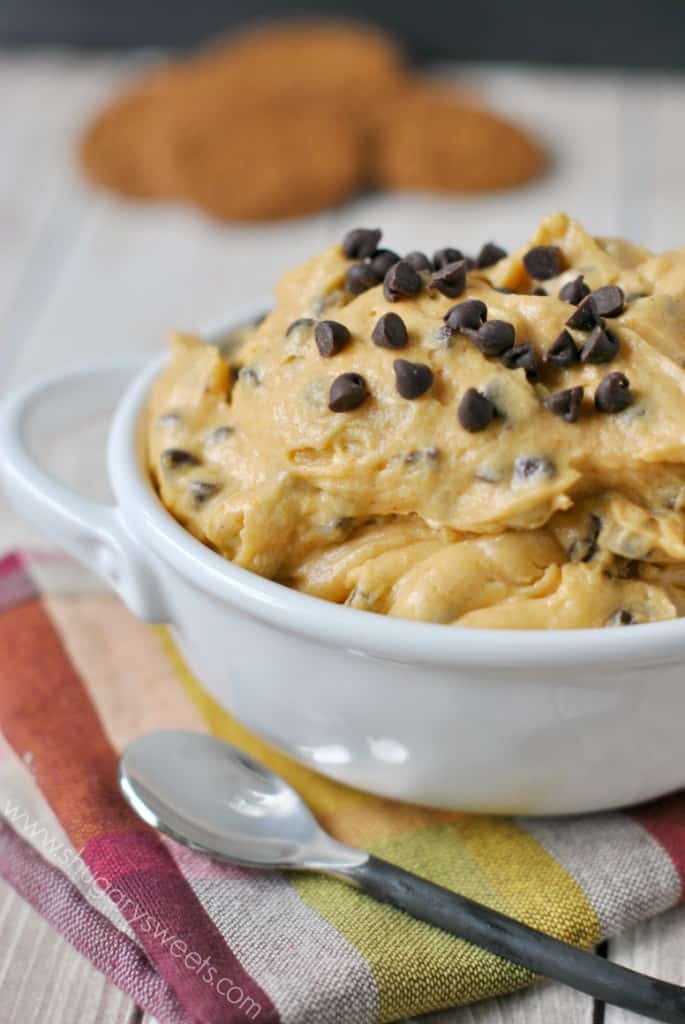 After much thought (about 1 minute) I decided to make a cookie dough dip. They seem to be wildly popular here on Shugary Sweets. This Reese's version went viral immediately, and still is made and enjoyed by so many of you!
Last year I made a healthy pumpkin pie dip that was so creamy and good…I knew today's recipe would be a winner.
Using this Chocolate Chip Cookie dough dip recipe as my guide, I whipped up a pumpkin version that will knock your socks off people. I actually was sampling it in front of my husband (who is NOT a pumpkin eater, I know…tragic)…and I kept murmuring "I am a genius. A food genius."
Then I googled pumpkin cookie dough dip and realized there are LOTS of geniuses out there. Kudos to you all!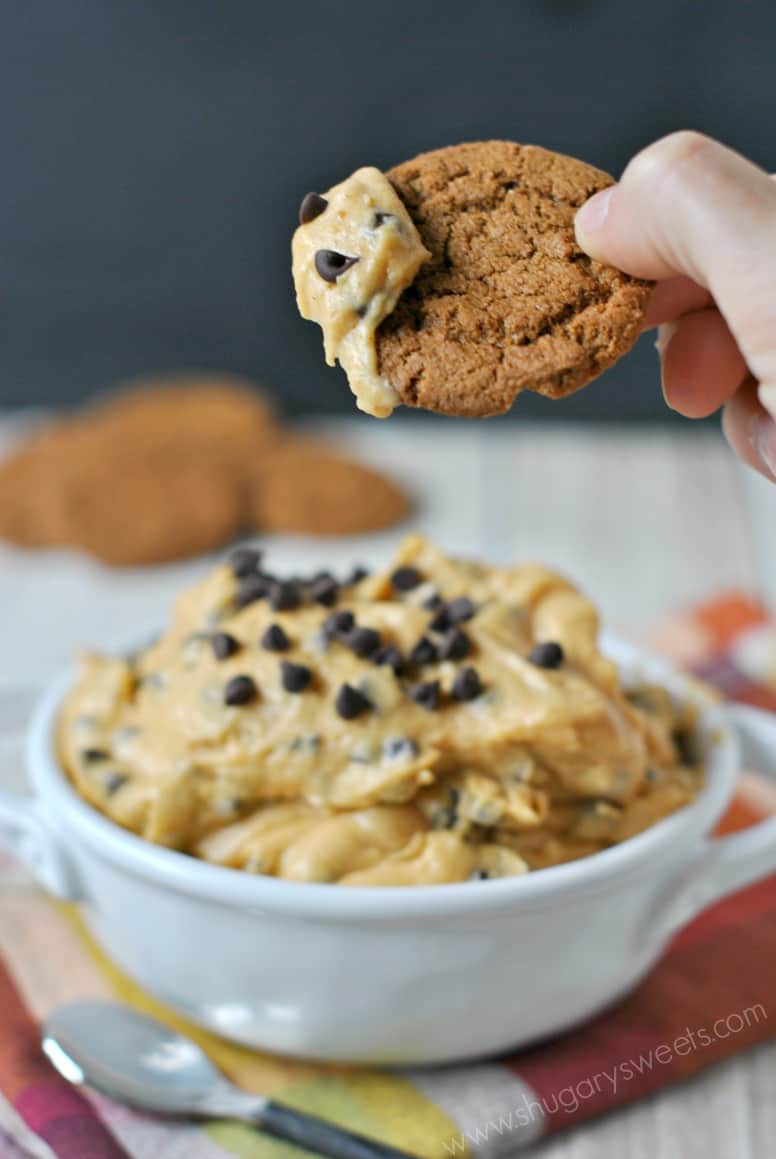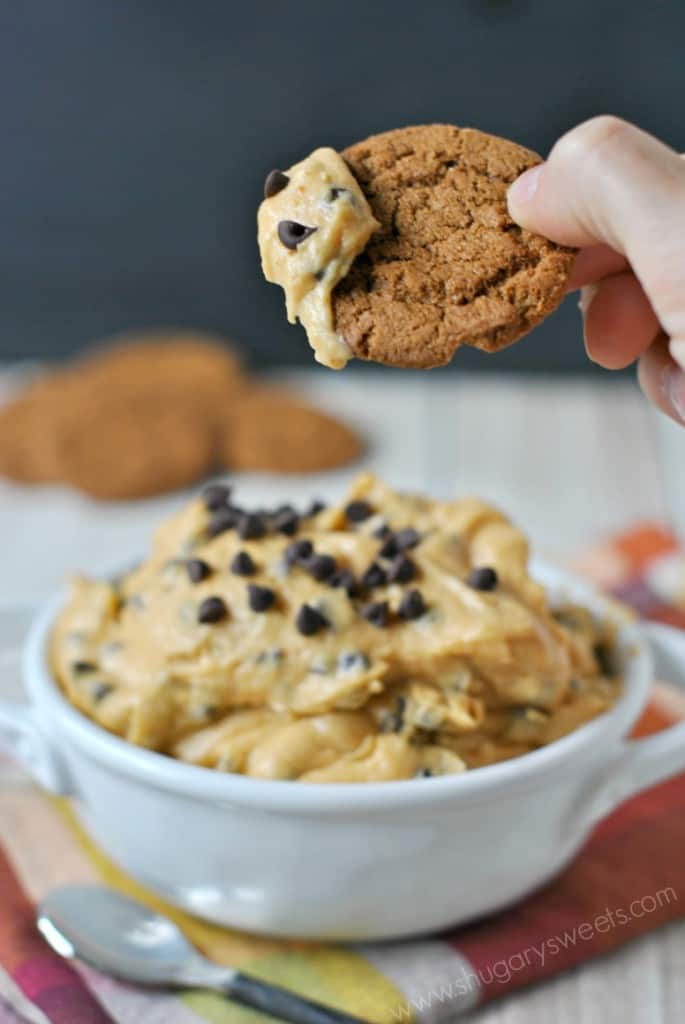 A couple of things to keep in mind with this dip:
Keep your saucepan on low when melting the butter with the brown sugar, cinnamon, and pumpkin. You don't want to BOIL this mixture, just whisk until melted and smooth
Heating the pumpkin and cinnamon instead of adding them in with the cooled cream cheese mixture results in a much creamier texture. Trust me.
Allow the pumpkin mixture to cool COMPLETELY before adding it to the cream cheese. It will never set up if you add it warm.
Refrigerate dip for two hours (more or less). It allows the flavors to mingle, and gives the cream cheese time to firm up again with the pumpkin mixture.
Serve with gingersnaps. You will LOVE the tasty snap of the cookie with the pumpkin dip. Also good dippers include pretzels, apples, Nilla wafers, and graham crackers.
Have a big crowd? Double the recipe. You'll thank me later!
Now, go make a batch of this Pumpkin dip and let me know if you think I'm a genius too! ha!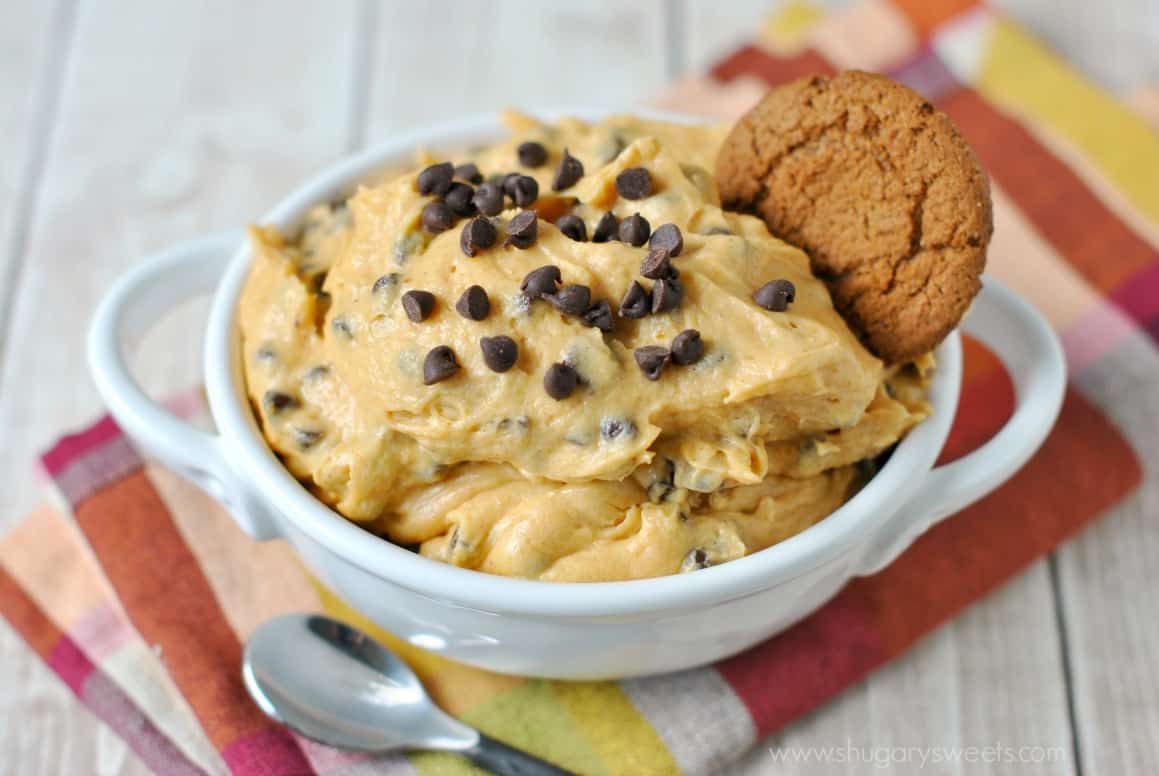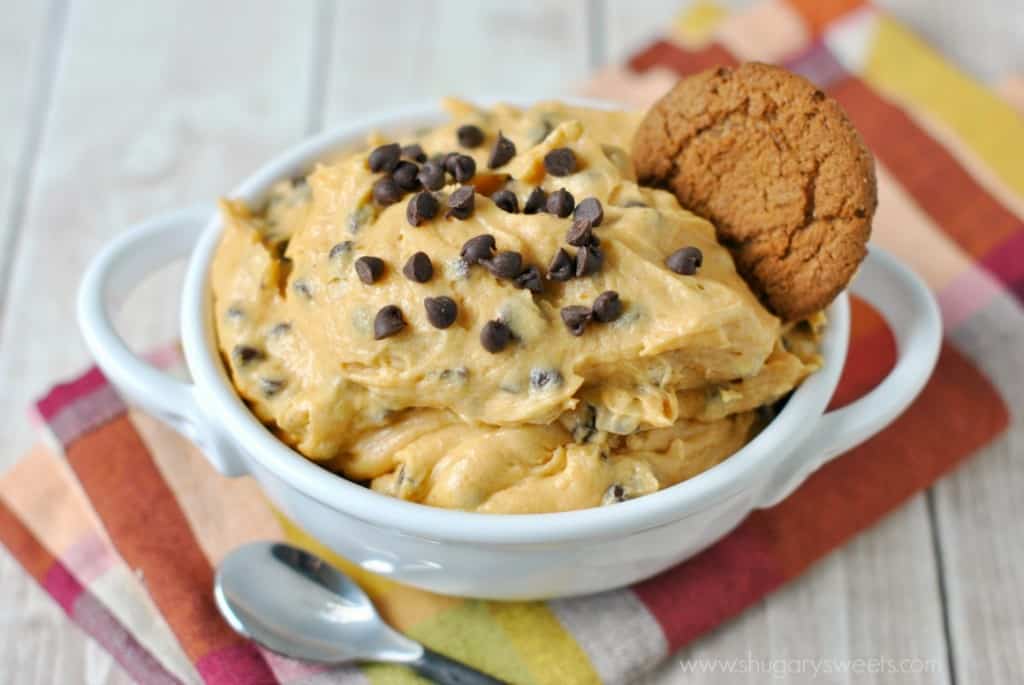 Connect with Shugary Sweets! Be sure to follow me on my social media, so you never miss a post!
Facebook | Twitter | Google+ | Pinterest | instagram | Bloglovin'
Yield: about 4 cups
Pumpkin Chocolate Chip Cookie Dough Dip
Prep Time
2 hours
10 minutes
Ingredients
1/2 cup unsalted butter
1/2 cup light brown sugar, packed
1/2 cup canned pumpkin
1 tsp ground cinnamon
1 tsp vanilla extract
1 package (8oz) cream cheese, softened
2 cup powdered sugar
3/4 cup mini chocolate chips
Instructions
In a small saucepan, combine butter, brown sugar, pumpkin and cinnamon. Heat on low and whisk until smooth (and butter is melted). Remove from heat and whisk in vanilla extract. Set aside to cool COMPLETELY.
In a large mixing bowl, combine cream cheese and powdered sugar. Beat 2 minutes until blended. Slowly add in the cooled pumpkin mixture. Beat until fluffy (about 3-5 minutes).
Fold in mini chocolate chips.
Refrigerate and allow to set, about 2 hours (or overnight).
Enjoy with gingersnap cookies, nilla wafers, graham crackers or pretzels!
Looking for more dip ideas? I've got you covered!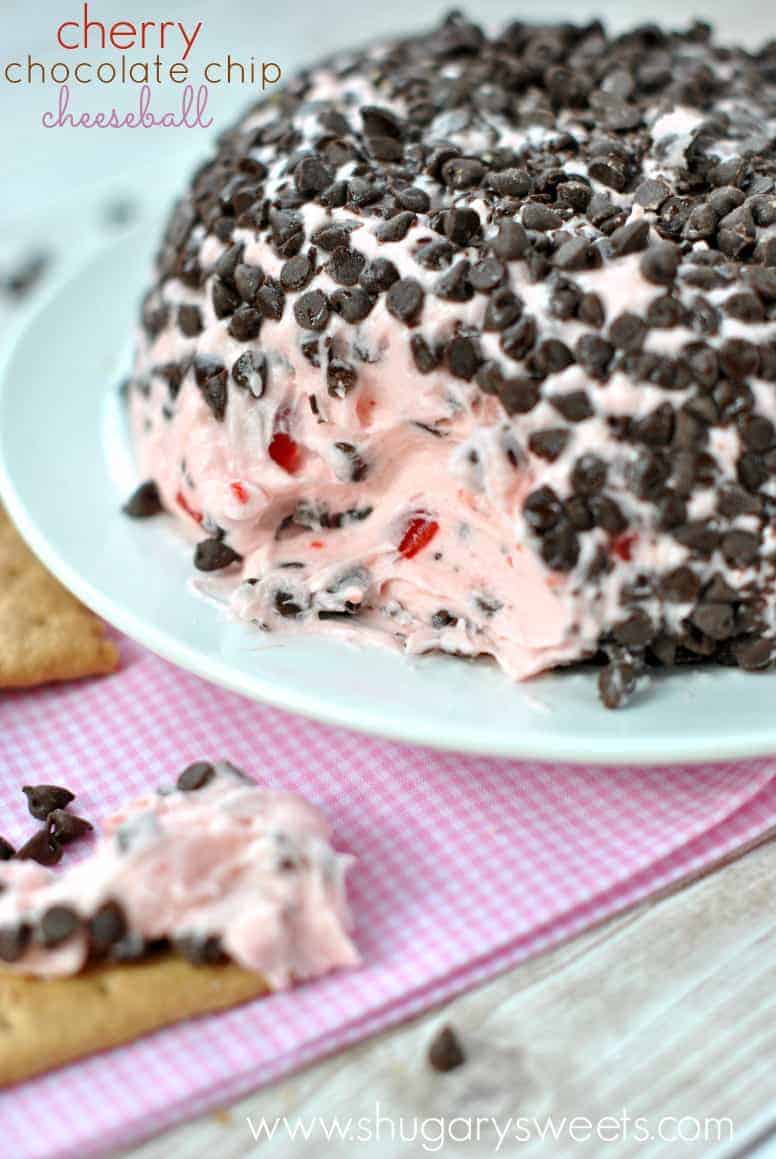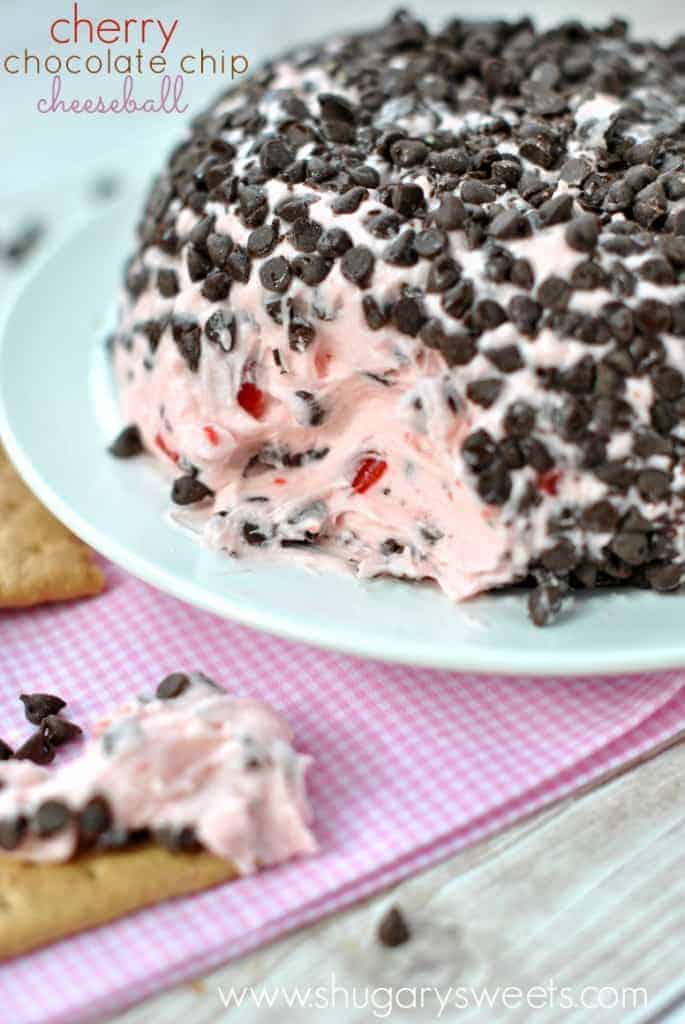 Cherry Chocolate Chip Cheeseball. If you don't love pumpkin, then you MUST try this version instead!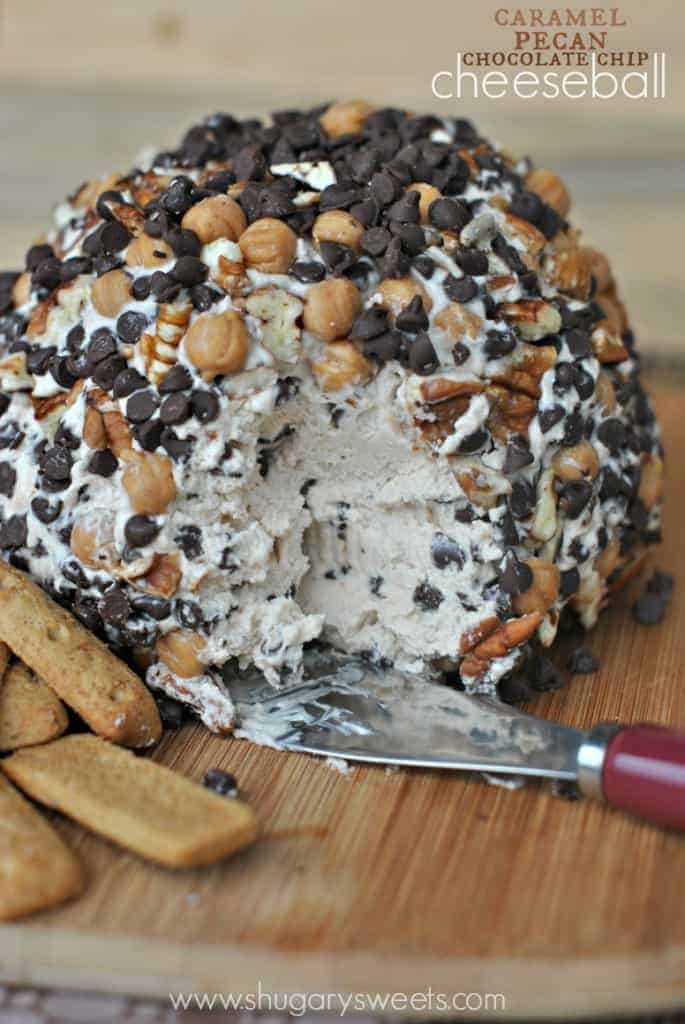 Turtle Cheeseball: I'm seriously in love with all sweet dips, as you can tell!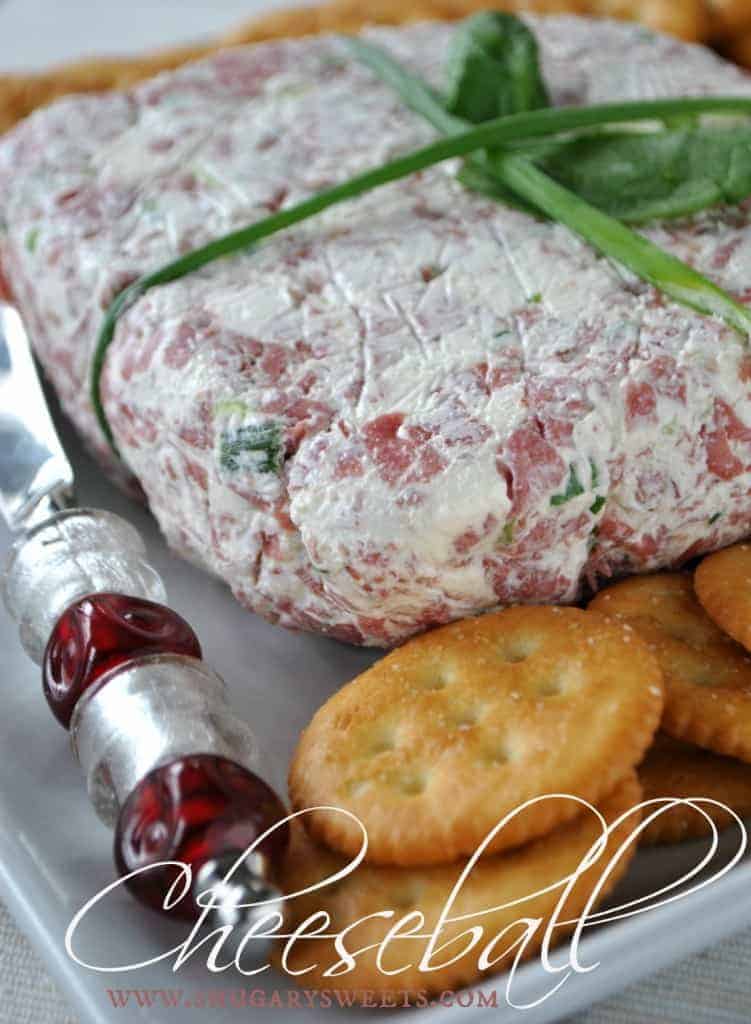 Ham and Onion Cheeseball: a delicious SAVORY dip recipe!