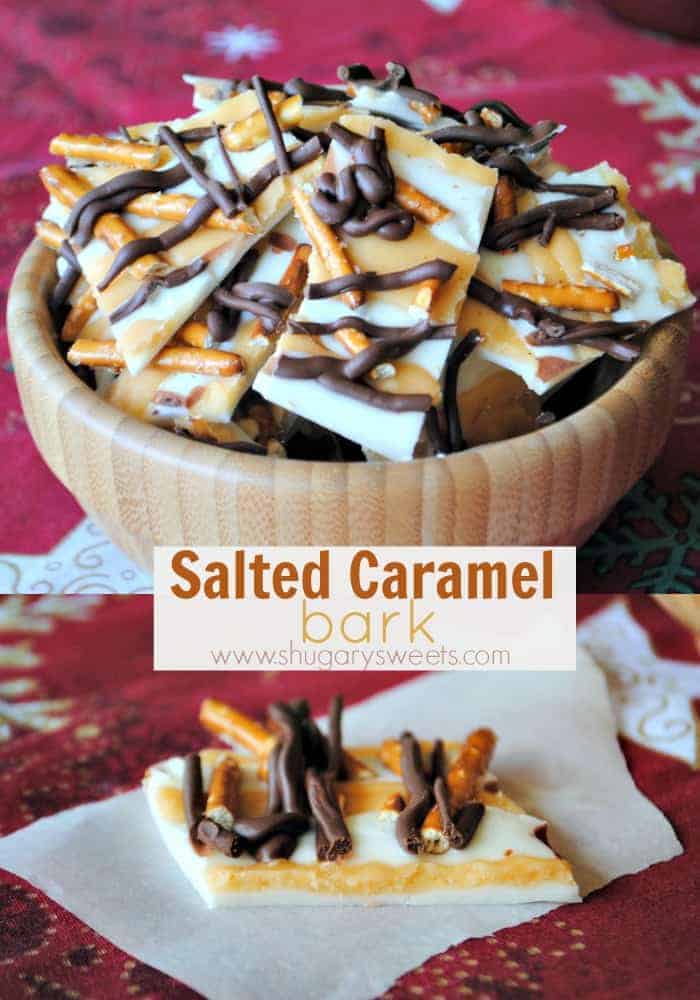 I hope everyone had a great Thanksgiving holiday! If by great, I mean stuffing myself with lots of turkey, gravy, potatoes and stuffing, then yes, I had a great one too! If by great, I mean playing lots of card games with Michael, going to the movies with kids, and putting up the Christmas lights and tree, then yes, I had a great one too!
I'm very happy though that I can finally focus on Christmas without any ridicule! And I'm talking ridicule from my husband, in case you were wondering….
Anyways….
I went to Costco this month for my regular shopping trip. You know, to restock on sugar, flour, oil, toilet paper…all that good stuff! I spend a lot of time just wandering too. And in my wandering in the bakery section, they had tubs of salted caramel bark. So of course I looked at it and thought to myself, "Self, there is no way I am buying this when it looks so easy to make"!
See that's the trouble with recipe developing. You don't like taking the easy route. Are you all with me on that? Since I started food blogging this year, I have a hard time buying a cake, spending money on cookies, and eating out.
Now, that's not to say I don't enjoy those things, I just have a hard time doing it! I say that because I just ripped open a package of NutterButter cookies today and I'm okay with it.
But, not taking the easy route doesn't mean recipe developing should be hard. Which is why I made all of you some easy salted caramel bark. Now you too can make it at home and not feel guilty! It makes way more than the tub at Costco, and I imagine it costs less too!
What a perfect addition this would make to your Holiday tray! Enjoy!
Salted Caramel Bark
Ingredients
1/4 cup butter
1/4 cup brown sugar
1 1/2 Tbsp milk
1/4 tsp vanilla extract
1/2 cup powdered sugar
1/2 tsp kosher salt
16 oz vanilla candy coating
3/4 cup milk chocolate morsels
1 1/2 cup pretzels, broken
Instructions
In large saucepan melt butter. Add brown sugar and milk. Cook on medium for 2 minutes. Remove from heat and whisk in vanilla and powdered sugar. Set aside.
Melt candy coating according to package directions. Pour on a parchment paper lined cookie sheet. Spread evenly.
Drizzle caramel sauce over melted candy coating. Sprinkle with kosher salt. Top with broken pretzels (press them into bark, lightly). Melt milk chocolate according to package. Drizzle over bark. Allow to set about one hour.
Break into pieces and enjoy!